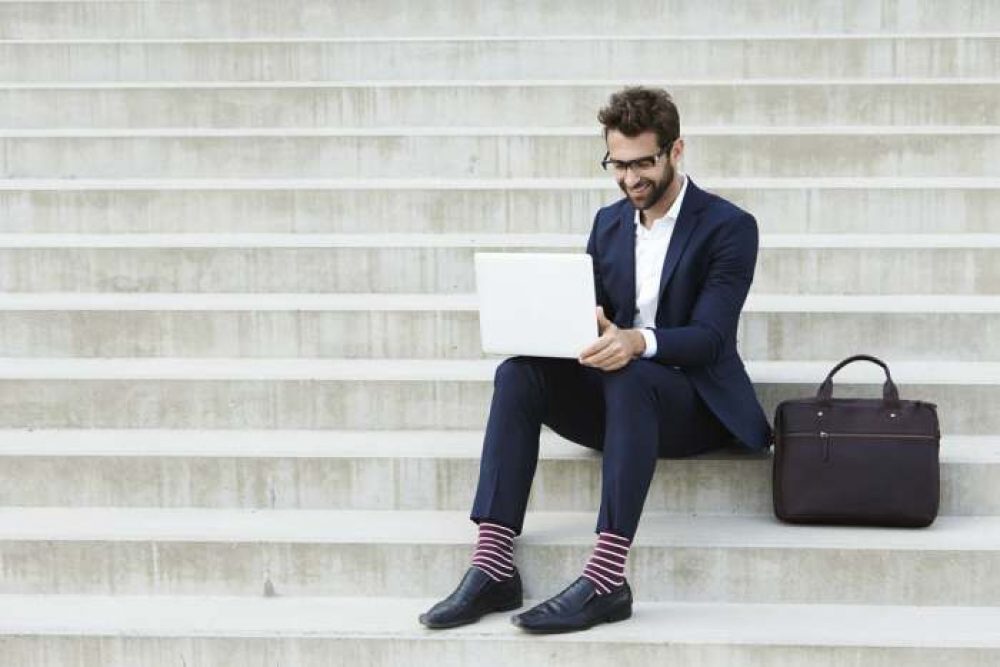 Dry, blister-free, and comfortable feet can be the difference between a good and a bad day at work. That's especially true if you work long days on your feet, which is why you need a good pair of moisture-wicking, insulating, and comfy socks.
The best work socks are designed to pair with your steel-toe work boots to ensure your feet stay dry, as well as prevent blisters, hot spots, and raw areas from developing after long hours of work. They should be well-padded, reinforced at strategic areas, and breathable with a supportive fit.
At Cool Things Chicago, we understand that buying work socks isn't like shopping for a car. Sure, socks may not be flashy, but they are a critical part of your work life. That means climate control, durability, and comfort matter the most. Just as you might dream of a car to fit your style, you want a good quality pair of socks that match your personality and needs.
Lucky for you, we have done the legwork and put together a list of the 11 best work socks you can get your hands on in 2023. Whether you're suffering from foot fatigue, want to boost circulation, or trying to minimize irritation due to sweaty feet, there's something for everyone on this list!
1- No Cold Feet Classic Black Socks
With No Cold Feet Classic Black Socks, you don't have to compromise on breathability, comfort, or quality to wear the good old black socks with your work boots. These classic socks are extremely comfortable and one size fits almost all, a godsend if you're looking for several pairs for multiple work settings, from the back office to the site.
The socks have 80% combed cotton, 15% nylon, and 5% spandex. The quick-acting blend wicks away moisture and dries fast to prevent your feet from becoming sweaty and stinky through the workday. That they are machine washable is the cherry on top.
2- Dickies Men's Dri-tech Moisture Control Crew Socks
Amazon
The reinforced heel and toe in Dickies crew socks offer fantastic anti-blister padding that minimizes foot fatigue and reduces the risk of injury, sores, hot spots, and the jarring shocks associated with daily use. The blended fabric is incredibly durable and provides ample arch compression for added stability and support.
Dickies used an ergonomic design to offer extra comfort and a glove-like fit in your work boots. The elastic fabric hugs your skin snugly without leaving unsightly marks when removed. Users say they don't fade or pill with heavy use and regular washes. These machine-washable socks come in an affordable pack of 6.
3- Darn Tough Boot Cushion Sock
Amazon
Darn Tough is a sock brand that has increasingly become synonymous with robust quality, great durability, and easy wear. This boot cushion sock is a clear testament to their sock-making ideology. Easily the best work socks, they sit mid-calf for additional protection and boast True Seamless tech for a smooth, natural feel and nearly invisible, scratch-free seams.
These Vermont-made socks use merino wool as the primary material, so they're breathable, soft, and efficiently wick sweat away. They fit comfortably and don't slide or move around in the boots, so your feet won't get sores or blisters.
4- Carhartt Men's Force Multipack Performance Work Crew Socks
Amazon
If you're looking for the best work socks that actively fight odors and blisters, then Carhartt has got you covered. Carhartt men's crew socks are polyester-made, well-cushioned, and offer the arch support you need.
These socks feature Fast-Dry technology, helping wick moisture and sweat away to ensure your feet stay dry and comfortable all day. They come in a three-pack of trendy yet neutral-style socks that go with all outfits.
5- Dickies women's Dritech Advanced Moisture Wicking Crew Sock
Amazon
These Dickies crew work socks are available in a wallet-friendly pack of either 6 or 12 pairs and sport bright beautiful colors for women. The arch compression ensures support and stability, while Dritech material keeps your feet cozy and dry.
These socks offer superior comfort and are perfect to wear with a variety of work boots. They are effortless to put on and get off without much hassle.  Plus, they stay put without sliding or rolling down.
6- ONKE Work Cushion Crew Socks (10 Pack)
Amazon
These crew work socks come in a pack of 10 pairs in five elegant neutral tones, including black-grey, camel-white, khaki, light grey, and classic white. They are made of a combination of 60% cotton, 27% polyester, 2% nylon, and 1% spandex.
This premium fabric retains shape and offers a hugging fit even after many uses and washes. The breathable, moisture-control fibers help remove sweat and moisture, leaving your feet dry and smelling fresh.
7- Ortis Cotton Moisture Wicking Work Crew Socks (10-Pack)
Amazon
Ortis crew socks have cotton to keep your feet comfortable, cushioned, and warm when wearing work boots. The polyester wick-away fibers allow the socks to get rid of moisture and dry quickly.
These socks are reinforced at the toe and heel to improve circulation, durability, and support. They offer superb compression and cushioning to avoid blisters and inflammation while delivering a comfortable fit.
8- Wrangler Men's Western Boot Socks (Pack of 3)
Amazon
If you're after the best work socks for support, you're looking at them! Wrangler boot socks feature polyester fabric to help wick away sweat and moisture, ensuring your feet stay dry and stink-free through the workday.
These socks sport half-cushioned feet with arch support for compression, leg ribbings for a snug fit, and a seamless toe seam for easy wear. Expect them to stay up from daybreak to end, plus they offer amazing arch support. Make sure to order one size up for the best experience.
9- Hanes Men's Freshiq Odor Protection Crew Socks (12-Pack)
Amazon
Many reviewers say Hanes Men's Freshiq Odor Protection Crew Socks offer the best bang for your bucks. These cotton/polyester/nylon blend socks check every box for the best work socks: breathable, ultra-comfortable, and wick away moisture en par with high-end counterparts.
Your toes will thank you for their comfortable fit, while the tough, double-padded footbed makes sure your feet stay comfortable and fatigue-free. They're machine washable and feature a little spandex for a snug fit.
10- KMM Heavy-Duty Work Crew Socks Men (10 Pack)
Amazon
KMM's two-toned crew socks use a balanced combination of spandex, cotton, and polyester, making them some of the best work socks on the market. These socks have a reinforced toe and heel for extra cushioning and longevity, arch stability, and enhanced circulation. They boast moisture control, soft, and anti-bacterial fibers with enhanced ventilation for breathability.
Customers comment that they stay put thanks to the anti-slip heel pocket. The ribbed leg is stretchy yet comfortable, leaving no marks behind.
11- GermaPro Work Boot Socks with Germanium & Coolmax Lite-Compression
Amazon
It's quite impressive how much technology GermaPro has managed to squeeze into these rugged, fun-looking compression socks. GermaPro's socks deliver superior breathability, comfort, and moisture control, making them the best work socks.  They aren't only good for work socks, though, because they can double up as hiking, trekking, or skiing socks.
These socks extend to mid-calf yet don't feel restrictive. They feature Germanium & Coolmax Lite-Compression, anti-bacterial, and moisture-wicking technologies, all working in tandem for the best results.
Best Work Socks: What to Look For
When you work hours on end, there is nothing worse than uncomfortable socks that leave your feet sweaty, clammy, and blistered. The best work socks should complement the structure of your work boots. They should also be durable, resilient, and feature thick construction to make sure your feet stay comfortable and warm after long hours of work.
Comfortable feet can do wonders for your health and well-being at work. You'll be hard-pressed to give your best performance when your feet are cold, irritated, and wet. You want a pair of socks that fit well, feel like a second skin, and don't bunch or cause irritation after hours of work-intensive wear.
If you're searching for the perfect pair, this guide should help you determine which kind of work socks are ideal to pair with your work boots.
Material
The material used to weave the socks will influence their performance, especially when it comes to comfort, protection, and durability. The right sock fabric will certainly help protect and keep your feet dry and comfortable. Thankfully, a variety of materials are used to make work socks nowadays, so your options are almost endless.
Some popular materials for work socks include cotton, merino wool, bamboo, and synthetic fibers — most notably polyester, nylon, acrylic, and spandex. The best work socks, however, use a blend of these fabrics for optimal comfort, breathability, and performance both indoors and outdoors.
Merino wool: If you associate wool with irritation, scratchiness, or itchiness, then you haven't worn merino wool socks. This material, spun from merino sheep wool, is a natural dirt-repellent, wrinkle-resistant, and highly breathable fabric that has taken the world of apparel by storm in the past few decades.
Socks that contain merino wool are warm, moisture-wicking, and soft. Best of all, the material possesses natural temperature regulating properties, keeping your feet dry, comfortable, and free from blisters no matter the conditions. For these reasons, merino wool is an excellent all-weather sock material.
Overall, merino wool is much more comfortable, lightweight, and less itchy than traditional ragg wool. It's also thought to have anti-bacterial and anti-odor properties. Preshrunk merino wool socks are safe to toss into your washing machine.
On the downside, merino wool socks are not exactly stylish or statement-making. Besides, this is a higher-quality sock fabric, which is clearly reflected in the high-end price.
Cotton: Show a sock made with cotton, and we'll show you one of the best socks for everyday wear. Cotton is a soft, cozy, and super-comfortable sock material. What's more – the natural fabric is also lightweight, cheap, and absorbs moisture like crazy.
That's all good until your cotton socks became wet, cold, and soggy, creating a slippery mess: a perfect recipe for sores, fungus, blisters, and foul odors. Cotton absorbs moisture but doesn't wick it away, so your socks become heavy, uncomfortable, and sweat-drenched through your workday.
Even worse, wet cotton socks won't keep your feet warm in cold weather. They can also cause or exacerbate foot conditions like fungus, corns, bunions, blisters, and plantar fasciitis. To reduce these problems, cotton is usually blended with wick-away materials like merino wool, nylon, or polyester to produce the best work socks.
Of note when it comes to work socks, most sock makers go for combed cotton because it's finer, stronger, and helps the sock keep its shape longer. Plus, this softer sock material is more breathable and less hairy (thus less itchy).
Bamboo: For most people, wearing bamboo socks is often an ethical choice but they offer much more than protection to our precious planet. Bamboo is a natural, breathable, and anti-odor sock material. The fabric feels soft against your feet, making it ideal for people with sensitive skin. It lets your feet breathe thanks to its natural, breathable fibers.
Socks made from bamboo keep their beautiful colors and shape for longer, not to mention they absorb both odors and moisture, keeping your feet dry, cozy, and odor-free through the workday. However, this fabric is prone to wear, tends to be pricier, and is only suitable for warmer weather.
Nylon: Affordable and generally a popular choice for the best work socks, nylon is an extremely strong, durable, and incredibly breathable synthetic fabric.  The best part:  nylon socks dry quickly, and have superior wicking quality even if you sweat profusely, so they'll keep your feet dry and comfortable from clock-in to clock-out.
Aside from sweat-wicking ability, nylon is made of strong and stretchy fibers that can hold up to the common wear and tear associated with work. It is typically combined with wool or cotton to offer better cushioning and warmth. Most often, nylon is blended with spandex for additional elasticity, improving fit and stretch especially at the calf or heel area.
Polyester: Like nylon, polyester is a man-made material that's extra-durable, fast-drying, and moisture-wicking. When used as part of a sock blend, this fabric improves arch support, helps socks retain their shape, and ensures a comfortable, snug fit.
You'll notice that most work socks have more polyester than nylon. That's because it's better at wicking moisture and is a more breathable fabric. Polyester socks also maintain their colors longer than nylon socks.
Spandex (also Lycra or Elastane): Most work socks include some spandex or other elastic fabrics. Even though they aren't used as the primary materials, these stretchy fabrics provide socks with their characteristic shape, allow for easy wearing, and prevent wrinkling or bunching, all of which are crucial for eliminating raw areas and preventing blisters.
Spandex is featured in strategic areas of socks to provide extra support, compression, and improve fit. But, for all of its stretchy capabilities, this material normally retains or picks up odors, which means socks with a higher spandex content could leave your feet with a stinky smell.
Think of it this way: the best work socks include at least three types of fabrics— synthetic fibers such as polyester for moisture-wicking, natural fabrics such as wool for added warmth & cushioning, and an elastic material such as spandex for a little stretch. 
Colors
Not many rules dictate what color you should choose for your work socks. After all, most of them will disappear somewhere in between your work boots and uniform.
Stick to your employer's dress code – Some companies do have a dress code in place and urge their workers to adhere to it. If that's the case, stick to socks in work-appropriate colors. When in doubt, you can always turn to classic neutrals: black, gray, navy or brown socks.
Match socks to your work pants – One rule of thumb when pairing socks, is to match their color to your pants. This is especially helpful if you work in an office. Matching your socks to your pants creates a visually seamless outfit and makes you seem taller. Note, however, that this doesn't mean identical shades; they just have to belong to the same hue.
Go a shade darker or lighter – When pairing your socks to the rest of your work outfit, especially the pants, don't be afraid to go for a darker or lighter shade. This makes sure that your socks don't scream too loudly or get too overwhelmed.
Go bold, but don't pile too much flash – As with groomsmen socks, you can always wear colorful socks for work. However, there's a thin line between colorful and clownish socks. If you pile too many bright, bold colors or outlandish patterns, your socks will make you look like Ronald McDonald. So, unless you make balloon figures in the amusement park for work, ensure your socks are muted if your outfit is flashy, and vice versa.
Do colors in moderation – Sure, work socks in bright colors or colorful patterns such as polka dots, stripes, or argyle can certainly add some pizzazz to your workplace. However, you should be careful not to go overboard. Everything in moderation!
Work socks usually favor performance and durability over aesthetics but that shouldn't stop you from wearing your favorite colors. Good thing, most of the best work socks come in multicolored packs, offering several different patterns, colors, and color schemes. Compression socks are normally patterned and colorful because they can be worn with sock-showing work shoes other than boots
Work Sock Designs
As you would expect from most sock types, work socks are available in a variety of designs and styles. They are usually defined by compression level and the position of the cuff. Your work socks' design is typically up to your comfort and personal style, but your workplace dress code may have a thing or two to say about it.
Obviously, work socks must rise beyond the ankle, so that work boots won't rub against your bare skin. No-show, low-cut, and ankle-style socks are generally a big 'no' for work. These three designs will leave your skin exposed to the friction caused by the actions of your work boots, and the results aren't pretty: sores, blisters, and irritations.
So what sock lengths are suitable for work socks?
Quarter socks: Quarter-style socks are a popular choice for work socks. They cover the whole anklebone and go well beyond low-cut socks. These socks sit slightly below mid-calf, offering a nice combing of cushioning for the ankle and calf, as well as abrasion protection from work boots.
Quarter work socks pair well with short-style work boots because they come slightly past the ankle and heel. They prevent the boots from uncomfortably rubbing against the lower calf and ankles. They are great for people who want to avoid bruising, over-sweating, and blisters.
Crew socks: Crew length is the archetypical design for the best work boots because the socks come up to the mid-calf, providing ample protection and support for the arch and ankles. Crew socks are highly recommended for people who work in construction and other physically-demanding jobs that require the use of steel-toe industrial shoes.
The cuff of crew socks extends approximately 8 inches above the heel for up to 12 inches beyond the ankle for maximum protection. That means these sock designs cover the entire anklebone and middle of the calf area. The higher cuff makes these socks an excellent choice for use outdoors or during colder months. They are also preferred for their added calf support and shin protection.
You can also score mini-crew and quarter-length crew socks, most of which are suitable for people who wear shorter work boots.
Compression socks: Compression influences the pressure and tightness of the socks on your feet. Compression socks typically come up over the calf or are knee-high, which is why they are preferred by wearers with circulation problems. Socks of this design help boost blood flow and improve comfort.
Athletic-style socks: Designed for running, training, and playing sports, athletic designs are for work socks, too. They are lightweight and offer great breathability and cushioning or padding at the ball or heel of the foot. Athletic-style socks are good enough for work but are maybe too thin for cold weather and tougher jobs like construction.
Sock Quality
The last thing you want is to spend your hard-earned dollars on work socks that bunch, sag, or develop holes after a couple of wears. You want a pair that's breathable and strong enough to stand up to the heavy wear and tear common in most work settings.
So, what qualities make for the best work socks?
Strong, comfortable ribbing: If you have seen a part of a sock that integrates vertical stripes similar to pleats into the cuff of the socks, then you know what ribbing is. This rib-style pattern helps create a form-fitting knit that gives the socks not only some stretch but also helps them stay in place during heavy movements.
The ribbed texture essentially makes the cuff of the sock stay up while being snugger, allowing for easy wear and removal. Additionally, the ribbing gives work socks a thicker feel and more supportive fit, without any bunching up or bulking at the ankle. This is a friction-reducing and form-fitting design that is always a sign of a good quality pair that will stay useful for a long time.
High-quality, durable materials: Quality fabrics are woven using the finest materials. Look for a blend comprised of durable synthetic materials such as nylon & polyester, as well as natural fibers such as merino wool. Along with top-notch construction, these combined materials create a sock that will hold up to frequent use, regular washes, and common wear without losing its shape, breathability, and moisture-wicking qualities.
Heel and toe reinforcement: Arch support and padding are some of the most important elements of the best work socks. High-quality socks provide extra cushioning at the toe and heel, so you can work comfortably for hours.
Reinforced areas and a good fit should take the pressure off your feet, protect against high impact and enhance comfort. Reinforced heels and toes improve stability, protect against irritation and injury and make the socks last longer.
Stitching and seams: Be sure to check the seams of your socks because they play a crucial role in durability and quality. They should be relatively flat to prevent them from itching or scratching your skin.
Another important quality check area is stitching (or double stitching, to be more accurate). Double stitching generates stronger, more robust seams for your socks, ensuring that they withstand the repeated wear and punishment of your work.
Other Tips for Picking the Best Work Socks
#1. Check sock's size and fit
It's important that work socks don't slide or move around in your work boots; they should fit well and comfortably even after long work hours. Selecting the right size socks will dramatically improve comfort and work experience.
Your socks must not be too loose or too tight. The wrong size socks, especially those that move around in the boots, are bound to cause sore spots, irritations, and blisters. It is imperative that you carefully go through the sizing guide to figure out what best fits your boots and feet.
#2. Cheap isn't always better
If you work long hours, you need socks that are equally tough and comfortable. Long work hours are surely going to take their toll on poor-fitting or poorly made socks. In turn, they will cause blisters, injury, or hurt your performance at work.
Make sure your socks are reinforced at the heel and toe so boots don't rub against your skin. Too much cotton in the socks can do more harm than good; they became cold, slippery, and likely to cause blisters when wet.
Cheap socks are usually less breathable and limit circulation. If they don't breathe, they can aggravate blisters, athlete's foot, and other foot conditions.
#3. Check the loops
Remember to check the size of the material/fabric loops used to weave the socks. Closely packed, tightly woven fabric loops are usually a sign of more durable, moisture-wicking, and protective socks.
#4. Getting used to your work socks
When you receive your socks, try them on immediately—with the work boots you regularly wear. Note how difficult or easy it is to put on and remove the socks.
#5. Consider the purpose
Most work socks are meant to be worn with work boots, but that isn't always the case. If you work in an office setting, you can always go for lighter, more classic dress socks. For people who work in an industrial environment, the choice is easy: quarter, crew, or calf-length compression socks will be okay.
In the vast majority of cases, it pays to think about performance over style but it doesn't hurt to choose something that accentuates your fashion sense. They should be both functional and look great. Besides, with so many different colors, patterns, and styles on the market, you are sure to score a pair that has the look and quality you want.
#6. Anti-bacterial technology can go a long way
Most brands that make work socks have innovative anti-odor and anti-bacterial technologies in place. Keep an eye out for these socks, particularly if you suffer from stinky feet. The best work socks often combine wick-away, anti-odor, and breathe-easy technologies in a single model.