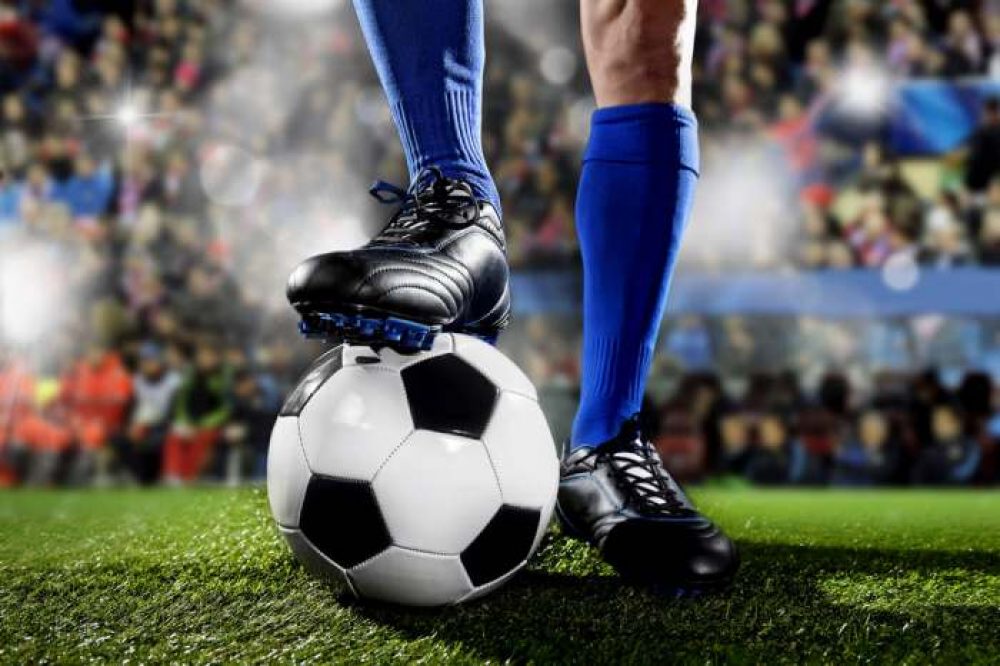 Whether you play soccer for fun or competitively, a nice pair of the best soccer socks is important for optimal comfort and performance on the pitch.
When looking for the perfect pair, you'll need to focus on socks made out of breathable and moisture-wicking materials, such as polyester, or nylon to prevent blisters and keep your feet nice, cozy, and dry. The best soccer socks often pair well with your boots and shin guards to offer a snug fit and an extra comfortable feel.
A quality pair should also incorporate additional cushioning in the heel, toe, and other areas that experience constant strain, as well as provide necessary arch support and compression. They should sport some anti-slip features and offer a supportive feel underfoot and around the balls of your feet. A pair equipped with anti-odor technology will also go a long way if you have stinky feet.
Is it time to upgrade your soccer kit? We've pulled together the 11 best soccer socks to get in 2023.
1- Classic Black Socks
Classic has never been more handsome and practical! This is a value-priced yet sturdy pair of soccer socks that will treat you well on and off the pitch. What makes Classic Black Socks by No Cold Feet the best of the very best soccer socks?
They're weaved from nylon, combed cotton, and spandex, which means this pair of socks will keep your feet warm and comfortable, as well as wick away moisture. Best of all, it comes in a timeless color, so it will go well with any kit or outfit. Did we mention that they're machine washable?
2- Adidas Unisex Rivalry Soccer OTC Socks
Amazon
If you're looking for the best soccer socks for players of all ages and levels of play, look no further than the Adidas Unisex Rivalry Soccer OTC Socks. This pair sports wick-away ClimaLite construction, keeping your precious feet cool and dry the entire match.
More excitedly, these socks feature compression in the ankle and arch, for a comfortable and snug fit. They are available in 5 cool colors as a two-pack in sizes for youth, women, and men. Expect excellent shock-absorption thanks to ample padding on the footbed.
3- Under Armour Adult Soccer Over-The-Calf Socks
Amazon
Under Armour offers a nice line up of over-the-calf two-toned socks available in a range of gorgeous colors. They wick away moisture like no one's business while keeping odor at bay with its Armourblock tech.
It's made from a blend of polyester, nylon, and spandex, meaning they offer amazing sweat-wicking and quick-drying capabilities. It integrates embedded arch support that minimizes impact and prevents foot fatigue.
4- Nike Academy Over-The-Calf Soccer Socks
Amazon
Mid-range-priced, this pair from apparel powerhouse Nike has just the right amount of everything you need for no-hassle soccer play. They are designed specifically for the left and right foot, helping you achieve the best fit.
Dri-FIT moisture-wicking technology, nylon construction, and arch support are some of the highlights that make this pair one of the best soccer socks to check out in 2023. The fact that they are reinforced at the toe and heel adds more durability and value.
5- Adidas Mundial Zone Cushion OTC Sock
Amazon
Adidas went above and beyond with the Mundial Zone Cushion Sock. It's a pair of traditional knee-high nylon socks with a little bit of spandex for elasticity. We particularly love the lightweight yet sturdy construction for superb ball control and snug fit.
These socks offer compression in the ankle and arch for additional support and stability. They offer targeted cushioning at the toe and heel area for optimal shock absorption. The cooling toe feature is what puts these socks over the top, offering excellent ventilation and breathability.
6- CHAMPRO Sports Multi-Sport Socks
Amazon
If you dabble in other sports like baseball, lacrosse, football, or basketball, the CHAMPRO Sports Multi-Sport Socks may be the best soccer socks for you. It's made from 100% polyester for an unrivaled moisture-wicking and cool feel.
The compression area at the ankle and arch incorporates 22% elastane for a comfortable, lockdown fit. They are thick enough for cozy, comfortable wear yet flexible with great mobility. Definitely, the price is unbeatable for a pair of multi-sport socks. You can get them in a variety of 18 beautiful solid colors, from maroon to neon green.
7- Unisex Nike Classic II Cushion Over-the-Calf Football Sock
Amazon
These socks offer a classic, single-tone look with the iconic Swoosh, a beautiful take on the cult favorite from Nike. It features Dri-FIT anti-odor, moisture-wicking technology to help keep your feet sweat-free and avoid stinky smell
The pair has been reinforced at the arch, toe, and heel to give you great comfort, best fit, and unmatched durability. Your choice of colors is impressive, from classic black to riveting yellow volt. The only downside is that they become see-through when worn over shin guards.
8- LUX Anti Slip Soccer Knee Socks
Amazon
If you're a defender or defending midfielder looking for the best soccer socks, you have just found the perfect pair! Featuring outer and inner anti-slip grips, these socks are engineered to offer maximum lockdown, support, and fit.
These socks come highly recommended for anyone who tends to sweat a lot. Besides the anti-slip feature, they are made from a wick-away fabric, to keep your feet cool and extra-dry. The Rubber Pad Sole Technology makes sure your feet are locked in for explosive bursts of speed. You can use them for other sports too, including rugby, hockey, basketball, and football.
9- MadSportsStuff Soccer Ball Athletic Crew Socks
Amazon
If crew socks are your cup of tea, you won't go wrong with this pair from MadSportsStuff. These Athletic Crew Socks offer a nice blend of breathable and moisture-wicking materials that include polypropylene, nylon, and Lycra spandex. They're lightweight, well-priced, and superbly-made.
As well as moisture-wicking quality, they offer strong ankle and arch compression to prevent blistering, minimize foot fatigue, and improve comfort. They feature Infused Alphasan antimicrobials control to stave off odors and bacteria, and double welt top for added stability.
10- All Store Kids Soccer Socks (5-Pair)
Amazon
Looking for a value-pack of the best soccer socks for your youth players? Your search ends here! All Store might not sound familiar, but the youngsters give a thumbs-up to this fashionable 5-pair for their warmth, comfortable fit, and locked-in sensation.
They are multicolored, so they'll appeal to both boys and girls from ages 4 through 13.  Targeted arch compression guarantees that the player's arch will be sure and stable. It helps that they are plenty elastic for a comfy fit. Add that to their tear-resistant, breathable, and durable construction, and you've got the perfect pair for all soccer activities.
11- Under Armour unisex-adult Tactical Heatgear Over-the-calf
Amazon
Give it to Under Armour to pack a ton of fantastic features and technologies into one beautiful pair of soccer socks. Foul odors and excessive sweat don't stand a chance here due to the socks' anti-odor technology and wick-away fabrics.
Players were impressed by these socks' affordable price, breathability, and lightweight, making them the best bang for your buck. They come in four color-ways to fit every style and personality.
Best Soccer Socks: What to Look For
(1) Materials
Socks have been worn since ancient Egypt to warm, protect, and cushion ankles and feet — and, in fact, Roman centurions wore them to prevent hypothermia during cold weather. And yet innovative, purpose-designed socks came about just recently.
Good thing is, soccer socks are at the forefront of sock technology, and it's easy to see why. A well-made pair of soccer socks will not only help you stay on top of your game but also keep your feet comfortable and save them from injury.
That being said, the material used to make the soccer socks is one of the most important determinants of their performance when it comes to comfort, stretch, and moisture-wicking.
Ideally, a quality pair should feature a supportive material in the heel and toe, elastic material in the ankle and calf, and stretchy fibers midfoot.
Cotton and Wool: Wool reigns supreme as far as the best socks for regular wear go. It's a popular and typically wallet-friendly option for mid-range soccer socks. Even though ragg wool was once popular; merino wool has recently taken the sock world by storm, and with good reason: it absorbs a third of its weight in moisture and is less itchy.
Cotton is another lovely choice for warmth and comfort but doesn't offer the necessary breathability, particularly in summer. For this reason, it's typically blended with moisture-wicking synthetic materials, such as nylon, polyester, or spandex, for a snug fit, sweat management, and dry comfort.
Nylon: Thanks to its affordability, ready availability, and wick-away properties, nylon is the star of making the best soccer socks. The material dries quickly and wicks away moisture, keeping your feet cool and dry. For better cushioning and warmth, however, it's normally blended with cotton or wool. Nylon's moisture-wicking capabilities also help with overall foot hygiene.
Silk: Soccer socks made from silk blends were more popular in the past, but not nearly as much today. Sure, it's comfortable, lightweight, moisture-wicking, and quick-drying, but silk doesn't stand up well to the constant wear associated with playing soccer. If your cleats are loose-fitting, you can use them as liners under regular soccer socks.
Polyester: Much like its synthetic cousin nylon in its wick-away and fast-drying properties, you'll find some of the best soccer socks made primarily from polyester. It also offers a little stretch and holds up nicely to frequent use.
Like woolen socks, polyester socks are highly breathable, so they'll stay dry and cool from the first whistle to stoppage time. They offer great arch support and won't slip around the boots, providing a reactive lockdown fit.
It's not likely that you will find soccer socks made exclusively from polyester, though; the vast majority integrates some spandex and wool for extra comfort, stretch, and warmth.
Spandex: Nearly all socks for soccer (and other sports, for that matter) have some spandex. It's usually not the primary "ingredient" but is added for additional elasticity and form. This stretchy material gives socks their shape and helps prevent wrinkling and bunching, both of which can lead to sore blisters on the pitch.
Furthermore, spandex prevents raw areas from developing on your feet on a long match or practice. The composition of spandex should be kept below 5% because it tends to retain or pick up odors. Most brands add anti-odor features to the socks to offset this downside.
Most soccer socks bring together a blend of two or three of the aforementioned materials. Nylon and polyester are typically used as the base materials, with wool or cotton bring in extra warmth. Spandex adds the finishing touches to the shape, comfort, and fit of the socks. If fashion or cold-weather wear are among your top concerns, we highly recommend a pair with a significant percentage of cotton and wool.
(2) Weight
The amount of padding will affect the weight of soccer socks. The more cushioning a sock has, the heavier it is. For competitive players, a pair of mid-weight socks is perfect for  trouble-free gameplay.
Ultra-light: These soccer socks are very lightweight and usually feature no padding/cushioning. Most soccer sock liners belong to this category, too. They are primarily used to wick away sweat from your feet. Nonetheless, they're rarely ideal for a high-contact, competitive game.
Very lightweight socks may be a good choice for your little one who just wants to enjoy a few kicks in the backyard.
Lightweight: Light soccer socks have a little cushioning, mainly at the ball and heel of your foot. They are thinly designed to wick away sweat yet keep your feet comfortable, with little added weight and no scratchiness. They are mostly used to play during the hottest days of summer.
Medium-weight: Perfect for all weather conditions, most of the best soccer socks fall into this category. They're medium-cushioned and great to play with year-round. These warm socks provide plenty of cushioning in the heel and ball of your feet.
Heavy-cushioned socks: If you plan to play on the most frigid days of the year, heavy-cushioned soccer socks are your safest bet. They will keep your feet nice and toasty during cold weather. In most cases, these socks can double up as winter or hiking socks.
(3) Colors
If you play in a team, it's a no-brainer to choose soccer socks in your team's color scheme or them. Your team coach or manager usually will provide you with this information. Otherwise, socks for soccer practice and play are available in a dizzying variety of colors and color blends.
Unlike dress socks which are usually found in black or other neutrals, there are several color choices for soccer socks. You can go as bright and bold as you see fit – or follow trends that are currently hot.
Don't be afraid to go crazy with patterned soccer socks, featuring polka dots, stripes, and even argyle patterns. Patterned socks go well with soccer cleats and lace-up trainers. It's crucial, however, that the color in the pattern should reference another color in the rest of your kit.
Crazy colored socks help you break away from the uniformity associated with soccer. Whether you want to switch up your game-time look or shine during practice, these colorful socks give you a big chance to stand out.
For instance, you can wear bold colors or designs during warm-ups to intimidate your opponents. Or better yet, show up to practice in fun-looking colorful socks to add a little excitement to the game. Whatever the case, be sure to showcase your personality using your favorite colors that aren't integrated into the team kit.
(4) Soccer Socks Designs
As with many sports socks, soccer socks come in several different designs which are often defined by the height and/or the cut of a pair. The cut is essentially the height position of the cuff.
Over-the-calf (OTC): The best soccer socks are usually of this length. They come at the traditional, knee-high length; the shin guard is fully covered with a little room for the sock at the very top.
The OTC style is worn by pretty much every soccer pro, from college teams to the who-is-who of the soccer world, including Messi and Ronaldo. These classic soccer socks typically sport extra cushioning along the shin, making it easy and more comfortable to wear them with high-upper cleats.
There are of course some players who like to take it up a notch by wearing socks that go beyond their knees. This helps cover the area below the shorts, preventing scraping and scratches when you slide during play.
Crew Socks: Youth soccer players often go for standard crew socks as they extend a few inches above the ankle. Ideally, they should go up to 12 in. above the ankle, but mini crew socks don't extend further than 7 in. Quarter-length crews are great for women players and practice, especially on a grassy pitch. Notably, not many competitive male players wear crew socks.
Low-Cut Socks: No-shows and low-cut socks have no place on any soccer pitch. They are normally worn for gym training and lightweight trail jogging/running. Low-cuts are never longer than 4 in. above the heel and sit just below the ankle bone, so they should be worn with trainers and other light practice shoes.
Right foot/ left foot socks: Some high-end brands like Adidas and Nike now design their socks specifically to fit the right or left foot. This allows for better cushioning, more comfort, and tailored support. You won't miss them: they usually bear an R or L on the label or on the big toe to show you which sock is for which foot.
(5) Sock Technology
Still not sure what makes some soccer socks better than others? As well as high-quality material, quality construction, and the right color, finding a pair with the right set of sock technologies will give you the much-needed competitive edge on the field. Here are a few design and technology features to look out for:
Dual welt top: The socks' welt an elastic strip (frequently made from spandex) at the top that helps keep your socks from sliding down. Keep an eye out for double-welted socks if you are a forward or striker. They will ensure that you don't have to pull your socks up often, giving your opponents some advantage play.
Anti-odor technologies: Most soccer socks include antimicrobials that help keep your feet from smelling awful after that intense 90-minute match. If you suffer from stinky feet, this is a worthy feature to look out for.
Ankle/arch compression: The compression level of your soccer socks will determine the pressure they exert on your feet and their tightness. Look for compression tech in the ankle and arch area; this feature aids in preventing fatigue, reducing injury, and offering extra supportive feel underfoot.
If you have circulation issues, a higher compression level is highly recommended for you. Note, however, there's a wide range of compression levels, ranging from mild at 8 to 15 mmHg to the extra firm at 30-40 mmHg.
Heel and toe reinforcement: The heel and toe are some of the areas that experience the most friction during play. As such, the vast majority of the best soccer socks have reinforced heels and toes. This simply implies that they have extra cushioning or padding with extra-strong weaves. A bonus benefit of reinforced heels/toes is that the feature offers added comfort and shock absorption.
Sweat or moisture-control technology: From NoColdFeet to Adidas, nearly every notable sock brand flaunts its own moisture-control tech. Adidas has ClimaCool and ClimaLite; Nike shines with the iconic Dri-FIT; PUMA incorporates DryCell, CoolCell, and CoolPlus Yarn, while Under Armour claims UrmourDry and HeatGear.
(6) Sock Quality
Quality is another vital factor that you need to include in your socks-buying decision. Because you're buying the socks sight unseen (read: online), you may not get an opportunity to try them on. Your next best bet is to check for subtle quality markers:
What's in a brand?: Well-established brands like Puma and Adidas have perfected the art of making socks, but their products may fall a little short of perfection. For this reason, it's wise to cast your net wide and check out boutique brands like NoColdFeet.
Read the label: Zero in on the material fabrics used in the socks' construction. For the best soccer socks, we highly recommend that you skip cotton altogether. A quality pair usually contains a blend of nylon, polyester, wool, and spandex.
Check the heel and toe area: Better cushioning is synonymous with higher quality. For decent arch support, look for a sturdy reinforcing fabric and cushioning (often varies with the weight of the sock).
Seams do matter: Wherever sock quality is key, you must factor seaming into the equation. If you've got the chance, be sure to turn them inside out and check the seams. They ought to lie flat against composite fabric; otherwise, they'll chafe or scratch against your skin.
Look at the seams on the toe area; there must be no seam in the front, creating a single, continuous piece. Nevertheless, a great seaming technique should be used to attach the toe segment to the rest of the sock.
Elasticity: Stick with spandex-infused socks; they are elastic enough to maintain their shape and allow for a snug, comfortable fit. However, too little or too much elasticity can do more harm than good.
Check fabric loops' size: Tightly woven fabric loops that are densely packed are usually a good sign of a high-quality, durable pair of soccer socks. These will offer great cushioning for the feet and wick away moisture profusely.
Choosing the Best Soccer Socks for your Position
The position you play will influence the material construction, coverage, and range of motion needed for your ideal soccer socks. Do you need to breezily maneuver sudden speed bursts? Are you in constant contact with other players?
All of these position-specific factors might help you pick the thickness, type, and size of the right pair.
Forward: Also known as the striker, the forward player is the play-maker in the final third of the pitch. They are goal scorers, so they must be flexible, quick on their feet, and make accurate shots.
Avoid tighter socks that can make it difficult to break free, burst forward, and score goal after goal. Go for lightweight socks because forward shin guards are usually thin. Don't order one size up.
Defender: You're the final line of defense, meaning that you'll get into a fair share of tackles and contact play. Defenders wear thick shin guards and call for socks with lots of protection for their ankles and shins. In saying so, the best soccer socks for defenders should be one size bigger and well-cushioned.
Goalkeeper: Goalies don't come into much impact. Like strikers, their shin guards are typically light and thin. That means you don't have to buy extra-big socks. Regular knee-high socks will do the trick.
Midfielder: Players in the position are the main play-makers in almost every inch of the pitch. Their socks must be built for flexibility, range, speed, and mobility. Because they serve as both passers and defenders, the perfect pair of socks must be cut out for this versatile role on the pitch.
General Tips for Soccer Socks
How many pairs of soccer socks do you need? There's no definite answer to this question. It often boils down to the league rules, convenience, and frequency of use.
Trying socks on the right way – When doing so, make sure to wear the cleats you plan to wear with the socks. In fact, soccer socks and cleats should be taken as a system, with each component playing a crucial role.
Ensure your soccer socks fit appropriately – Your pair must not be too tight and feel comfortable yet snug. The heel of your foot should line up with the heel cup of the sock without the need for extensive adjustment.
Cotton away – This is the rule of thumb: you should never pick cotton as a material for soccer socks unless it's a small part of the blend. This material may seem comfortable and cozy when dry and clean, but it drenches moisture like a sponge, loses warmth retention when wet, and dries painfully slowly.