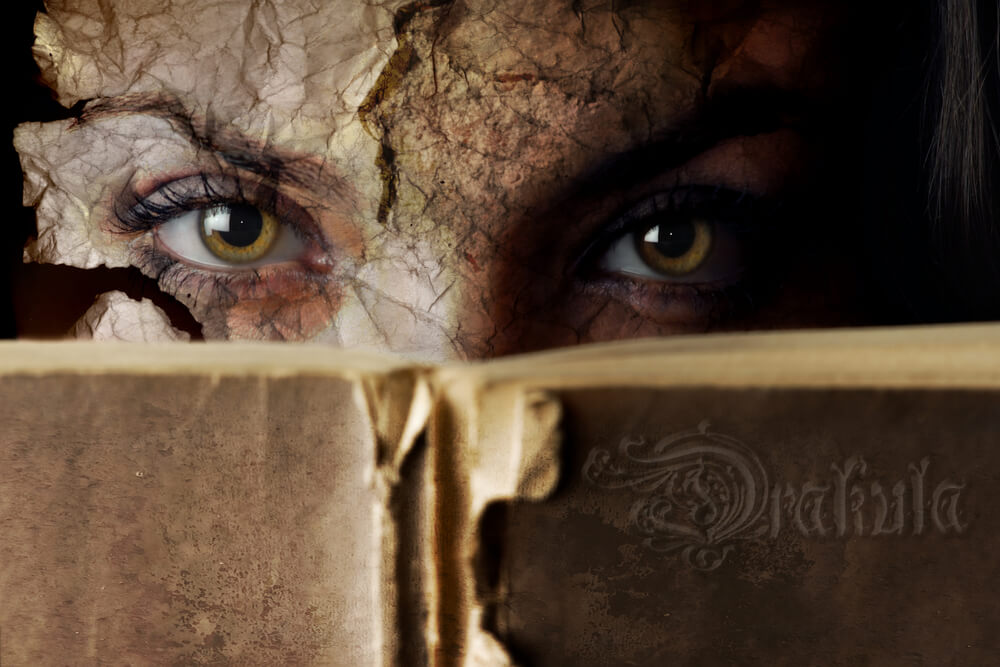 Vampires are dark, brooding, mysterious, and dangerous. They're definitely a little scary but, let's be honest, their allure is sexy too. This mix of sexy and scary is the foundation on which the genre of vampire romance is built. These books feature love, romance, and more than a little sex on occasion between vampires, humans, half-vampire/ half-humans, and all sorts of other paranormal creatures. While vampire novels have been around since the 1800s, it wasn't until the early 2000s that vampire romance became a huge sensation in the literary world.
Vampire books can trace their roots back 200 years to books like The Vampyre by John Polidori in 1819 and Carmilla by Joseph Sheridan Le Fanu in 1872. It wasn't until the end of the 19th century though when vampires really hit it big with the publication of Bram Stoker's Dracula in 1897. Romance novels have been around even longer, going all the way back to Ancient Greece. The modern romance novel, though, really started with British publisher Mills & Boon and the U.S. publishing house Harlequin in the 1930s.
While there are some earlier examples (see below), the two popular genres didn't meld together in a big way until the early 2000s. The overarching genre of paranormal romance – which refers to any romance novel with a romance between mythical characters such as vampires, werewolves, fairies, and more – had a huge explosion at the beginning of that decade. From 2002 to 2004 the number of these titles published in the U.S. each year doubled and kept growing from there, hitting its peak in 2008 and 2009.
When you look at the best books and series of the vampire romance genre, you will find all types and styles and books within this category. This group, as featured below, has everything from Young Adult (YA) to erotic literature and everything in between. You will find books set in far-off, mystical lands and at your local high school. The only through-line of the books on this list is that they feature vampire romance and are great reads. Here is the list of the best vampire romance novels of all time.
1. Twilight – Stephanie Meyer – 2005
Amazon
Any best vampire romance novels of all-time list has to start with the Twilight series. This series by Stephanie Meyer includes four main novels – Twilight, New Moon, Eclipse, Breaking Dawn – with a fifth, Midnight Sun, released in August of 2020. These books took the world by storm and sold over 100 million copies worldwide. In 2008 and 2009 alone Meyer sold over 25 million books each year. It has also been adapted into a smash-hit film series grossing over $3 billion and launching the careers of its stars, Kristen Stewart, Robert Pattinson, and Taylor Lautner. While these novels didn't invent the genre or even kick start its growth – the genre was already experiencing big growth between 2002 and 2004 – it did take vampire romance novels to new heights.
When Bella Swan moves to Forks, Washington, she meets and falls in love with the mysterious Edward Cullen who turns out to be a vampire. In the first book, Edward and his family help save Bella from James, an evil vampire that drinks human blood as opposed to the Cullens, who only drink from animals. When Bella runs to Arizona for safety, James finds her again and Edward has to come to the rescue one more time. Young werewolf Jacob Black has a small role in the first book but when he meets Bella, he immediately develops a crush that will drive the love triangle plot between Jacob, Bella, and Edward through the rest of the series. This is what spawns the iconic Twilight question, are you Team Edward or Team Jacob?
2. Interview with a Vampire – Ann Rice – 1976
Amazon
While not an outright vampire romance novel, Ann Rice's 1976 classic does play a major role in the genre moving forward, and subsequent books in her Vampire Chronicles series do veer more towards the vampire romance category. Another big reason this book can be categorized as vampire romance is due to the 1994 movie starring Tom Cruise, Brad Pitt, Antonio Banderas, and Christian Slater, some of the biggest sex symbols of the day in Hollywood.
This is the story of a vampire named Louis de Pointe du Lac who is telling his life story to a reporter. His life as a vampire spans from 1791 to 1991, the year he is telling the story. In the 1700s, he is a plantation owner in Louisiana when he meets a vampire named Lestat de Lioncourt who turns him into a vampire. The two become companions and are joined by a young girl named Claudia who Louis also turned into a vampire. The story follows them from Louisiana to all over Europe and back to New Orleans as Louis recounts their trials and tribulations along the way.
3. The Vampire Diaries: The Awakening – L.J. Smith – 1991
Amazon
The Vampire Diaries series is a YA series initially written by L.J. Smith, who wrote the original four books in the early 90s as well as the continuation, The Return trilogy, from 2009 to 2011. The series continued from 2011 with The Hunters trilogy by unknown ghostwriters and The Salvation trilogy by author Aubrey Clarke ending in 2014. The series was boosted in popularity thanks to the popular CW network TV show The Vampire Diaries. The show starred Nina Dobrev, Ian Somerhalder, and Paul Wesley in the main roles and ran for eight seasons from 2009 to 2017.
The first book in the series, Awakening, introduces us to high school student Elena Gilbert. She falls in love with a young vampire named Stefan Salvatore. When atrocities are committed by a vampire in the town, even Stefan believes he may have done it. Things take a turn though when Stefan's brother, the dark and brooding Damon returns to town. Initially seen as evil, Damon eventually falls in love with Elena as well which begins a brotherly love triangle that is one of the iconic love triangles in vampire romance fiction.
4. Dead Until Dark – Charlaine Harris – 2001
Amazon
Sometimes called the Southern Vampire Mysteries or the Sookie Stackhouse novels, many fans will know this series by author Charlaine Harris as the basis for HBO's hit series, True Blood which ran for seven seasons and starred Anna Paquin as Sookie Stackhouse and Stephen Moyer and Alexander Skarsgard as vampires Bill Compton and Eric Northman. There are 13 novels in this series and a host of short stories, novellas, and companion works. The first book, Dead Until Dark, was pretty faithfully adapted into True Blood's first season.
In the first book here, we meet Sookie Stackhouse, a waitress with telepathic powers, from the fictional Bon Temps, LA. In the world the books inhabit, vampires live among humans thanks to a synthetic blood product called Tru Blood which allows them to not have to feed on humans. Sookie falls in love with vampire Bill Compton in this book and must face-off with the scary and powerful Sheriff Eric Northman, a 1,000-year-old former Viking vampire. The books continue with the stories of the humans and mystical inhabitants of Bon Temps, focusing on their love lives.
5. The Warlord Wants Forever – Kresley Cole – 2006
Amazon
In 2009, author Kresley Cole was inducted into the Romance Writer of America Hall of Fame (yes, that is a real thing). Her ascendance to becoming one of the best and most well-respected romance writers of all time owes a lot to her first paranormal romance series, The Immortals After Dark series. This series, which she started in 2006 is about to be 19-books strong when her latest title, Munro, is released in 2020. If you end up loving this series, she has also written several YA novels as well as several award-winning historical romance novels.
The Warlord Wants Forever begins The Immortals After Dark series with the story of Nikolai Wroth, a merciless vampire general and Myst, a cagey seductress. Wroth only wants a bride to gain the power it will give him. Myst wants to seduce Wroth because she is a vampire hunter and getting Wroth to fall in love with her is the perfect form of torture. When Wroth fully falls for Myst and she leaves, he chases her to exact vengeance but their relationship may be stronger than either of them think.
6. Angels' Blood – Nalini Singh – 2009
Amazon
Vampire romance novels are just one specific subsection of the greater category of paranormal romance, which includes romance novels involving ghosts, werewolves, witches, and, in the case of this book, an archangel. This is the first in a 12-book Guild Hunter series which has all types of paranormal romance. If you are only really invested in a vampire being the love interest, you can skip ahead to book 4, Archangel's Blade, where the vampire Dmitri shows up to really spice things up.
Elena Deveraux is a vampire hunter by trade but is hired by the archangel, a class of god-like creatures who can control humans and vampires, Raphael to track down and stop a rogue archangel on a killing spree. As tough as that is, not falling for the seductive and dashing Raphael may be even more difficult. Elena quickly learns that in both love and murder, when humans get between archangels, it is the humans who end up paying the price.
7. Dark Lover – J.R. Ward – 2005
Amazon
J.R. Ward, or Jessica Bird as she is known when she writes more standard romance fare, is an award-winning vampire romance writer and a New York Times bestselling author. She has written several series, both in the paranormal romance genre and outside of it. Her two most well-known vampire romance series are the Back Dagger Brotherhood series (with 18 main novels) and the Fallen Angels series (with 6 novels). While these two series are set within the same world and, at times, feature the same characters, the plots generally don't have any crossover.
Dark Lover is the first book in Ward's Black Dagger Brotherhood series. The series chronicles the Black Dagger Brotherhood, a group of vampire warriors tasked with saving vampires from a group of humans, the "lessers," who have lost their souls. This first entry in the series follows Wrath, the pure-bred vampire leader of the Brotherhood, and Beth Randall, a human who meets the sexy, mysterious vampire. The romance and lust between the two of them may just destroy them both.
8. Dark Prince – Christine Feehan – 1999
Amazon
Known as "The Queen of Paranormal Romance," Christine Feehan is mentioned along with Bram Stoker and Ann Rice as authors who have done more than anyone else to popularize vampire literature. Her vampire romances, known as the Dark saga or the Carpathian novels, as well as her other paranormal romance series, are extremely popular and have landed Feehan at the #1 spot on the New York Times bestseller list an incredible 15 times. While the inaugural book in the 34-tome Carpathian series, Dark Prince, didn't make it to #1, book #19, Dark Curse, and book #20, Dark Slayer both topped the list.
In Dark Prince Feehan introduces readers to the world of the Carpathians, an ancient group of blood-thirsty vampires. With the female Carpathians dwindling, the entire race is in desperate need of female companions. Carpathians who find a companion lead wonderful lives while those who don't ultimately go mad and kill themselves. Just when it looks like they might be on the verge of extinction, they find that certain, special human women can be taken as "lifemates" which may save them from doom.
9. Vampire Academy – Richelle Mead – 2007
Amazon
The six-book Vampire Academy series by Richelle Mead is a very successful YA vampire romance franchise that deals with the students of the titular academy. The books have vampire lore, forbidden love, and delve quite deeply into the most sinister world of all, the high school social scene. The books were made into a 2014 movie but, unfortunately, the Vampire Academy film was a flop. It grossed only $7 million and has been derisively described as "Twilight-meets-Mean Girls" by online critics.
At St. Vladimir's Academy, vampires, and dhampir (half-human, half-vampires who become bodyguards for full vampires) train together to learn the ways and magic of their kind. Rose is a dhampir training to protect her best friend, the vampire princess Lissa. When Lissa, a good, Moroi vampire is in danger from the Strigoi, the bad vampires, she and Rose run away from school. When they are caught and brought back, they must navigate the danger at the school both from the vampires and the wicked vampire academy social scene.
10. Halfway to the Grave – Jeaniene Frost – 2005
Amazon
The Night Huntress series by Jeaniene Frost is a 7-book and one novella series that started in 2005 with Halfway to the Grave and continued until 2014s Up from the Grave. Once she finished this series, often referred to as the Cat and Bones series after her main characters, Frost published multiple spin-off series including the Night Huntress World series, the Night Prince Series, and the first book of her most recent spin-off, the Night Rebel series. These books can be categorized broadly as urban fantasy but, especially with the first series, it is very vampire romance heavy.
Cat Crawford is a half-human, half-vampire who goes out at night to hunt vampires and lure them to their death. This is all in the hopes of one day finding her vampire father, who raped her human mother. One night when on the hunt, she is captured by a vampire bounty hunter named Bones. They ultimately agree to work together to hunt bad vampires and end up falling in love. But, in the world of the Night Huntress, there is always harm that may befall them or their relationship lurking around every corner.
11. Kiss of Midnight – Lara Adrian – 2007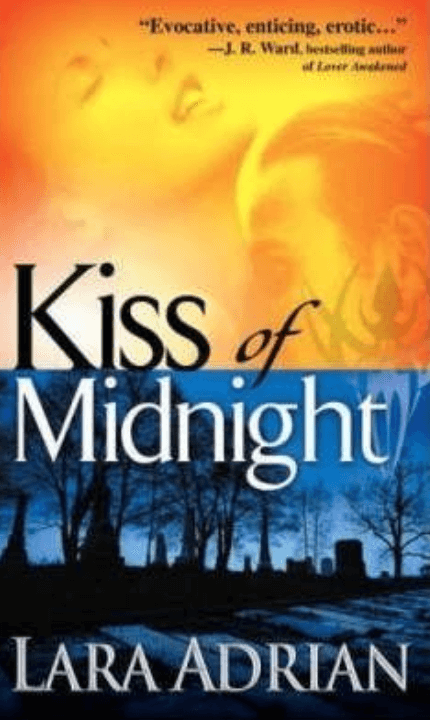 Tina St. John started writing romance novels in the late 1990s and had a bit of success with her historical and paranormal romance novels. It wasn't until 2007 when she took the pen name Lara Adrian and began her Midnight Breed series that she became a hugely successful, bestselling author in the world of vampire fiction. Her first novel in this series, 2007s Kiss of Midnight ended up on Amazon's "Top 10 Best Romance Novels of 2007" as well as many other "best of" lists from that year. She has since expanded the series to include 16 main novels and a total of 21 separate titles.
After a night at a club where she witnesses a murder, Gabrielle Maxwell is transported to another realm where vampires live side by side with unknowing humans. There is a war brewing in the vampire world between the Breed, the protectors of vampires and humans, and the Rogues who want to kill members of each of these groups. Although they both know it is wrong, Gabrielle and Lucian Thorne, the leader of the Breed, cannot hold off their passion for each other, which will end up putting both of them in grave danger.
Buy Kiss of Midnight – Lara Adrian on Amazon here.
12. The Vampire wants a Wife – Andie M. Long – 2017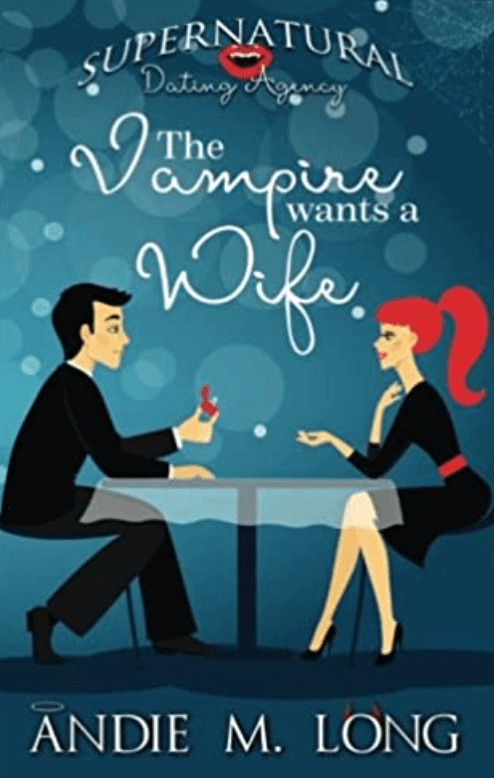 This best of vampire romance list is chock full of dark, dangerous, and deadly worlds, characters, and situations. It is what many people love about the genre but it can all get a bit heavy after a while. Sometimes, you may just want to read a light, fun vampire romance novel and that is exactly what you get with book 1 of Andie M. Long's Supernatural Dating Agency series, The Vampire Wants a Wife. It is the first in a series of Supernatural Dating Agency books that continue with entertaining titles such as A Devil of a Date and Here for the Seer. You can even continue on in the world after the original six books with Long's spin-off series, Cupid, Inc.
Shelley Linley, owner of the Withernsea dating agency has gotten a lot of weird clients in the past but never one like Theo who claims to be a vampire. Despite that fact, Shelley agrees to meet him and, weirdness aside, he seems like a really good guy. As Shelley finds out more about him and the even stranger company he keeps, her dating algorithm says she is Theo's perfect match. Deciding whether or not to pursue this charming but strange character is just one area the laughs and the sweetness come from in this vampire romance outlier.
Buy The Vampire wants a Wife on Amazon here.
13. Guilty Pleasures – Laurell K. Hamilton– 1993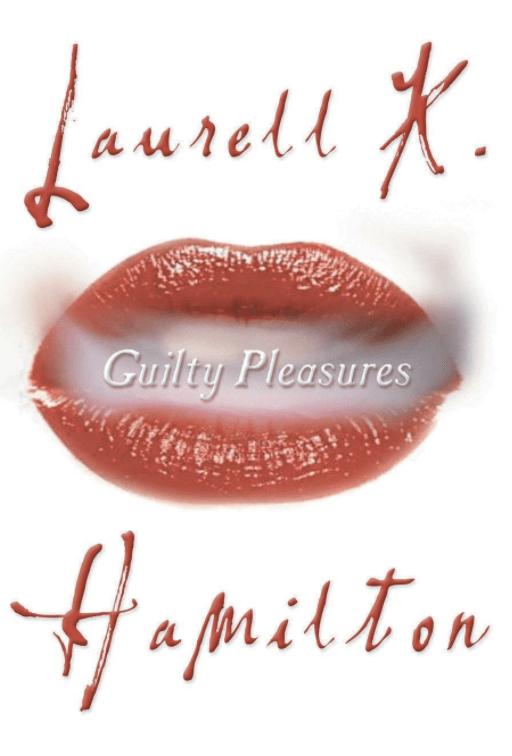 Guilty Pleasures is the first book in the 27-book (and counting) series about the protagonist, Anita Blake: Vampire Hunter. These books, like a few others on this list, skew toward urban fantasy. Especially at the beginning of the series, the focus is more on the action than the romance but there is plenty of vampire-based romance going on in Anita's little corner of St. Louis, MO too. As the series progresses romance and sex become a much bigger part of the plot. Whichever style readers prefer, they obviously love this series as it has sold over 6 million copies.
Guilty Pleasures is a noir thriller that takes place in a parallel universe where monsters, supernatural beings, and humans live together. The main character, Anita Blake, is a supernatural consultant to the local police, raises zombies, and is also a vampire executioner. This first book is one of the best in the series and focuses on Blake solving mysteries in her hometown. When she takes a case involving a vampire murder, she must deal with the attractive and tempting vampire master Jean-Claude for whom she really shouldn't develop feelings.
Buy Guilty Pleasures on Amazon here.
14. Awakened – Brenda K. Davies – 2012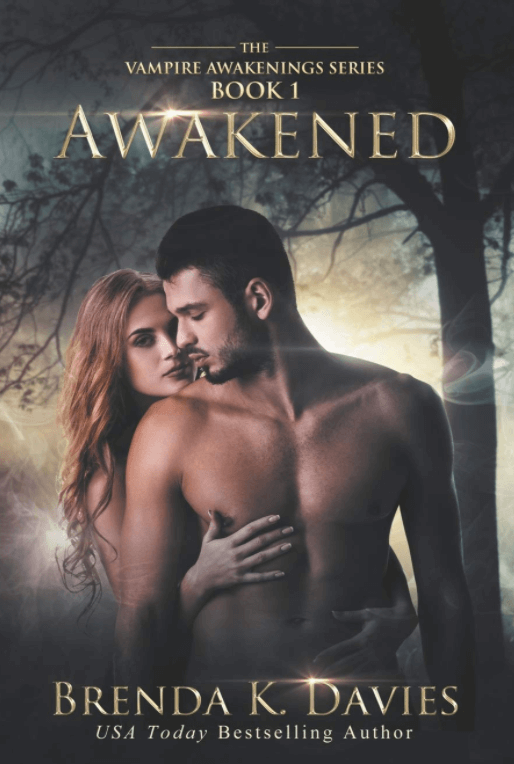 As mentioned in the introduction to this piece, there are all sorts of books on this list. Some of the books are very innocent and chaste YA novels (like the Twilight series) where there is no sex or drugs or graphic violence. On the other hand, there are some books that come with an "18+ readers only" warning in the description because of the graphic language, sex, and violence. This book is definitely in the latter category. This is not a problem for many readers and plenty prefer this style. It certainly hasn't been an issue for Brenda K. Davies whose graphic, erotic style has landed her on USA Today bestsellers list multiple times.
In Awakened, the beginning of the 12-part Vampire Awakenings series, we meet Sera and Liam. Sera is a college student who has been hiding from the world thanks to traumatizing incidents in her past. Liam is a charming stranger who lives in a very dangerous world and has a deep, dark secret. When these two meet, they become enthralled with each other as they are each exactly what the other needs. However, their individual past and present situations are fraught with danger for both. The book explores whether their love and passion can survive these challenges.
Buy Awakened – Brenda K. Davies on Amazon here.
15. A Shade of Vampire – Bella Forrest – 2012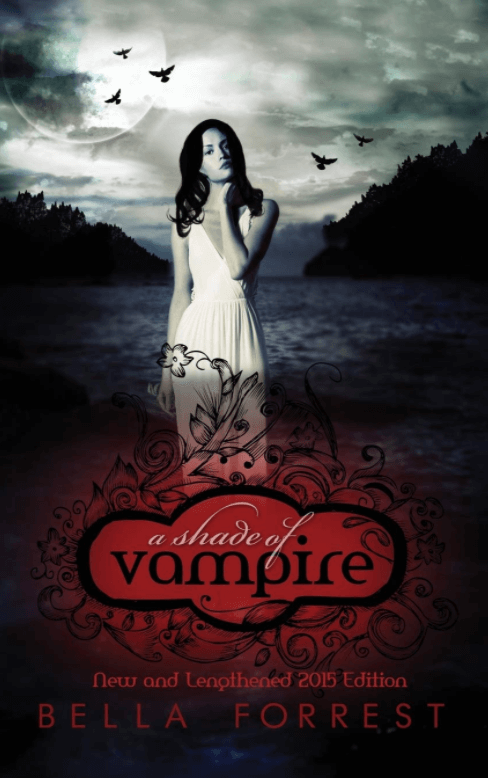 The best part about a good vampire romance series is that you can tear through book after book learning more about the world and the characters as you go. When you really love a series, you can burn through books fast though and finish the series before you know it, leaving you wanting more. This is not the case with Bella Forrest's prolific A Shade of Vampire series. Over the course of an astonishing 92 books written in just 8 years, Forrest creates a world of vampire romance unlike any other. While the initial story which started in this first book, the Derek Novak and Sofia Claremont saga, is wrapped up in 7 books, the world and the characters live on through dozens of more volumes.
Our introduction to the world of A Shade of Vampire is through Sofia Claremont on her 17th birthday. She goes to sleep and gets trapped in a nightmare where she is kidnapped and taken to an always dark island known as the Shade. Here, she is forced into slavery until she is selected to be part of the harem of Derek Novak, the dark vampire prince of the region. Her goal is to do whatever it takes to keep Derek happy and keep herself alive. The book and following saga have been described as "Twilight meets Avatar."
Buy A Shade of Vampire – Bella Forrest on Amazon here.
16. Vampire Next Door – Angela Snyder – 2013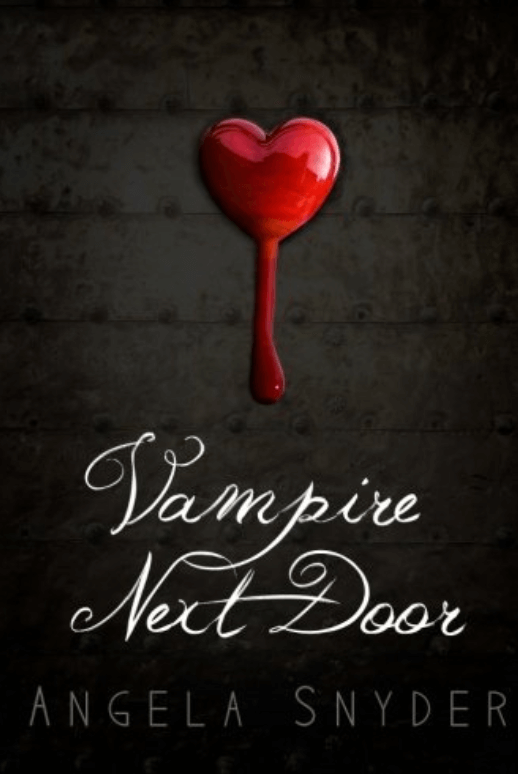 In stark contrast to Bella Forrest's 92-book epic series, Angela Snyder's Vampire Next Door is a standalone novel. We all love series but sometimes it is nice to have a beginning, middle, and end with a sense of closure at the end of the book. This book does that and, though Snyder does say she is planning a sequel, this book ends with a HEA (happily ever after) ending as opposed to a HFN (happy for now) ending which is an issue that befalls many series. In order to drive the narrative forward into the next books, many series leave their characters in a state of HFN with trouble brewing on the horizon. This is good to get to the next book but not always satisfying for the reader.
In this novel, Jane Doe awakes to find herself with no memory in the woods of Pennsylvania. As she recovers and tries to put her life back together, she falls in love and marries her doctor. However, when he is killed Jane's life spirals and the only thing that helps is a mysterious stranger who moves in next door named Sebastian Alexander. Together, Jane and Sebastian work to get her memory back, find out who tried to kill her, and face a villain you will never see coming.
Buy Vampire Next Door – Angela Snyder on Amazon here.
17. How to Marry a Millionaire Vampire – Kerrelyn Sparks – 2005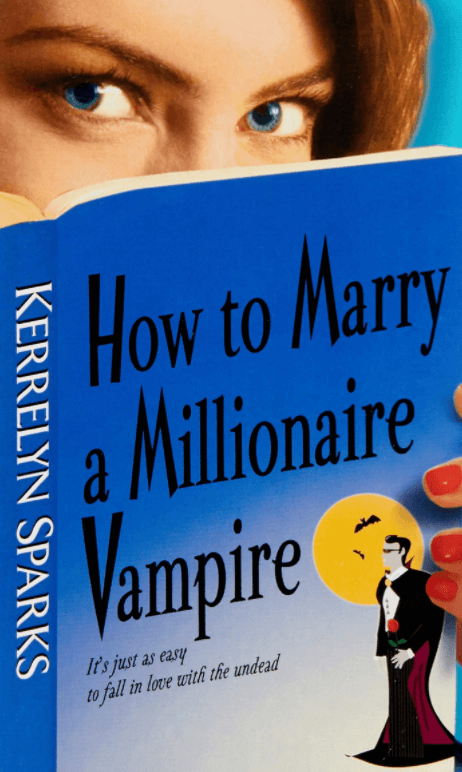 One of the reasons that vampire romance novels work so well is because the vampires are cool, suave, ominous, and sexy. While characters like this are usually the rule in vampire romance fiction, sometimes there is a great exception that comes along to help change things up a bit. This book by Kerrelyn Sparks deals with some heavy themes but is definitely on the lighter side of the genre. It is funny and enjoyable and, what many vampire fans will like most is the main vampire in the book. Although he is tall, dark, and handsome, he is not at all cool or smooth like most vampires. In fact, he is a little bit of a geek which is great for the comedy aspects of this book.
Shanna Wheelan is a dentist who is struggling with her profession because she is afraid of blood. She is also on the run from the Russian mafia after becoming a key witness in a murder case. Roman Draganesti is a vampire who spends more time studying science than he does seducing human women. When he breaks his fang on a sex doll, he has to find a dentist to fix it quickly. When Roman meets Shanna, sparks fly but time will tell if these two outcasts can make a relationship last with each of their idiosyncrasies.
Buy How to Marry a Millionaire Vampire on Amazon here.
18. Vampire Girl – Karpov Kinrade – 2016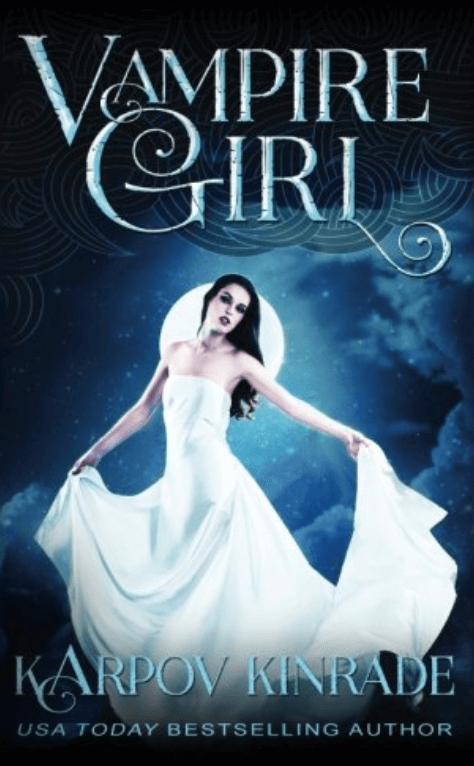 Karpov Kinrade's Vampire Girl series is very well-reviewed, enjoyed by fans around the world. This is a seven-book series and three of the novels – Vampire Girl, Midnight Star, and Moonlight Prince – have all landed Kinrade on the USA Today bestseller list. There are also two novellas set in this world as well as a standalone novel called Of Dreams and Dragons. It is a wide-ranging universe that is vivid and intense and can easily support the books already written and any more to come.
Vampire Girl begins with Arianna Spero telling readers, "Monsters are real. Demons are real. Vampires are real. And I'm about to become one of them." When Arianna's mother becomes sick, she makes a deal with the devil and when Arianna turns 18, it is time to pay up. However, it turns out the princes of darkness want Arianna more than her mother and she agrees to become part of the undead underworld and be a vampire bride. While this sounds horrible at first, Arianna soon realizes that there is power and intrigue in her new life and maybe even love.
Buy Vampire Girl – Karpov Kinrade on Amazon here.
19. Some Girls Bite – Chloe Neill – 2009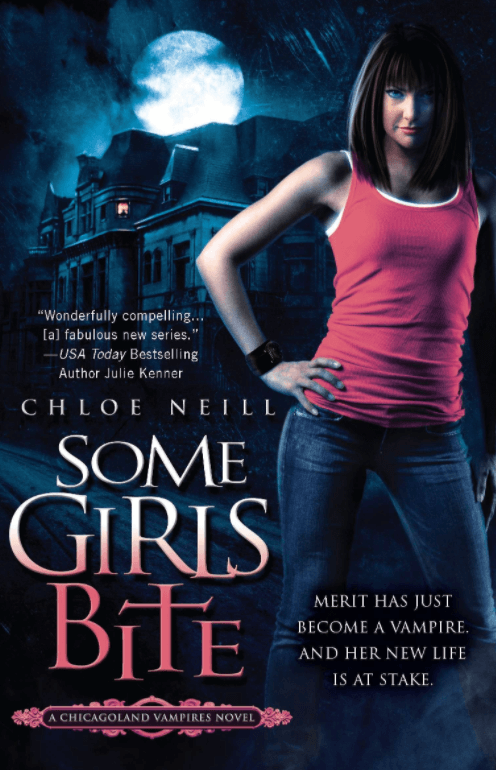 You don't have to be from the Midwest to appreciate Chloe Neill's excellent Chicagoland Vampires series but the author does such a great job painting a picture of the real city in a fictional world that those who do know the city will appreciate the books even more. The story is a classic one of a young college girl-turned-vampire trying to adjust to life as a baby vamp, but the series is very well-written in the first person and Merit, the main character, is much more intelligent and confident than other, less well-developed female protagonists in the genre.
Merit is a grad student going about her life in Chicago with her roommate Mallory when one night she is attacked on campus and a vampire named Ethan turns her into a vampire in order to save her life. The following days and weeks are a whirlwind for Merit. She receives an invite to the prestigious vampire establishment known as the Cadogan House and meets many vampires who are friendly, evil, helpful, or shady. There are even a few sexy ones. In this world, there are all kinds of monsters who live among humans but vampires are the only ones that are known, and Merit's grandfather is now part of the government committee to help evaluate them. It is a lot for Merit to deal with all while dealing with being a new vampire.
Buy Some Girls Bite – Chloe Neill on Amazon here.
20. A Quick Bite – Lynsay Sands – 2005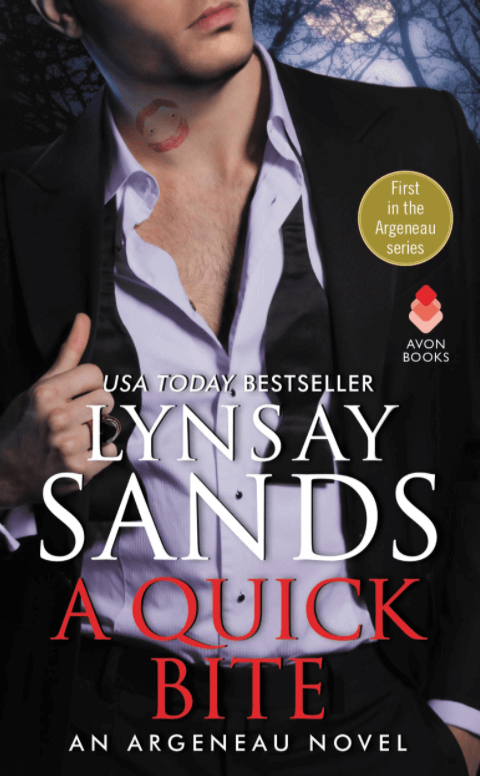 The Argeneau Vampire series is about a family of vampires written by Canadian author Lynsay Sands. There are 30 books in the series which fans love for its blend of humor and romance. These books are fairly typical vampire romance fare but have a lightness about them that many books of the genre don't. The Argeneau family is a fairly typical modern family, save for the blood-drinking and immortality piece. The writing is quirky and will leave you with a smile while also bringing the heat that many readers are looking for in a vampire romance.
Lissi Argeneau is a 202-year-old vampire who has one small problem. She is afraid of blood. It actually makes her faint. On this particular night when A Quick Bite starts, there is a good-looking man tied up in her bed and she is ready to pounce if it wasn't for the pesky phobia. Lucky for her, the man is Dr. Greg Hewitt, a phobia specialist who may be able to help Lissi with her fear. This relationship starts with desire, turns mutually beneficial, and may ultimately lead to love if the two can escape whatever mysterious enemy is chasing them and trying to keep them apart.
Buy A Quick Bite – Lynsay Sands on Amazon here.
21. Strawberry – Lena Fox – 2013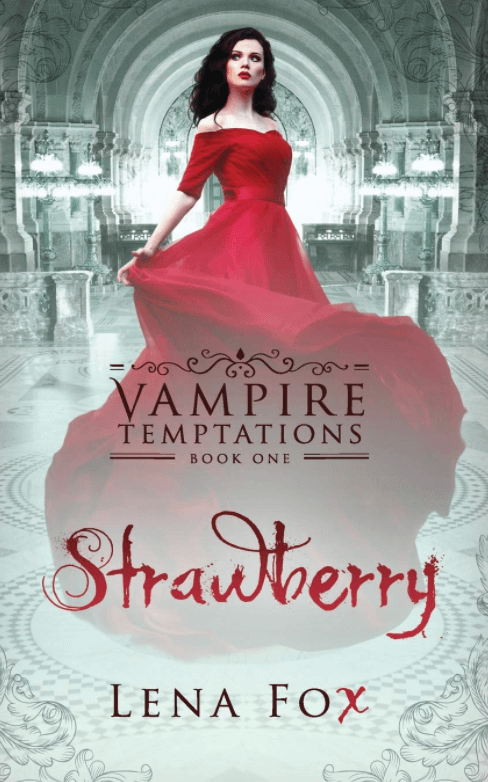 Lena Fox is a writer known for writing "romances and steamy fantasy". Her vampire romance novels known as the Vampire Temptations series is NOT a YA book. While the sex scenes in these books might be heightened, the main character is a very relatable everywoman going about her life when she happens to find out vampires are real. It is this relatability – paired with the steamy sex, of course – that makes fans love these books so much. And, if you want more of Lena Fox's titillating writing, you can also check out her 50 Shades of Grey-style Romance and Ruin series.
Kitty French is a normal, food-obsessed, sassy, out-of-work actress desperate for a job. That is the only reason she took the gig playing a vampire's victim in some sort of sketchy play. Turns out though, this is not a rehearsal; the vampire and his desire to suck Kitty's blood is real. While Kitty's instincts say get away now, her attraction to the hot vampire says maybe she should investigate more.
Buy Strawberry – Lena Fox on Amazon here.
22. The Vampire Wish – Michelle Madow – 2017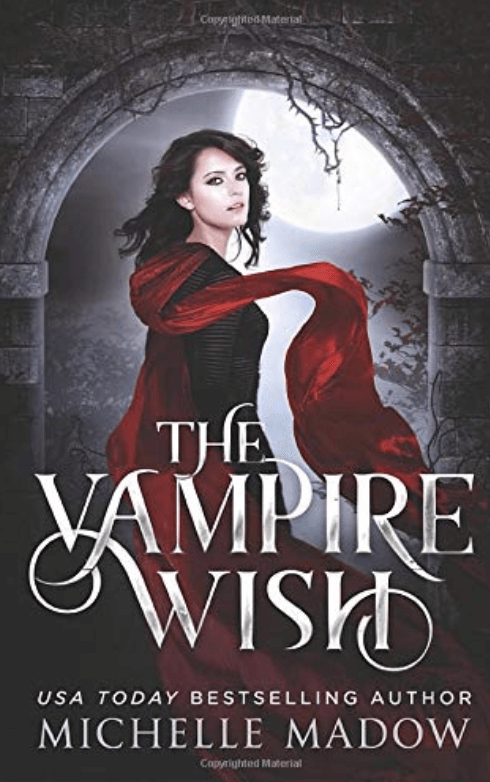 This is a YA series that is more sword and sandals-based than almost anything else on this list. It is actually billed as "Twilight meets Aladdin" and is very similar character-wise to the early 2000s Stephanie Meyers classics but differs enough that it doesn't read like a straight copy from a plot perspective. The bottom line with this series is that if you or your young adult has devoured the Twilight series and are looking for something similar to take on next, the Vampire Wish series and its five volumes is a very good option.
The book starts off in the world as we know it but quickly shifts to a secretive vampire kingdom far away called Vale. This is where they take our hero Annika after the vampires murder her parents and abduct her. She now exists in Vale as a blood slave which is where she meets Jacen, a vampire who is fighting his bloody desires disguised as a human. This leads Annika down an incredibly fraught path where she must decide whether to give in to her feelings for Jacen or become a vampire herself to gain the power she needs to survive in Vale.
Buy The Vampire Wish – Michelle Madow on Amazon here.
23. More Than Blood – Amanda Vyne – 2009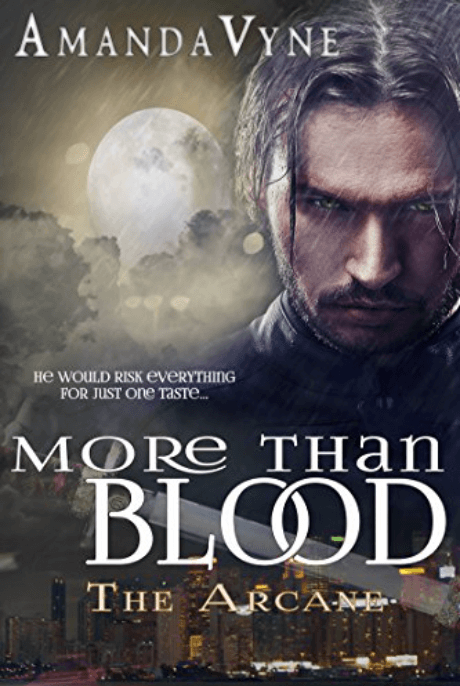 There are two interesting things about the first book in Amanda Vyne's Arcane series. The first is that while it is paranormal romance, it can easily fit into the murder mystery thriller genre as well which makes it a slightly different read than some of the more pure romance books on this list. The other tidbit is that although this is very much vampire romance fiction, the word vampire is never actually used. The supernatural characters in this book are Sanguen, which are  described just like a vampire but without using the term.
Kel Sheridan is a former street urchin who now works for a vigilante group that investigates crime in Arcane's underworld. Gabrial Ferrar is a top law enforcement agent in Arcane and a Sanguen. When the two attractive young characters meet in an alley and exchange blood, they are bonded. When Kel finds out Gabrial's history and that he comes from the house that put her on the street as a child, she is not very happy. All this is put aside though when a friend of Kel's disappears and Kel and Gabrial must work together to stop a murderer.
Buy More Than Blood – Amanda Vyne on Amazon here.
24. Not His Vampire – Annie Nicholas – 2017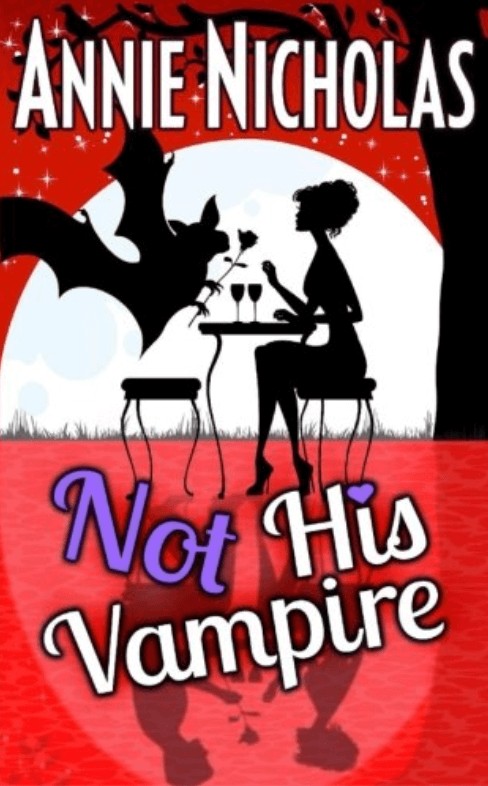 Another lighter-side vampire romance, this is a book that reads like a romantic comedy, just with paranormal beings. It is part of the Not This series by Annie Nicholas and, while most of the series books on this list are #1 in the series, this is actually the third book of seven, The two that precede this are Not His Dragon and Not His Werewolf. These are both fun reads as well but since there are no vampires, they don't make the list of best vampire romance novels of all-time. The good news is that you can read this as a series but you don't have to. Each book stands on its own as a delightful romantic comedy.
When human Trixie Russell and vampire Victor Petrov both end up chained in a dungeon, they don't immediately find themselves compatible. But, with time on their hands, they get to talking and it turns out they have more in common than they thought. Now, Trixie is all in on helping herself and Victor escape so they can take revenge on the people who sent them there. Once they're done with that though, she will part ways with Victor forever. That's the plan at least.
Buy Not His Vampire – Annie Nicholas on Amazon here.
25. Any Way You Want It – Kathy Love – 2007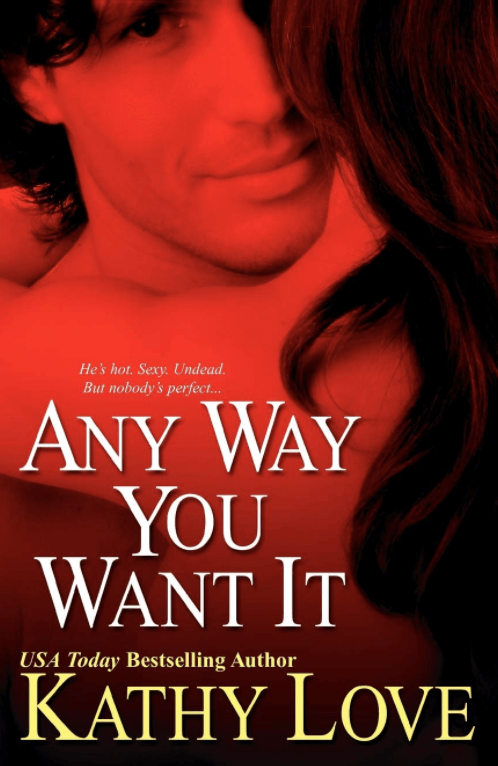 Much like the Chicagoland Vampires series by Chloe Neill, the Bourbon Street Vampire series by Kathy Love offers an incredible sense of place. For anyone that has ever been to New Orleans and stopped in a dive bar on Bourbon Street or a tiny jazz club in the French Quarter, you will be instantly transported back there by Love's novels. The books are not just about the setting though. They are very hot and heavy novels with all the vampire romance you are looking for in these types of books.
Maggie Gallagher is a bookworm who spends most of her time researching unknown pieces of music by dead composers from centuries ago. When she decides to throw caution to the wind and spend a night on the town, she can't believe it when she hears a piece of music she is researching. It is played by a sexy and smoldering keyboard player who catches on to the fact that she knows his never-published song. This is very strange for Ren D'Antoni, an undead vampire and former composer who was murdered by a friend just before he was about to hit it big. The two connect over the music and a mutual attraction but, especially in the Big Easy, a human/ vampire relationship is never simple.
Buy Any Way You Want It – Kathy Love on Amazon here.
26. Unwed and Undead – Mary Janice Davidson– 2004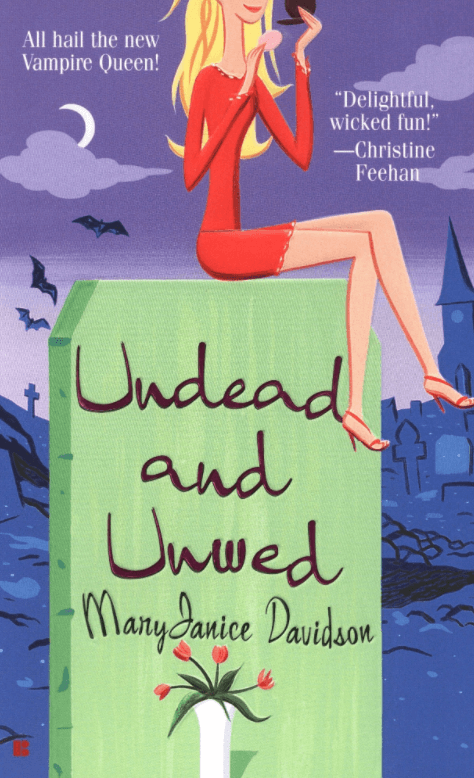 If Candace Bushnell, author of the Sex and the City books, wrote vampire romance novels, Unwed and Undead might be the series. While Betsy Taylor might night be as likable as Carrie Bradshaw, that may be somewhat understandable as she has just become a vampire. The book is light-hearted and fun with very intense and passionate sex scenes and a character with a passion for designer shoes. It is the first of 15 Queen Betsy novels (or Undead series as every book is named Undead and Un-something) so there is plenty more vampire sex in this city.
Betsy is a former model and now former secretary after losing her job. Just when her day seems like it can't get any worse, she is killed in a car accident. The problem, though, is that she can't stay dead. Waking up in the morgue every night, Betsy figures out she has become a vampire and, as some other vampire friends she meets believe, she may actually be a vampire Queen tasked with overthrowing the evilest vampire of all. When she meets a sexy vampire named Eric Sinclair who gives her gifts of designer shoes, she starts to think this vampire thing might not be so bad after all.
Buy Unwed and Undead – Mary Janice Davidson on Amazon here.
27. Companions of the Night – Vivian Vande Velde – 1995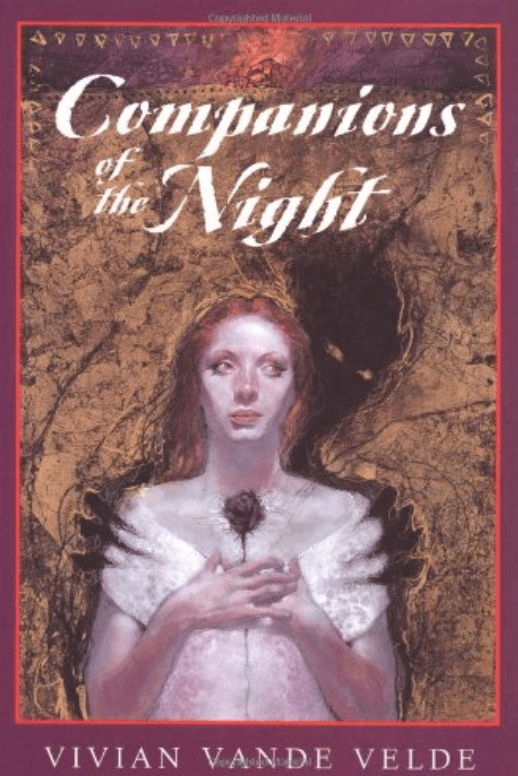 Here we have another standalone novel which is refreshing on this series-heavy list. It is also a YA novel that came pre-Twilight, so it is one of the books that helped establish the genre before the big vampire romance boom happened in the early 2000s. Since it was before the genre was truly established, the book concentrates on vampire lore and adventure with a romance plot added as a little extra treat. It doesn't have some of the tropes we have come to expect in vampire romance novels but that is part of what makes this such an interesting, original story.
When Kerry's little brother Ian asks her to retrieve his teddy bear from the laundry late at night, she obliges. While undertaking this task, though, she runs into a group of vampire hunters with a young vampire boy captured and bound. When the hunters start to think that she is a vampire too, she helps the boy, Ethan, escape and their adventures and blossoming romance that follows creates an exciting and page-turning narrative.
Buy Companions of the Night – Vivian Vande Velde on Amazon here.
28. Marked – P.C. and Kristin Cast – 2005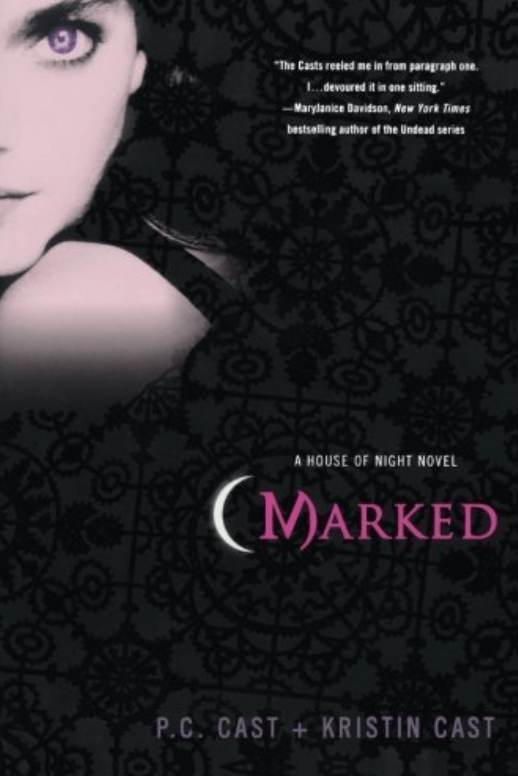 Marked is the first book in the 12-book House of Night series which is a YA vampire romance series written by bestselling author P.C. Cast and edited by her daughter Kristin. The books in the series have sold over 10 million copies worldwide (7 million in North American alone) and the different books have spent an impressive 63 weeks total on the New York Times bestseller list. Even though the books are aimed at a younger audience, they do depict more sex than other books in the YA part of the genre. The books have even been banned in a junior high in Texas for their "sexual content."
The book kicks off the series by introducing us to 16-year-old Zoey Redbird. She has recently become a "vampyre" (as the authors spell it) and is enrolling at the vampire school, the House of Night. Here she will undergo "the Change" and become an adult vampire. She is gifted special vampyre powers by a goddess at the academy and has a bad run-in with the Dark Daughters, the most powerful group at the school. In order to make it through her curriculum, she must gather her inner-strength and make some friends to help her on her journey.
Buy Marked – P.C. and Kristin Cast on Amazon here.
29. Unchained – Helen Hardt – 2018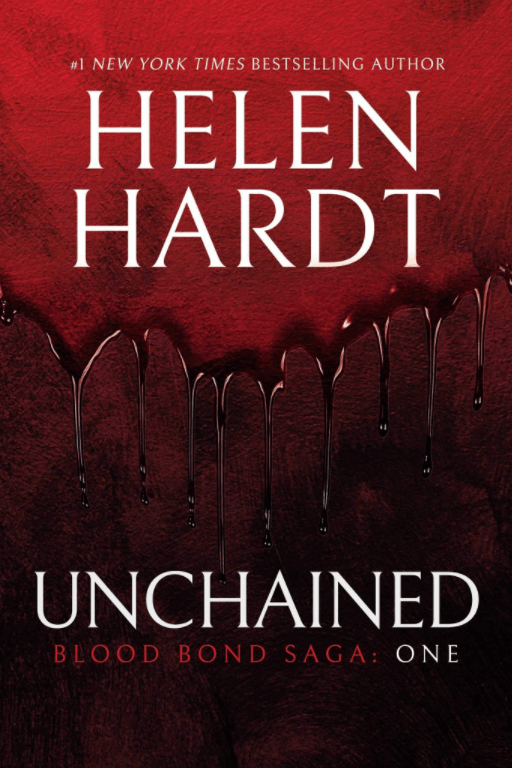 Unchained is the first book in the Blood Bond Saga but it is actually the first three books. Author  Helen Hardt writes this series in small novellas and then releases them as one book. There are either 15 or five books in this series, depending on how you look at it. Each of the shorter stories is just over 100 pages long which makes the larger books, like this one, between 300 and 400 pages which is about the size of your standard vampire romance novel. The series follows the love story of Dante Gabriel and Erin Hamilton throughout the books and is definitely for adults only as the sex scenes in the book can be pretty detailed and even kinky.
Dante Gabriel was held captive as a blood slave for years by a female vampire which has scarred him, literally and figuratively. He is now a vampire himself and is looking to feed. Erin Hamilton is an ER nurse who busts Dante breaking into the hospital blood bank one night during a late-night shift Instead of turning him in, their mutual attraction overcomes them, and they start a relationship and learn more about themselves in the process than they bargained for.
Buy Unchained – Helen Hardt on Amazon here.
30. Vlad V: Vampire – Mit Sandru – 2013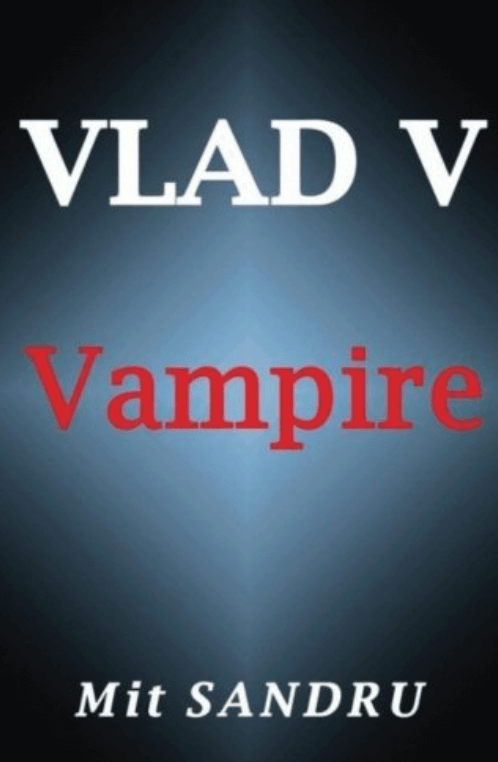 Who better to write a series about a vampire than someone who grew up in Transylvania? Romanian-American author Mit Sandru grew up in the shadow of the infamous and mysterious region, which may have made vampires part of his DNA. That is why it is no surprise that his Vlad V series is a compelling read. The five books in this series are somewhere between short stories and novels. The first book is just under 100 pages while the last book is about 250. You can knock out the series pretty quick which most readers probably will once they start this page-turning, modern-day Interview with a Vampire-style series.
When Cat Sanders meets a real-life vampire on the New York City subway, she is worried she won't survive. Instead, she is invited out for coffee by the vampire. As the two hang out for the next 48-hours, Cat learns all about the life and times of her new companion, Vlad V Draculesti. He tells her everything from how he became a vampire to how he came to be riding the NYC subway that night. He shares everything about his life but the most surprising thing is why he picked Cat to share his story with.
Buy Vlad V: Vampire – Mit Sandru on Amazon here.
31. The Vampire's Mail Order Bride – Kristen Painter – 2015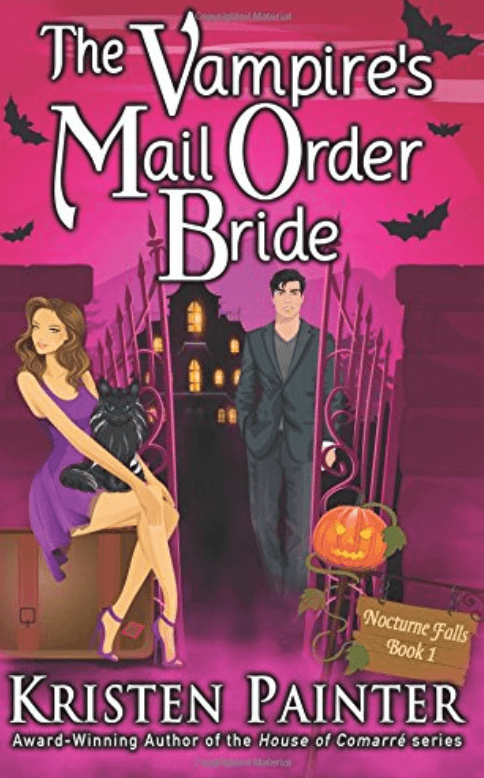 Book 1 of the Nocturne Falls series, The Vampire's Mail Order Bride, sets up life in the town of Nocturne Falls, where it's Halloween every day of the year. This 12-book series is all about this town and its supernatural inhabitants. It is fun and romantic but all the books don't specifically tell vampire romance tales. The first book does as do three others – The Vampire's Fake Fiancé, (book 5), The Vampire's Accidental Wife (book 8), and The Vampire's Priceless Treasure (book 11) – but the rest of the books tell love stories focusing on other paranormal characters. In this series, there are romance stories about werewolves, shapeshifters, witches, and dragons. The convention in each of these stories deals with a human from the outside world coming to the town and falling in love with one of its inhabitants.
The first volume of this series sets up the town of Nocturne Falls. Tourists come from all around to see what they think is a fun, somewhat fake place that celebrates Halloween year-round with its dressed-up characters. The thing is, these witches, goblins, werewolves, and vampires are real. When Delany James witnesses a mob murder, she runs away to hide in this quirky town. When she arrives, she is mistaken as a mail order bride for a 400-year-old vampire named Hugh Ellingham. For her safety, she goes with it and never sees what is coming next as she falls in love with her new husband.
Buy The Vampire's Mail Order Bride – Kristen Painter on Amazon here.
32. Vampire CEO – Erin Bedford – 2017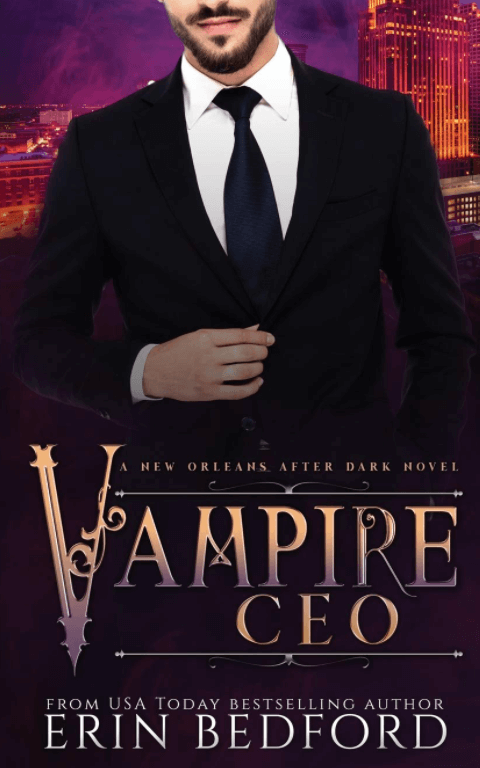 This book has it all: witch covens, vampires, and the scariest place of all, Corporate America. The book jacket compares this book to the Sookie Stackhouse novels and Bella Forrest's A Shade of Vampire series, apt comparisons. This has a very real-world feel, just if the real world had witches and vampires as part of everyday life. The book is billed as book 1 of the New Orleans After Dark series but as of 2020, it is still the first and only book in this "series." If you like Erin Bedford's writing though (that, as her website says, is "Sexy. Sassy. And a little badassy.") she has plenty of other series including more paranormal and vampire romance.
Abigail is a witch who gets booted from her coven. Not knowing what to do next she puts her witch magic to work to get a job as an executive at Midnight Pharmaceuticals. She immediately realizes there is something weird going on at the highest levels of the company. Her boss, the CEO is incredibly mysterious (and attractive) and keeps strange hours at the office. He also has a constant stream of women coming in to see him. As Abigail tries to get to the bottom of it, she finds a workplace romance that could be dangerous to the company and to her personal safety.
Buy Vampire CEO – Erin Bedford on Amazon here. 
33. Psychic Undercover (with the Undead) – Amie Gibbons – 2017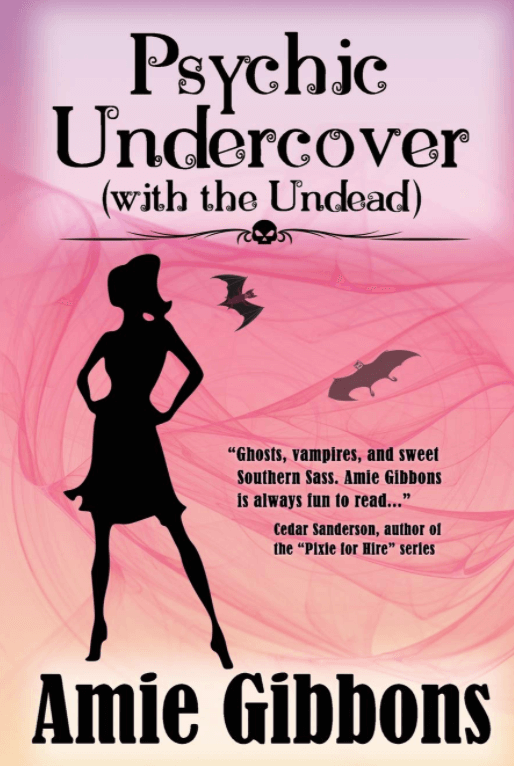 Author Aimee Gibbons went to Vanderbilt Law School in Nashville which must be why the Tennessee setting of this book is so great. It uses the backdrop well to tell a funny and exciting story in a new and different way. The book is the first in the SDF Paranormal Mysteries series and the books, while not all vampire romance, do read like great whodunit mystery novels. The characters are compelling and the cases will have you guessing until the very end of the book. There are currently six books in total in this series with hopefully more on the way.
Ariana Ryder is a rookie FBI agent. She started out as a Nashville singer but with her path to stardom fading, she decided to take the law enforcement path instead. After a year of getting coffee, avoiding romantic entanglements in the office with her crime-lab dance partner and dashing boss, and not seeing much action, Ariana is thrown into the perfect undercover case. She is sent to a club to investigate a murder as a singer. The only problem is the club is for vampires. Here, she meets Quil, a vampire investigator. There is tension, chemistry, and sparks between the two but the most important thing for both of them is solving the case and stopping another murder from happening.
Buy Psychic Undercover (with the Undead) – Amie Gibbons on Amazon here.
You Might Also Like: