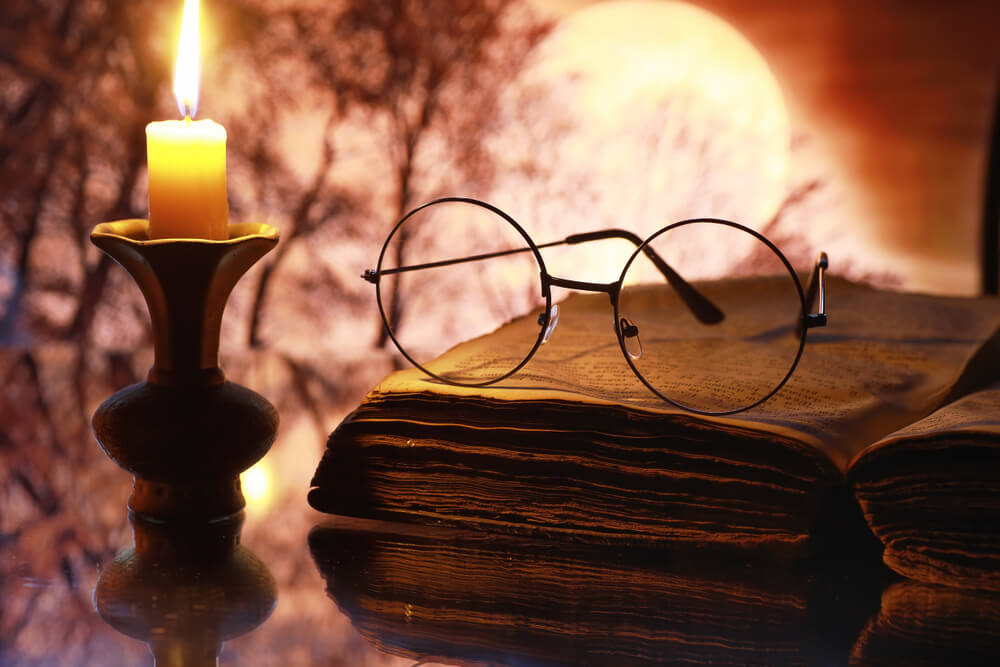 Heart pounding? Palms getting sweaty? Feeling nervous, maybe scared? That's what the most outstanding thriller or suspense novels can do to you! Even though we're in no danger as we read them, in the comfort of our living rooms, beds, on a train or plane, a world-class thriller or suspense book speeds up our heart rate, makes us breathe a little faster, and triggers our fight-or-flight instincts as we empathize with printed-page heroes facing daunting mysteries and life-or-death stakes.
It's a testament to the power of imagination and the power of a great author. Here are our picks for the 31 best thriller and suspense books of all time.
1- Intensity by Dean Koontz
Amazon
The title is a little on-the-nose, but Koontz completely earns it. Intensity is a brutal read, and it's almost impossible to put down. The suspense is absolutely palpable. It kicks off with college student Chyna, a survivor of abuse and neglect in her childhood, getting a chance to vacation with her friend's loving family. In a cruel twist of fate, diabolical serial killer Vess arrives like an agent of chaos and kills everyone in the house except for Chyna. Thinking her friend might be alive in Vess' motorhome, Chyna climbs in and becomes an undetected passenger in the motorhome as Vess drives away.
This is just the start of an odyssey of unbearable suspense in one of the best thriller books of all time. At first, Chyna desires only to sneak away from the motorhome undetected by Vess. But when she deduces that Vess has another girl captive at home, Chyna makes the decision to become an unlikely hero on behalf of the victimized. But Vess has tricks Chyna never expected, and the violent road to an explosive climax will be long and nail-biting.
2- The Silence of the Lambs by Thomas Harris
Amazon
The Silence of the Lambs isn't the first suspense novel in which Thomas Harris introduced us to Hannibal Lecter, the erudite cannibal who would be immortalized onscreen by Anthony Hopkins and Mads Mikkelsen (and, to a lesser extent, Brian Cox and Gaspard Ulliel). "Hannibal the Cannibal" made his first appearance in the book Red Dragon, the events of which were depicted in the films Manhunter (Cox), Red Dragon (Hopkins) and in the Hannibal TV series (Mikkelsen).
But as on celluloid, sequel novel The Silence of the Lambs is Lecter's finest hour. Lecter is no less creepy on the page than he is on screen, polite and effete, yet manipulative and possessed of an animalistic bloodlust, like a tiger observing its prey.
Silence isn't Hannibal's show, either, although he threatens to steal it. The star of the show is Clarice Starling, a small-town girl trying to make it in the FBI, with a lot to prove to her patronizing superiors and a lot of baggage. Lecter smells it immediately and sups on her fear like he supped on human flesh.
But Starling must endure it, because she needs to pick Lecter's brain. Lecter isn't even the antagonist of this novel, like he is in the sequel thriller Hannibal. The villain, Buffalo Bill, is an even more terrifying creation, a psychopath whose gender dysphoria manifests as an urge to make a "woman suit" out of the skin of real women. As Clarice races the clock to discover Bill's identity through the imprisoned Lecter's skills of psychoanalysis, we watch the clock slowly run out on one of Bill's terrified victims as Lecter ratchets the tension up to unbearable levels.
3- The Count of Monte Cristo by Alexandre Dumas
Amazon
One of the original suspense books, The Count of Monte Cristo is just as taut and exciting a read today as it was when it appeared, serialized, in eighteen parts in the Journal des Debats in France.
Imagine the cliffhangers of reading this rip-roaring adventure in 18 parts—sailor Edmund Dantes falsely accused of high crimes by his best friend, on his wedding day, and consigned to a brutal island prison. The heartwarming friendship with fellow inmate Abbe Faria and their joint plan to execute a death-defying jailbreak. Dantes' transformation into the secretive Count of Monte Cristo and his quest for revenge against the "friend" who betrayed him, and to regain his lost love.
Over 160 years later, this novel remains a consummate page-turner, with the ability not only to thrill but to inspire pathos, empathy, and riotous joy.
4- A Time to Kill by John Grisham
Amazon
John Grisham's first book is still one of his best, most suspenseful, and continuously relevant. Set in the unbearable heat of the deep south at peak racism, A Time to Kill turns the crime and legal thriller genres on its head.
We know that the criminal in question is guilty of murder, but we don't want him to suffer the consequences of that murder because we're firmly on his side. Black laborer Carl Lee Hailey murdered, in cold blood, the two racist scumbags who raped his daughter and left him for dead. Grisham makes no bones—these guys deserved to die. But his premeditated killing puts Hailey on track for the death penalty in a state with a penchant to convict poor black people.
The suspense, then, comes not from wondering whether the killer will face justice—justice has already been done. Instead, the suspense derives from goodhearted lawyer Jake Brigantz, with the help of northeastern liberal law student Ellen Roark, attempting to help Hailey avoid justice for one of the most justified homicides ever. Meanwhile, the trial ignites the interest of the Ku Klux Klan, bringing Jake and Carl's town to the brink of blood in the streets.
5- Gone Girl by Gillian Flynn 
Amazon
You have to wonder why they got married in the first place. From the perspective of husband Nick's present-day narration and pregnant wife Amy's diary entries, it seems like they hate each other. Maybe things started out on a great note, but they're a mess now. And Gone Girl is about to get even messier.
The reliability of both narrators is called deeply into question as Amy goes missing and evidence lines up to implicate Nick in her murder. But nothing adds up. If Amy was murdered, where is the body? Was she even pregnant? Was the diary fabricated? Nick doesn't seem too broken up about Amy's disappearance, but what about the fact that Nick was having an affair?
One of the twistiest domestic thrillers of all time, Gone Girl is a fascinating portrait of a marriage that has gone wrong. It's a compelling metaphor, as well, for how difficult a bad marriage is for either spouse to extricate himself or herself from. Do Nick and Amy need each other, or do they just deserve each other? Either way, Gone Girl has generations thinking twice before they get down on one knee.
6- Those Bones Are Not My Child by Toni Cade Bambara 
Amazon
Atlanta had a reputation as "The City Too Busy to Hate" … until a series of gruesome child murders rocked the Atlanta black community in the late 1970s and early '80s. Toni Cade Bambara ripped this heart-rending story directly from those headlines. The novel was a work-in-progress at the time of Bambara's death, and the final novel emerged after being edited by none other than Nobel Prize-winning novelist Toni Morrison.
Bambara drops us until the heat of 1980 Atlanta, high from the election of its first black mayor, and into the life of impoverished single mother Zala Spencer. On a steamy day in July, Zala's teenage son goes missing, one of what would turn out to be over forty juvenile black Atlanta residents who were kidnapped, sexually assaulted, and murdered across two brutal years.
Set against the backdrop of this very real tragedy, Those Bones are Not My Child follows Zala in a harrowing search, aided by her estranged ex-husband and hindered by an indifferent police force, to uncover the truth and rescue her son.
7- Enduring Love by Ian McEwan
Amazon
Ian McEwan's 1997 thriller is completely shocking partly because of how ordinary its setup is, and how thoroughly the veneer of the rational crumbles after one disturbed element enters that ordinary world as an agent of chaos.
It starts with the idyllic vision of a middle-aged couple, Joe and Clarissa, enjoying an anniversary picnic. They become witnesses and participants in a strange and deadly accident to an unknown man— tragic but seemingly with nothing more to it. But his participation in the rescue brings Joe into contact with Jed, a man who suffers from the obscure mental disorder de Clerambault's syndrome, which makes Jed believe that people he comes into contact with have fallen desperately in love with him.
Jed believes Joe has fallen in love with him. This brush with mental illness causes a spiraling chain of devastation in Joe and Clarissa's life, as Jed refuses to leave well enough alone, wreaking more and more havoc in their lives as his delusion fuels his behavior.
To make matters worse, Joe is drawn into the drama of the widow of the man killed in the accident, who may have been having an affair and whose paramour may have been present at the scene of the tragedy that kicked off this escalating series of events that culminate in an attempted murder, an intense foot chase, and children in danger.
8- Kiss the Girls by James Patterson
Amazon
Kiss the Girls is the first novel that features James Patterson's "Doctor Detective" protagonist, Alex Cross. A brilliant, devoted single father, in Kiss the Girls Cross faces not one serial killer, but two—the "Casanova Killer" and the "Gentleman Caller," both with a flair for the romantic and a taste for beautiful women.
As Cross closes in on the killers, he must come to identify each of them by the differing trail of bodies they leave. The Gentleman Caller is much more brutal and direct, killing his victims and claiming body parts as trophies. Casanova, on the other hand, kidnaps women for his "harem," where he rapes them repeatedly before killing them. Worst of all, the two killers have met in the past and share a perverse bond.
Gruff and physical, yet empathetic, Cross is the lynchpin in a series of suspense novels in which Patterson cast him, but Kiss the Girls stands alone in terms of sheer suspense.
9- In Cold Blood by Truman Capote
Amazon
First published in 1966, Truman Capote's true-crime thriller remains one of the most suspenseful books of all time, in no small part because the events unfolded before Capote's eyes in unique fashion. Capote travelled to the Kansas scene of a quadruple murder before the eventual suspects were apprehended. He formed a unique bond with the suspects, up to their execution for the murders.
In Cold Blood delves into the murder itself, the perpetrators, and the community rocked by the affair in exquisite detail, especially in plumbing the depths of the complicated relationship between the murder suspects, Dick Hickok and Perry Smith. Taking six years to write the book, Capote got closer to his subject matter than most murder mystery writers ever get, and he was never the same afterward. Reading In Cold Blood, it's easy to see why.
10- The Shining by Stephen King
Amazon
King is justly revered as the master of Horror, and The Shining lives up to that moniker. In fact, his publishers didn't want him to follow up Salem's Lot with this book for fear that he would be pigeonholed. King instead accepted his destiny, and we're better off for it. His first hardcover bestseller, The Shining is a supernatural masterpiece, but also a remarkable family psychodrama that works on an emotional level, far more deeply affecting than the terrifying film adaptation by Stanley Kubrick.
The Shining is also a masterwork of setting. The haunted Overlook Hotel, secluded in the Rocky Mountains and cut off from the world by blizzards in the winter, is like a treasure trove with a secret behind each door. Little Danny's ability to see the supernatural and glimpse the hotel's horrible past (the "shining" of the title) leaves no corner safe for the boy. Meanwhile, his father, the hotel's winter caretaker, is struggling under the burden of alcoholism and a shameful past, easy pickings for the ghostly influence of the Overlook.
Spooky and ultimately deeply affecting, The Shining becomes a cat-and-mouse game between ordinary people and forces far beyond their comprehension. King has written in many genres, but few of them match The Shining, which ratchets up the suspense and danger to nearly unbearable levels before paying it off with one of the most explosive and satisfying climaxes in King's entire oeuvre.
11- The Widow by Fiona Barton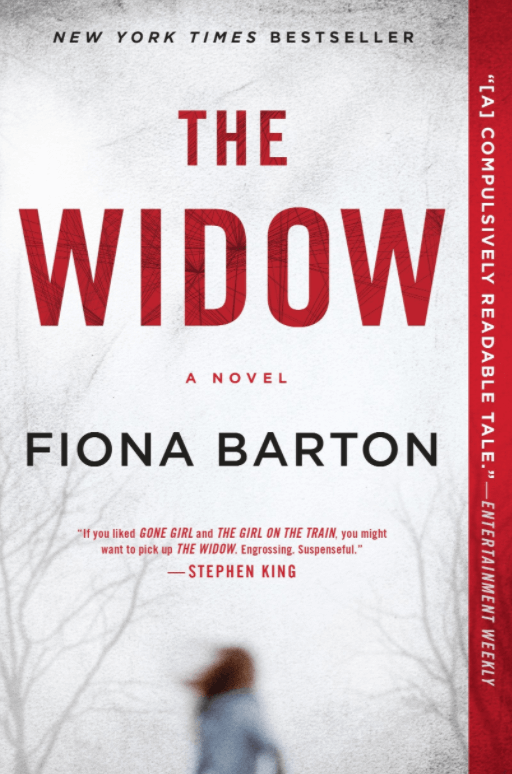 Fiona Barton's previous career as a journalist shows in her debut novel, a taut psychological crime thriller of secrets and high stakes. The titular "widow" is Jean Taylor, who stood by her husband when he was arrested in connection with the disappearance of a young girl named Bella. The charges were dismissed, but the husband's name not fully cleared, and the Taylors lived as pariahs under the mistrustful eye of a suspicious community.
When Jean's creepy husband is hit by a bus in proverbial fashion, Jean winds up in the crosshairs of several interested parties—Bella's mother, her daughter still missing; Detective Bob Sparks, equally interested in closing the case; and especially reporter Kate Waters, who thinks she can tease the real story out of Jean.
But Jean is the black heart of the novel named after her—wiley and maddeningly hard to crack as forces circle around her in search of the truth. Her police and journalistic pursuers are accustomed to controlling and manipulating events for the public good or maybe their own good. But after years of secrecy and mistrust, Jean has some manipulating of her own to do.
Buy The Widow by Fiona Barton on Amazon here.
12- One Flew Over the Cuckoo's Nest by Ken Kesey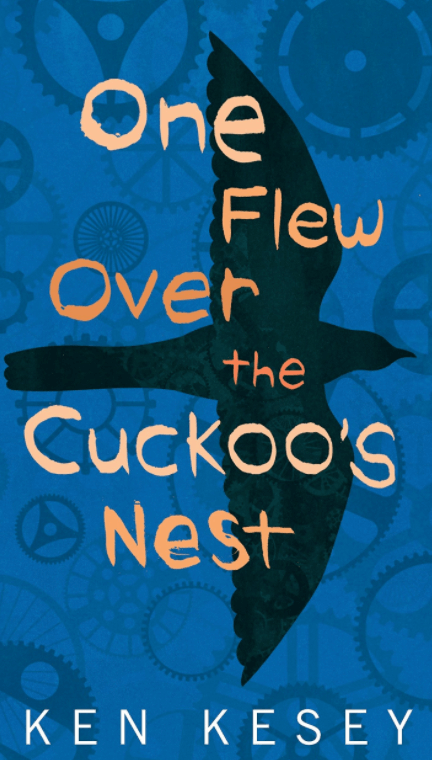 Countercultural souls often get labeled "crazy." Beats and hippies tired of having their sanity questioned would have immediately related to Randle P. MacMurphy, the indelible protagonist of Ken Kesey's cultural flashpoint of a novel.
MacMurphy has faked insanity to avoid prison, but finds himself engaged in a battle of wills with Nurse Ratched. Much gets made about Nurse Ratched being a "monster," but take a step back—she is just strict, a functionary of a system that dehumanizes and infantilizes people with mental disorders.
MacMurphy's exploits make him a hero among his fellow psychiatric inmates—and to us as well—as he breaks up and injects chaos into the dreary routine of the sanitarium. But society is on Nurse Ratched's side, rigidly enforcing order on the lawless. It's easy to root for MacMurphy and his compatriots, but it's also easy to see that MacMurphy is painfully outmatched. He thinks he's a man with agency, but in the eyes of Nurse Ratched and society, he's a disease to be stamped out and brought to heel. Could this story be headed to anywhere but tragedy?
Buy One Flew Over the Cuckoo's Nest by Ken Kesey on Amazon here.
13- The Dry by Jane Harper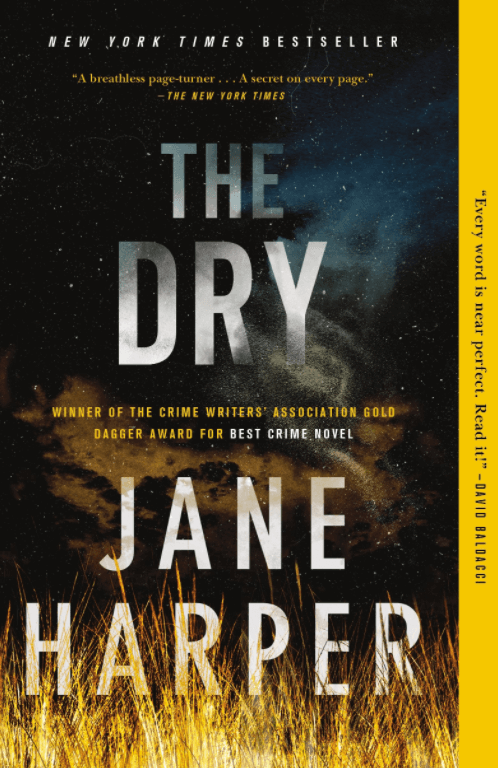 You get thirsty just reading The Dry, set in a drought-stricken farming town in Australia. The dehydrated setting forms an intense backdrop for a "prodigal-son" story that turns into a potboiler worthy of the outback.The protagonist, Aaron Falk, is a federal law enforcement agent, but almost wound up convicted of murder himself in his younger years. Only the alibi provided by his best friend Luke, who swore Aaron was with him at the time of the murder, exonerated him. But the small town never forgot and never again trusted Aaron.
Aaron returns to his hometown for Luke's funeral. But when Luke's family turns up dead as well, it becomes a search for the truth that will reveal that neither Aaron's, nor Luke's story at the time of that murder 20 years ago, is the whole truth.
Buy The Dry by Jane Harper on Amazon here.
14- Fingersmith by Sarah Waters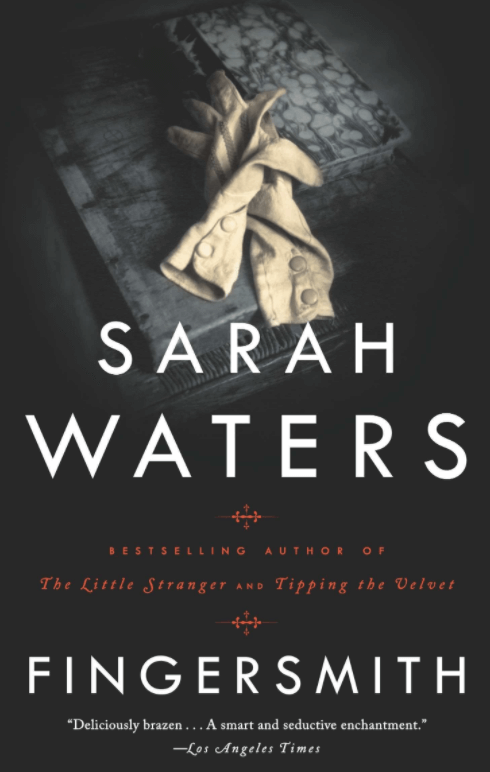 Fingersmith is the Victorian lesbian drama of class warfare and double-crosses you didn't know you needed—or after reading that description, you definitely know now!
The twisty plot follows an urchin girl named Sue, raised in a den of thievery by a hustler with the priceless name of "Mrs Sucksby," who's enlisted in a plot to help a gentleman named "Gentleman" dupe an heiress out of her inheritance by having her committed to a mental asylum. However, Sue and the mark, Maud, begin to fall in love with each other, and it turns out that the plot is not all that Sue initially believed it to be.
Fingersmith devotes the middle act of the novel to Maud's perspective, fleshing her out as a stranger and more sadistic character than your average Victorian heiress. Her brutal apprenticeship to her uncle as he compiles a compendium of literary smut (to preserve it for posterity) is not the kind of storyline you expect to find in Dickens or Austen. The story gets weirder and weirder, building to an explosive climax of reunion and murder.
Buy Fingersmith by Sarah Waters on Amazon here.
15- The Hunt for Red October by Tom Clancy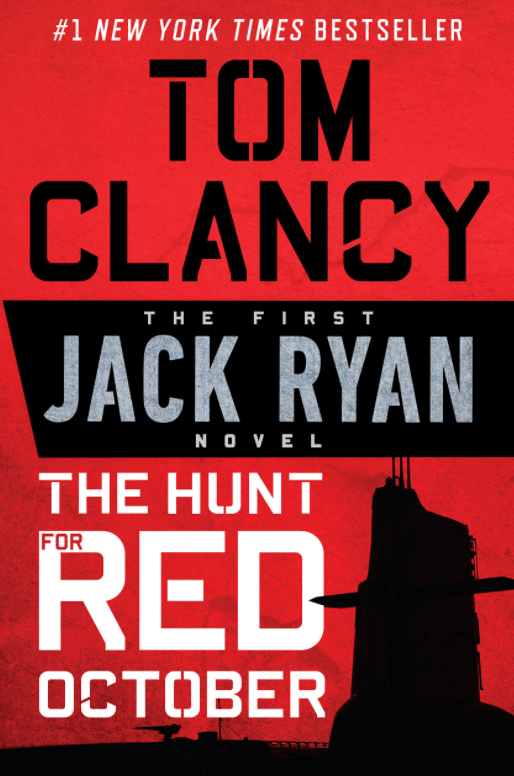 Tom Clancy's first novel was the debut appearance of Jack Ryan, who would be portrayed in numerous novels as well as their film and television adaptations. In this classic Cold War suspense book, CIA analyst Ryan faces Soviet submarine commander Marko Ramius, captain of the titular submarine with its deadly ship-to-shore ballistic missile capability.
Part of the suspense that powers The Hunt for Red October is the fact that Ramius' motives are mysterious.  Ryan makes the crucial deduction that Ramius' intention is to defect from the Soviet Union with a critical military asset.
Instead of an Americans-vs-Russians game of cat-and-mouse, the novel instead becomes a race for Ryan and his cohorts to shepherd Ramius and the submarine to US custody so Ramius and his crew can seek asylum. But they must do it without the Soviets detecting and destroying the rogue submarine to keep it out of enemy hands.
Buy The Hunt for Red October by Tom Clancy on Amazon here.
16- Jurassic Park by Michael Crichton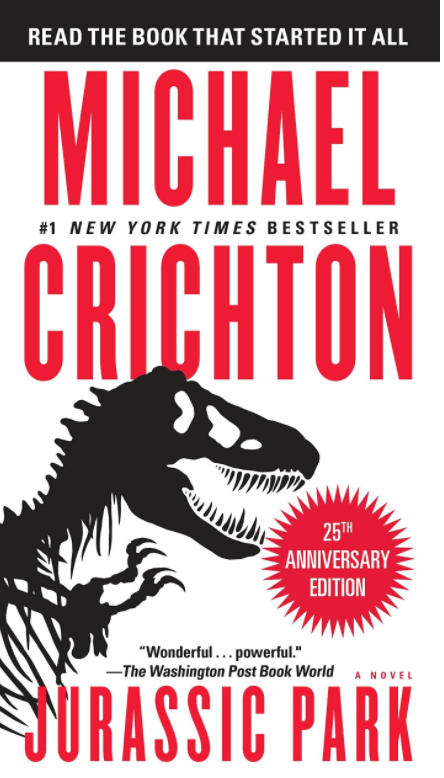 In the age of CRISPR, the themes of Jurassic Park, the novel that inspired one of the most successful and beloved motion pictures of all time, are more relevant than ever. Chaos specialist Dr. Ian Malcolm said it best when he points out that the scientists who brought dinosaurs back into the food chain in the 20th Century were so entranced with whether they could pull off a feat of biological resurrection, it never occurred to them to wonder whether they should.
But there will be plenty of time for that. For now, there's every child's wishes to fulfill—the chance to pet a triceratops. That's only one of the reasons Jurassic Park is so suspenseful, though—there's the strong character development, the plausible science, the equally plausible inciting incident of a corporate criminal trying to steal that science for a quick buck, only to see it spiral horribly out of control.
Crichton also made a choice for the ages by casting as the key "villains" not lumbering T-Rex, but the terrifying velociraptor—quick, smart, brutal pack hunters. This is edge-of-your-seat thriller stuff.
Buy Jurassic Park by Michael Crichton on Amazon here.
17- The Day of the Jackal by Frederick Forsyth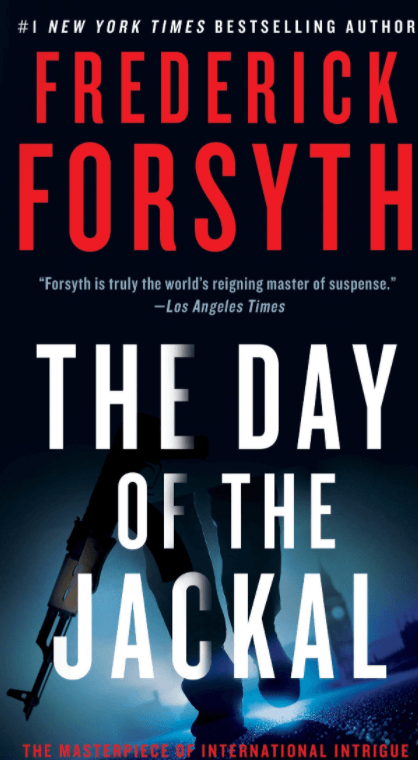 The most thrilling part of Frederick Forsyth's first-rate political assassination thriller The Day of the Jackal is that for most of the book, the eponymous assassin is a complete mystery. We learn almost nothing about the Jackal as we follow his meticulous process of plotting the assassination of his contracted quarry—French President Charles de Gaulle.
Deputy Commissioner Claude Label thinks he learns the identity of the English assassin as he coordinates a massive international manhunt after the failed assassination attempt. But as Lebel closes in on the Jackal across a brutal, bloody trail of betrayal, torture, and murder, the Jackal somehow remains elusive physically and beyond Label's understanding.
Buy The Day of the Jackal by Frederick Forsyth on Amazon here.
18- The Girl on the Train by Paula Hawkins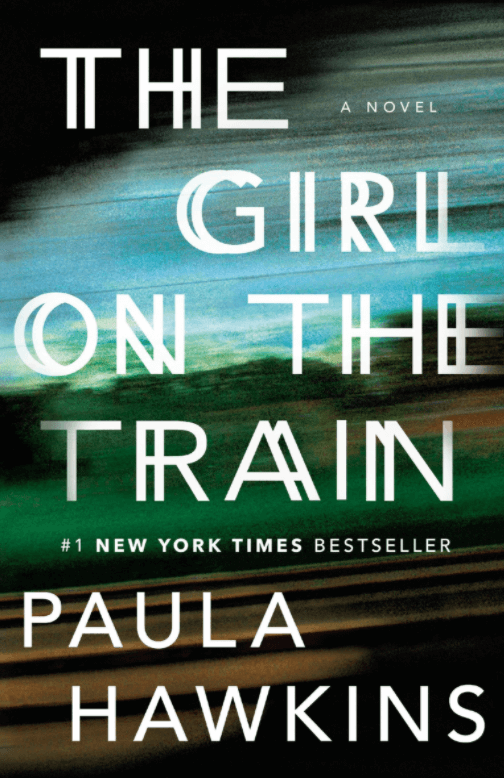 The Girl on the Train was a big hit when released, considered a triumphal entry in the tradition of thrillers with multiple unreliable narrators. It follows the perspectives of three women, most memorably alcoholic Rachel who watches from her train commute to work as her ex-husband Tom enjoys domestic bliss with new wife Anna; Anna and Tom's neighbor Megan enjoy similar domestic bliss.
Rachel's life, by contrast, is a train wreck. She harasses Tom during drunken binges. The story assumes Anna's perspective, initially proud of beating Rachel in the fight for Tom's affection, but ultimately frustrated with Rachel's out-of-control behavior. The story also assumes the point of view of Megan, whose life is far from the Norman Rockwell painting Rachel thinks it is. Megan is frustrated with her home life and has multiple affairs, including one with her therapist Kamal.
When Megan goes missing and Rachel is a suspect, Rachel begins to doubt everything she thought she knew about how her life fell apart. She becomes more and more involved in the search for Megan and the truth behind her affairs, coming to believe that her drunken blackouts may not have been what they seem. She's on a collision course for a violent confrontation with the truth, as well as an unlikely alliance with Anna.
Buy The Girl on the Train by Paula Hawkins on Amazon here.
19- And Then There Were None by Agatha Christie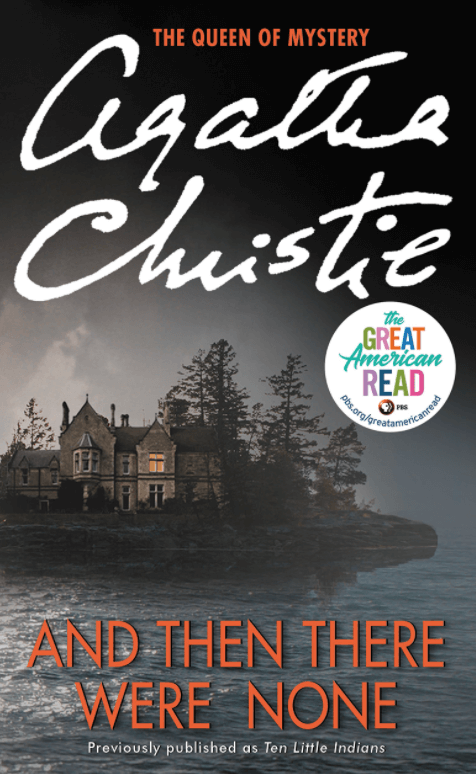 And Then There Were None is one of the great murder mysteries of all time, inspiring the board game Clue and dozens of books and films where "the butler did it." It's the granddaddy of all "locked-mansion" mysteries, where a rogue's gallery of shady individuals are shut into an island mansion with no escape and a killer picking them off one by one. Only death exonerates someone from being the culprit, as the survivors race the clock to identify the murderer before getting picked off themselves.
And Then There Were None was released in the UK in 1939 with a title that was edgy for its day and quickly became downright unpublishable for its casual racial insensitivity. The title was changed to something that, with the fullness of time, would become more low-key racially insensitive, before finally settling on the inoffensive title that would march the book into the future, although it's hard to forget that the original title prominently featured the "N-word."
But the insensitive title is completely incidental. There are no racial overtones in this puzzle box of a story that unfolds like a Swiss watch, full of red herrings and false accusations, descending into a surreal clockwork murder machine until an epistolary denouement reveals that nothing was as it seems—and maybe death wasn't the exoneration it seemed to be.
Buy And Then There Were None by Agatha Christie on Amazon here.
20- Strangers by Dean Koontz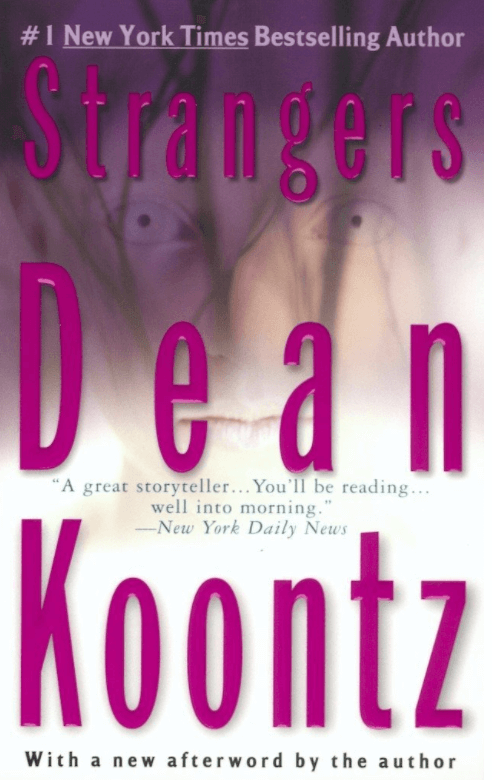 The titular characters of Koontz's 1986 suspense classic start out as strangers at the Tranquility Hotel in the middle of the Nevada desert. But as a mystery unfolds before them under inexplicable circumstances at the hotel, it becomes clear that they might not be as strange to each other as they think. They also, strangely, seem to be missing memories, and that's no accident.
All the strangers who find their way to the Tranquility Hotel have some neuroses that they currently struggle with. Author Dominick walks in his sleep. Retired marine Ernie is afraid of the dark. Surgeon Ginger lapses into fugue states and loses time. All of them are drawn by forces they don't understand to the desert and to this lonely hotel with its attached diner.
As the mystery unfolds, it becomes clear that those responsible for their amnesia may be watching them—and it has something to do with newcomer, Army Ranger, and former P.O.W. Jack Twist and a secret hidden by the government at the Thunder Hill Depository.
Buy Strangers by Dean Koontz on Amazon here.
21- Eileen by Ottessa Moshfegh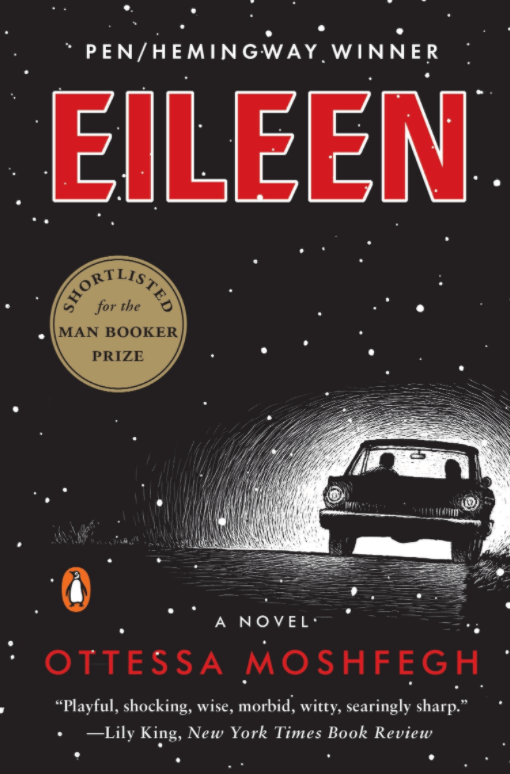 "This is the story of how I disappeared." That early, evocative narration sets the stage for a modern tale of Hitchcockian intrigue. The femme fatale love interest is named "Rebecca," for goodness' sake. You know what's coming, right?
But the title character is Eileen Dunlop, a young woman whose life is going nowhere. She spends her dreary days in New England as a secretary at a juvenile correctional facility where she forms a dissolute romance with a guard, and spends her nights trying to corral her alcoholic father through her own booze-filled haze.
Her budding friendship with newcomer Rebecca leads down a dark road to a shocking crime as a snowy Christmas approaches. Told from the first-person perspective of the much older protagonist, you have to wonder what she knows that you don't—and how much she will eventually reveal.
Buy Eileen by Ottessa Moshfegh on Amazon here.
22- A Simple Favor by Darcey Bell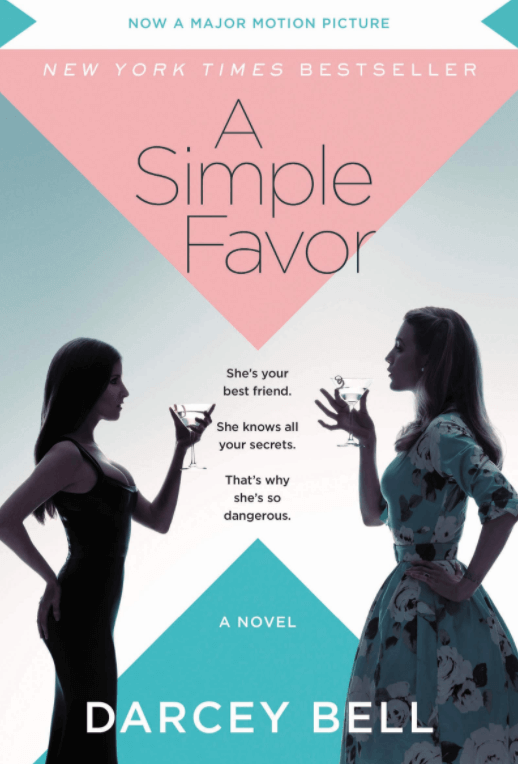 A Simple Favor is a thriller for the internet age, where bloggers and vloggers deputize themselves as Twitter detectives and sometimes discover more than they bargained for.
The "simple favor" of the title is, indeed, perfectly innocuous. Well-to-do housewife Emily asks single-mother and blogger Stephanie to pick up her son after school. But Emily never turns up to pick up her son from Stephanie–she's gone missing and might be dead.
Stephanie becomes obsessed with finding the truth about her friend, only to discover that she didn't know Emily nearly as well as she thought. Emily's perfect-wife, perfect-life presentation was a facade, behind which hid a drug-abusing con woman who might still be alive.
Buy A Simple Favor by Darcey Bell on Amazon here.
23- Before I Go to Sleep by S. J. Watson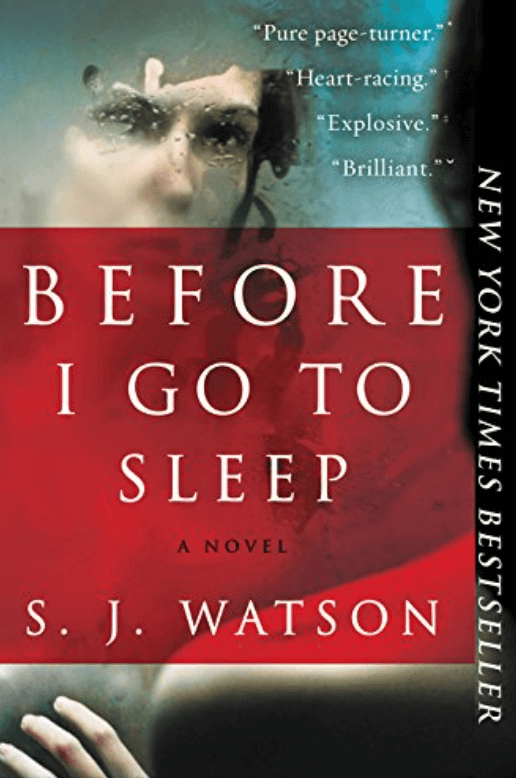 With the 2000 film Memento, director Christopher Nolan used an inventive "reverse-chronology" storytelling structure to tell a story using a particular form of short-term amnesia as a framing device. S.J. Watson uses a similar framing device in Before I Go To Sleep, and arguably to even stronger effect. It's a harrowing thought experiment in what it might be like to not be able to trust your own mind. How to cope with a trail of breadcrumbs that reveals itself to be unreliable … especially when you were the one who left the trail?
Watson's protagonist, Christine, forgets everything that happened to her in the recent past every time she goes to sleep, hence the title. She keeps journals to remind herself of her name, her husband and son, her work with a neurologist to try and regain her ability to retain memories. But as she reviews the recorded events of a life she can't even remember, inconsistencies stack up and cause Christine to doubt her own record. Her search for the truth reveals sinister, deadly realities hiding behind the lies of a life she can't even remember.
Buy Before I Go to Sleep by S. J. Watson on Amazon here.
24- Big Little Lies by Liane Moriarty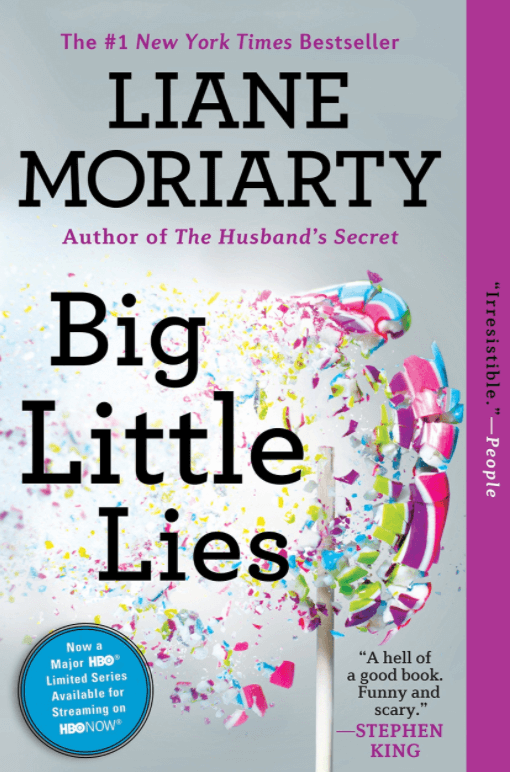 Liane Moriarty's 2014 novel builds a thriller from the most unlikely and commonplace of circumstances—a group of moms who become friends because their children are playmates.
This domestic idyll starts to go awry when dark secrets begin to emerge in the circle of trust,  and the secrets beget more secrets. It turns out that single mom Jane became pregnant with her son Ziggy after having been raped. She is not shy about sharing the identity of the rapist—who turns out to have an intimate connection to Celeste, who endures physical abuse from her own wealthy husband.
Ziggy is accused of bullying one of his classmates, but he insists he isn't the culprit. The search for the real bully will tease out further unrest in the midst of what looks like marital bliss. Moriarty's novel is a caustic deconstruction of the domestic dream, weaving together themes of bullying, domestic abuse, child abuse, and sexual assault into a thriller worthy of any true crime potboiler.
Buy Big Little Lies by Liane Moriarty on Amazon here.
25- Bird Box by Josh Malerman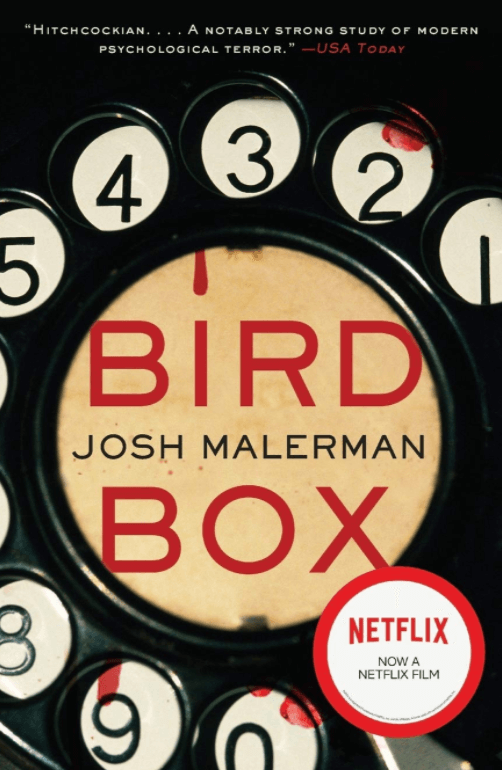 The movie version of this tense and terrifying novel was released on Netflix to mixed reviews and a slew of mocking memes, but it was always going to be hard to adapt Bird Box for the screen. The novel grips you with sheer terror early on—the sheer terror of imagining a world that you have to transverse blindfolded. Those of us who have trusted our eyes for our entire lives can scarcely imagine a world denuded of much of its population, your eyes turned most emphatically against you.
The premise of this sci-fi/supernatural/post-apocalyptic thriller is that some kind of alien presence has arrived on earth, and one sight of the visitors drives humans suicidally mad. The survivors cling to houses with blacked-out windows as the ghostly new arrivals have free reign of the outside world.
Main character Mallory is introduced early in a narrative that heightens the sense of urgency by using the present tense rather than the past tense. She has raised two small children in this blasted world for years, training them from a young age through borderline-brutal methods to wake up with their eyes closed if need be, and to obey her when she tells them to close their eyes.
Much of the story is also told in flashback to Mallory's pregnancy, where we watch the disaster hit and Mallory retreat, pregnant and vulnerable, into the company of other survivors who are strangers to her, with no idea who she can trust.
One of the things that makes the monsters in Bird Box so suspenseful is that there's no indication that they mean humans any harm; they pass close to the blindfolded survivors without molesting them. In a somewhat predictable but satisfying twist, the true monsters are humans, adrift and mad in a lawless world.
Buy Bird Box by Josh Malerman on Amazon here.
26- The Da Vinci Code by Dan Brown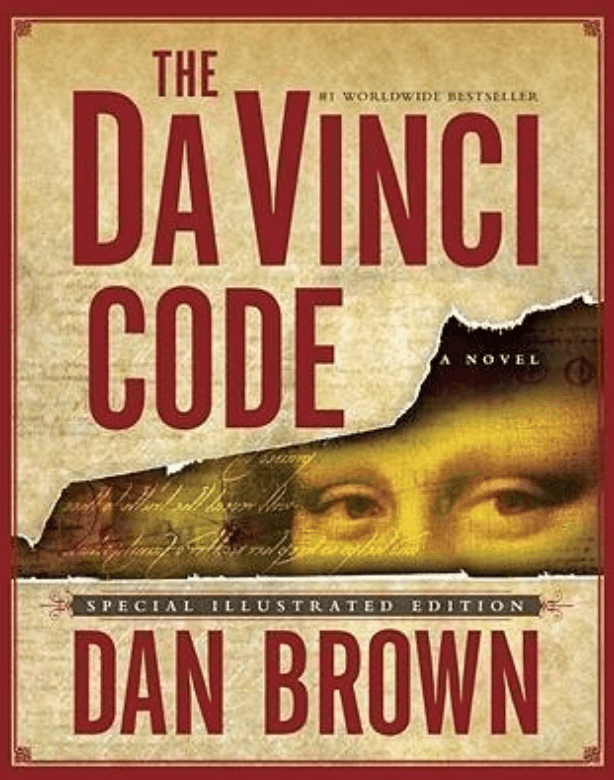 The Da Vinci Code comes in for a lot of flak for being a-historical. Opus Dei certainly doesn't feel like writing Dan Brown a check for PR services rendered. The idea that keys to a Biblical legend are secured by an unbroken line of keepers and hidden in the works of Da Vinci definitely doesn't hold up under scrutiny.
But who cares? The Da Vinci Code didn't become a bestseller for being accurate or even particularly well-written. It was a hit because it was fun, like reading Indiana Jones, only recasting the masculine archeologist as bookish "symbologist" Robert Langdon, a dashing academic with more than a passing resemblance to Dan Brown's jacket photo.
This unlikely hero is called in to consult on a strange murder at the Louvre, only to discover the clues hidden in the work of Da Vinci and that shadowy forces are setting him up for the murder. With the help of a mysterious French woman, the chase is on as Landon unfurls a twisty mystery like the puzzle box that forms a key plot point. Along the way, he eludes powerful forces in a globe-hopping search for "the truth," joining forces with the memorable millionaire scholar Leigh Teabing and running from a genuinely creepy murderous albino monk.
Yes, The Da Vinci Code got a generation of wannabe scholars and conspiracy theorists bloviating about how Jesus was married and the Catholic Church is hiding it. But can we get past that? It's a just novel, and a rip-roaring novel at that.
Buy The Da Vinci Code by Dan Brown on Amazon here.
27- The Dinner by Herman Koch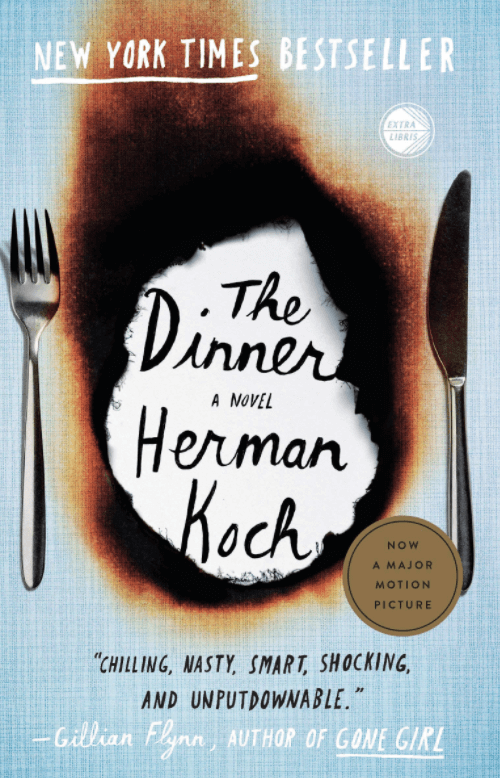 The genius of The Dinner is that it crafts unbearable suspense from one setting—a congenial dinner in a restaurant, a double-date between two couples whose husbands are brothers, their respective sons first cousins. As unremarkable as the set-up might seem, all is not what it appears. The older brother is about to run for high political office, and this family powwow is to formulate a strategy.
An electoral strategy? No, it's not that kind of dinner. This family has met in this fancy, public setting to discuss how to deal with the fact that their teenage sons committed a horrific crime. The boys were caught on tape, but are not yet identified.
This emotionally-charged situation causes politeness at the dinner to disintegrate into a churning cauldron of politics, recrimination, and reopening of old wounds, testing the ties of blood and revealing the lengths a parent will go to protect their own. Check, please …
Buy The Dinner by Herman Koch on Amazon here.
28- The Girl with the Dragon Tattoo by Stieg Larsson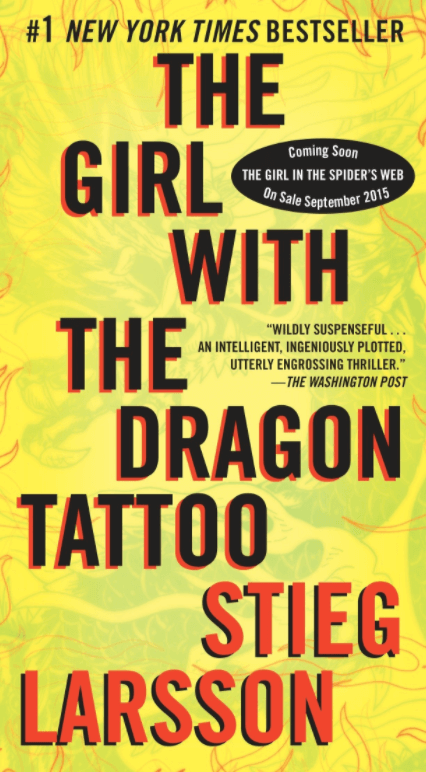 Swedish author Stieg Larsson's nordic potboiler captured a cultural moment, resulting in an Oscar-nominated American film adaptation coinciding with the Swedish film production. While the nominal protagonist is disgraced journalist Michael Blomqvist, attempting to solve a murder and obtain information that exonerates him from libel charges, it was cyberpunk hacker Lisbeth Salander that caught the public imagination.
Salander is the striking antiheroine that Blomqvist hires for her "research" skills (she's a hacker) as he tries to get to the bottom of mysterious disappearances on an island community in far-north Sweden, where the sun never rises in the snowy winter. The book takes its name from Salander, and she anchors a trilogy of Girl books that Larsson followed this volume with.
Whole dissertations could be written about the violent form of feminist revenge Salander enacts on a state-appointed guardian who rapes her. But considering how viciously her attacker abused his bower, her ingenious and brutal revenge can't help but be a little satisfying (and also a little nauseating).
All this serves as tablesetting for a murder/disappearance mystery that leads Blomqvist and Salander to conclusions they never saw coming, a murderous villain hiding in plain sight, and a fight for their lives they never expected.
Buy The Girl with the Dragon Tattoo by Stieg Larsson on Amazon here.
29- Misery by Stephen King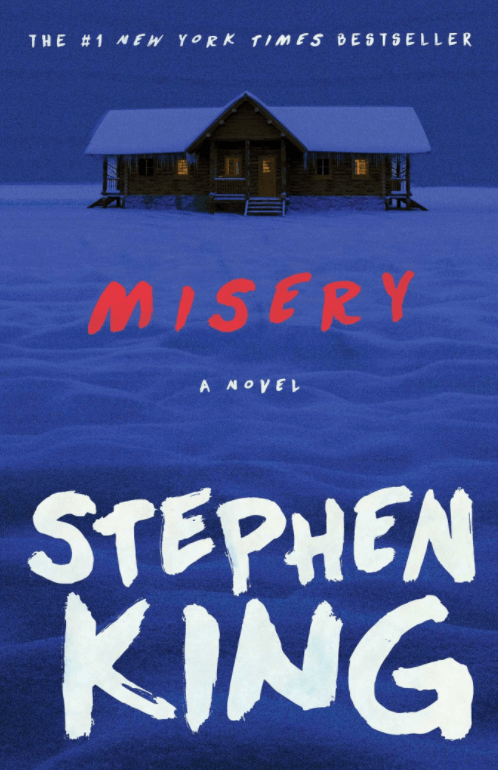 Misery gets lumped into the "horror" genre that the "Master of Horror" has so generously populated over the decades, because it is horrific. But there's nothing supernatural about Misery. The psychopathy of the antagonist—sadistic superfan Annie Wilkes—is very plausible.
The setup is a little far-fetched—a famous writer has a car accident in the hinterland and is rescued by a nurse with a screw loose who happens to be his "biggest fan." But once the chess pieces are in place, with author Paul Sheldon bedbound with two shattered legs and only Annie to depend on for survival, the battle of wills is on, and it is intense. You don't have to be too creative to imagine how King, in the belly of his runaway fame, dreamed up this nightmare scenario.
Annie is a villain for the generations—all treacle, kindness, and fawning superfandom one moment, but with a short fuse for vindictiveness, apt to murder to protect her secrets and punish Paul's escape attempts with brutal mutilation.
She has only one heart's desire—that her patient/captive write her a novel that brings back to life her favorite character from Paul's novels, whom he had the temerity to kill off in his last book. It's as much a commentary on King's frightening realization that his characters take on a life of their own in his fan's minds. Annie seems ready to spring from the pages, chainsaw in hand. Where was that nightlight, again?
Buy Misery by Stephen King on Amazon here.
30- The Bone Collector by Jeffery Deaver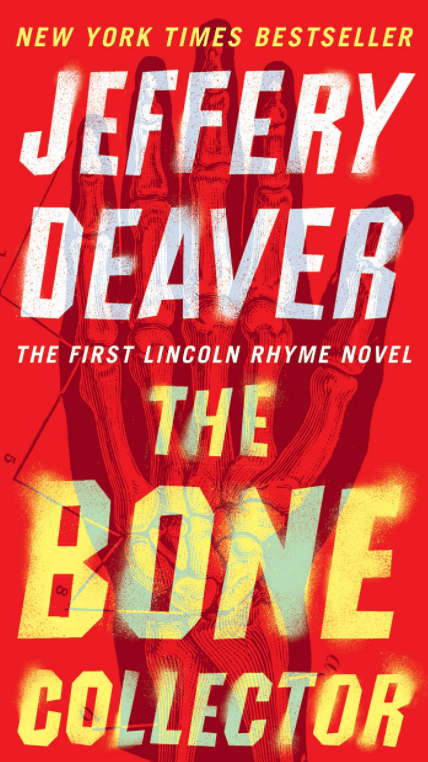 Jeffrey Deaver wrote a murder mystery for the ages in The Bone Collector, based around the unique premise of a protagonist, Detective Lincoln Rhyme, who suffered a spinal injury at a past crime scene and is now a quadraplegic, paralyzed over most of his body and considering assisted suicide.
He is rescued from despair by the opportunity to help solve a murder-kidnapping case—one that seems to be perpetrated by "The Bone Collector," a serial killer who perpetrated a reign of terror in the early 1900s. It seems impossible that it could be the same guy, but Rhyme and new partner Officer Amelia Sachs must unravel the mystery before the Bone Collector kills another victim in his custody. But as they close in on the truth, Rhyme's lack of mobility makes him a tempting target.
Buy The Bone Collector by Jeffery Deaver on Amazon here.
31- Eye of the Needle by Ken Follett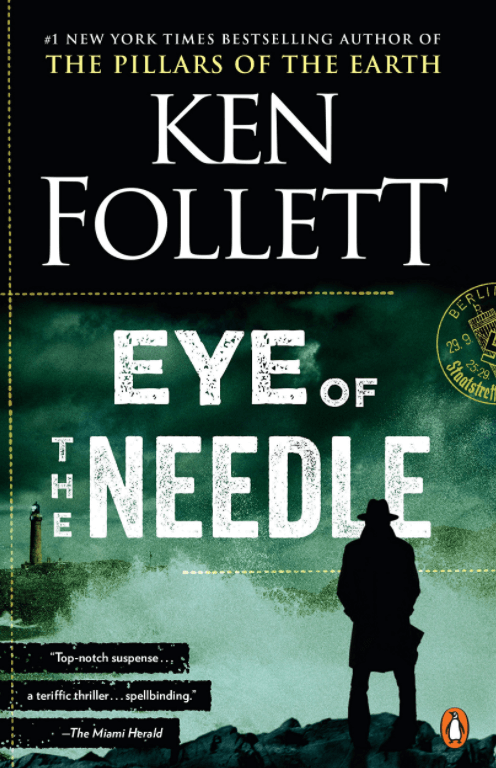 Originally titled Storm Island, Eye of the Needle set a new standard for WWII-era spy novels as it follows a German spy named Faber embedded in Britain during WWII. When both sides become aware that Faber possesses critical information and does not intend to defect to the UK, a mad chase ensues across the British countryside to stop Faber from making rendezvous with a German U-boat and escaping back to the Axis.
But Faber winds up shipwrecked on Storm Island, a solitary Scottish island where David, an embittered, crippled former soldier, lives a reclusive life with his unsatisfied wife Lucy. Lucy discovers Faber, nurses him back to health, and kindles a romantic attraction between herself and Faber, unaware that her new lover is a spy.
Buy Eye of the Needle by Ken Follett on Amazon here.
You Might Also Like: