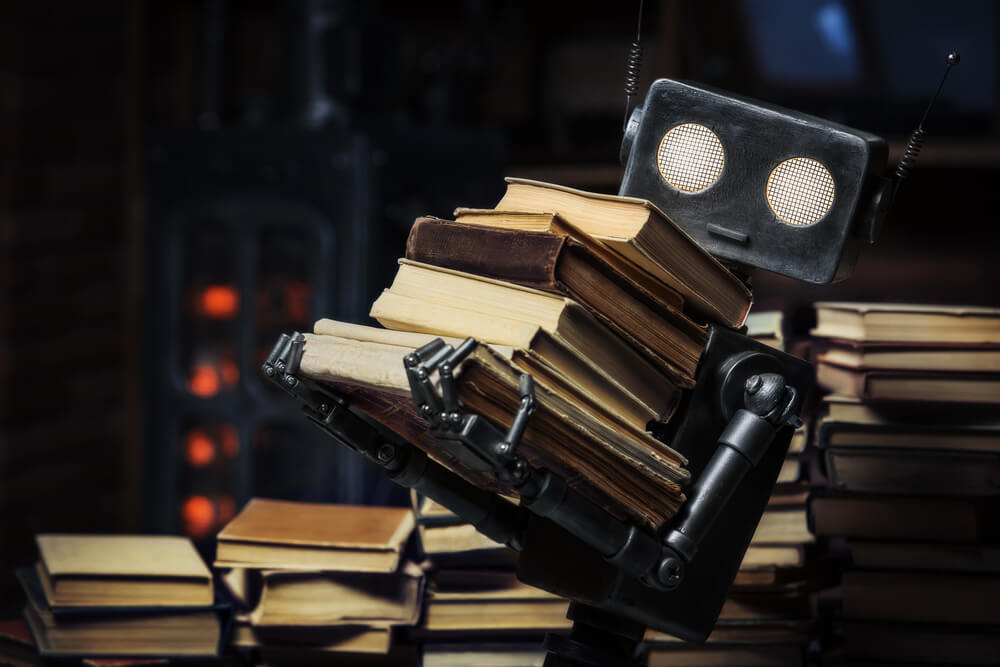 As a child, one's sense of wonder and belief of what is possible knows no bounds. This is probably why so many kids get obsessed with robots at some point in life. The idea of a machine that can be your friend, do your chores, or take you on adventures is very appealing to young people whose imaginations are not yet constrained with limits like many adults.
In 2020 though, robots have become less and less a figment of literature or imagination and more a part of the real world. With AI, machine learning, and advanced robotics, the robots that were once confined to the pages of a book are coming closer to reality. These days, young people don't have to stop with reading robot books but, with the help of how-to-build-a-robot books for kids, they can actually attempt to build their own.
This list of the best robot books for kids will explore a number of robot-related books in different categories. No matter how old your child is or what their interest level in robots, there will be a nook on this list for them. Here we will look at robot books for kids who are younger, robot books for kids who are older, and even how-to-build-a-robot books for kids. Here are the best robot books for your robot-obsessed kid.
Robot Books for Younger Children
Kids can start their journey to loving robots and robotics early. As soon as you start reading to kids, you can start reading to them about robots. These tales will jumpstart not only your child's imagination but also their awareness and curiosity about sciencel. Here are a few great robot books for younger children.
1. The Robot Book – Heather Brown – 2013 
Amazon
Even for the youngest robot-obsessed kid, the stuff inside a robot that makes it tick is the most interesting part. The cogs, the gears, the machinery, all make for fascinating exploration for a young child. That is why this book is perfect for toddlers. It has 3D moving parts that show off the insides of robots and the machinery that makes them go. Young kids will love twisting, turning, and sliding the cardboard pop-ups on this book and it is sure to spark their love of robots.
This is one of the best robot books for kids for multiple reasons. Not only is it tactile, which will help stimulate children's sense of touch and motor skills, but it is also a book with a nice message. The book's topic is exploring what makes robots work. And, while kids discover all the mechanical pieces that make a robot work, the book's message teaches the classic lessons that what is on the inside counts most and what is in the robot's heart is most important.
2. Robots, Robots Everywhere! – Sue Fliess – 2013 
Amazon
The book opens with the lines, "On the ground and in the air, Robots, robots everywhere!" That gives you a good feel for what this book is. It is a fun, colorful, rhyming book with great pictures of robots doing all sorts of real jobs. It shows how robotic vehicles do extraordinary things like exploring space or the depths of the ocean and very normal things like helping with farming and construction.
The book, on its face, is as entertaining as any colorful, sing-songy book for young children. What this book does, though, is go deeper and, as the kids who read this book get older, it gives them a real-world understanding of what robots really are and how they will affect the child's life in a real way.
3. R is for Robot: A Noisy Alphabet – Adam F. Watkins – 2014 
Amazon
For the robot-obsessed kid, robots can play a big part in helping to teach them the basics. If your child can't get enough robots and can stare at them for hours, why not let robots help teach them the alphabet? This book is a great tool that will help kids learn their ABC's without even knowing they are doing it.
The book features robots interacting with all the letters of the alphabet. As they do, they say a robot-style catchphrase that corresponds to that letter. For example, in the first few pages, you get "Ahooga", "Beep Boop", and "Clang, Click, Clank". These vivid illustrations and fun robot sounds will get your kids associating phonetic sounds with letters from a very young age.
4. Lots of Bots!: A Counting Pop-Up Book – David A. Carter – 2011
Amazon
Just like using your kids' love of robots to teach them the alphabet, you can also use robot books for kids to teach numbers. This is a classic pop-up book where opening each page features the corresponding number of robots coming to life and rising right out of the book. Your kids will love counting Giggle, Jiggle, Wiggle Bots, Kissing Bots, Hip-Hop Bots, Acro-Bots, and more.
Even though many children outgrow counting books as they get older and learn how to count past 10, this book will be cherished for a long time. Even when the counting is done, each page offers an amazingly engaging scene that will stoke your child's creativity and love of robots for a very long time.
5. Randy Riley's Really Big Hit – Chris Van Dusen – 2016
Amazon
This is one of the best robot books for kids because it combines two things that many kids love, sports and robots. The story of this book involves the title character, Randy. He is a science obsessed little kid who also loves baseball. The problem is, as good as he is at understanding science and robots, he is equally as bad at baseball. But, when he sees a meteor through his telescope hurtling towards the earth, he combines his love of science and baseball to save the day.
This is an enjoyable book with rhyming text and great illustrations. What is really important is the message, though. Teaching kids about creativity, problem-solving, persistence, and not having to be the best at everything are lessons that will last long after you and your child have read this book.
Robot Books for Older Children
As children get older, many will see their love of robots intensify. For kids who grew up having stories of robots read to them, as they start to read for themselves, they will gravitate toward stories with robot characters. Here are some of the best robot books for kids who are starting to read on their own.
1. Transformers Rescue Bots: Reading Adventures – Hasbro Staff – 2015 
Amazon
A great way to get young readers to read more is by encouraging them to read books that include their favorite characters from movies and television. Transformers: Rescue Bots is a kids show on Discovery Family and Netflix that is part of the greater Transformers universe. The show (and related books) tell the story of the Rescue Bots, a team of Transformers that partners with a family of first responders, the Burns', to keep the town of Griffin Rock safe.
This is actually 6 books in 1 and has short, easy-to-read, stand-alone titles, Meet Chase the Police-Bot, Meet Heatwave the Fire-Bot, Meet Boulder the Construction-Bot, Meet Blades the Copter-Bot, Meet Optimus Primal, and Team of Heroes. This is a Level 1 Passport to Reading book which means it is ideal for parents to read along with their kids when the young ones are first starting to learn to read. With these books involving some of their favorite TV characters, there is no doubt they will love it.
2. Your Very Own Robot (Choose Your Own Adventure) – R.A. Montgomery – 2011
Amazon
Especially for parents who grew up in the 80s and 90s, the words "Choose-Your- Own-Adventure" probably bring back some nostalgic feelings. This style of book, that was one of the top-selling styles of young reader books in those decades, is something that you will love sharing with a young reader of your own. These books are exciting, engaging, and allow kids to make decisions and create their own path much as they would in a video game.
The reason this book makes the list of best robot books for kids is that it is a Choose-Your-Own-Adventure with a cool robot theme. In Your Very Own Robot, you are a kid whose parents are scientists. When you find a bunch of spare robot parts, it is up to you to put the robot together and then decide what to do with it. This style of book is great fun to read and if your children love the format as much as you did as a kid, there is a whole series related to this book with a robot theme and titles such as Your Very Own Robot Goes Cuckoo-Bananas! and Gus Vs. the Robot King.
3. House of Robots – James Patterson – 2014 
Amazon
If the author's name looks familiar, it is because there is an excellent chance that you or someone you know has one of James Patterson's murder mystery novels on the bookshelf. However, this book is not dark or scary and it is not even meant for adults. This book, the first of two in Patterson's House of Robots series is a funny middle school romp with a kid and his robot sidekick. If you have a robot-obsessed child and they haven't found a book or series they love yet, this book, by a master of page-turning novels, just might do the trick.
The writing in this book is great for young readers who want to read a book that is simple and includes many great illustrations but that is not so simple as to feel like a kiddie book. The book is aimed at middle schoolers, which makes sense since the plot is about a nerdy fifth grader whose inventor mom brings a robot to school. From there, it is a stock tale of a middle schooler trying to figure out life at home and in school, that just happens to include a robot. And remember, if your kids like this first book, they should check out the sequel called House of Robots: Robot Revolution.
4. Nick and Tesla's Robot Army Rampage: A Mystery with Hoverbots, Bristle Bots, and Other Robots You Can Build Yourself – Bob Pflugfelder and Steve Hockensmith– 2014 
Amazon
This is actually the second book by "Science Bob" Pflugfelder and Steve Hockensmith in their Nick and Tesla series, but it makes this robot books for kids list because of its theme. The story is about Nick and Tesla, a brother/sister mystery-solving team who uses household items to create gadgets they use to catch the bad guys. In this book, they make 4 different robots out of household items to help them solve their case.
What is cool about this book is that kids can build along with Nick and Tesla. There are step-by-step instructions in the book on how to build your own robots using the same common household items that the main characters do. This book is not only a great read but interactive too which will get your kid's brain working on multiple levels… and keep them busy for hours!
5. Awesome Dawson – Chris Gall – 2013 
Amazon
This is one of the most popular robot books for kids out right now. It is a well-written and well-illustrated graphic novel that kids will love. The plot of the book involves Dawson, a young inventor who gathers what other people consider trash and creates amazing things from it. When he creates every kid's dream, a robot that can do his chores, things get a little out of hand, and Dawson must use his inventions to save the town.
The theme of this book is not just about robots but creating robots with recycled materials. In fact, reusing and recycling materials is a huge theme in this book. Dawson's personal motto is even, "EVERYTHING CAN BE USED AGAIN!" The book will inspire your kids to build robots and to be more eco-friendly and environmentally conscious while they do it.
How-to-Build-a-Robot Books for Kids
We live in a world where robots no longer exist only in science fiction. Robots of all kinds are more prevalent in our daily lives all the time and will only continue to have a greater impact on the way we live going forward. For kids growing up in 2020, the chances are good that by the time they are adults, they will be able to interact with and even create robots in a way that current authors have only dreamed of. To help your child deepen their understanding of robotics and learn how to create robots themselves, check out these how-to-build-a-robot books for kids.
1. Recycled Robots: 10 Robot Projects – Robert Malone – 2012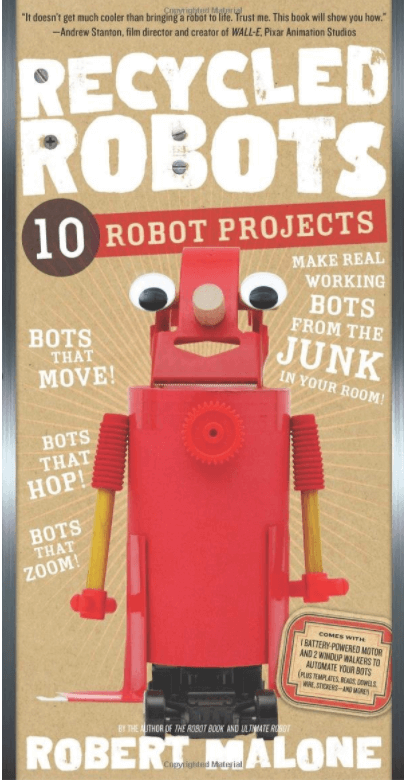 Much like the main character in Awesome Dawson (see above), this book's goal is to inspire kids to use items that some people might consider trash to create an awesome robot. As the title suggests, this book includes detailed instructions for 10 different projects that can help robot-obsessed kids create their own model robots. These robots won't just sit on the shelf, though.  The plans include ways to make the newly constructed robots walk, glide, or hop around the room like a real robot.
Recycled Robots is more than just one of your standard how-to-build-a-robot books for kids, it is a whole kit that will turn your child into an inventor and engineer. The kit comes with the 144-page book as well as a battery-operated motor, two windup walkers, templates, dowels, beads, wire, mounting square, and even googly eyes for their creation! These projects are great for older kids to do by themselves or for younger kids to do with a sibling or parent.
Buy Recycled Robots: 10 Robot Projects on Amazon here.
2. The LEGO BOOST Idea Book – Yoshihito Isogawa – 2018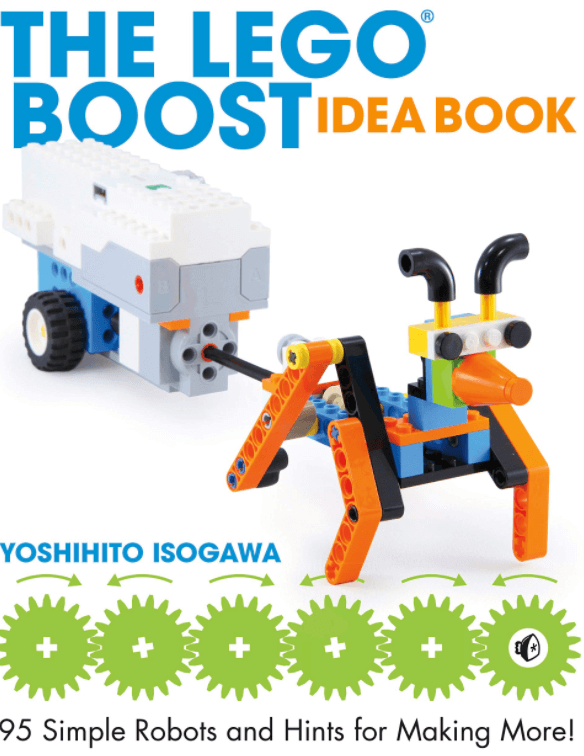 If you have a robot-loving kid, there is a good chance you are already familiar with LEGO BOOST. If you are not, you now have a great idea for their next birthday present! LEGO BOOST is a set of programmable LEGOS and motors that integrate with any standard LEGO set to make motorized or motion-sensitive toys instead of just models. The book is a great companion to this kit that will inspire all kinds of great ideas and creative new LEGO robots.
It has instructions for making 95 different robots out of LEGOS you may already have and your LEGO BOOST kit. There are very clear parts lists, instructions, illustrations, and photos that make creating these robots a breeze. It is a great book that will help your investment in a LEGO BOOST robotics kit go that much further.
Buy The LEGO BOOST Idea Book on Amazon here.
3. Bots! Robotics Engineering: with Hands-On Makerspace Activities – Kathy Ceceri – 2019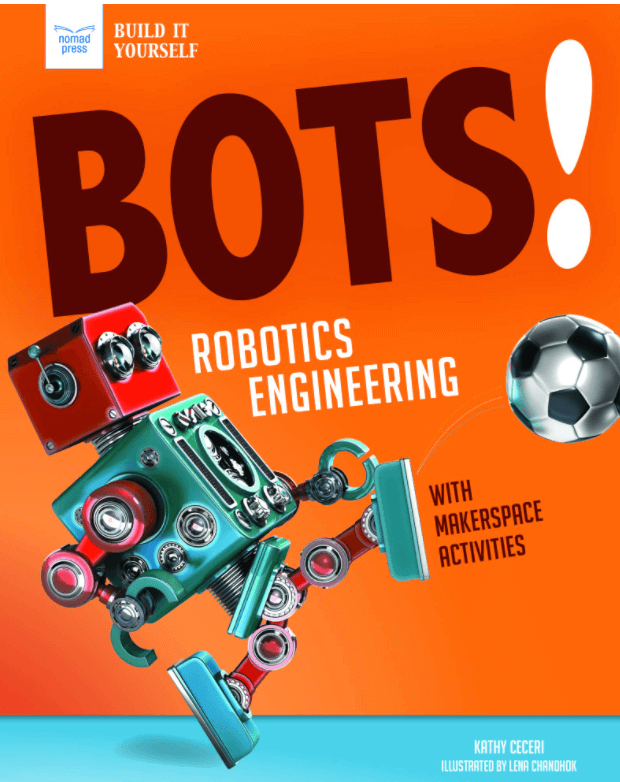 This is the updated follow-up to Kathy Ceceri's wildly popular 2012 robot book for kids, Robotics: Discover the Science and Technology of the Future. The book takes your kid's love of robots from the pages of literature to the classroom with everything your children need to know about real robotics engineering. The book dives deep into the "how, why, and who behind the robots we have today."
Many kids today would rather just use robots or play video games without bothering to find out how and why they work. This book clearly sets up robotics as a key piece of STEAM (science, technology, education, and mathematics) education that will turn kids from passive users into active makers.
Buy Bots! Robotics Engineering: with Hands-On Makerspace Activities on Amazon here.
4. Robot Builder's Bonanza, 5th Edition – Gordon McComb – 2019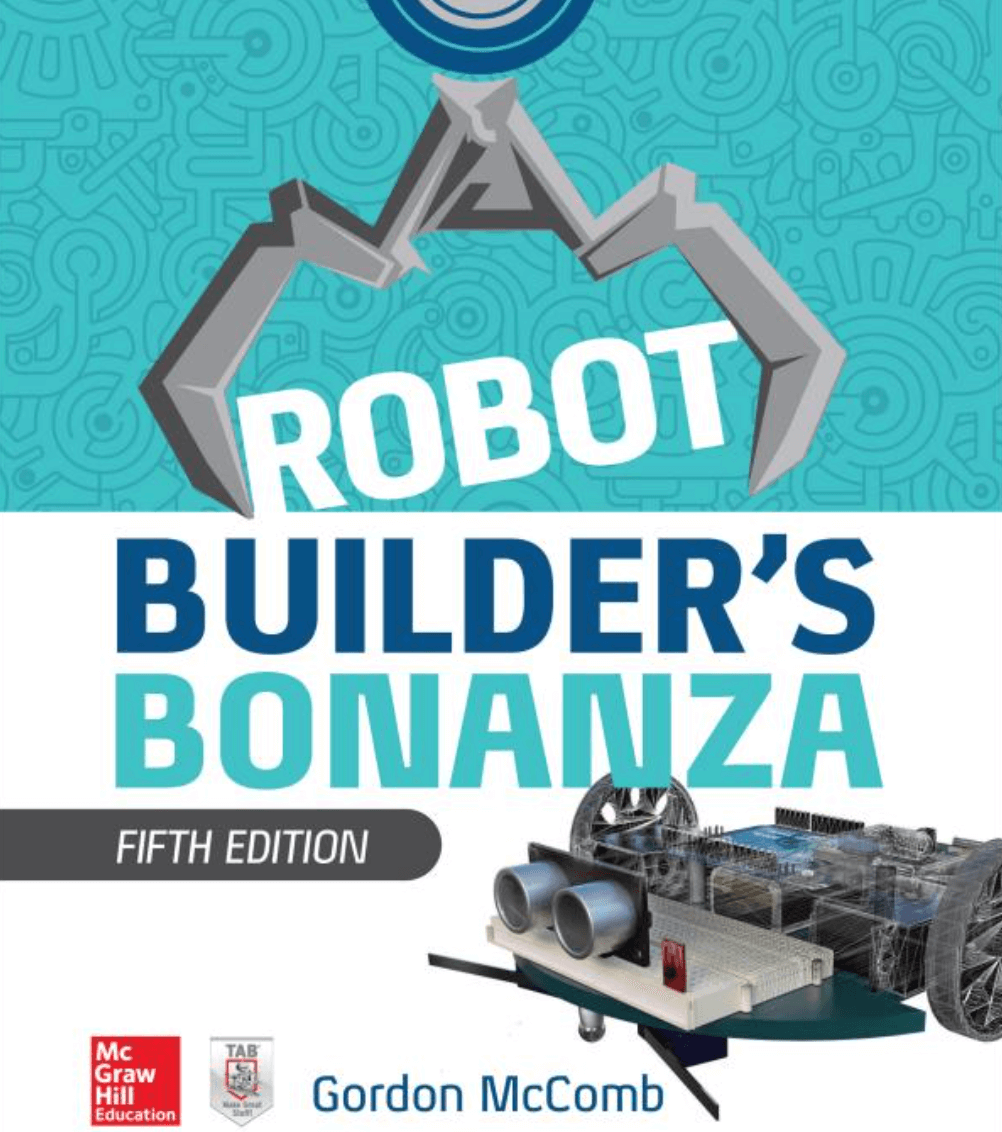 Gordon McComb wrote his first book, The Robot Builder's Bonanza: 99 Inexpensive Robotics Projects, in 1987. In the ensuing 30 years, he would go on to publish four more editions of this robotics classic and has become known as the "godfather of hobby robotics". When your robot-obsessed kid starts to become a robot-obsessed tween, teen, or young adult, this is the bible on how real people can build real, working robots.
The book covers everything from reasons to build robots to the cost of setting up the project to building a real, working robot. While the book covers all the topline, big picture topics, it also digs way down into the smallest detail about how to build a working robot that can perform any number of tasks. Kids will need a certain level of knowledge and education to read, understand, and follow the instructions of this book but if they grew up obsessed with robots, by the time they reach junior high they may be ready for this one.
Buy Robot Builder's Bonanza 5th Edition on Amazon here.
5. Ralph Masiello's Robot Drawing Book – Ralph Masiello – 2011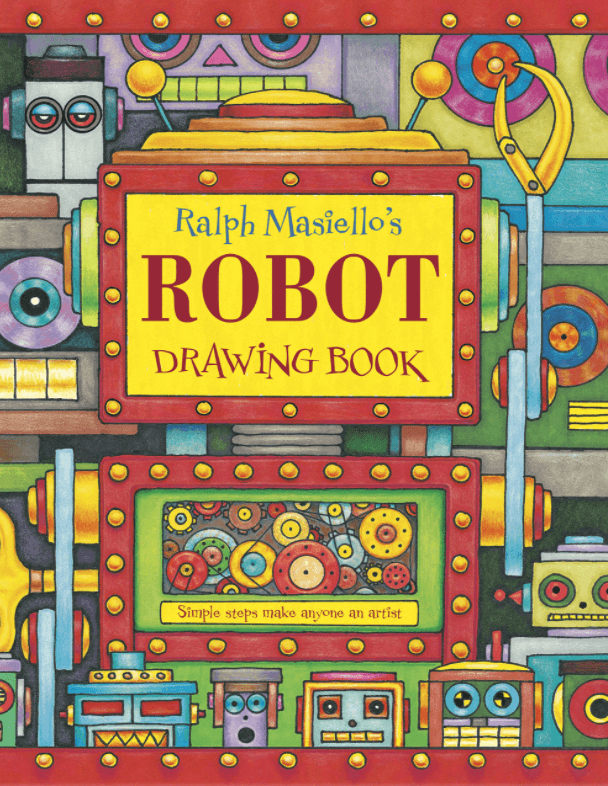 Making robots doesn't always involve motors and circuits and computer programming. For many robot-obsessed kids, especially ones who grew up on some of the robot books above, robots live in the imagination and on the page. If your child is more artistic than STEAM oriented, they can still create fantastic robots that many people will enjoy. They will just do it with a pen, paint, or some colored pencils.
This book, by respected illustrator Ralph Masiello, is a step-by-step guide to drawing robots. It starts with the basics of shapes and lines then shows you how to combine them in the right way to draw robots. Once they have mastered the basics, Masiello goes on to show you how to add all types of robotic accessories to your creation like batteries, levers, switches, claws, and more. Once the young reader has mastered the techniques, the number and types of robots they can make are endless. Maybe one of them will end up on this list in the future!
Buy Ralph Masiello's Robot Drawing Book on Amazon here.
You Might Also Like: