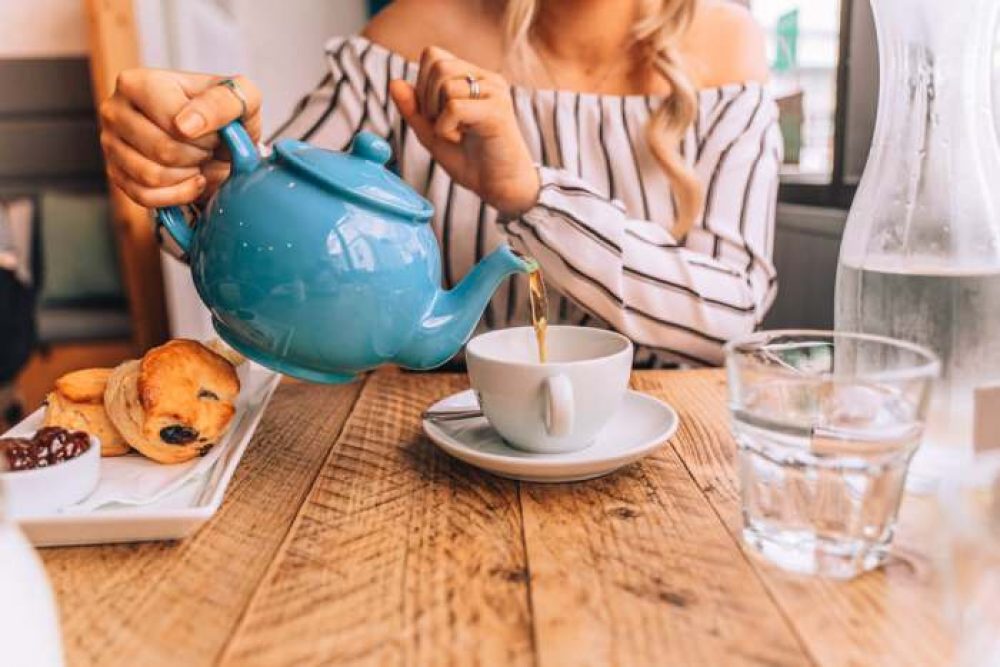 There's something beautiful about enjoying a sip of high tea, and the best hotels and restaurants in Chicago go above and beyond to perk up the experience.
If you fancy the classic afternoon tea ritual, you won't go wrong with the Windy City's downtown hotels and quaint tearooms, where you can savor a delicious brew with equally scrumptious canapés, colorful pastries, and bite-sized sandwiches.
For those in the mood for a contemporary twist, the likes of Kostali and Bar Pendry have reinvented the tea-time tradition. Some of these innovative tea houses are treating patrons looking for something potent to tea-infused cocktails with a punch.
It doesn't matter where your preference leans; you can rest assured of a splendid time at Chicago's best spots for afternoon tea. Lucky for you, we've done the legwork and rounded up our favorite pick of the 10 best hotels, restaurants, and tearooms to have a high tea or afternoon tea in Chicago.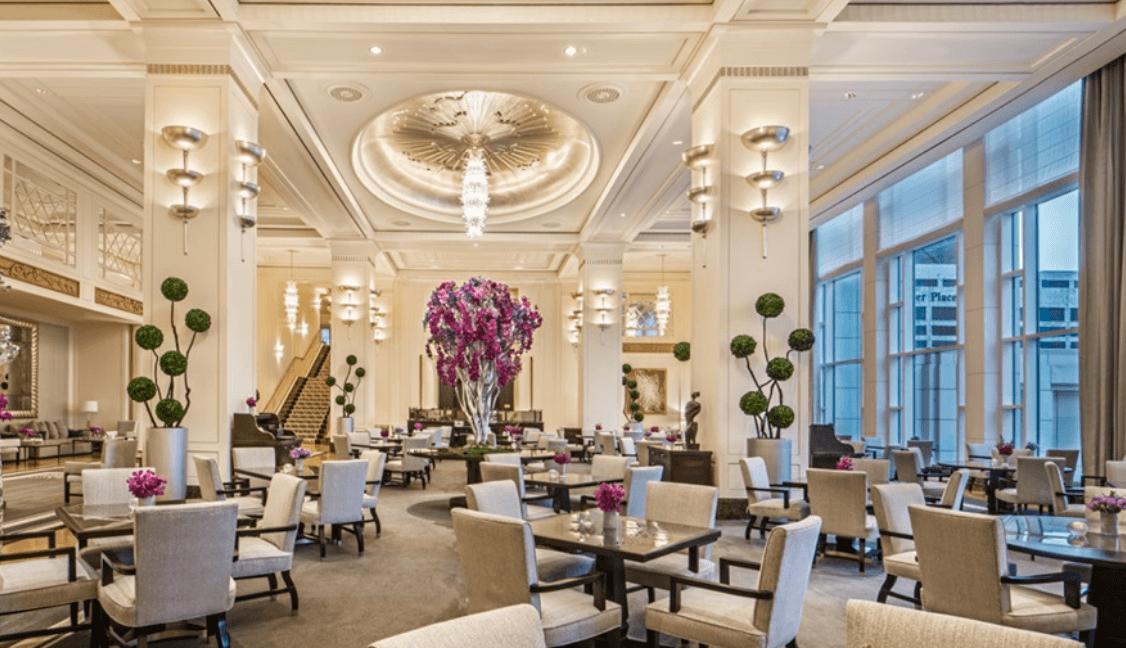 Best for – When you're craving the fanciest yet classic high-tea experience
If you're hankering for a fancy, perhaps once-in-a-lifetime afternoon tea experience, you definitely won't go wrong with the Lobby at The Peninsula Chicago. The elevated high-tea affair here takes place smack dab in the middle of the hotel.
The Peninsula Chicago is quite a sight in and of itself. From the moment you step into the hotel, you'll feel like a million bucks. After all, this is where Hollywood's A-list celebrities check in when they grace the Windy City. The hotel's impeccable amenities, concierge-grade service, and dizzyingly high ceilings are worth writing home about in their own right.
The Lobby restaurant now serves a well-curated menu of seasonal yet sumptuous afternoon teas paired with some of the tastiest scones, elegant sandwiches, and graceful pastries. Round out your experience with a flute of Champagne and treat your sweet tooth to an assortment of dainty and super-yummy desserts, including a parting gift of a chocolate cupcake.
The Lobby is just what the tea doc prescribed for anyone looking to don a fancy get-up and enjoy the crème de la crème of Chicago's afternoon tea scene. It's also the perfect escape for the entire family, as under-12s can sample delicious treats from the hotel's bespoke kids' menu.
On Fridays and Saturdays, chocolate lovers and connoisseurs will find a slice of chocolaty heaven in the evening at the bespoke Chocolate Bar. The brunch spread on Sunday is definitely something to look forward to.
We're thoroughly impressed by the buzzy relaxed ambiance in the dining space, complete with opulent décor and gorgeous floor-to-ceiling windows. Reservations for an afternoon tea at the Lobby at the Peninsula Chicago kick off at $135 a guest, so it's pretty pricey, and paid bookings must be made weeks ahead.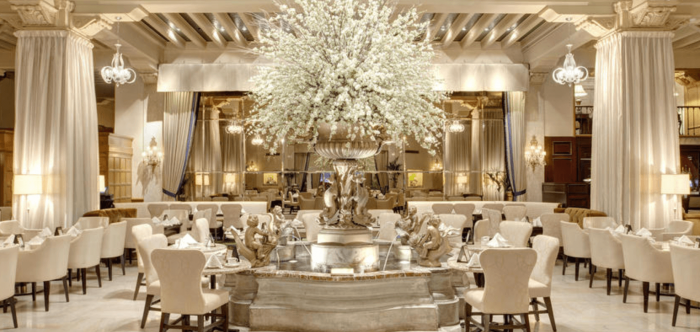 Best for – Those who want to indulge in a vibrant afternoon tea steeped in history
The Drake Hotel is the poster child of old Chicago's glitz and glamor, and nothing epitomizes this quite like the high-tea affair here. The real magic happens in the Palm Court, a vintage gem of a restaurant that has been hosting afternoon teas for well over a century. Well, with a guestbook signed by Queen Elizabeth and Princess Diana, a visit here can undoubtedly do wonders for your high-tea reputation.
The Palm Court exudes a sophisticated yet relaxed atmosphere with a beautiful backdrop and a live harp serenading the guests. The middle of the dining floor sports a huge water fountain, silver boughs, and scores of faux floral arrangements, along with stone pillars and statues.
The Magnificent Mile afternoon tea affair at the Palm Court is exquisite, with a lovely selection of 17 Palais des Thés teas, not to mention the stellar service. If you're after a family-friendly spot, you won't do better than The Drake Hotel, thanks to a bespoke children's menu that caters to most dietary restrictions. Seating starts at $69 a guest.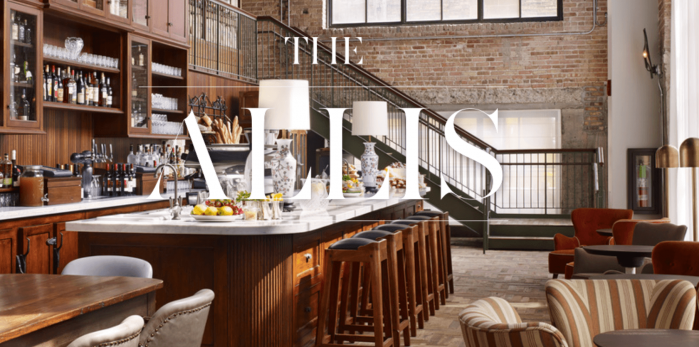 Best for – Enjoying casual or laid-back afternoon tea experience on the weekend with friends
Nestled on Soho House's ground floor, The Allis is a weekend favorite for those looking for an unassuming afternoon tea experience in the West Loop. Unlike other high-tea spots in Chicago, this one boasts a casual, laid-back vibe.
The venue doubles up as the hotel's bustling lobby restaurant and bar. Expect to rub shoulders with fellow diners and travelers looking to grab last-minute grub before catching their flights. Nonetheless, The Allis is prized for its communal tables that can host up to 15 guests each, making it the perfect place to enjoy an afternoon tea affair with friends (great deals for large groups is undoubtedly the icing on the cake!).
The tea comes with finger sandwiches and sweet treats. The highlight of the meal is the fancy tea porcelain, as it's incredibly classic and picturesque for anyone looking to document the affair on TikTok or Instagram. Solo diners are not left out because The Allis has lots of small tables that line the large windows overlooking Green Street.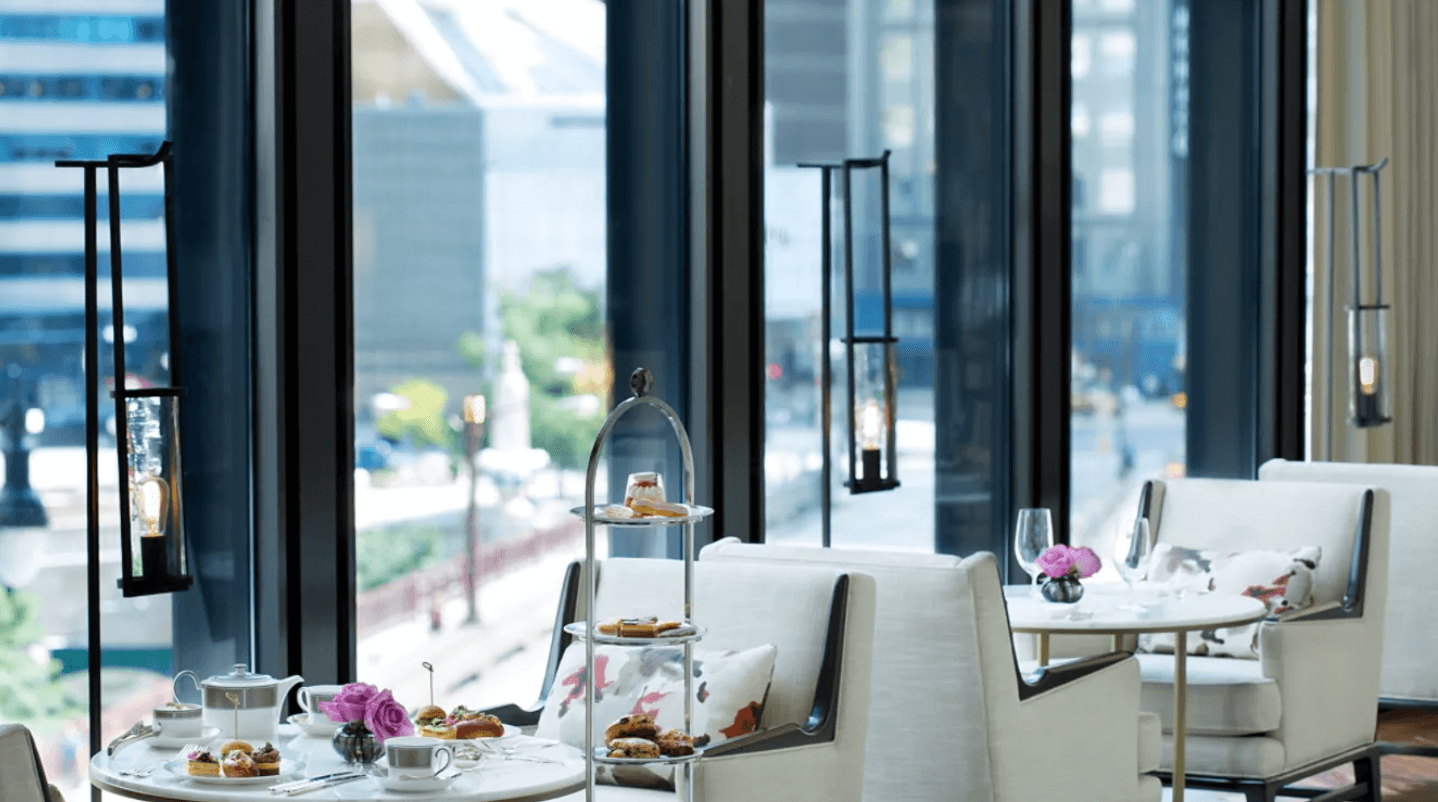 Best for – High-end yet relaxing themed afternoon tea
If you're after a relaxing, upscale afternoon in Chicago, you will go crazy for The Langham. The hotel's stunning interior is sure to make you feel like royalty, but you'll have to head over to the second-floor The Pavilion for a beautiful afternoon tea experience with roots going as far back as 1865.
Most guests rave about The Pavilion's eclectic range of tea flavors, along with the delectable scones and bite-sized sandwiches. The experience is perfect for celebrating a reunion, an anniversary, or even a birthday. We love that the spot has a children-friendly vibe, and kids under 12 can partake in the afternoon tea for half off.
The highest marks go to the tea sommeliers, who offer an unforgettable experience with impeccable service. The Pavilion hosts themed experiences for special holidays like Mother's Day and Easter.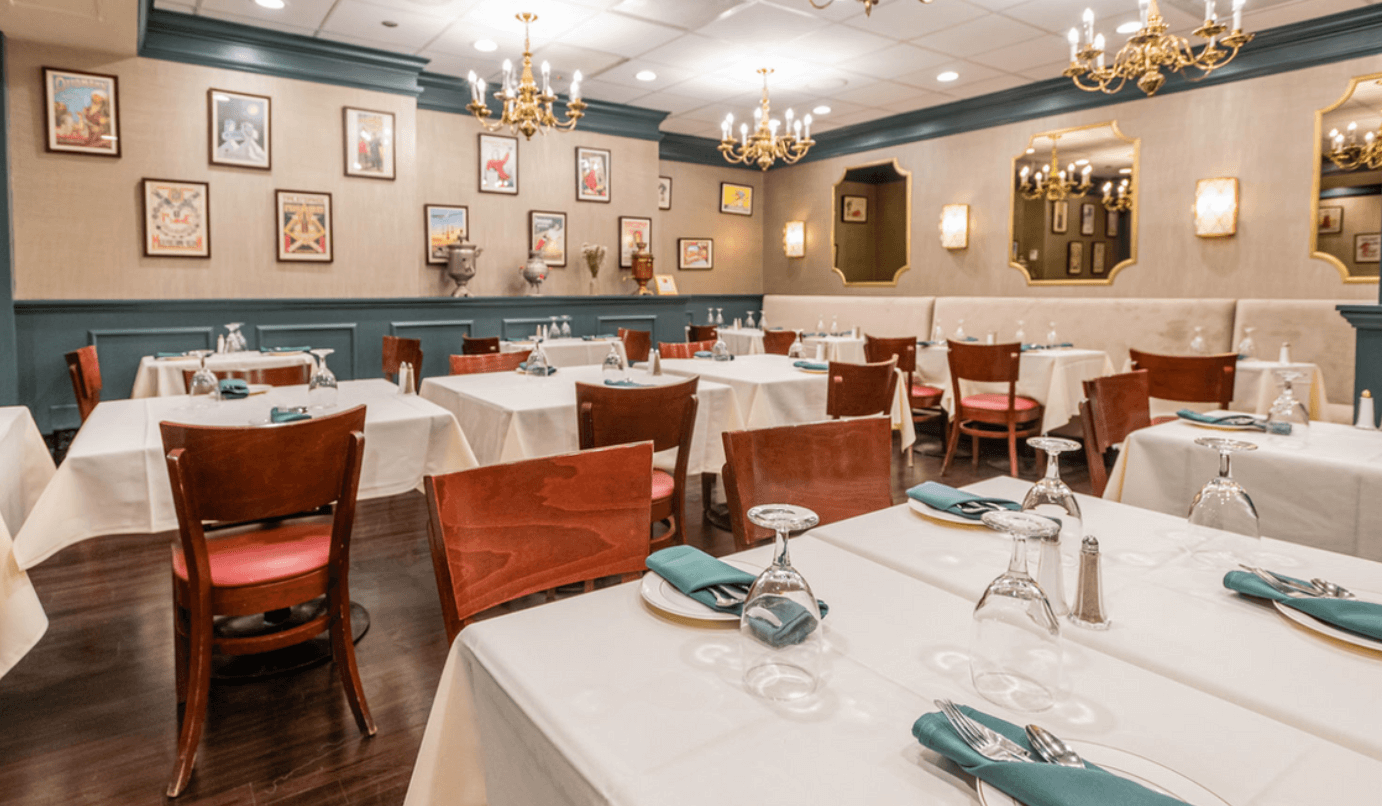 Best for – Russian-themed afternoon tea experience
Russia might be the farthest thing from your mind when you think about the old British afternoon tea tradition, but Russian Tea Time has a thing or two to teach us. The tearoom is actually the brainchild of Chicago Ukrainians.
It offers everything you'd expect from a fancy high-tea affair – we're talking a delicious pot of tea, savories, and scrumptious scones laced with mouthwatering marmalade and cream. The tearoom also serves sweets and small finger sandwiches, as well as a delightful menu of Russian treats like stuffed potato piroshki, creamy Napoleon torte, and mini croquette sandwiches.
Located in the Loop, this unpretentious tearoom is well-known for its brass chandeliers, white tablecloths, and folk music. The restaurant serves afternoon teas daily from 11 AM until 7:30 PM Monday through Sunday, a perfect spot to indulge before or after you visit the Art Institute. 
We highly recommend the Queen Tea service that comes with extras like finger sandwiches with salmon roe and Russian pancakes.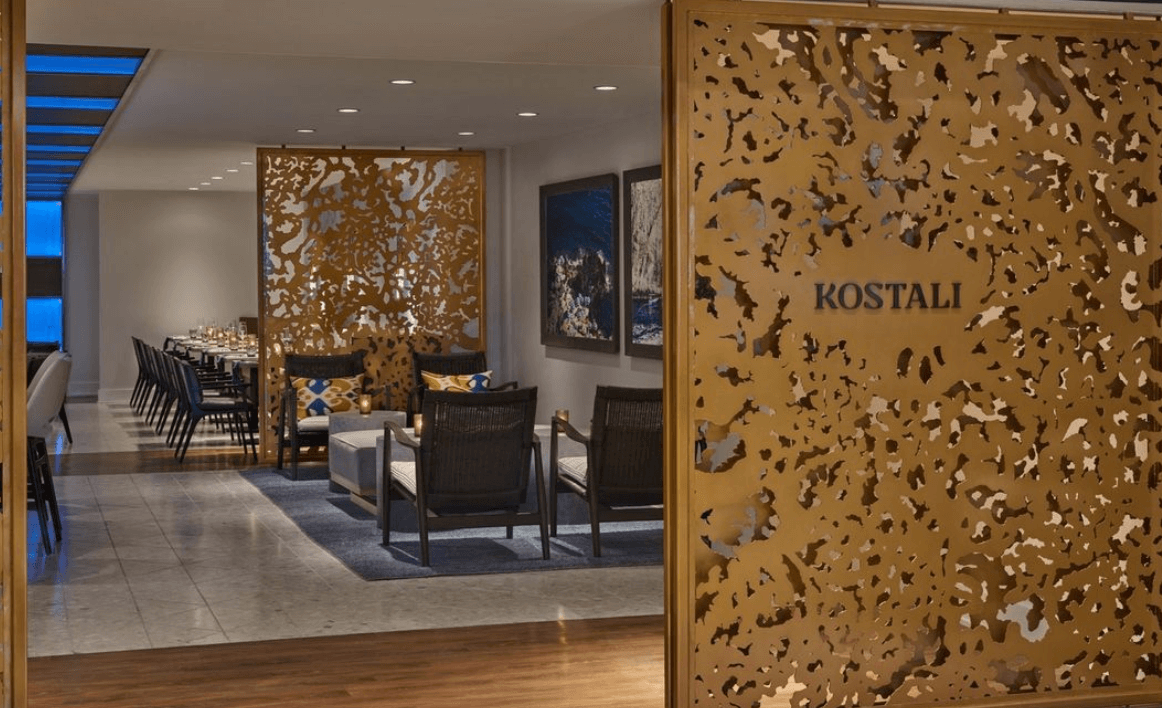 Best for – Boozy afternoon tea experience
Kostali is a swanky Mediterranean-inspired restaurant in the Gwen Hotel, a sister property to the well-known Brindille, an upscale French restaurant. The brain behind the restaurant is none other than Carrie Nahabedian, a serial winner of the coveted James Beard Award. Kostali is a beautiful destination for afternoon tea every Saturday and Sunday from noon until 4 PM.
The Tipsy Tea Party at Kostali is essentially a tea and cocktail fusion. A tasty choice of traditional teas with savory yet sweet snacks kicks things off, followed by finger bites like caviar & cream cheese sandwiches, pecorino gougères, and saffron cake.
The experience includes the Spill the Tea, a boozy package sure to liven things up. That means you will enjoy a free flow of fun-named tea cocktails like Take My Breath Away, a black tea & bourbon fusion—or the Just the Two of Us cocktail comprises hot green tea infused with wine syrup, cider, pineapple, and rum. Afternoon tea packages start from $65.
Best for – Enjoying a cozy afternoon tea with friends
Bar Pendry at Pendry Chicago is the kind of afternoon tea spot where you can throw a killer bachelorette party with your boozy friends from college. Although the venue tends to attract tourists, most of whom peer through the window as they walk by, it still strikes just the perfect balance between casual and sophisticated elegance. 
The Boozy Tea Service at Bar Pendry is packed with champagne-drinking groups and features a deejay pumping out sweet music. The fairly intimate dining space is perched on the hotel's main floor, just right off the lobby. This combination creates a tad noisy high-tea experience, but it more than makes up for this with the cozy fireplace, fantastic food, and distinct tea-infused cocktails.
Sip on a tea from Rare Tea Cellar while munching on savory snacks like Osetra caviar, cheesy truffled egg tartlette, brown butter chai scones, and Jidori chicken salad.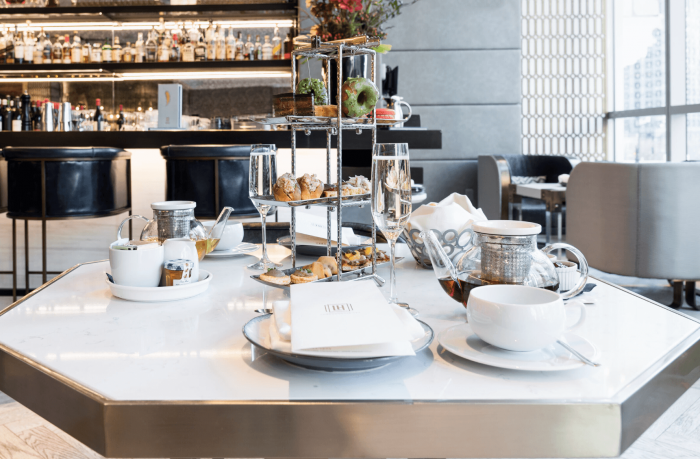 Best for – Contemporary afternoon tea experience with breathtaking city views
It was quite a fanfare when LondonHouse finally welcomed guests in 2016. Nestled on the Chicago River and Michigan Avenue, the riverfront property is now part upscale restaurant and part elegant hotel with unbeatable sweeping views of the city.
Inside the historic landmark building, you can expect to find a contemporary afternoon tea spot at LondonHouse. Bridges take on a non-traditional twist on the high-tea affair, offering a blend of classic treats like cranberry scones and exotic yet flavorful munchies like yuzu macaron, pea falafel, and Peking duck spring rolls. Instead of the classics like cucumber sandwich, Bridges opted for asparagus tart.
The afternoon tea here happens in the lobby bar & lounge of the LondonHouse Hotel. The goodies are presented in tiered geometric trays emphasizing playful visuals. The tea service takes place daily from 12 PM until 3 PM.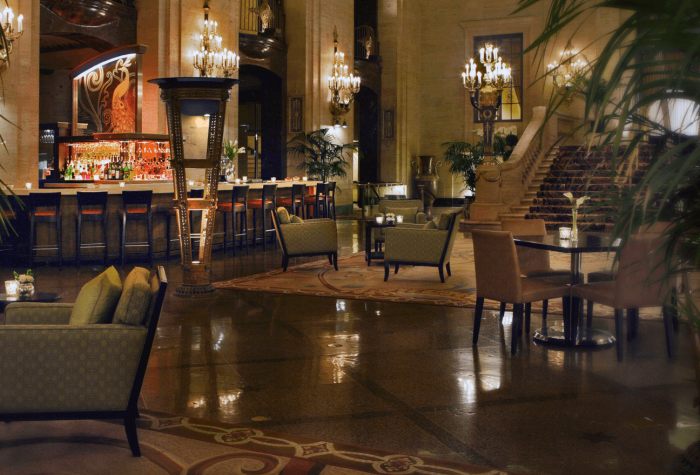 Best for – Refined, relaxed afternoon tea with friends
Hilton Hotel's hospitality's sheer attention to detail and friendliness carries over to its Palmer House's Lockwood Restaurant & Bar. The same can be said for the afternoon tea served daily inside the hotel. The real sparks go off when the large pots of tea come out to play.
The fantastic selection of Harney & Sons teas served at Lockwood range from the classic black (Earl Grey and Darjeeling) to the herbal (chamomile, mint verbena, and organic passion) to the green (Sencha and jasmine). A gourmet sandwich of sweet curry aioli, golden raisins, and walnuts or crab salad doused with lemony mayo make a superb appetizer, but it's the classic treats like the buttermilk scones served with zingy cranberry orange and the chocolate cake that steal the limelight. 
The Lockwood ambiance is elegant and snazzy, promising a laid-back afternoon tea of refinement with your friends.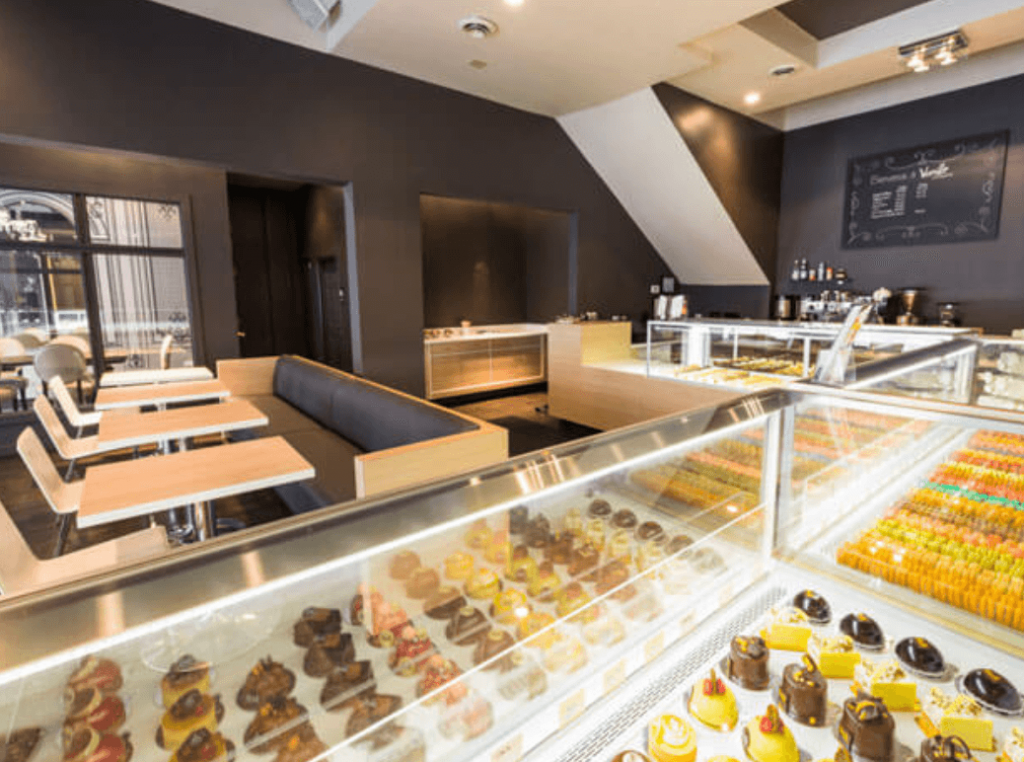 Best for – A lovely afternoon of whimsical tea flavors
If you love all things French and fancy, Vanille Patisserie on North Clark Street is the perfect place for you. Indulge in their signature pastries, scones, and sandwiches while sipping exquisite, French-inspired tea for only $35. The menu boasts plenty of vegetarian and gluten-free options, too.
The afternoon tea here is served in a simple yet stunning presentation, with highly polished silver trays making it all the more enticing. Best of all, if you're a green tea enthusiast, Vanille Patisserie is sure to steal your heart!