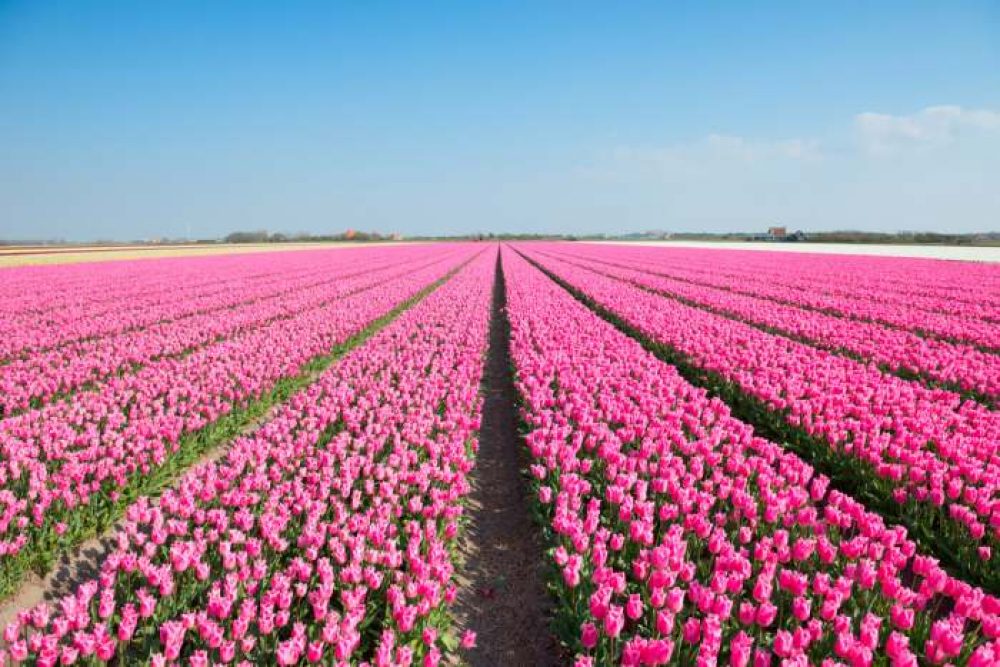 The 3rd annual tulip festival at the farm will bring a rainbow of colors to Spring Grove, Illinois, giving Chicagoans another nice place to visit with the family this season.
Spring Grove's Richardson Farm is the destination of the moment, if you have already seen the best murals in Chicago or you need to find a new place to take pictures for your Instagram, besides the best ones our city has to offer. If in fall, the Richardson Farm is the home to the world's largest corn maze, in spring the farm offers a natural rainbow display on the ground with its annual Tulip Festival.
Check the facebook page for updates on the blooms
The weather determines the dates of when the tulips bloom, but the farm owners expect them to be in full bloom or nearly full bloom sometime during mid-April through mid-May…2-3 weeks of bloom time. Check the farm's Facebook page regularly for up-to-date information. The tulips are planted near their own, private 36 acre lake for an absolutely beautiful setting. The gift shop on the adjacent Adventure Farm grounds will be open for gifts, wine tasting, fresh donuts made on site, popcorn, kettle corn, and indoor restrooms. It's about a ½ mile walk, or you may drive, from the tulip fields parking area.
This year will be the farm's third annual tulip festival and it will feature 30 different types of tulips. Hundreds of thousands of tulips are currently in bloom, starting mid-April.  
"With hues ranging from fiery coral to snowy white, pale yellow, and plum-drenched purple — some with fringed petals, others smooth, all visually striking — this year's array is sure to bedazzle," said George and Wendy Richardson, who operate Richardson Farm along with Robert and Carol Richardson and Ryan and Kristen Richardson.
Highlights of thee 2023 edition
300,000 new bulbs planted for this year – 30 different varieties PLUS last year's bulbs will be popping up!

500,000 are in colorful blocks with a central design for pictures

100,000 are mixed colors in a pick-your-own area

Beautiful, private lakefront location

Food trucks, beer and wine, and free use of picnic tables near the lakefront

Plentiful free parking

Walking trail along the lake

Free games to play – giant checkers, jenga, cornhole, etc.

Live music on Saturday and Sunday afternoons

Friendly dogs on a leash are welcome
If you are in a wheelchair or plan to accompany someone who is, there are some facts you need to know about the specific accessibility. According to the Richardson Farm's team, the tulips have been planted in a hay field, so the ground is a farm field with some lumps and bumps. The walkways are mostly a grass/weed mixture, but still with lumps and bumps. If it has recently rained, the ground turns a little mushy. The parking area is rough grass. From the tulip fields, the ground slopes down to the festival area with the food trucks, picnic tables, weekend music, etc. The slopes are within ADA guidelines. Because the ground is rough, some people may need assistance getting their wheelchair back up the hill. We have made every effort to make these lumpy fields as wheelchair friendly as possible, but you must decide on the capabilities of yourself or the person you are attending.
The farm's first two tulip festivals drew over 40,000 guests
Tulips are not the only thing to see and do. There will also be yard games and live music on weekends, just to entice all your family members to enjoy a day outside and smell, well, the tulips!
Entry to the Richardson Farm Tulip Festival is $12 on weekdays and $15 on weekends, with children aged 3 and younger being admitted for free. For the entry fee, you also get one cut-your-own tulip. You are welcome to bring your dog if it is on a leash and plays well with others.
In a Facebook post, the farm team said, back in late March, that "the tulips tell us when it's time to open. We are here keeping a close eye on them and watching for them to bloom. Once they start blooming it's show time!! We will keep you updated as much as we can as the season draws closer!"
The farm's first two tulip festivals in the spring of 2021 and 2022 drew over 40,000 guests from various parts of Illinois. Last year's array, again designed by Shawn Stolworthy of MazePlay.com, featured a series of gentle arches and narrow waves showing off over thirty different varieties of tulip bulbs planted — everything from Apeldoorn's Elite and Border Buddies Blend to Banja Luka, Jaap Groot, and Snowboard.
This year, the owners promise to do bigger and better with 300,000 bulbs and 40 new varieties coming this spring, alongside the 600,000 from each of the previous 2 years. The setup will showcase over 900,000 colorful blocks of stunning tulips and guests will receive 1 free tulip with each ticket.
Where to find it: The Richardson Farm Tulip Festival is located at 909 English Prairie Road, Spring Grove, the tulips being on show in a northwesterly field of the 500-acre farm, adjacent to a picnic area around Richardson Lake. The festival can be visited from 11 am to 6:30 pm every day of the week except Mondays.