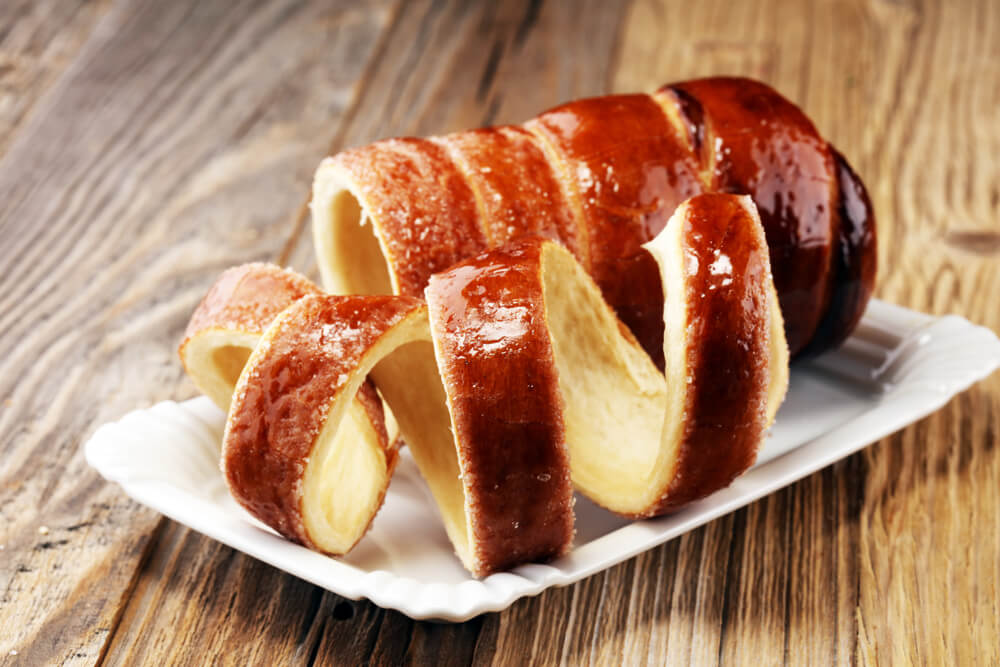 If you've ever been to Budapest, chances are you either bought a Kürtőskalács or saw others with them on the streets of this great Central European city.
Also known as a Spit Cake or Chimney Cake, this Hungarian / Romanian pastry was first mentioned in 1679 in a Transylanian village.   Now it is a very popular Eastern European street fair cake.
But if you live in Chicago, you may not want to travel all the way to Hungary or Romania just to try a tasty vanilla chimney cake. And guess what? You don't have to do that!
You can buy one right here, at home in the Windy City. Better yet, you can even have one delivered directly to your doorstep (more details below).
Here are the best places to get a chimney cake, Kürtőskalács, or colac secuiesc in Chicago (all terms mean the same to different people).
1. Transylvania Inc: Best Service + Free Delivery in Chicago area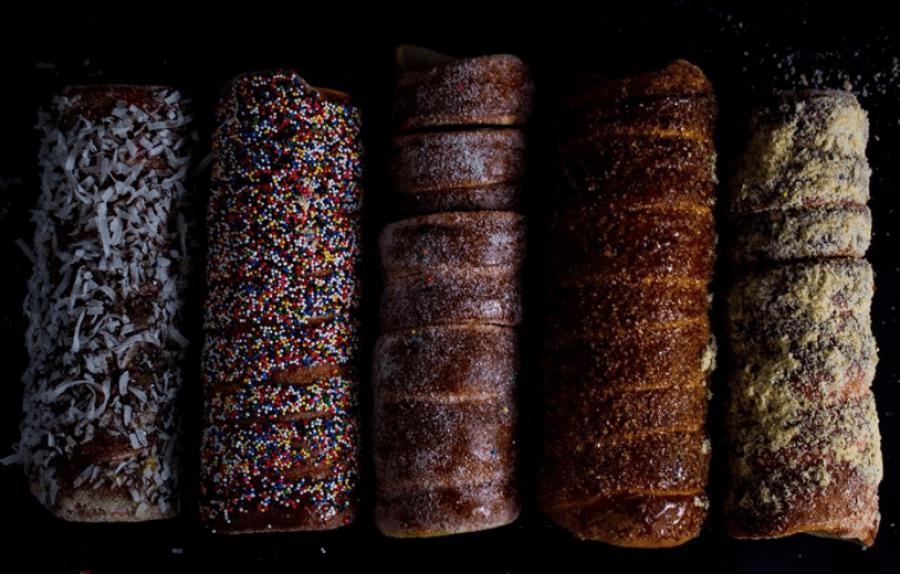 Transylvania Inc is a Romanian catering company in Chicago. They operate as a local alternative to HelloFresh or BlueApron. With one exception: they actually cook all the meals on site. You can enjoy them immediately upon arrival. The company posts their menu each Monday on Facebook and Chicagoans can place orders until Wednesday evening for Saturday delivery.
Official company description (from Facebook):
"Romanians in the Chicago area deserve delicious food, delivered to their front door. We are Chicago's premier restaurant on the go with the best prices & the most authentic Romanian food (free delivery included). Our papanasi are to die for!"
But Transylvania Inc also has a food truck engineered to make Kürtőskalács. Each chimney cake costs $8 and can be delivered for free to your home, if you are located in the Chicago area. According to their Facebook page, orders can be made via Facebook or by texting (773) 814-8795.
Picture of my own Kürtőskalács from Transylvania INC below (home delivered; I ordered classic, classic + Nutella filling, walnut and Cinnamon Sugar chimney cakes).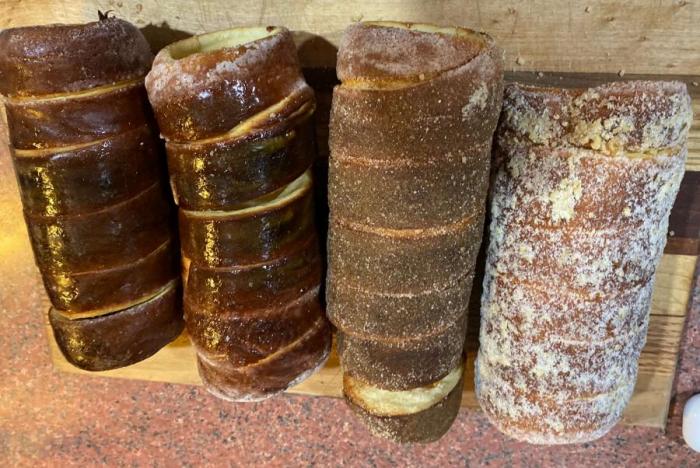 2. Chimney Cake Island – best for variety of chimney cakes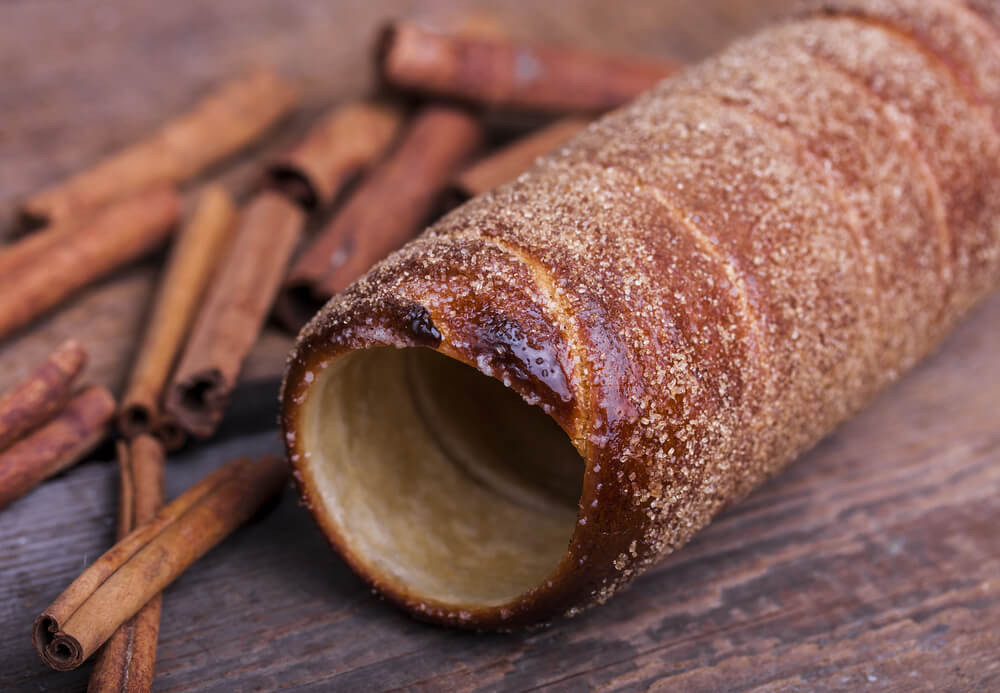 1445 W Devon Ave Chicago, IL 60660
Chimney Cake Island is another Chicago-based bakery that makes its own spin on the famous chimney cake desert. The price is the same as Transylvania Inc.($8/ Kürtőskalács). Unfortunately, Chimney Cake Island does not offer a home delivery option.  You need to drive or take some form of transit all the way to East Rogers Park to indulge in your guilty pleasure.
Chimney Cake Island has been around for almost a decade now. I've had the pleasure to try out their coconut flakes chimney cake(yum!) and the chocolate sprinkles version (double yum!). Since the Covid19 outbreak, the mom and pop bakery (technically husband and wife) take orders via their Facebook page and by texting  (773) 656-6592. Pick up date is Saturday (information is accurate as of May 15th 2020). They only make limited quantities so order early in the week if you're interested.
Chicago Area Chimney Cake Option
3. Sweet C's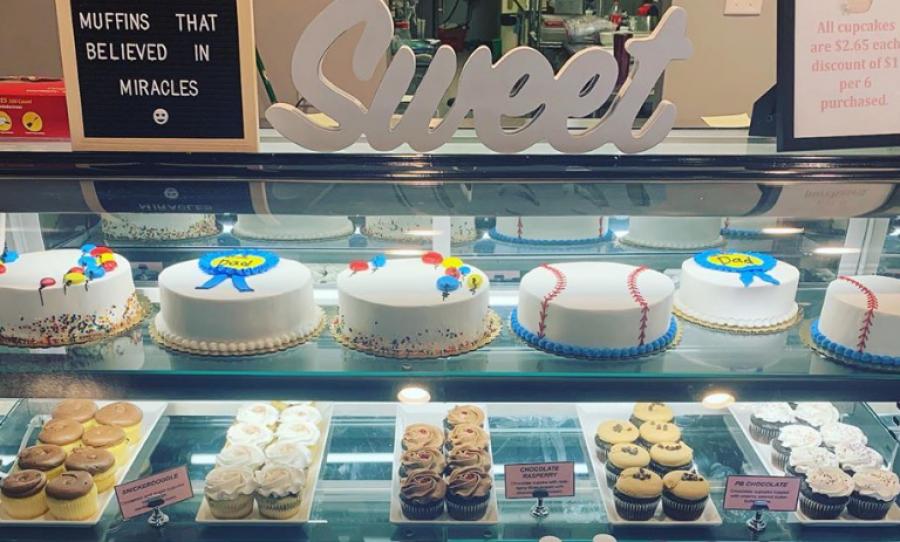 10 N. Bothwell St Palatine, IL 60067
(847) 496-7929
Sweet C bakery in Palatine offers a variety of cakes, cupcakes and our favorite, chimney cake. They also deliver via Doordash and Grubhub, so if you are in the northwestern suburbs, try out those options.
Kürtőskalács at Sweet C bakery cost $6.50 each, with optional upgrades including Nutella and Peanut Butter.  You may also choose one of these: classic, crushed oreo, sprinkles, coconut or Cinnamon Sugar.
My personal suggestion – try the Coconut chimney cake with Nutella AND Peanut Butter. If you don't die of a heart attack from all the sugar, you will still feel like you just went to heaven.
For the latest updates, check out Sweet C's bakery on Facebook here.
A quick shoutout to the dearly departed
Until 2018, one of the best places to buy a chimney cake in the Chicago area was the Heart of Europe Cafe in Barrington. These guys made some of the most wicked chimney cakes ever. They were absolutely perfect. But, unfortunately, they went out of business. You won't be forgotten, Heart of Europe!
Do you know of a bakery in the Chicago area that offers chimney cakes? Email us at hello@coolthingschicago.com with the details and we'll add them to the list.
You Might Also Like: