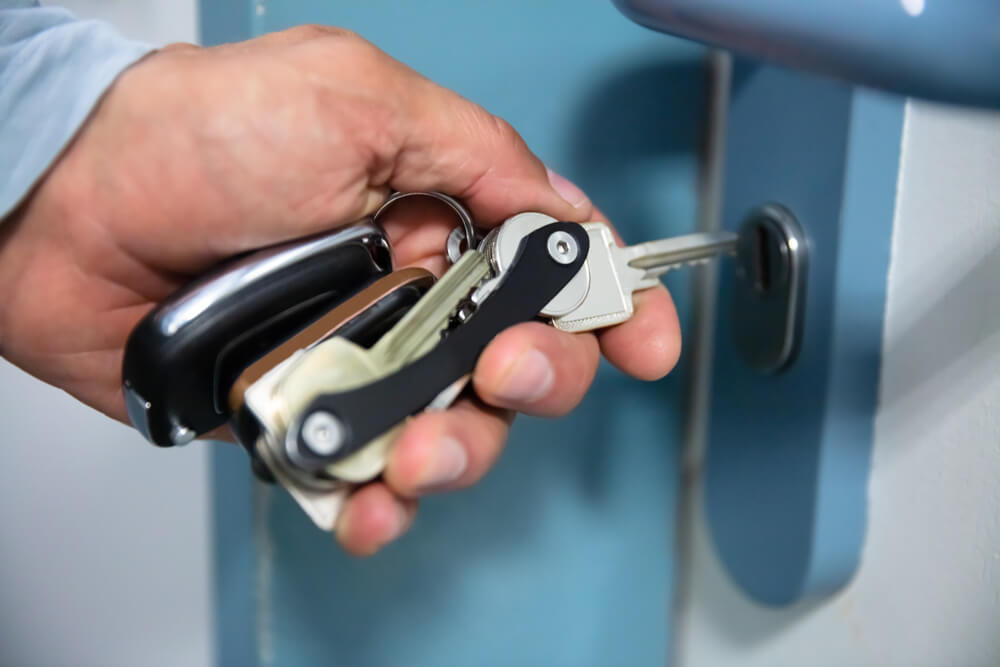 Do you have a lot of keys? If you had to find a key on your keyring real fast in an emergency, would you be able to do it? Have you ever been embarrassed to pull out your keychain because it looks like it belongs to the super of a high-rise apartment building, a high school cheerleader, or the president of a college fraternity? If any of these questions hit a little too close to home, it may be time for a key organizer.
A key organizer is a great little invention that does what the name suggests: it organizes your keys and a bit more, too.  The best key organizer will consolidate your keys into a streamlined package that is easy to carry and make it easy to clearly differentiate between keys.  Some even come with added bonus features and tools to make your life easier and more convenient.
If you don't have many keys or already use a key organizer, this list of the best key organizers available can still be helpful. There are always new and more functional key organizers in development. Besides, key organizers make a great gift for your favorite family member, friend, or coworker who struggles with an unruly key chain. Here is the list of the best key organizers to help you keep track of things.
1. Smart Key Holder Keychain – Compact Key Holder & Premium Organizer/Women and Man Keychain/Lightweight Pocket Key Keeper up to 20 Keys with Stainless Steel Screws and Accessories
Amazon
If you are looking for the brands that make the best key organizers, Smart Key is frequently at the top of most of those lists. This brand is great for quality, function, and value. This key organizer keychain is made from the same aluminum material used to build airplanes, so it is incredibly lightweight. The whole package comes with several accessories so you can create whatever type of keychain you need. Included with this kit are: a loop ring, a key ring, a carabiner, and a bottle opener. You also get a kit with 20 spacers and 6 extensions so you can customize your organizer any way you see fit. This one comes in black, red, or blue so you can match it with your personal style.
2. Keyport Pivot Key Organizer – Pocket Key Holder – EDC Multi-Tool Keychain – Modern Swiss Army Key Chain with Lost & Found All-In-One
Amazon
This is a well-made and incredibly versatile product is one of best key organizers. Like most key organizers here, it is lightweight, durable, and ergonomic. There are some interesting features that set this key organizer apart from the rest, though. The organizer comes in black, red, and silver, but you can choose from three different trim levels: Pivot, Essential Bundle, and Outdoor bundle. Each of these comes with different tools and features for your specific needs.  Keyport provides a lost key prevention subscription service called KeyportID. This service will help your keys be returned if they are ever lost.  You get a free 2-year subscription with your purchase. It is such a great key organizer that Keyport also offers a 2-year warranty and a 30-day satisfaction guarantee to make sure the organizer is right for you and works properly.
3. KeyBar Everyday Carry Compact Key Holder Multi-Tool and Keychain Organizer with Pocket Clip (Holds up to 12 Key) Stonewashed Aluminum
Amazon
Sometimes the best key organizer is the simplest key organizer. That is what the makers of this product at KeyBar must have thought when they made it. If you are looking for added tools and funky colors and interesting design features, this is not the keychain for you. If you are looking for the simplest, toughest, longest-lasting, no-frills key organizer that gets the job done, then you will be a KeyBar fan. This organizer comes in silver and has a minimalist design. It expands to hold an incredible 28 keys and organizes them all in a pocket-sized package. Proudly made in the USA, this key organizer will be a favorite among no-nonsense people who want their keys organized.
4. AmazinGizmo Smart Key Holder & Key Organizer Keychain – House & Car Compact Black EDC Key Chain with Pocket Clip & Carabiner – up to 12 Folding Keys & More
Amazon
This key organizer has a carbon fiber frame, comes in black, and has a cool plaid weave pattern.  It looks very cool and high-tech. This is partly because it is high-tech. The AmazinGizmo motto for this product is "small details make all the difference". The piece is strong and durable and even comes with a lifetime warranty to back that up. The techy point of difference is that where most key organizers use "fragile magnesium alloy screws", AmazinGizmo uses ISO M4 bolts.  These help make the organizer far less prone to breakage, helps the keys stay in the sleeve and not loosen over time. The organizer holds up to 12 keys that you can configure in several different formations.
5. KeySmart Leather – Compact Key Holder & Pocket Keychain Organizer (up to 10 Keys, Black)
Amazon
Here is another KeySmart product that ranks on the list of the best key organizers. Although many of the organizers on this list are metal or carbon, this key organizer's main material is leather. Leather is, of course, not quite as strong and long-lasting as some of these other materials.  However, it is very good-looking and fashionable. The design of this key organizer is very simple but there are many customization options. You can get this product in black or brown leather but the most customizable part is the accessories you can add. KeySmart has a whole suite of accessories to add to this organizer so you don't have to fill it up with just keys. You can get screwdrivers, knives, multi-tools, bottle openers, files, and more. This key organizer looks and feels fantastic in your hand and can be turned into whatever type of pocket organizer you need.
6. Clips Smart Compact Key Organizer Holder Keychain – Made of Carbon Fiber & Stainless Steel- Pocket Organizer Up to 28 Keys- Lightweight, Strong Includes Bottle Opener, Carabiner & More
Amazon
This carbon fiber and stainless steel key organizer looks as good as it works. It is a great product and it even comes in a very attractive and sleek-looking black box which makes it a perfect gift for someone who could use a little key organization in their life. It comes with a full expansion kit to let you expand the organizer from holding 18 keys up to 28 keys. It also has a bottle opener and a unique accessory included: a cash stash. This small, pill-shaped, stainless steel accessory attaches to the keychain and allows you to fold up cash or other personal items and carry them inconspicuously on your organizer.  It comes in a number of cool colors and designs, including black, pink, blue, silver, and a USA flag design.
7. Smart Key Organizer Keychain, 100% Real Leather Compact Key Holder, Secure Locking Mechanism, Pocket Key Chain up to 10 Keys, EDC Stainless Steel Multi-Tool
Amazon
Another simple, yet suave and sophisticated, leather key organizer, this piece from Smart Key is about as classy as it gets. The organizer comes in brown and black leather and is very simple to assemble and add or remove keys. Also included is multi-tool that can be used as a bottle opener, a box opener, or a flathead screwdriver. The product has a good locking mechanism that keeps the keys tucked in place. The design is minimalist and the features are sparse but as fashionable and good-looking key organizers go, this is at the top of that list.
8. Carbon Fiber Compact Key Holder – Premium Heavy-Duty Key Organizer UP to 18 Keys -B0NUS Keychain Holder with Loop Piece for Belt or Car Keys – SIM & Bottle Opener + Video Instructions (Black Carbon)
Amazon
The company promotes this as a product that helps its customers enter a "stress-free zone". It is very quick and easy to assemble this key organizer.  The instructions are very clear and include a handy tutorial video that is accessible when you buy the product. The key organizer is German-designed and manufactured, a sign of high-quality craftsmanship. Because it is so easy to use and so strong and long-lasting, this is a good gift, even for the less technically capable people on your gift list. There are options in the looks department as well. You can get this carbon plaid weave style key organizer in back, silver, pink, or blue. For you or someone else, this key organizer will be a great buy and greatly appreciated.
9. Compact Key Organizer by KEYTEC (12-16 keys) – Premium Key Holder with Built-In Tools – Bottle Opener/Phone Stand – Black Frame plus Anti Loosening Washer
Amazon
Black, sleek, simple, and industrial-looking, this KEYTEC key organizer is straightforward and gets the job done. It is made from aircraft-grade Zinc Alloy so you know it is very strong. It is adjustable to hold as few as 4 keys or as many as 16. You don't need a bunch of special tools to make the adjustment to do so, either. You can simply tighten and untighten the bolt that holds the organizer together with a coin. One of the most interesting design features of this key organizer is that it is designed in such a way that it can act as a smartphone stand. You can use it to prop up your phone on a table, desk, or even on your chest to read or watch videos.
10. Smart Key Organizer, Compact Key Holder Leather Keychain, Folding Pocket Key Holder Chain (up to 16 Keys)
Amazon
This leather key chain organizer can hold as few as 4 keys and as many as 16. It is stylish and chic and comes in standard black as well as a very unusual pink leather version that will blow the mind of any pink-lovers in your life. The design is simple and functional and the leather is very soft which will help protect your wallet, phone, or whatever else you keep in your pockets. This is a key feature because some of the key organizers made from harder materials on this list may scratch some of the other items in your pocket or purse. It does hold all standard keys, up to 3.23" long, but if you have longer keys, this may not work for you.
11. Northwall Singularity – Compact Key Holder – Smart Key Organizer – Up To 8 Keys – Aluminum – Made in America
Amazon
This may be the last key organizer on this list and it certainly is the smallest but that doesn't mean it is the least among these keyholders by any means. This Mighty Mouse of key organizers is perfect for personal use because it can hold up to 7 standard keys with ease. It is strong, easy to assemble, and very small so that, at times, you will not even notice it in your pocket. It is also very fun because of all the colors available. You can get your favorite color or get a few to mix and match with your moods. This key organizer comes in a dozen funky colors such as Sunrise Orange, Sky Blue, Vegas Gold, Lime Green, and more.
Why Should You Own a Key Organizer?
These simple yet brilliant little contraptions will make your life easier and better in so many ways. It may seem that adding a key organizer keychain to your life would not be such a big deal but, as those who use a key organizer will tell you, they make such a fundamental change in your day-to-day life that once you own one, you will never not own one. Here are a few specific reasons to own a key organizer.
More Safety
The most serious reason to own a key organizer is that, in an emergency, it may go a long way towards keeping you safe. Whether you need to find your keys fast, find the right key fast, or use multiple keys when an emergency happens, you will be glad all your keys are organized and together on your key organizer keychain. Hopefully, you will never be in a situation where pulling your keys out and getting the right one in a lock right away will be important to your personal safety or that of your family's but if you ever are in such a situation, you will be so glad you have a key organizer.
More Space
When you have an unruly ring of keys in your pocket, it can be hard to put anything else in there. The same goes for a huge keychain in a purse or bag. Not to mention, a large keyring can create an unsightly bulge in your pants that no one wants. A key organizer will hold all your keys in a sleek, streamlined package that slides effortlessly into your preferred carrying space and allows room for all kinds of other stuff. You will be amazed how much less space your keys require.
More Than Keys
Normal keychains become unruly when a bunch of attachments are added to the keychain. Usually you have one of two choices: you can put tools on your keyring so you always have them with you but this makes your keychain bulky; or, you can either carry these tools separately or not at all and that is not ideal, either. With the right key organizer keychain, you never have to make that decision. You can get a key organizer with any number of built-in tools such as a bottle opener or a multi-tool. These tools fold right into the sleeve along with the keys for easy and compact carrying. If you like to have the right tool for every situation, you need a key organizer.
How Should I Shop for a Key Organizer?
Many people are not familiar with key organizers.  Although they are growing in popularity, key organizers are a relatively new concept in the realm of key holders. If you think you may want a key organizer for yourself or as a gift to someone else, it may be hard to figure out what to look for in a good key organizer. Here are a few tips on how you should shop for a key organizer.
Count your keys
First:  figure out how many keys you put in your key organizer and make sure the key organizer you select has enough room for all of them. It is always a good idea to get a little extra capacity or an expansion pack because you never know when you might get a few more keys.
Select your style
One of the coolest things about key organizers is that they come in all sorts of shapes and colors. You can go simple silver or black or jazz it up with one that comes in your favorite colors. The shape is important too. Depending on how you use the organizer and where you plan on keeping it, one shape may be better than another, so think about that before you buy.
Choose your material
You can find key organizers made from metal, leather, plastic, or other synthetic materials. This will affect the feel in your hand and in your pocket, the look of the piece and the weight of the organizer. Many of these organizers are made from eco-friendly material which is always a nice touch.
Attachment  
With a key organizer keychain, chances are you may attach things to it or you will attach the keychain to something else. If you plan on doing either of these things, make sure the keychain comes with all the attachments you need so you can use the keychain in the way that works best for you.
Car key in or out?
Speaking of attachments, you may want to attach your car key or key fob to the outside of your key organizer, in which case, see the above piece about attachments. Some key organizers allow you space to keep your car key inside the organizer, though so keep an eye out for that if you are interested in this feature.
Pick your tools
One of the best features of any key organizer are the built-in tools. If you want certain tools in your organizer, this should be a key element you study when shopping for one. Conversely, if the tools are not important to you, get one without them so there is more room for keys.
Delivered to your door
Some brick and mortar stores sell key organizers, but it can be hard to know which stores those are and how big the selection will be. The best way to shop for a key organizer is to go online to a platform like Amazon. Here you will find a huge selection, good prices, and the product will be delivered right to your door
You Might Also Like: