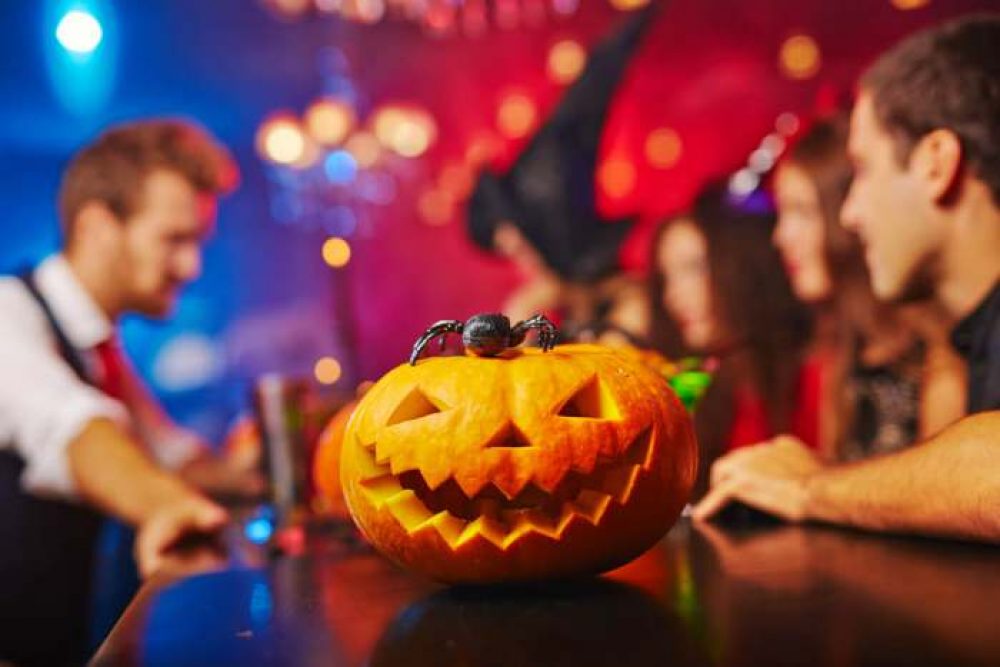 Fall in  Chicago is the best time for picking apples, finding the best pumpkins, or trying the best new attractions Halloween style. For booze overs however, this year the spooky season will get better when the Black Lagoon—an immersive, horror-themed cocktail pop-up—opens at the Dandy Crown in River West for the most frightening drinking experience of the fall.  
A new post-pandemic concept for a good time
The Black Lagoon concept started last year in Toronto, Canada, being the brainchild of bartenders Erin Hayes and Kelsey Ramage, designed as a pop-up for Halloween lovers. 
After having cooked up their first pop-up of its kind at the renowned Dungeon, New Orleans in 2019, they decided that it needed to be bigger, creepier and louder than ever. 
The idea of the two friends was to create a space for patrons to dress up and immerse themselves into a creepy, goth, Halloween inspired atmosphere, complete with skulls, stand-up coffins, synthetic fog, a metal soundtrack etc, while sipping wonderful signature cocktails.  
This is not the first immersive drinking experience in Chicago, since, in June, Stage 773 launched its new concept Whim – a complex immersive theater and art experience, complete with self improved cocktails. The first stage of the project was an immersive cocktail bar located within the theater's newly renovated lobby. Basically, what this means is you can order a series of interactive cocktails with participatory elements, this being meant to "blur this idea between artists and audience,"
The two spooky brains behind the new Halloween inspired drinking extravaganza
Getting scared and loving it is the theme for Halloween, so if you love the spooky season, you might want to know more about the people who cooked the new idea for down time with a terrifying drink. 
Erin Hayes
A native Chicagoan, Erin has spent her entire career within different sectors of the hospitality industry. Her time in Chicago included running the beverage programs at The Hotel Lincoln in the award-winning restaurant Perennial Virant & the widely acclaimed rooftop cocktail lounge, The J. Parker, and later as the head bartender at Three Dots and A Dash (Spirited Award Best New American Cocktail Bar 2014). Most notably, she served as the bar manager at Lost Lake, which opened to much fanfare and acclaim including being named Imbibe Magazine's Bar of The Year (2015) and 5 semi-finalist nods for The James Beard Foundation's Outstanding Bar Program Award. In 2015, Erin was a finalist for Star Chef's Rising Star Mixologist awards.  She is a three-time Speed Rack competitor and was voted to the Chicago wildcard position at the National Speed Rack Finals in 2015. From 2016-21, Erin served as the Global Educator & Ambassador for award winning Westward Whiskey. Currently residing in Los Angeles, Erin serves as Beverage Director at the prestigious Fairmont Century Plaza Hotel.
Kelsey Ramage 
Kelsey has over 17 years experience in the hospitality business ranging from educator, entrepreneur, sommelier and bartender. Kelsey Ramage is the director of the Trash Collective, and continues to operate it and its many projects, Black Lagoon pop-up and soon to be Supernova in Toronto, Canada. She educates bartenders globally both personally and in partnership with Pernod Ricard as their global sustainability ambassador. Prior to launching her personal projects, she was a lead bartender at Dandelyan bar in London, seeing it win awards for Best Bar Team, Best Menu, and Worlds Best Bar, to name a few. Personally, she was awarded Spirited Awards Best International Bartender in 2020 and was 2016's Altos Tahona Society Champ. 
What can Chicagoans look for in the new pop-up bar
According to Hayes and Ramage, there will be something slightly different in each location of the pop-up, but Chicago guests will not be disappointed about the set-up. They will be able to wander around a graveyard area stocked with animatronics and other creepy elements. Those curious could get a feel of the new place and of the menu during a preview event on September 7, before the pop-up launches full-time in October. 
The founders hope that Black Lagoon will be the best Halloween attraction for all ages, from  aging goth kids to twenty-something in search of Instagrammable experiences and somewhere in between, no matter what walk of life people come from. 
"Halloween is one of those holidays where if you're into it, you're really into it," Hayes says. "I think that any Halloween lover is going to have a really great time and that people will really appreciate the music and the vibe—it's definitely not your kid's Halloween party situation." 
Black Lagoon will host a preview event at the Dandy Crown (694 N Milwaukee Ave) on September 7 from 7pm-midnight before opening full-time from October 3-31. Hours for the regular pop-up are Monday-Thursday 3pm-midnight, Friday 3pm-2am, Saturday noon-3am and Sunday noon-midnight. 
And if getting spooked while drinking is not necessarily your go to experience, don't worry. Chicago offers a wide array of regular restaurants and bars where the Halloween decor will still remain family friendly. Or, if you prefer adrenaline rushes, but for different reasons, you can always opt for one of the city's marvelous bars which are situated high up in the sky.  So, whether you're a Chicagoan or you are here for business or pleasure, check out this local guide to Chicago hotels with rooftop bars, to enjoy your drinks in style.