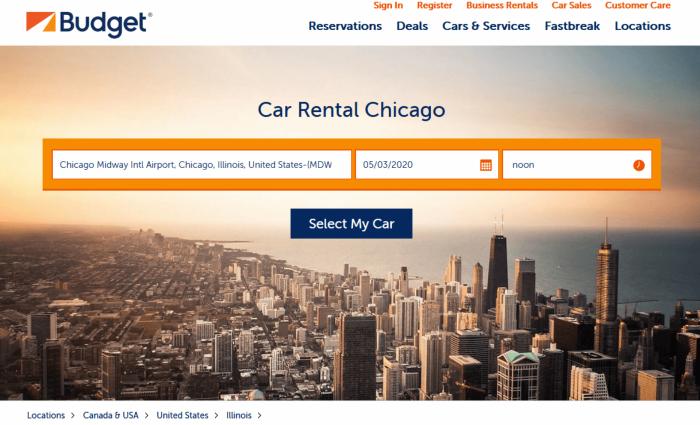 Location: 10 locations
Highlights
A wider variety of cars beyond traditional compacts
10% discount for long-term renters
Save more money when you pay for online bookings upfront
Lots of special discounts for AARP members, veterans, military, and so on
With ten locations in Chicago, Budget's biggest selling point is perhaps its diverse hybrid fleet. In addition to offering a wide selection of conventional compact cars and trucks, they also boast a decent range of minivans and SUVs on their online portfolio.
Budget Rent-A-Car also has a pretty solid customer service team backed by a robust, highly responsive website with rich FAQ pages. The site is so informative and impressive that you won't have to bother live customer service reps.
A subsidiary of Avis – a well-known car rental conglomerate, the Budget has cut a niche for itself by offering some of the best prices in the market. They charge an average of $40 per day, which is a whopping 8 percent lower than the national average. And if you pay upfront when booking online, you can chirp off a further 35 percent of the base price. That's quite impressive given that most of its rivals offer a 10-15% upfront discount.
As if that isn't terrific enough, the company offers a 10 percent discount on longer-term (e.g., monthly) rentals. Veterans, AARP members, military, and other special groups can expect dedicated discounts as well. Some customers have faulted their pick-up process, though.