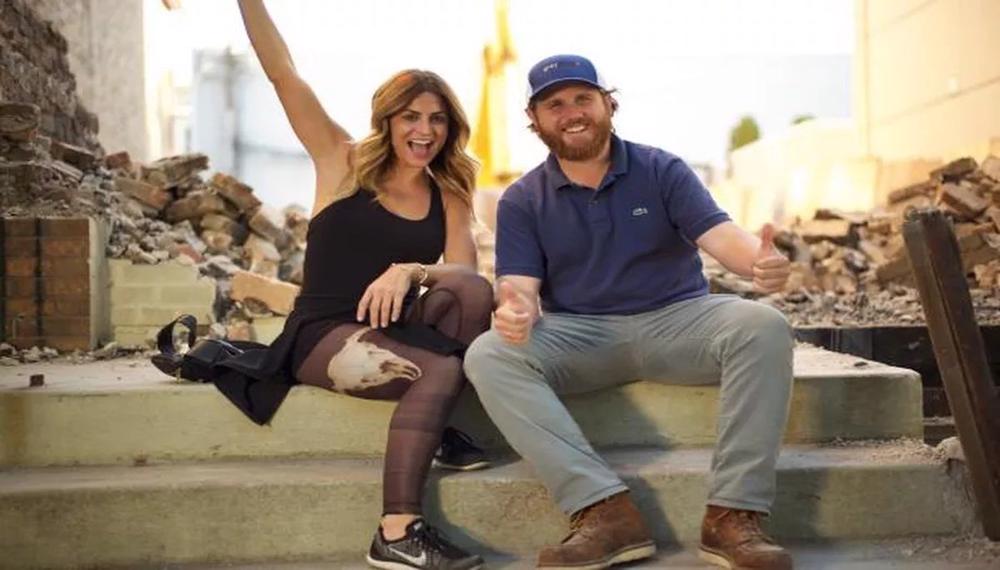 A Chicago couple who took part in the HGTV reality show 'Windy City Rehab' is now suing the show.
James and Anna Morrissey bought a $1.36 million home on the show, but now claim an upper-floor shower leaked gallons of water through their kitchen ceiling just a day after they moved in, causing havoc and destruction.
That was only the beginning, the couple now claiming they've unearthed numerous problems with the home at 2308 W. Giddings St. in Lincoln Square. Not surprisingly, they are seeking extensive reimbursement for their losses and demand a sale reversal.
In the lawsuit, the claimants also state that a new roof was promised and never fitted, while the existing roof was substandard, resulting in the house suffering from 'leaks and water penetration'. Rainwater then infiltrated through the master bedroom windows just two weeks after the sale, 'causing substantial damage to the surrounding structure, masonry, and interior walls'.
An inspector found that nearly every window in the property had been installed incorrectly and large areas of masonry and mortar were crumbling on the outside of the house, leading to further structure-weakening water damage.
Thirteen 'serious concern/action needed' problems were identified by the buildings inspector altogether, including deterioration of the roof and chimney, problems with the downspouts, deteriorating mortar, and those leaking windows. Another 21 issues of 'moderate' concern were found to need attention. A letter included with the lawsuit describes the front door as 'crooked' and installed incorrectly.
The suit names Windy City Rehab's hosts Alison Gramenos and Donovan Eckhardt as defendants, alongside Alison Victoria Interiors Inc., Eckhardt's Greymark Development Group–the pair's businesses. Contractor Ermin Pajazectovic and two other business-related entities are also named.
Not only do the claimants request the sale contract–made last March–to be rescinded, but also they claim for upgrades and landscaping to a value of $80,000 as reimbursement for expenditures paid for by the couple. On top of this, a further claim for emotional distress and punitive damages is being made.
Gramenos–also known as Alison Victoria–did not wish to pass comment on the claimants' allegations but by email, she advised Chicago Sun-Times that she worked 'directly with the Morrissey's [sic] to resolve any issues of concern related to their home renovation'. Neither Eckhardt nor Pajazectovic responded to requests for comment.
In the HGTV show, high-end home designers Eckhardt and Victoria are followed during their purchase and refurbishment of real estate, ready to sell on to wealthy buyers. Initially, the show was deemed one of the most successful, some 9.3 million viewers tuning in during its first six weeks alone.
The show has since been met with its fair share of criticism, however, and not only from residents; neighbors have also complained about onsite noise, trash left behind, and unsecured work sites.
As a result, last July, Eckhardt and Greymark Development Group were suspended from working for 45 days after conducting months of illegal work and receiving one too many complaints from neighbors.
The City of Chicago Department of Buildings additionally said the presenters had violated the law by failing to seek permits to build three garages and garage decks. The City Hall said that workers and the public had been exposed to danger by the presenters removing flooring at properties without putting up safety barriers.
As a result, both presenters ended up being barred from taking out new permits for any construction work, aside from that aiming to rectify already identified problems emerging in previous projects.
The episode centering around the Morrisseys' home boasted a five-bedroom, 4.5-bathroom home fitted with elegant furnishings.
However, stand-in actors appeared on the show in the place of the buying couple, who did not want to appear on camera. The actress pretending to be Anna was seen telling the presenters they had 'killed it' and shared that it was 'amazing'.
Victoria replied: "It's a huge house and a huge risk, and we hope that this is your forever home."
The show shared that the presenters were set to make $70,000 in profit, although the deal hadn't yet closed and they were going to be losing money until it did. Meanwhile, behind the scenes, workers were still completing the house months after the show, with the backyard covered in mud.
A text from Anna Morrissey to the renovators revealed the full extent of the problems the couple was experiencing.
"Know you guys are on it but it looks like the whole area for a few inches around the window frames are now bubbling and still dripping," she wrote on April 29. "Could be seeping through from the roof and making its way through the wall above and around the windows … Just worried because we're taking on a good amount of water."
She had also texted Eckhardt in September about a leaking shower. "We really need an update … It's been nearly 7 months since the bathroom was first reported leaking … please please."
A letter to the contractors named in the lawsuit wrote: "The front door was improperly hung (it's crooked), has improper weather stripping and the frame (especially the area securing the deadbolt) is wholly inadequate."
Since then, the couple has forwarded emails of complaints from neighbors about water leaking through into their own properties, and they even hired a separate contractor to replace the home's damaged roof.
This work alone cost the couple $37,400, $15,625 of which they are still to be reimbursed.
The lawsuit details that although an intended reimbursement from Alison Victoria Interiors' account did clear, a corresponding check from Greymark went unpaid by the bank.
Victoria reacted by text message: "If I have to cover his portion, I will. I do not want him to f— with my life or business any more than he already has."
An additional $38,300 is also still owed to the couple, the lawsuit contends, for fixing damage caused by defective windows and masonry problems. Reimbursement for an extra $9,600 has also been demanded to cover the cost of defective plumbing in the upstairs bathroom.
The Morriseys' home is not the only property in trouble since the show's 'renovation' efforts.
Another project at 1803 W. Wabansia Ave had problems with a crumbling structure during work, while on a further show based around the refurbishment of neighboring 1800 W. Wabansia Ave., Eckhardt somehow turned a problem of his own into a storyline.
Only one good thing can be said to help the litigants feel slightly better, which is that this lawsuit is only one of numerous large-scale legal commercial disputes to affect Chicago in 2019.
In fact, only back in August, the restaurant Halal Guys closed its doors following a lawsuit detailing significant 'food safety issues', alongside claims the restaurant was 'misleading customers'. These lawsuits, sadly, are unlikely to be the last.