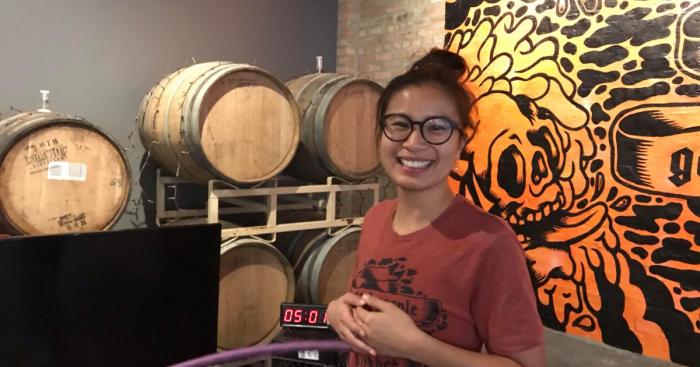 A Chicago woman is set to be the newest Guinness World Record holder after hula hooping for 100 hours.
Jenny Doan unofficially broke the record for the longest stint of consecutive hula hooping on Saturday, taking just a five-minute break for every hour she completed.
The record took over four days to complete and Doan banked a portion of her breaks, giving her the chance to get less than three hours of sleep.
The event took place at District Brew Yards, one of many great bars and breweries in Chicago. 
She beat the current record set in 2009 by Aaron Hibbs of Columbus, Ohio, and is now waiting for her accomplishment to be verified by Guinness. If it is, she will have officially blown the current record of 74 hours and 54 minutes out of the water.
The only discrepancy which may arise, according to the Chicago Tribune, is that Doan reportedly dropped the hoop around the 58-hour, 24-minute mark. Doan determined she could use the drop as one of her banked five-minute breaks, but the decision will ultimately be in the hands of the Guinness World Record officials.
Doan didn't endure the challenge simply to get her name in the book, however. She also raised over $4,500 for Mental Health America. The organization, founded in 1909, is the nation's leading community-based nonprofit dedicated to addressing the needs of those living with mental illness and promoting the overall mental health of all Americans.
It helps to educate US citizens on mental health disorders, reaches out to those who are struggling, and supplies the right tools to get people through some of their hardest times.
Speaking to WGNTV, Doan's roommate Christopher Velluci said, "If we put on a movie that was three hours long, she wouldn't stop. And she was like, 'I think I can go for the world record.'"
The hula-hooper began training for the big event the same way a runner trains for a marathon, working her way up over three months to the 100-hour stint. During that time, she alternated between different sized hoops to help improve her speed and endurance.
If you're looking to beat an active World Record, check out some of the best heart rate monitors that can help get you prepared for the big day.
Every spin completed was live-streamed to the world until she reached her target, at which point she threw the hoop on the floor and threw her hands up into the air in accomplishment.
To pass the time, Doan watched movies and TV shows, ate, chatted with her supporters and browsed social media.
The challenge didn't come without its problems, either, as the hula hooper started experiencing pain due to lactic acid buildup in her legs around hour 67. During breaks, Doan sat while supporters rubbed her legs and gave her knee braces and compression socks to wear.