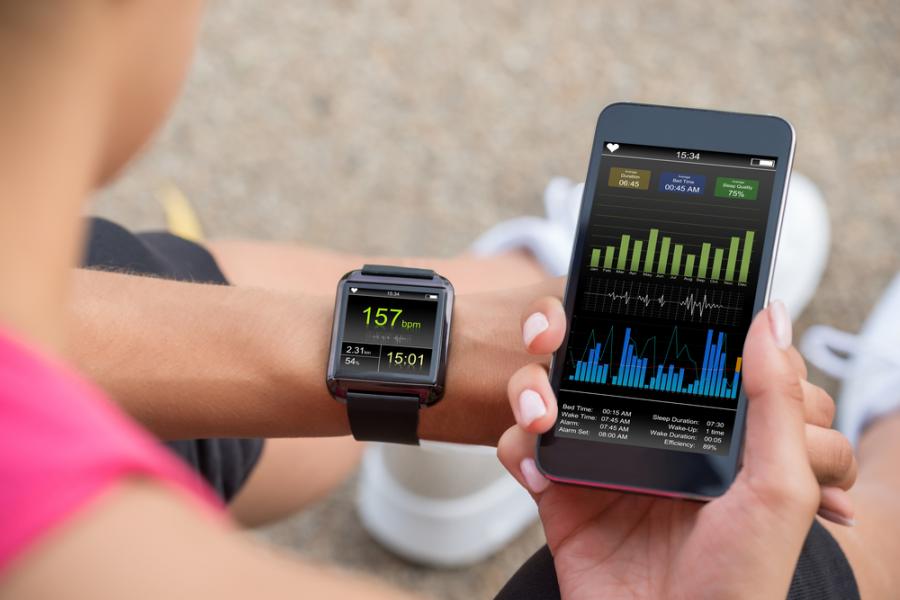 Heart monitors allow you to keep an eye on your heart without having to rely on your doctor. They are incredibly handy for all sorts of situations, such as tracking your heart rate during exercise or while you're relaxing at home.
Over the last few years, heart monitors have been transformed from bulky, unsightly devices you have to strap to your chest, to stylish, discreet devices packed with cutting-edge features to give you the full picture.
Modern heart rate monitors give you as much information as you need about your health. They record your heart data for you and allow your doctors and other healthcare practitioners to easily access the information without having to call you in for an appointment.
As with any sort of tech equipment available these days, there are many heart rate monitors from which to choose. They come in all different shapes and sizes. So how do you know which one is right for you?
This comprehensive guide will help you find the best heart rate monitor to meet all your needs.
Buying A Heart Rate Monitor
Optical Wrist Sensors vs Chest Straps
First of all, you need to decide how you want to wear your heart rate monitor. 
Chest straps use electrical pulses to measure your heart rate. Wristbands use optical sensors and other technology to measure your heart rate. 
Optical sensors are responsible for making wearables like Apple Watch and Fitbit gadgets easy to use. They are very accurate, making them useful to use in other applications to measure heart rates.
Wearable heart rate monitors are also available with LED lights to show you how hard your heart is working. Each color represents the heart rate zone you are in.
Wristbands are far more convenient and comfortable than chest straps, but since they aren't placed directly on your chest, they are not as accurate as those devices.  Knowing this, more brands are creating wearable heart rate monitors that are positioned higher on the arm in order to provide more reliable readings. Of course, you then need to make sure it is firmly enough attached to your arm to remain in place during intense exercise.
Ultimately, it is up to you how you wish to measure your heart rate and what type of device is most comfortable for you to wear.
This is one of the most important factors to consider. It's no secret that wristbands and wearables are more comfortable than a chest strap and won't chafe your skin. They fit easily on your arm and can be adjusted to your preference even when exercising. 
Chest straps must be strapped tightly to your chest to stop it from sliding out of place. If not well attached, it will stop reading your heart. Refitting the strap takes longer than a wristband so, if you're in the middle of your workout, the adjustment can be more time consuming to perform. However, make it too tight and it will chafe your skin. So care is required.
The tradeoff is ease of use and possibly greater comfort with wristband monitors versus the added accuracy of chest straps but with less ease of adjustment for comfort.
ANT+ vs Bluetooth
ANT+ precedes Bluetooth. It has become standard issue for workout machines like treadmills, cross trainers and more. Low-end heart rate monitors use this technology too, but this restricts how well it can connect with other devices. Heart rate monitors that use Bluetooth can sync with smartphones and other devices, giving you more control over tracking your progress.
Extras
Modern heart rate monitors can do more than just measure heart rate. They can also be used for fitness trackers, EKG, ECG and even to track your sleep. The more features in a device has, the more help it offers about your health. Of course, the more advanced features also come with a bigger price tag.
With these factors in mind, here is a list of the top 10 best heart rate monitors to buy right now. 
Fitbit Charge 3
Amazon
Fitbit is one of the biggest brands in the smartwatch and fitness tracker industry, and the Fitbit Charge 3 is one of their best. It doubles as a fitness tracker and a heart rate monitor. Other features include being waterproof up to depths of 50m (164 feet), it looks great and it also provides pretty accurate readings.
The Charge 3 uses Fitbit's all-in-one approach. It utilizes PurePulse technology to monitor your heart rate and, thanks to its SpO2 sensor, it can monitor your sleep, too. This sensor is so robust that it can be used to diagnose sleep apnea.
Like most fitness bands and smartwatches, Charge3 will count your steps, distance travelled and how many calories you've burned. Plus, if you start to feel tired from the day's activities, Charge 3 is programmed to take you through breathing exercises to prevent you from fainting.
In terms of usability, Charge 3's touchscreen is around 33% larger than that of the previous model, making interaction even easier. The battery life is very good and the device uses your phone's GPS for connectivity. The Charge3 is customizable too, with multiple colors and styles to choose from, so you can match it to your outfit.
Other features of the Charge3 include the ability to choose from more than 15 exercise modes to track your progress. The list includes running, cycling and swimming, to name a few. 
Overall, this is a great device. It has many features that will keep you motivated to achieve better health. If you're looking for a heart rate monitor that can do it all, with a battery that lasts more than a week, this is the one for you.
Pros
Strong battery life – the battery is very powerful and will give you 7 days' worth of power before needing to be charged. Use it all week without worrying about running out of juice.
Great interface – Fitbit Charge3 has a larger display, increasing in size by more than a third compared to the previous model. Seeing more about your health on the screen and interacting with the device is easier than ever.
It has SpO2 sensors to analyze your sleep and provide you with the ultimate sleep tracking package. Fitbit is attempting to become the industry leader for sleep tracking. There's a good reason to do this: your sleep can tell you many things about your health. For example, if your sleep is easily disrupted, Charge3 can help diagnose such conditions as sleep apnea.
24/7 activity tracking ensures you can track your heart rate and overall health at any time you need to do so. It makes sure you are always on top of your fitness and health.
You can take it anywhere, including the swimming pool. It can resist depths of up to 50m (164 feet).
Cons
Charge3 doesn't come with built-in GPS. This is surprising considering most smartwatches and heart rate monitors do come with this technology.
It may not be able to keep up with high-intensity activities. However, Charge3 will give accurate readings for running, working out in the gym and other light sessions.
Omron HeartGuide
Finally comes the Omron HeartGuide. However, just because it's the last devices on this list, doesn't mean that it's the worst of the bunch. It's actually one of the best.
HeartGuide offers a range of features to monitor your health. It is packed with a heart rate monitor, sleep tracker, blood pressure tracker, and fitness tracker. All of these features are contained into a sleek, stylish smartwatch.
In particular, its blood pressure monitor is one of the best there is. Typical trackers use inflatable cuffs that are uncomfortable to wear. HeartGuide is the opposite. Its second strap fits great and acts as a miniature cuff, making it easy to take a blood pressure reading while on the move. HeartGuide reads your diastolic and systolic pressure with high accuracy in a matter of seconds.
There are also many other features, such as tracking how many steps you take throughout the day, how far you have walked/run/cycled, etc., and how many calories you have burned. 
The sleep tracker tells you the quality of your sleep, how long you were sleeping, your daily sleep pattern and more.
Finally, HeartGuide sends push notifications via a companion app on your smartphone to give you updates on your heart rate and other fitness information. 
HeartGuide is certainly a device you should consider buying for a fantastic, all-in-one heart rate monitor.
Pros 
Easy to use – HeartGuide is very comfortable to wear and use compared to other blood pressure devices on the market. 
State-of-the-art sensors are well positioned in the device, meaning it provides very accurate readings that are so accurate that its reliability closely compares to heart blood pressure readings given by equipment used in major hospitals.
You can see how your heart health compares to American Heart Association guidelines.
More than tracking – it can help you diagnose any signs of sleep apnea
Furthermore, the FDA has cleared this device to use for health tracking to give you extra peace of mind.
Multi-purpose – it can watch your sleep, track your fitness, tell you how many calories you've burned and monitor your heart and blood pressure.
Cons
HeartGuide is larger than other smartwatches and fitness trackers. People with smaller wrists may find it easier to wear something else.
Sigma R1
Amazon
The Sigma R1 is one of the best heart rate monitors for cycling. It's a chest strap that syncs data with your smartphone via Bluetooth or ANT+. Although the device itself doesn't come with many features, its heart rate readings are accurate.
Compared to most other chest straps, Sigma R1 is kind on the eyes too. It's steady, unobtrusive and doesn't need charging. It can be easily switched on and off via the app.
If you're looking for a chest strap heart rate monitor that is purely functional, Sigma R1 is a great choice.
Pros
Sigma R1 is compatible with almost any device that connects via Bluetooth or ANT+, such as your smartphone, tablet, and your workout bike computer.
Once strapped on, it fixes steadily on your chest, even during intense bike rides.
Offers both Bluetooth and ANT+ connectivity options.
Great value for the money.
Cons
As with all chest straps, it can chafe your skin. 
The lack of other features may make it undesirable.
Lezyne HR Flow
Amazon
The award for the best budget heart rate monitor goes to the Lezyne HR Flow. If you are spending large sums of money on a gym membership, food and supplements, equipment and workout outfits, it's nice to find a device that works well for a low price. 
This device connects to all your devices, such as your bike, smartphone, smartwatch and computer via Bluetooth. The battery is small but lasts for a long time and the device itself is easy to maintain.
Most importantly, the Lezyne Heart Rate Flow measures your heart rate. You can get all this for less than $50.
If you want a heart rate monitor that does the job well for cheap, this is probably the device for you.
Pros
Affordable – at less than $50, you can monitor your health on a budget. It uses monitors found in devices that cost more than double the price of this one.
The tracking data is accurate.
It's very lightweight.
Cons
No ANT+ connectivity, meaning it may not be able to connect with some of your devices.
Not many other features. The technology is basic and the device has no onboard GPS.
Moov HR Sweat
Amazon
The Moov HR Sweat is a little different from other heart rate monitors. For starters, it's not a chest strap or a wristband – it's a headband. The heart rate monitor measures your heart rate from your temple.
The Moov device also acts as your own personal trainer. It will give you live feedback on your workout for all different types of exercise. All you need to do is tell the app what workout you're doing such as interval training, cycling or bodyweight movements, and the Moov will talk you through it. It will even tell you if you need to work harder or if you're heart rate is in the sweet spot.
You can also link the device with other apps for non-coached training.
If you don't like wearing headgear this may not be the heart rate monitor for you but if you don't mind it, you will get a great workout and an accurate reading.
Pros
One of the first devices to use real-time coaching to measure heart rate.
Good heart rate monitor
Cons
Headbands aren't popular. They can be uncomfortable, especially when you get sweaty.
Polar H10
Amazon
Polar is yet another company that is an integral member of the heart health industry. The Polar H10 is priced at just under $100 but you definitely get a bang for your buck. The monitors provide accurate heart rate readings. It is waterproof for up to 50m (164 feet), so you can take it swimming. It has a solid battery life.
H10 has an onboard memory so it stores your heart rate data as you exercise, even when you are not using your phone/computer. The H10 is a chest strap heart rate monitor so although it packs a punch, it might not be for everyone.
Regardless, the Polar H10 is one of the more comfortable chest monitors on the market and will stay in place even during high-intensity training.
Pros
The device does not require a smartphone to work. The readings are accurate and consistent.
H10 is waterproof up to 50m (164 feet), so it can be used while swimming or in the rain if you train outside.
Its internal data storage can hold up to 100 hours of data.
H10 is comfortable and doesn't chafe your skin
The battery life is decent and, considering the price, it is much better than most monitors in the same range.
Cons
There have been some reports that features like GymLink lag from time to time.
Maintenance costs can add up quickly. You could be charged extra for industry-standard features.
Garmin HRM-Run
Amazon
This device is another on this list that has many extra features in addition to the heart rate monitor. The Garmin HRM-Run is unique and perfect for anyone who loves numbers. For example, it comes with an accelerometer and is compatible with a host of other fitness trackers.
HRM-Run tracks 6 advanced metrics: vertical ratio, stride length, ground contact balance, ground contact time, oscillation and cadence.
And because it's made by Garmin, you be sure you are getting a great product, even if you do have to spend that little bit more.
Pros
Collects 6 advanced stats that can provide detailed insight into your health when combined with a compatible fitness tracker. The heart rate readings are accurate so the overall picture can provide reliable results.
It is stylish and comfortable to wear.
Cons
The device doesn't track the information itself – you must connect it to another device.
It only works via ANT+. If your device has Bluetooth or GPS, you won't get any use from it.
Garmin Fenix 5
Amazon
This heart rate monitor is for those who are looking for that little bit extra. Garmin has been setting the standards for heart rate monitors for years. The Fenix range, in particular, is accurate and durable. The Fenix 5 is no different, except this model has a better battery, a large display for better interaction and contains more features than the previous model.
Fenix 5 can sync with all your devices thanks to both ANT+ and Bluetooth connectivity, making it easy for you to track and record your heart rate and other fitness-related data. 
In terms of the heart rate monitor itself, the data is fairly accurate. You can also expect an altitude meter, GPS tracker, sleep tracker and more.
Keeping with the theme of high-end heart rate monitors, Garmin has designed the Fenix 5 to look like a luxury item. It comes with a hefty price tag, but if you're willing to pay the price, you're getting one of the most holistic luxury heart rate monitors on the market.
Pros
Fenix 5 is well-designed, both inside and outside, giving the appearance of a luxury item that many smartwatch wearers desire.
The battery will work all day and night without disruption
There are multiple features that come with the heart rate monitor.
Cons
Expensive – if you haven't got the cash, there are similar products available for your budget.
Wahoo TICKR X
Amazon
The Wahoo TICKR is very expensive, especially for chest strap heart rate monitors. However, it does provide something that no other device on this list can offer: Wahoo TICKR X. These are awarded in line with how much effort you put into your workout. When you hit the right heart rate zones, you earn MEPs.
The Wahoo system is not just for exercising on your own, either. Many gym classes use it, so you can track and compare your efforts with those of other people in the class. If anyone else owns an TICKR X heart rate monitor, you are ranked against them via effort points in the partner app.
For anyone who likes to compete, this should be something to consider.
Other points to note include a long-lasting battery life and both ANT+ and Bluetooth connectivity so it will work with most trackers.
Pros
The battery will last for 7 months before it needs to be recharged.
Live display of data via smartphone app, watch or 'in club' displays.
99.4% accuracy to an EKG/ECG machine.
Cons
Expensive compared to other chest strap heart rate monitors that can provide just as accurate results.
If you don't go to a gym that uses the Wahoo system, the functionality is irrelevant.
Scosche Rhythm+ 2.0 Heart Rate Monitor
Amazon
The Scosche heart rate monitor is another chest strap. It is cheap but extremely effective. It can connect to devices using both ANT+ and Bluetooth – something that a few expensive monitors cannot do. 
The strap itself is fairly comfortable to wear and will dry out fairly quickly after an intense, sweaty session. This belt also has a very long battery life. You can expect to get a few month's worth of use out of it before it needs charging.
Pros
Long battery life – you will get long periods of use before having to recharge.
Comfortable on the skin compared to other chest strap heart rate monitors.
Cons
Not suitable as a medical device. It should only be used for sport and leisure purposes.
Why You Need A Heart Monitor
Here are some of the main reasons you will benefit from a heart rate monitor.
Measuring Workout Intensity
The American Heart Association says that monitoring your heart rate is important for two reasons: it tells you how hard you are working and whether your overall fitness is improving over time.
Sure, there are other methods for measuring workout intensity. Measuring how hard you are breathing after so many minutes of an exercise, or how tired you are can be useful. However, heart rate tracking is the most reliable method to judge progress from your workouts. Plus, heart rate monitors create data that can be analyzed from multiple angles, giving you deeper insights into your health and fitness levels.
Safer Workouts
Working out too hard and overtraining can lead to injury and put unnecessary stress on your heart. Heart rate monitors allow you to workout safely so that you can readily tell when your heart is working too hard and you can quickly change behavior to reduce its load.
Advanced heart rate monitors can also tailor your workout by demographics, such as your height, weight and age group – thus making your workout more effective and keeping you safe from injury.
Being Your Own Personal Trainer
Heart rate monitors can act as your own personal trainer. A monitor can tell you when you are ready to increase the intensity of your workout, when you need to tone it down a bit or when you've hit the sweet spot. 
Modern heart monitors are also very accurate, so you can use one as encouragement to know you are on the right track and doing the right thing.
Using As A Recovery Tool
When you finish your workout, you need to give your body plenty of time to rest and recover before working out again. Heart rate monitors can indicate when you're ready to go again. This is because raster recovery rates are a sign that your heart capacity is increasing, also indicating better fitness and overall health.
These are some of the main advantages of using a heart rate monitor but there are plenty more. No matter whether you want to improve your workouts or you need to manage a heart problem, heart rate monitors provide ideal assistance.
The next part of this guide will show you what you need to look out for when choosing a heart rate monitor.
You Might Also Like:
A Buyer's Guide to Best Pedometers in 2023
9 Best Under-the-Desk Ellipticals For Your Office