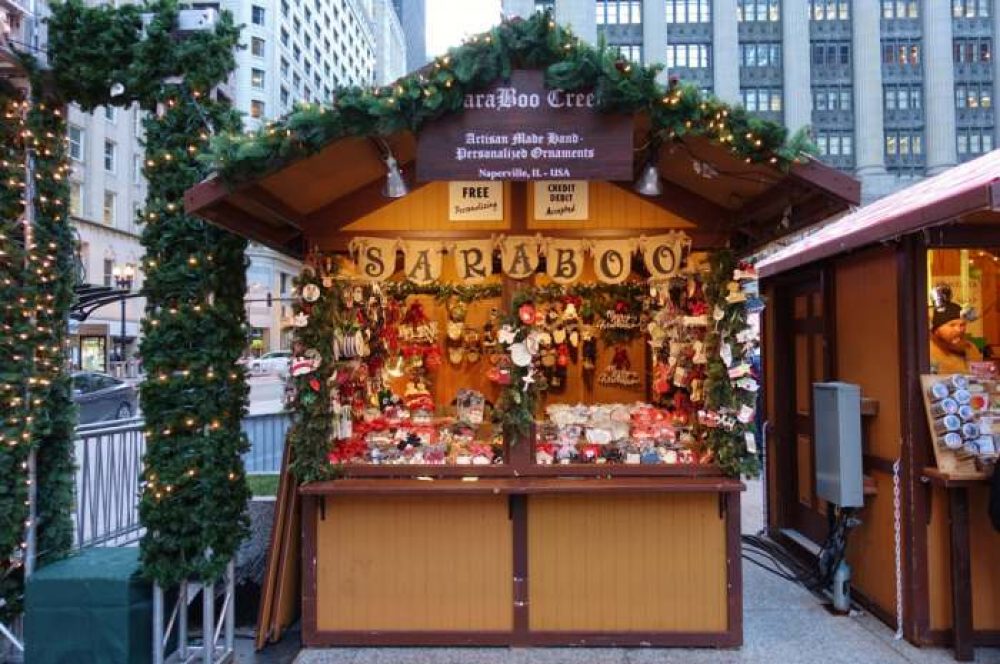 Are you looking to get into the holiday mood way before the happiest times of the year are here? You won't find many better winter holiday attractions than those of Chicago's annual Christkindlmarket, which brings German-style Christmas bazaars—complete with gift vendors, food stalls and plenty of spiced glühwein—to Daley Plaza and Wrigleyville. 
Where does the Christkindlmarket tradition come from?
The Christmas markets in Chicago are inspired by the German tradition of selling holiday specific merchandise in the town main square. The Nuremberg Christkindlesmarkt is one of the oldest and most famous Christmas Markets in the world, and it is the one which inspired our own tradition. In the wooden booths of "the little city of wood and cloth" in Nuremberg one finds traditional, often handmade Christmas decorations and sweet treats such as gingerbread and Spekulatius almond cookies, as well as spiced warm wine. 
The pre-Christmas event on Nuremberg's Main Market Square dates back to the mid 16th century, the first mention of it in writing dating back from 1628. The following inscription in black ink was found at the bottom of an oval, 19-centimeter-long spruce bentwood box decorated with flowers – now on display at the Germanisches Nationalmuseum: "Sent to Regina Susanna Harßdörfferin by Miss Susanna Eleonora Erbsin (or Elbsin) on the occasion of the Christmas Market of 1628". The Christmas Market in Nuremberg continued to make history, becoming increasingly popular. A list from 1737 demonstrates that almost all Nuremberg craftsmen were represented on the market, 140 persons being entitled to offer goods for sale. 
Translated as "The market of the Child of Christ", the Nuremberg celebration has an actual Kristkindl, a young woman elected every two years to play the role of the master of ceremonies in the Christmas Market. 
Food and beverage attractions in the city
There are many attractions in Chicago this season, some old, some new, some which only just became famous, and we need to check them out. 
Locals all know how good Chicago's dining scene really is, but we could not be happier that the New York Times placed two local eateries to its list of the 50 best restaurants in America right now. Evette's  presents Lebanese and Mexican flavors through a Midwestern approach, while,  over in Lakeview, Dear Margaret was chosen for its interpretation of French-Canadian cuisine.
We are not short of wonderful places to share drinks with our loved ones. You will find the perfect drink whether you are a fan of rooftop bars, pop-up bars or you would much rather try something new and exciting. Kumiko, the elegant cocktail temple helmed by renowned mixologist Julia Momosé, has been recognized as one of the best in the world, ranking No. 25 in this year's list of The World's 50 Best Bars. It marks the first time a Chicago spot has made the top 50 since 2018.
Of course, if your tastes are simpler, the mulled wine in one of Chicago's two Christkindlmarkets might be the perfect choice for a night out. 
When is Christkindlmarket Chicago?
The iconic German-inspired holiday markets at Daley Plaza and Wrigleyville bring just over a month of Christmassy celebrations to the Windy City. 
You still have time to check out all the details and prepare yourself for the abundance of schnitzel, glass ornaments and mulled wine (served in a boot-shaped mug, of course) still to come this year. 
Browse stalls stocked with handmade gifts, German food and plenty of hot beverages to keep you warm while you wander around and soak in the festive atmosphere. Don't leave without trying spiced glühwein, a German hot wine concoction that's best enjoyed in the market's famous boot mugs. 
Both the Daley Plaza and Wrigleyville editions of Christkindlmarket open on Friday, November 18. The Daley Plaza market will remain open through December 24, while the Wrigleyville market will remain open through December 31. Both markets are open seven days a week, though hours vary.
Where is Christkindlmarket Chicago?
The Christkindlmarket in the Loop will take up residence in its usual location in Daley Plaza, while the Wrigleyville edition will take over a portion of Gallagher Way, the plaza adjacent to Wrigley Field on Clark Street.
Popular winter attraction Christkindlmarket Wrigleyville returns this year as one of the headliners and will offer hand-crafted ornaments and unique holiday merchandise. We will be able to taste a taste of traditional German fare and hot spiced wine will also be on the menu at this location.  But, for the first time, we will also be able to skate inside the ballpark this year.
How much does Christkindlmarket Chicago cost?
Admission to both Christkindlmarkets in Daley Plaza and Wrigleyville is free. Prices for food, beverages and gifts will of course vary based on the vendor and location, but chances are every guest will be able to find something befitting their needs, wants and budgets.