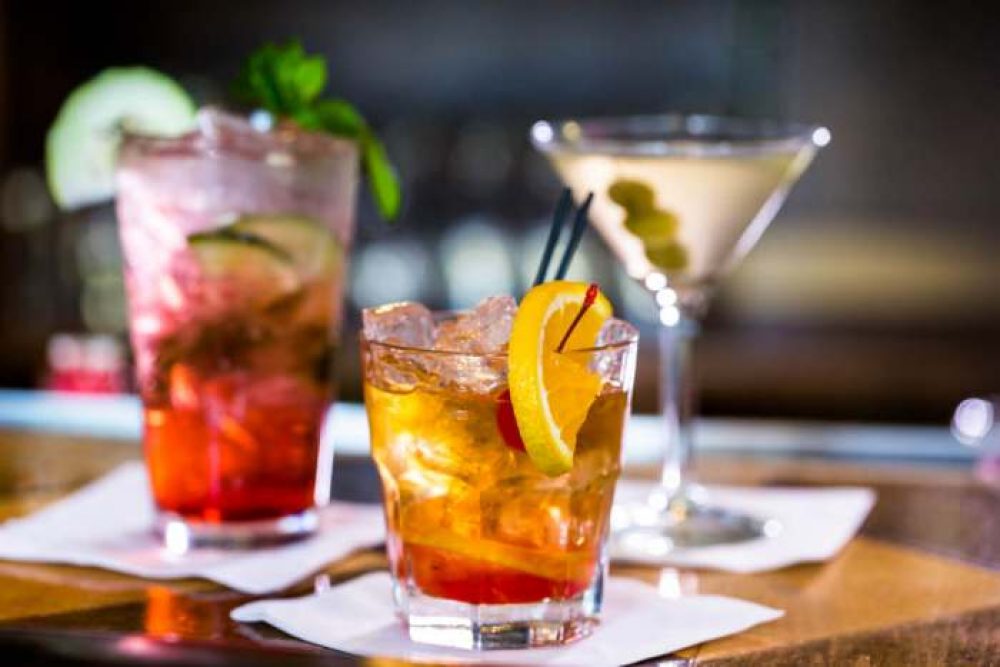 Kumiko, the elegant cocktail temple helmed by renowned mixologist Julia Momosé, has just been recognized as one of the best in the world, ranking No. 25 in this year's list of The World's 50 Best Bars. It marks the first time a Chicago spot has made the top 50 since 2018. Kumiko was No. 61 in last year's rankings, which (despite its name) honors 100 bars.
Bars, we love them, we visit often, but do we know where they came from?
Since ancient times, bars have served as a place for people to meet and discuss ideas big and small. Bars have served as the origin point of big cultural events, from the American Revolution to the Stonewall Riots. Since most of us really enjoy bars, let's take a peek into the history of this particular type of establishment. 
Retail places where alcohol was served date back to Ancient Greece, where men would gather in the evenings for food, drinks, and music or theatrical entertainment. By Ancient Roman times, taverns were arising along roads and trade routes to meet the needs of travelers and soldiers. In England, up through the 11th century, public houses became places to hold personal or business meetings. The British loved their pubs so much that laws were enacted during the 1600s making it illegal to not have a bar in town.
In the Colonial days of America, taverns were often built before churches, and these beloved establishments were popping up across the Western frontier by the 19th century.  Early bars were offering lodging as well as food and drink to settlers. Every western movie lover knows these particular bars were called saloons, and they were in fact so beloved, Prohibition was enacted in the early 20th century to curb America's perceived drinking problem. While this made alcohol illegal, secret bars called speakeasies continued to operate, and their popularity proved that America could never walk away from a good drink. The 21st Amendment legalized alcohol again in 1933, and bars were again free to operate to their clientele's contentment.
Although nowadays bars no longer offer lodging, they are more and more diverse and sophisticated, creating signature drinks people stay in line to get.
There are so many types of bars, for all tastes and wallets. Dive bars, Tiki bars, wine bars, comedy bars, karaoke bars, special immersive experience bars, Chicago has them all. Mixologists go beyond bartending to offer craft cocktails with specialty ingredients and beer flights designed to delight. 
A few things you should know about Kumiko
Kumiko is a Japanese Dining Bar, opened in 2018, where food and drink are treated with equal reverence. Located in Chicago's West Loop, Kumiko boasts incredible cocktails and spirits with exquisite food to pair, for which the place earned numerous accolades.
Owner and mixologist Julia Momosé blends Japanese ingredients and techniques to create an elevated menu of beverages and bites. Momosé won a James Beard Award this past summer as well for helping write the cookbook The Way of the Cocktail: Japanese Traditions, Techniques, and Recipes.
Whether you come to savor some of Japan's finest saké or walk in for a lovely dinner with friends, Kumiko welcomes you with warmth and gratitude.
Kumiko is currently 18+. Reservations are now open. Sign up for their mailing list, you can receive occasional updates and news.
In Time Out Chicago's review of Kumiko, critic Maggie Hennessy wrote it "raises the bar on fine dining and delivers a superb lineup of sake- and shochu-centric sips and delicate bites imbued with Japanese flavors."
The world's best bar is in Barcelona, where the awards were announced
First published in 2009, The World's Best 50 Bars is an annual list compiled by votes from more than 650 drinks professionals. Chicago establishments that have been previously recognized include The Aviary, Three Dots and a Dash and Lost Lake, which closed mid January 2022.
This year's awards were announced at a ceremony in Barcelona. Fittingly, the host city is also home to the bar that claimed the coveted No. 1 spot, Paradiso. This is the first time a place outside of New York or London has received the distinction. All in all, the list features entrants from 26 cities around the globe. New York led the way with six honorees: Double Chicken Please (No. 6), Katana Kitten (No. 9), Attaboy (No. 22), Overstory (No. 34), Dante (No. 36) and Employees Only (No. 47). Miami's Cafe La Trova landed at No. 21.
You can check out the full list of winners here.
If Kumiko, which placed 25th in the top, gets too crowded after the announcement, or it is not necessarily your cup of tea, Chicago has numerous other options. This year the spooky season gets better with the opening of the the Black Lagoon—an immersive, horror-themed cocktail pop-up bar— at the Dandy Crown in River West, which promises the most frightening drinking experience of the fall.  
And if you like your drinks up in the sky, or if you are visiting Chicago either for business or pleasure, you should definitely check out this local guide to Chicago hotels with rooftop bars, which include some of the best rooftop bars in the city.