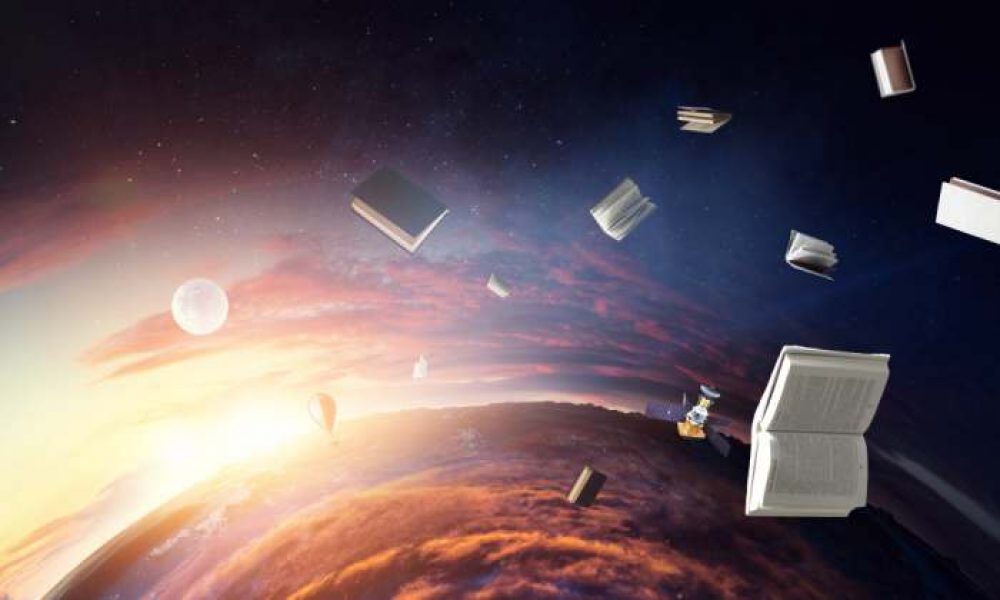 -16%
37 new from $6.10

143 used from $1.35

Free shipping
Last update was on: September 10, 2023 6:52 pm
You'll be hard-pressed to find great science fiction novels that aren't so serious and packed with hard science. That's where Douglas Adams' classic sci-fi novel The Hitchhiker's Guide veers off the beaten path. Initially created in 1978 as a radio comedy production that aired on BBC Radio 4, the story has been adapted to a variety of other formats, including the 2005 feature film directed by Garth Jennings and narrated by Stephen Fry; a 1981 TV show, and a 1984 popular video game, as well as theatrical shows, and comic books
No reader will construe The Hitchhiker's Guide to the Galaxy as a mainstream book of comedy, but really cares? The book is pleasantly readable and so much fun, driving up the science fiction genre at large with one beat of hilarious prose after another. It's essentially a tale of two survivors of the Earth's absurd demolition and their chilling yet fascinating adventures in time and space as they attempt to discover the true meaning of life.
The sci-fi comedy thriller kicks off when the Earth is scheduled for flattening to pave way for the interstellar express highway. If humanity wanted to protest the demolition, they had plenty of notice, which has been posted for half a century in the planning office at Alpha Centauri, a planet which is located light-years from Earth. Time has run out for the human race and the demolition of the planet goes ahead.
More intelligent than people, the dolphins got the memo early and flipped their way out of the ill-fated planet with a final note to humans: "So long, and thanks for all the fish." So much for the man's best friend of the sea.
Arthur Dent, a villager hailing from West England, got a seemingly suspicious invitation from his friend Ford Prefect of Betelgeuse for a cup of tea. Ford is a space-faring researcher for an eponymous planet and is keen on telling his pal about the impending demolition of Earth. When the destruction actually happens, the two friends manage to escape into a Vogon spacecraft.
They are soon captured by the unsightly Vogons who torture them by having them listen to their poetry. Lucky for Arthur and Ford, they are rescued by the Starship Heart of Gold in an almost miraculous way. The spaceship in question is staffed by a melodic smart-aleck computer that often bellows Liverpool FC's slogan "You'll Never Walk Alone" and Marvin, an incredibly depressed android. It's commanded by Galactic President Zaphod Beeblebrox and fueled by the Infinite Improbability Drive.
Starship Heart of Gold, with Ford Prefect and Arthur Dent on board, is setting sail for Magrathea, a legendary planet where Arthur meets Slartibartfast. Believe it or not, Slartibartfast is the being that originally designed and built planet Earth. In fact, the creator claims that he won an award for his imaginative work on Norway, in particular. Here they confront the rulers of Magrathea – which includes Frankie the mouse, Benjy the mouse, other mice – who wish to grind Arthur's "Earthling brain."
Multi-award-winning and globally celebrated, Adams's The Hitchhiker's Guide to the Galaxy is widely accepted as a classic example of British humor. It's also popularly regarded as the pioneer of science fiction and comedy fusion, and one of the best reads of all time. It's the debut novel in a six-book series of the same name that has sold well over 16 million copies worldwide.
The book is a daring work of astounding genius. It brings to mind the literature comedy guru that's Roald Dahl. Arthur thinks that he's got an offer for a cup of tea but ends up in a roller coaster of a ride through deep space and time. The protagonist is just an ordinary folk going through some of the most extraordinary circumstances out there, which sets up the novel for some rib-cracking humor.
Unlike mainstream operative sci-fi works like Star Trek and Star Wars, you won't find an evil Empire in Adams's galaxy. In fact, Vogon, the main villains are just, terrible, mean-spirited, and bureaucratic poets; they are not on the evil side of anything. Unlike most post-apocalyptic fiction and sci-fi novels that throw hard science in the face of the reader, Adams goes above and beyond to describe the ins and outs of his galaxy.
Hitchhiker's Guide to the Galaxy is brimming with bold, bristling, and uniquely satisfying energy that each text exudes right from the beginning. This novel can be surreal, sweet, savage, agnostic, and witty – but, beyond all else, it dares to be funny. Riotously silly!