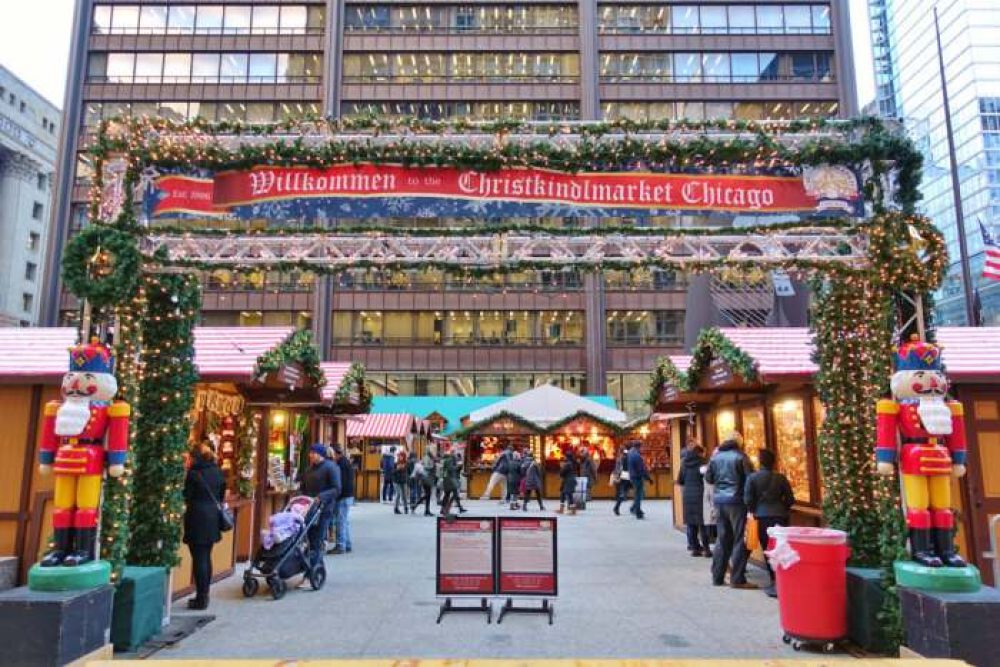 Christkindlmarket returns to Chicago this Holiday Season, with steaming mugs of glühwein, handcrafted gifts and ornaments and fine, German cuisine. After canceling 2020 due to COVID-19, the popular Christmas Market is back at Daley Plaza and Wrigleyville. Both locations open on November 19.
Guests will experience stalls arranged as a mock Alpine village stocked with handcrafted gifts and hearty German food and drink.
The Daley Plaza Christkindlmarket will be open through December 24, from 11 am to 8 pm Sunday through Thursday and 11 am to 10 pm on Friday and Saturday. The Daley Plaza location will close early on Thanksgiving Day and Christmas Eve, and will only be open from 11 am to 4 pm on those days.
The Wrigleyville location will open near Wrigley Field, on the plaza at Gallagher Way. The Wrigleyville Christkindlmarket will be open from 3 to 9 pm Monday through Thursday, 11 am to10pm on Friday and Saturday, and 11 am to7pm on Sunday. The market will also be open from 11 am to 4 pm on Thanksgiving, Christmas and New Year's Eves. On Christmas Day, the market will be closed .
For anyone who doesn't want to risk an in-person visit to Christkindlmarket, the event's website offers a virtual market with items that can be shipped to your home. Pre-orders begin on October 25.
Christkindlmarket, a German Tradition
The Striezelmarkt of Dresden, the first true Christmas Market, made its first appearance in 1434. However, "December Markets" were common long before that, with the earliest recorded December Market taking place in Vienna in the year 1298.
Christkindlmarket translates from German as "Christ child market". However, the tradition goes by several other names, including Striezelmarkt, Weihnachtsmarkt, and Christkindlmarket; Christkind, without the L, refers to a beautiful, female fairy being also associated with Christmas.
Held in the town square, these traditional markets offer seasonal goods as well as food and drink at open-air stalls. There are also traditional Christmas songs and dancing. 
Traditional Christmas Markets have been held in Germany, Austria, Switzerland and parts of France since the Middle Ages. The central focus of traditional Christkindlmarket is the Nativity Scene. Today, the Christmas Markets in Germany feature hundreds of stalls, drawing millions of visitors every year.
German Immigrants Brought the Tradition to Chicago
German immigrants began arriving in Chicago in the 1830s. By 1845, there were 1,000 Germans in the city, and by 1850, the German population had increased to over 5,000, making up 1/6th of Chicago's population. 
By 1860, more than 22,200 ethnic Germans lived in Chicago, comprising 20% of the city's population. In 1890, immigration from Germany peaked, and by 1900, 470,000 Chicago residents were either born in Germany or had at least one parent born there.
As you can see, historically, Chicago has been a magnet for German immigrants. To this day, the Lincoln Square neighborhood retains much of its German flavor; at one time, German immigrants comprised most of the neighborhood's population.
The German community opened clubs, theaters, ran German-language newspapers, and sponsored German cultural events. Germans introduced Chicago to beer gardens, German cuisine, and open-air bazaars, such as Christkindlmarket.
While other immigrant groups now dominate the Chicago landscape, the influence of the early German immigrants still flavors the city. 
About Christkindlmarket Chicago
The idea for the Chicago Christmas Market first crystallized in 1995, by members of the German American Chamber of Commerce of the Midwest. 
The Christkindlmarket first launched in 1996, on Pioneer Plaza, and that very first year, the Christmas Market greeted 750,000 guests. Mayor Richard Daley moved the Christkindlmarket Chicago to Daley Plaza in 1997, where it has become a tradition.
The Christkindlmarket Chicago has been noted as the most authentic Christmas Market outside of Europe. Guests will discover unique, handcrafted, traditional Christmas gifts, family-friendly fun, and delicious German food and drinks.
Not only that, visitors will have an opportunity to meet the market's Christkind, dressed in flowing white and gold robes with a golden crown upon her flowing blond hair. Folklore concerning Christkind dates back to the 16th Century. Since that time, Christkind brings gifts to children, much like Santa Claus. She leaves the gifts under the tree on December 24th. Christkind always vanishes before any child can catch a glimpse. 
With the help of both the City of Chicago and the Department of Cultural Affairs and Special Events the Christmas Market became one of the most beloved winter events for both out-of-towners and Chicagoans. Typically, the Daley Plaza Christkindlmarket attracts 1 million visitors every year. Hopefully, this year, Chicagoans will leave their worries at home, and come out to celebrate at the Christkindlmarket.