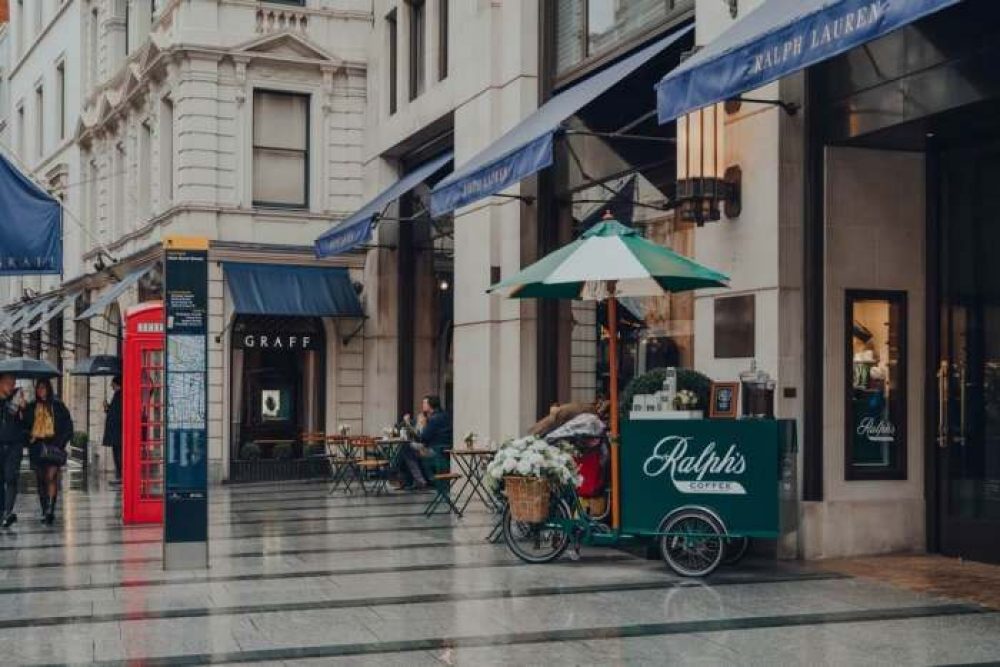 If coffee is not simply a beverage for you, but a fashion statement of how to live in style, you should definitely check up Ralph's Coffee, the highly photographable coffee shop from fashion brand Ralph Lauren, which just opened its first Chicago location inside the brand's flagship store on Michigan Avenue.
A new jewel on the famous Magnificent Mile
Ralph's Coffee opened its newest North America location in Chicago on November 18, 2022, inside the Ralph Lauren Flagship Store at 750 Michigan Ave, adjacent to RL Restaurant. Positioned on Chicago's Magnificent Mile, across from the Chicago Water Tower, the opening marks the city's first-ever Ralph's Coffee. The Magnificent Mile, a mile long street full of shops and historic hotels, is anything but ordinary, and must be included in any Chicago itinerary. With brand names like Gucci, Burberry, and Apple gracing the store fronts on this strip, it's worth taking the time to explore and see what the Magnificent Mile has to offer you. If you're looking for something more affordable, there are also shops like H&M and Nordstrom's Rack, just to name a few.
The Ralph Lauren Flagship store features Ralph Lauren Home, Women's Collection and Polo Apparel and Accessories, Men's Purple Label and Polo Apparel and Accessories, Men's and Women's Double RL, and Children's Apparel and Accessories. 
The shop will serve Ralph's Coffee special blends, espresso and teas, along with pastries, overnight oats, yogurts, and sweet treats made fresh daily, including Ralph's Brownie and Ralph's Chocolate Chip Cookie. 
For holiday gifting, a curated collection of Ralph's Coffee tabletop items will include coffee mugs, coffee and espresso cups and saucers, dessert plates, and cereal bowls, as well as tote bags, hats and t-shirts. Ralph's Coffee beans will also be sold on site, either whole or ground. 
A bit of history and sentiment behind the blends
Ralph Lauren's first-ever coffee shop opened in 2014 in New York City. Overlooking Fifth Avenue in a historic building on the corner of 55th Street, Ralph's Coffee evoked a sense of the timeless American spirit of the Ralph Lauren brand with a fresh, bright, authentic atmosphere. With its charming vintage feel, Ralph's Coffee provided a welcoming and comforting space for busy New Yorkers and visitors to enjoy a cup of coffee. Guests could also enjoy freshly made desserts baked by The Polo Bar, which opened in the same year in the lower level of the building.
Since 2014 Ralph Lauren has opened coffee shops and Ralph's Coffee trucks around the world that continue to bring people together and evoke the true meaning of hospitality. Building upon the success of the 55th Street Ralph's Coffee, Ralph Lauren has shared the Ralph's Coffee experience with people across the world in the form of cafés, coffee trucks, kiosks, and trikes.
"The smell of freshly brewed coffee evokes so many memories for me, mostly of time spent with friends and family, the people I love. I wanted to develop these coffee blends in that spirit, and create a place where people could come together and take a break from their busy days."
Ralph Lauren
Ralph's special blends, including Ralph's Roast, Decaf, and Espresso, feature organically grown beans from Central America, South America, and Africa, and are roasted and packaged in Philadelphia by La Colombe. Only the all-natural Swiss Water Process is used to decaffeinate.
Fashion and hospitality go hand in hand for many big names in the industry
Ralph Lauren is not the first fashion brand to expand into the hospitality biz. Many other big names in the business did it – such as Gucci Osteria in Beverly Hills or Armani Ristorante in New York City—but cafés are an easier and more affordable way into the design-minded world of fashion dining and drinking. In New York, Ralph's Coffee shops have become something of a staple on TikTok (one even made an appearance on the new HBO Max Gossip Girl reboot), and the Chicago location promises a similar experience or at least some instagrammable moments.
Situated next to RL Restaurant—the brand's first-ever hospitality offering, which debuted in 1999—the 16-seat shop channels Ralph Lauren's signature preppy vibe with herringbone wood floors, wainscoting, tufted banquettes and a crisp green-and-white color scheme, plus a fireplace and large windows overlooking Michigan Avenue. Even the staff look like they came off a runway, being dressed in Ralph Lauren striped shirts and matching ties. 
Evidently, the coffee is what all the buzz is about! The shop offers the specialty coffee blends and espresso drinks from La Colombe—which you can take to go and sip while browsing in the adjoining retail store—along with a selection of pastries, yogurts, overnight oats and other sweet treats, including a morning glory muffin that's exclusive to the Chicago location. For those who want to take some of Ralph's prep school vibe at home without needing to redecorate in shades of white and hunter green, branded cups, tote bags, T-shirts and coffee beans for home brewing can be acquired here, in case you don't feel like jockeying with the inevitable crowds of Instagrammers. 
Ralph's Coffee (750 N Michigan Ave) is open Monday–Saturday 8am-8pm and Sunday 9am-7pm.