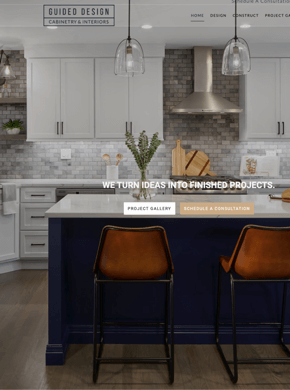 Contact for Consultation: (312) 989-6333
Highlights:
Different design packages for every budget.
Complimentary showroom consultation.
On-site consultations and measurements at $150 for any custom kitchen and bathroom cabinet design in Chicago.
Expert help for any project including bathroom cabinets, kitchen cabinets, home offices, and more.
Designers at Guided Design Cabinetry & Interiors have decades of experience in design, architecture, and construction of custom cabinets.
Review:
Guided Design Cabinetry & Interiors prioritizes experience and professionalism across a broad spectrum of relevant industries, including specialists from design, architecture, and construction. Of course, this is likely to result in some of the best custom cabinets in Chicago.
Whether you're looking for something as simple as an entertainment center or as extensive as custom bathroom cabinets in Chicago, you can get the help you need with Guided Design. No project is too big or too small.
To meet your budgeting needs, there are plenty of differing design services to choose from, with increasingly comprehensive offerings. The most basic service includes a site visit for measurements and design meetings. Here, you will receive a drawn AutoCAD plan and a digital rendering to help you move forward with your Chicago kitchen cabinet planning.
The most extensive plan includes everything in the basic one, plus cabinetry design, plans for other elements in the space (countertops, lighting, etc.), help selecting fixtures and other hardware, and help from architects and engineers for permits. There are a few levels in between so you can get exactly the amount of help you need.
Reviewers on Google are clearly very happy with the custom cabinet experiences they've had with Guided Design. One reviewer reports four separate custom kitchen cabinet orders placed with this company because of the quality of their services. Designers are very professional in communication and quick to respond to questions and calls.
A few of the designers are called out by name in several reviews because of the great experience these individuals provided. It's evident they really pay attention to the details to make sure you're happy with every aspect of your Chicago custom cabinet redesign.
Find out more about Guided Design Cabinetry & Interiors on their website here.