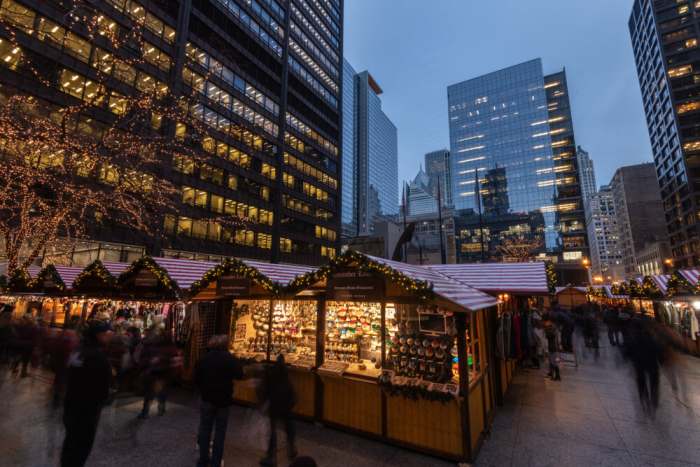 As 2020 drags on, it's no surprise that Chicagoans are eager to have a little winter holiday fun. The Windy City's restaurants and bars love going all-out for Christmas and Hanukkah, with extravagant decor, festive holiday drinks, and seasonal sweet and savory treats.
However, the city's ban on indoor dining and other COVID-19 restrictions mean these traditions, like most other things, are not the same this holiday season. The city's bars and restaurants are attempting to make adjustments, such as requiring reservations, limiting the time patrons can stay, and offering carryout and delivery service.
Since October 30, Chicago restaurants have been forced to suspend indoor dining. However, some Chicago restaurants have outdoor dining for those willing to brave the winter chill. Moreover, the state now requires reservations for outdoor dining. For up to date information on the situation in your area, visit the city's COVID-19 dashboard. Studies show that being outdoors poses a lower exposure risk, especially when restaurants and bars following the recommended social distancing and safety guidelines.
Below, you can find Christmas and Hanukkah pop-up events to bring some holiday joy to Chicagoans.
Around Town
The Christkindlmarket, famous for its souvenir Christmas mugs and German treats, have moved online from the usual location in Wrigleyville and Daley Plaza. The website features Christkindmarket boxes of ornaments, mugs, scented candles, and more. Yummy gift boxes filled with seasonal treats include a $50 Prost! Package, which includes a jar of German mustard, a box of Kathi German Pretzel Baking Mix, Nic Nac peanuts, and Black Kassel Salami Whips. Christkindlmarket, available online, is open through December 31.
Andersonville
The neighborhood restaurant and wine bar Uvae is having a winter market every weekend through Christmas. Customers can buy wines, cheeses, infused liquors, and other delicacies. Support several local businesses at once by picking up a pre-made gift basket, or build your own; the baskets feature goods from area businesses like Tasting India ghee and spice jars, coffee syrups from Rewired Pizza Cafe & Bar, and candied, spiced nuts from Andersonville Fine Foods. This weekend, pay a visit to the Holiday Pop-Up Market at Uvae Kitchen + Wine Bar, 5553 N. Clark Street, from noon to 5 p.m. on Saturday and Sunday.
Avondale
Craft beer bar Dmen Tap parked its food truck in front of the restaurant on Black Friday at 2849 W. Belmont Avenue. While no one was permitted inside to eat or drink, customers could buy cider, hot cocoa, schnitzel sandwiches, sausages, pretzels, and raclette cheese from the truck. While the event was not affiliated officially with Christkindlmarket, but organizers sent along with a selection of vintage Christkindlmarket mugs. Dmen Tap's Christmas Market Pop-Up, 2849 W. Belmont Avenue, open noon to 9 p.m. every Friday through December 23.
Lakeview
The Piggery sports bar and restaurant is holding an open-air, rooftop Christmas pop-up, with hundreds of twinkly lights and cheerful holiday décor. Visitors can enjoy cider, hot cocoa, and the Piggery's renowned barbecued meats. The Piggery, 1625 W. Irving Park Road, open from 3 p.m. to 10 p.m. Monday through Friday and 11 a.m. to 10 p.m. on Saturday and Sunday.
Lincoln Park
Neighborhood sandwich and burger joint, Gemini is launching a pop-up hot cocoa stand for the holiday season. But it's not your ordinary hot cocoa, it's a hot Belgian drinking chocolate. Also available are hot apple cider, espresso drinks, coffee, and large-batch to-go cocktails. Also take home cookies in flavors like peppermint sprinkle, oatmeal butterscotch, and a ginger snap. Gemini Hot Cocoa Stand, 2075 N. Lincoln Avenue, open 3 p.m. to 8 p.m. Sunday through Thursday; 3 p.m. to 9 p.m. Friday and Saturday.
West Loop/Lincoln Park
Replay Lincoln Park has two holiday drive-in movie events to bring seasonal cheer to Chicago. The Miracle on West Madison in West Loop and the Holly Jolly Drive-In in Lincoln Park are hosting the classic holiday films Rudolph the Red-Nosed Reindeer, the Grinch, and Santa and Mrs. Claus. The $75 per car event requires reservations. The movies will run through Christmas Day. Miracle on West Madison, 645 W. Madison Street, 5 p.m. to 10 p.m. Thursday through Sunday. Holly Jolly Drive-In, 2833 N. Sheffield Avenue, 6:30 p.m. to 9:30 p.m. Thursday and Friday; 4:30 p.m. to 10:30 p.m. Saturday and Sunday.
The Loop
Downtown hotel LondonHouse Chicago has launched a Christmas pop-up dubbed Rudolph's Rooftop. The 22nd-floor terrace, LH Rooftop, has gorgeous views. The space is decorated with huge nutcrackers, holiday lights, and festive red poinsettias.
Special holiday menu items include beet-cured salmon gravlax, truffled chicken pot pie, lobster mac and cheese, and more. Plenty of seasonal cocktails will be available, such as the Ugly Sweater and the Bad Santa. Seating is limited to 50 with a maximum of six per table. Moreover, patrons must wear masks when they're not seated. Reservations via Tock. Rudolph's Rooftop is located at 85 E. Upper Wacker Drive, open 2:30 p.m. to 4:30 p.m.; 5:30 p.m. to 7:30 p.m.; and 8:30 p.m. to 10:30 p.m. daily through January 3.
River West
The Dawson is hosting a hearty weekly winter market for all of your holiday needs, from meats, baked goods, prepared to-go meals, wine, and even Christmas trees and wreaths. Baked goods include whole apple, pumpkin, and pecan pies, and The Dawson's famous bacon flight, made with maple bacon, apple cider bacon, and Black Forest bacon. Guests can also enjoy hot cocktails and raclette cheese while they browse inside an open-air, heated tent. The Dawson Winter Market, 730 W. Grand Avenue, 11 a.m. to 3 p.m. every Saturday.
West Loop
The Press Room, a subterranean wine bar, has launched its Miracle on Washington Street for the holiday season. Visitors will marvel at the twinkling lights and big red bows, as they browse a market filled with local vendors. Popular treats such as sourdough pretzels, schnitzel sandwiches, raclette grilled cheese sandwiches, and Nutella waffles will also be available for hungry shoppers. Spiked cider, hot mulled wine, Irish coffee, and other warm and toasty cocktails will also be served. The $25 tickets are available on Tock and each shopper can remain in the market for 90 minutes. Masks and social required. Miracle on Washington Street, Lower level of 1134 W. Washington Boulevard, open 11 a.m. to 9 p.m. daily; Saturday, November 28 through December 23.
Wicker Park
Chef Edward Kim's Mott Street, a creative Asian American restaurant, popped up on Black Friday for a weekend-long event partnered with The Fields of Michigan, a "glamping" event company. The event included a Mott Market featuring cocktails and bottled sauces from Chef Kim's restaurant, and s'mores-inspired cocktails, s'mores kits, and hot apple cider doughnuts to sip near a firepit. There was also a Christmas tree lot with a wreath-making station.
Wrigleyville
Santa Baby, an over-the-top Christmas extravaganza, is an annual holiday tradition at Deuces sports bar. Historically, the celebration is raucous and fun, but this year, Santa Baby has been forced to institute some COVID-19 regulations, but they're hoping the eye-popping Christmas decor will help keep party-goers in their seats, instead of wandering around, socializing, meeting new people and having fun. Also, seating will be exclusively outdoors in a heated tent, as well as rooftop igloos. There are an hour and 45-minute stay limit, and groups must be six or less. Chow down on the Deuces' famous cocktails, along with nachos, burgers, and more. Reservations are a must, and are available online at the Santa Baby website. Deuces are located at 3505 N. Clark Street, and the Santa Baby event is open 2 p.m. to 11 p.m. Monday through Friday; 10 a.m. to 11 p.m. Saturday and Sunday.
Wrigleyville
For the second year in a row, Graystone Tavern, a neighborhood sports bar, is hosting its popular Hanukkah pop-up, 8 Crazy Nights. Traditional Hanukkah fare like sweet noodle kugel, latkes with apple sauce and sour cream, and a brisket platter are on the menu. The bar features its own holiday specialty with sufganiyot, a type of fried doughnut filled with vodka-infused jelly, as well as the usual Graystone cocktails and four rotating draft beers. The festivities are held in the covered patio, decorated with blue and white lights, menorahs, and another Hanukkah-themed décor. Due to the pandemic restrictions, revelers must order menu items for pickup and delivery. 8 Crazy Nights, 3441 N. Sheffield Avenue, open 4 p.m. to 11 p.m. Monday through Friday; 11 a.m. to 11 p.m. through January 3. (773) 666-5450
Wrigleyville
Country bar Houndstooth Saloon is hosting its inaugural holiday market, supporting local bakeries, artists, and vendors selling ornaments and lots more. The holiday market is open every day until Christmas. While there, shoppers can also enjoy a hot spiced drink. The market has a staggered entry and is socially distanced. Houndstooth Holiday Market, 3369 N. Clark Street, 3 p.m. to 7 p.m. Monday through Friday; 11 a.m. to 7 p.m. Saturday and Sunday; 11 a.m. to 6 p.m. Christmas Eve.