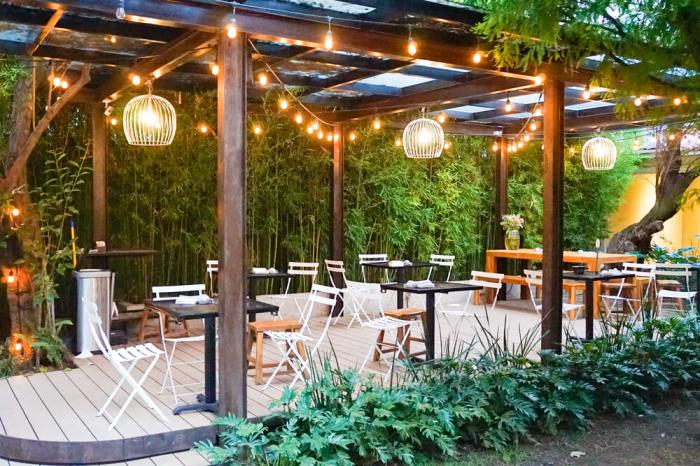 Summer patio dining officially launches in Chicago. Restaurants all over the city have opened their patios, rooftops, and gardens for diners to enjoy the sunshine and fresh air.
All Chicago restaurants have also introduced new COVID-19 health and safety measures, such as physical distancing and enhanced cleaning to keep both guests and workers safe.
Also, the City of Chicago has launched a new program closing off certain blocks to vehicle traffic, allowing local restaurants to extend their outdoor seating onto the street. These open-air dining streets can be found in Lakeview, Chinatown, Gold Coast, Chatham, Little Italy, Andersonville, and more.
Here's a shortlist of some of the best outdoor summer dining in Chicago you can enjoy now:
The rooftop patio at Aba has limited seating for parties of six or less. Reservations are required and can be made on Tock. There is a $50 reservation deposit at booking; the deposit will be applied towards the final bill. Finally, each reservation is limited to 90 minutes.
Beatnik in West Town has opened its Garden Oasis courtyard; the outdoor dining area is complete with a huge, retractable roof. The antique decor and potted plants creating an eclectic, intimate space with artful barriers between tables.
The riverfront location of the boho-inspired Beatnik is now open for your enjoyment. The delectable Mediterranean dishes are a perfect complement to the relaxing view of the river.
The Cafe Ba-Ba-Reeba all-seasons patio is now open at 50% capacity. The dining experience features a tapas menu as well as cool, citrusy sangria, craft cocktails, and much more. Reservations are required for the patio due to limited seating.
Deep in the heart of Hyde Park, Chant's trendy, upscale patio is now open. The globally inspired menu and unique, craft cocktails are sure to satisfy even the pickiest diner.
In Pilsen, the patio at Dusek's offers a satisfying, but a limited menu of beer, wine, cocktails, and pub food. Seating on the patio is first come, first served.
This West Town favorite is back, serving up their renowned German-Southern dishes at their sidewalk cafe. Funkenhausen is open 5-10 pm Wednesday- Saturday and 5-9 pm on Sundays. Closed Monday & Tuesday.
Open for reservations, the patio at this popular Lincoln Park pizza place is a rustic oasis. Diners can dig into unique, creative Chicago-style pies and sip playful cocktails while enjoying the fresh air.
Located in West Town above Roots Handmade Pizza, Homestead On The Roof offers a rooftop garden oasis for your pleasure. In the morning, they serve fare from West Town Bakery & Diner until the early afternoon. Then the menu switches to Chef Ivan Valdez's mouth-watering Latin comfort food, with craft cocktails from The Berkshire Room.
Savor the flavor of New Orleans on the patio of the Ina Mae Tavern in Wicker Park. The patio serves up a full menu of southern-inspired cuisine, frozen drinks, snow-balls, and more. Seating on the patio is first come, first served.
In the North Kenwood and Hyde Park area, Norman's Bistro is serving up mouthwatering Cajun/Creole cuisine on their roomy sidewalk patio. It's upscale dining at downscale prices.
The trendy, pastel-colored patio at this Wicker Park favorite is back. The large patio is open for diners to enjoy the unique, specialty pizzas and summer-inspired craft cocktails, such as popsicles and Prosecco.
One of Chicago's best kept date night secrets, the shady courtyard near the West Loop is a delightful place to enjoy savory, old-school Italian classics.
This chef-driven, West Loop food hall highlights one of their 13 unique food vendors every week on their spacious patio.
Serving up Quad Cities-style pizza, Roots has opened comfortable, outdoor patio dining at all three of their locations, Lincoln Square, West Town, and Old Town.
The much-awaited rooftop dining experience atop the Nobu Hotel is serving small, Asian-inspired plates, as well as a variety of sakes, and of course, fabulous views of the Chicago skyline. Reservations are required.
In the Chatham neighborhood, the Woodlawn is a casual dining experience, hosting creative, pop-up restaurants. Diners can enjoy the patio as well as the new rooftop space.
This sophisticated rooftop terrace in River North specializes in small fare paired with craft cocktails, with interesting cityscape views.
Sip organic, housemade beer, and delicious organic fare from the first certified organic rooftop farm in the country. Uncommon Ground has expanded its outdoor beer garden at the Edgewater location, and The Lakeview location has outdoor seating.
This subdued, Hyde Park gem is redefining Southern cuisine. From catfish, gumbo, and buttery biscuits to the sweet banana pudding, you'll be hooked. Be sure to reserve your seat on the patio.
You Might Also Like:
12 Top Places to Find Macarons in Chicago