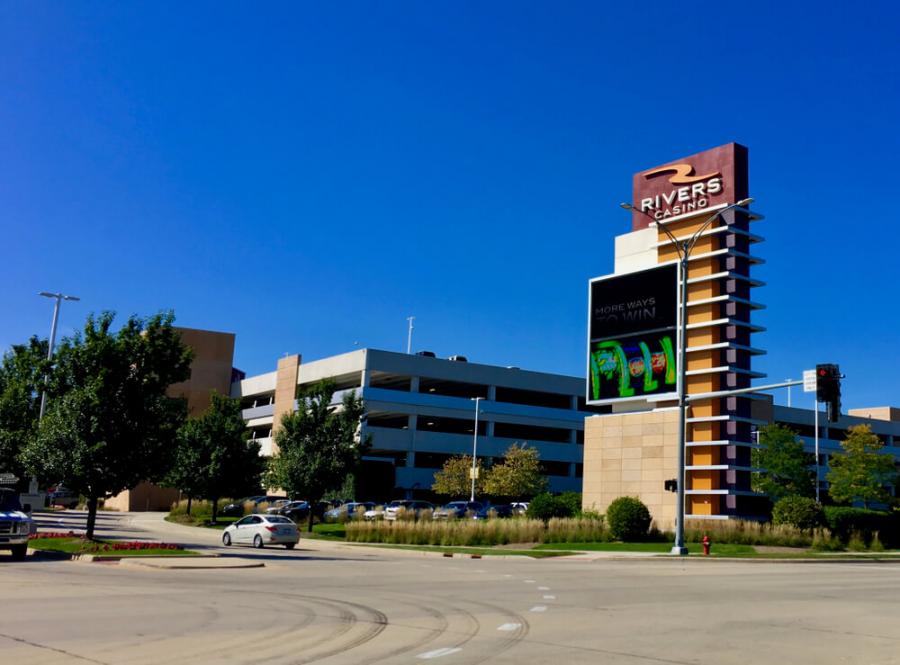 Rivers Casino in Des Plaines is Illinois' first casino to receive a sports betting license.
The venue has now started taking bets at its BetRivers Sportsbook, just in time for March Madness.
The Illinois Gaming Board granted approval for the casino to start taking bids on Friday.
Former Chicago Blackhawks star Eddie Olcyzk attended the venue to place the very first sports bet.
General manager of Rivers Casino Corey Wise said in a news release the operator's sportsbook "will take March Madness out of the office pool and into an exciting, elevated live sports wagering experience." The legalization has come a long way since the beginning of the month when there was still huge uncertainty surrounding the state's next move.
Rivers is one of six casinos across the state which filed for sports licenses in December, aiming to be up and running in time for the NCAA men's basketball tournament starting March 17.
Penn National Gaming, which operates the Hollywood Casinos in Joliet and Aurora and Argosy Casino Alton near St. Louis, has said it will be releasing information about its sportsbooks in the "coming days," while Grand Victoria Casino in Elgin did not comment. Par-A-Dice Hotel and Casino in East Peoria is said to be further behind in the application process, meaning it may be a while before it can allow sports bets on premises.
Sports wagering was legalized in Illinois last year as part of a bid to expand gambling options in the state. The Illinois Sports Wagering Act allows all 10 of the state's casinos to acquire a license, as well as three horse tracks and seven of the largest sporting venues.
Online-only licenses will be issued to operators 18 months from now – though there are worries that the state's in-person sports betting regulation may put bettors off and lead them to use offshore gambling websites instead.
Rivers was the main candidate for sports wagering in the state after the operator opened BetRivers as a sports bar back in December. The venue features leather lounge chairs, a 47-foot-wide video wall, and five betting windows. Another 30 self-service kiosks are also in action. The BetRivers.com website and mobile app are said to be launching later this year.
As the 15th state to allow sports betting, Illinois is predicting the industry could generate as much as $680 million per annum in revenue. Taxed at 15%, this gives the government another $102 million to play with every year.
The state follows Indiana, which launched its sportsbooks in September 2019. That state's venues are said to have generated nearly $13 million in revenue in January alone, proving it to have been a very good move for the state.
It is thought Illinois decided to start its own sports betting industry to stop Chicagoans from crossing the state line and betting elsewhere.
The regional president of Caesar's Entertainment Dan Nita said the move could affect business at the company's Horseshoe Hammond in Indiana. He said, "Obviously, just from a pure supply and demand standpoint, that will definitely have some degree of impact in guests having more choices."
Time will clearly tell, as both casinos are now pushing big March Madness promotions in an attempt to win over customers.
There are fears, however, the industry may be affected due to fears of the coronavirus, which has led to the cancellation of a number of conferences and conventions across a number of cities, including Chicago.
Rivers spokesman Patrick Skarr has confirmed the casino will be open despite the outbreak and attempted to reassure guests. He said, "We're doing everything we can, increasing cleaning and following guidance from health officials. But we're continuing on."