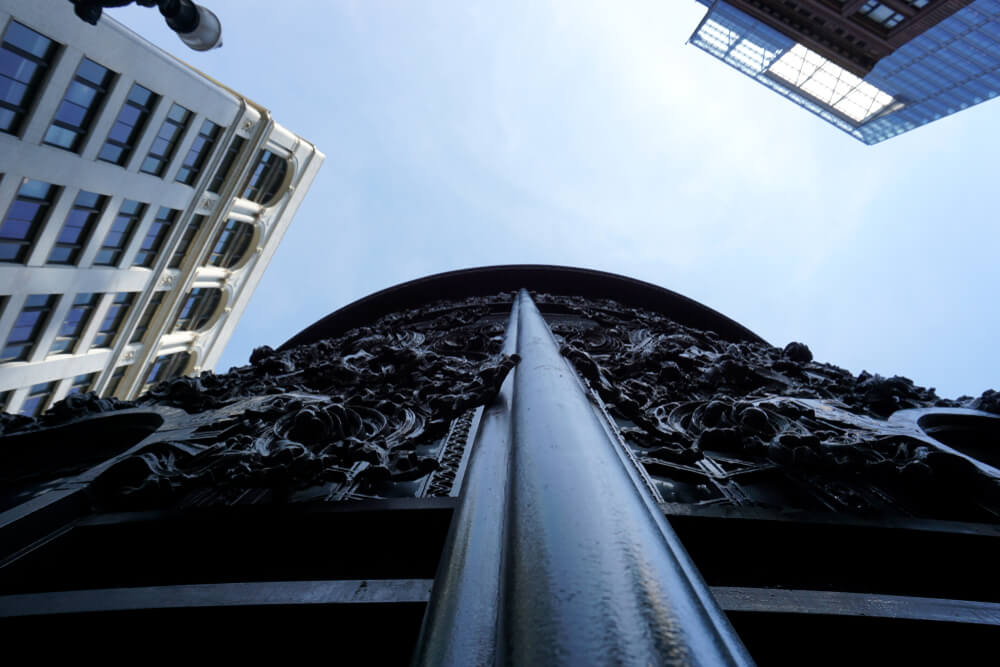 One of only six remaining Louis Sullivan Chicago landmarks is now up for sale.
The Krause Music Store in Lincoln Square is on the market and could be yours- for the small price of only $2.9 million.
The store, which was Sullivan's very last commission was built in 1922.  It features a terracotta facade and a monochrome tiled entryway showcasing the architect's famous precision and attention to detail.
Although a comparatively small piece of work for the architect, it displays his intricate detailing and brand of elaborate ornamentation – now known as Sullivanesque style- very well.
Current owners Peter and Pooja Vukosavich have run their marketing firm, Studio V Design, out of the first floor for 13 years.
The building is described as an 'architectural gem'. The owners wrote: "We've always been fans of stunning architecture and we love this neighborhood. So we couldn't believe our luck in finding this gem in 2005.
"We wanted to do the renovation in the right way without cutting corners, so we hired award-winning architects and the most committed contractor to create a light-filled, inspiring work environment. It was truly a labor of love for the whole team.
"It's time to look for the next owner who will take care of this precious piece of Chicago history."
The exterior has been carefully restored and the interior has been renovated with open office space downstairs and a three-bedroom apartment on the second floor.
It has both contemporary glass-enclosed and open offices with custom-built furniture as well as a zen garden, parking, and access to the Lincoln Square community. It is within walking distance of the CTA elevated train and Metra.
The building has won a series of awards, including the AIA Illinois Honor Award, Richard H. Driehous Foundation Preservation Award, and the Chicago Landmark Award for preservation excellence.
Peter and Pooja Vukosavich are now selling the building because their working model has changed. Creative industry Studio V Design works on marketing communications for brands big and small and has won several awards for its work. It worked largely on concepts, design, and graphics for past-mayor Rahm Emanuel's plan for a Sustainable Chicago, which was presented with an Emerald Award in 2015.
They describe the Chicago landmark as 'the perfect building for an office, with apartment rental income in the highly-desired Lincoln Square neighborhood' and 'by far the most powerful presence in the thriving Lincoln Square neighborhood'.
Local businesswoman Victoria Engels posted information about the property on her Instagram, writing: "Beautiful green terra cotta facade, the last building designed by Louis Sullivan. Built in 1921, the dual purpose of a residence and music shop cost $22,000 at the time. Lovingly restored and home to a creative team in Lincoln Square Chicago – lucky for me, my neighborhood."
If the $2.9 million price tag on the property seems a little out of budget, don't worry – there are still other ways to see Sullivan's work in the city.
One of the most impressive examples is the Auditorium Theatre – a 130-year-old luxury space.
Another great stop is The Carson Pirie Scott building, known for its delicate yet breathtaking exterior.
Louis Sullivan, who passed away in 1924, was known as the 'father of skyscrapers' and the 'father of modernism', is thought to have inspired the modern skyscraper. He was an architect of the Chicago School and became a mentor to Frank Lloyd Wright – another famous Chicago architect who now has Chicago buildings on the World Heritage List.
Those interested in purchasing the building can email Peter and Pooja Vukosavich at LastSullivan@gmail.com.