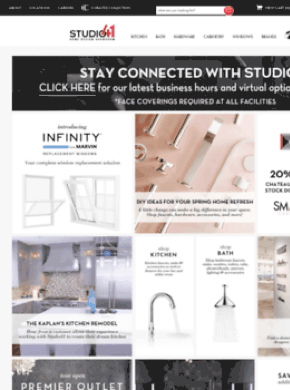 Contact for Consultation: (877) 472-2500
Highlights:
Create custom kitchen or bathroom cabinetry from two quality brands.
Enjoy free design services while you create your perfect custom cabinets.
Many cabinet styles.
14 kitchen and bathroom cabinet showrooms in Chicago.
Offering 3D renderings of your room fitted with your new Chicago kitchen or bathroom cabinets before beginning your renovation.
Review:
Studio41 is one of the highest-rated companies for custom cabinets in Chicago. They aim to be the single 'one-stop' destination for all of your cabinet remodeling needs, whether that's kitchen cabinets or bathroom cabinets, providing quality products from top brands as well as complimentary design services.
With 14 Chicago bespoke cabinet showroom locations, you have plentiful opportunities to see examples of their work in person, and their flexibility around room mock-ups offers the chance to see how certain kitchen and bathroom cabinet designs would look in your home.
Studio 41 designers work with homeowners, designers, contractors, and architects; this makes them unusually diverse and capable, since few businesses in any sector can operate so broadly.
In short, it means they're adept at handling any project you throw their way, and they also have experience with popular styles like traditional, transitional, and contemporary kitchen and bathroom cabinets.
When you hire Studio41, you're going to get some of the best custom kitchen cabinets in Chicago, supported by prior, high-end 3D renderings of your kitchen or bathroom with its new bespoke cabinet layout. This prevents any unpleasant surprises or guesswork.
Just as you'd imagine, there are some great customer testimonials and reviews on Studio41's Google listing. One reviewer says that they rehab homes in Chicago as a business, consistently using Studio41 because they are so happy with their services.
Reviews show this studio's design team is extremely helpful and flexible, going 'above and beyond' to make sure that clients are happy with their service. With a great staff and a quality finished product, you can't go wrong with Studio41.
Find out more about Studio41 on their website here.