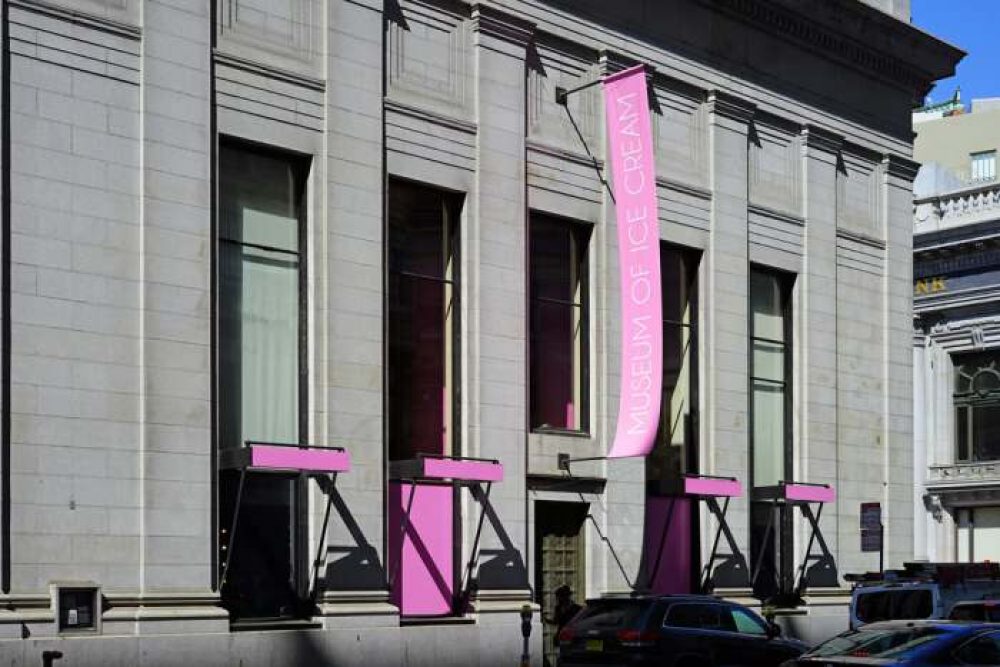 Good news for foodies in Chicago and people visiting the Windy City this summer and looking for something sweet and fun to do. You can now buy tickets to the Museum of Ice Cream, which will open in the second half of July. 
Chicagoans and visitors will be able to dive into a swimming pool of rainbow sprinkles and find out all things ice cream, while tasting some. Tickets are now on sale for the popular interactive exhibit/Instagram portrait repository the Museum of Ice Cream, which will officially open its doors at the former Chicago Tribune building (435 N Michigan Ave) on July 16. 
Ice cream has existed in some form since the second century B.C.
Ice cream could have been created, according to the International Dairy Foods Association,  as far back as the second century B.C., even though no exact date of origin nor inventor could have been indisputably credited with its discovery. Alexander the Great enjoyed snow and ice flavored with honey and nectar. According to the Bible, King Solomon liked iced drinks during harvesting. The famous Roman emperor, Nero Claudius Caesar (A.D. 54-86) frequently sent runners into the mountains for snow, which was then flavored with fruits and juices.
Over a thousand years later, Marco Polo returned to Italy from the Far East with a recipe that closely resembled what is now called sherbet. This recipe evolved into ice cream sometime in the 16th century. England seems to have discovered ice cream at the same time, or perhaps even earlier than the Italians. "Cream Ice," as it was called, appeared regularly at the table of Charles I during the 17th century. In 1553, Italian Catherine de Medici introduced the frozen desserts to France, when she became the wife of Henry II of France. Ice cream was made available to the general public in 1660. The Sicilian Procopio introduced a recipe blending milk, cream, butter and eggs at Café Procope, the first café in Paris.
In the New World, the first mention of ice cream comes from a letter written in 1744 by a guest of Maryland Governor William Bladen. The first advertisement for ice cream in our country appeared in the New York Gazette on May 12, 1777, when confectioner Philip Lenzi announced that ice cream was available "almost every day." 
Until 1800, when insulated ice houses were invented, ice cream was mostly enjoyed by the elite.Then, manufacturing ice cream soon became an industry in America, pioneered in 1851 by a Baltimore milk dealer named Jacob Fussell. 
A special gift bag for the opening weekend clients
There are various reasons why the Ice Cream Museum chose to come to the Windy City. With 
four new One MICHELIN Star restaurants added  to Chicago's list of starred eateries, as well as seven new Bib Gourmand recipients, our city, with its total of 23 restaurants on the list, is for sure a city who loves and appreciates all things food related. So, coming to Chicago was a no brainer.
For those who will be able to get a ticket for the opening weekend (July 16–18), this will be accompanied by a special gift bag. During the week, tickets for the exhibit cost $36, while the weekend's admission goes up to $44. Guests will be invited on 60 to 90-minute tours through the many ice cream-themed features with breaks to sample various sweet treats between enjoying the installations.
Visitors will enter through the pink "Sprink-L", inspired by the CTA's Pink Line. The Sprink-L opens to a spacious, 1920's-style Chicago "speakeasy" where visitors can buy special cocktails and other treats. For those who love some competition, the Chicago location will also house a mini-golf course themed around giant desserts. Plus, the Chicago Museum of Ice Cream is the first to include a " Museum of Modern Ice Cream", an interactive display of historic ice cream memorabilia.
Our favorite frozen sweet amidst the interactive exhibits, some specific to Chicago
The Chicago Ice Cream Museum will offer fun facts about the history of our favorite frozen sweet amidst the interactive exhibits, and includes a few locally-minded twists. A celebration of jelly beans— for The Bean, but also because of Chicago's long standing association with jelly beans, since North Chicago is home to the Jelly Belly manufacturing facility. 
You can expect to see a dessert-themed indoor carnival with a mirror maze and cookie carousel, pink cloud-laced balloon room, and even a game where you can throw virtual cherries at your buds. 
A pink ice cream confection shaped like a Chicago-style hotdog is expected to be one of the museum's many Chicago references, as well as a Cloud Gate-shaped jelly bean. Special Halloween and Christmas celebrations are being prepared. 
And since it wouldn't be a Museum of Ice Cream without the signature treat, the exhibit offers five free-flow dessert stations, with a local twist of ice cream hot dogs (!) and shaved ice. The iconic pink cocktails, each with a different flavor, will also be on supply, as will vegan and allergen-free treats—so no need for dad jokes about if there will be a Museum of Lactaid next door. 
In addition to a roster of reimagined and never-before-seen installations, there will be favorites such as the famed sprinkle pool and pool-side cabanas which caused a stir on social media. A shop selling historical ice cream memorabilia, a cafe, and a bar can also be expected and will be open to the general public, even to those who do not visit the museum.