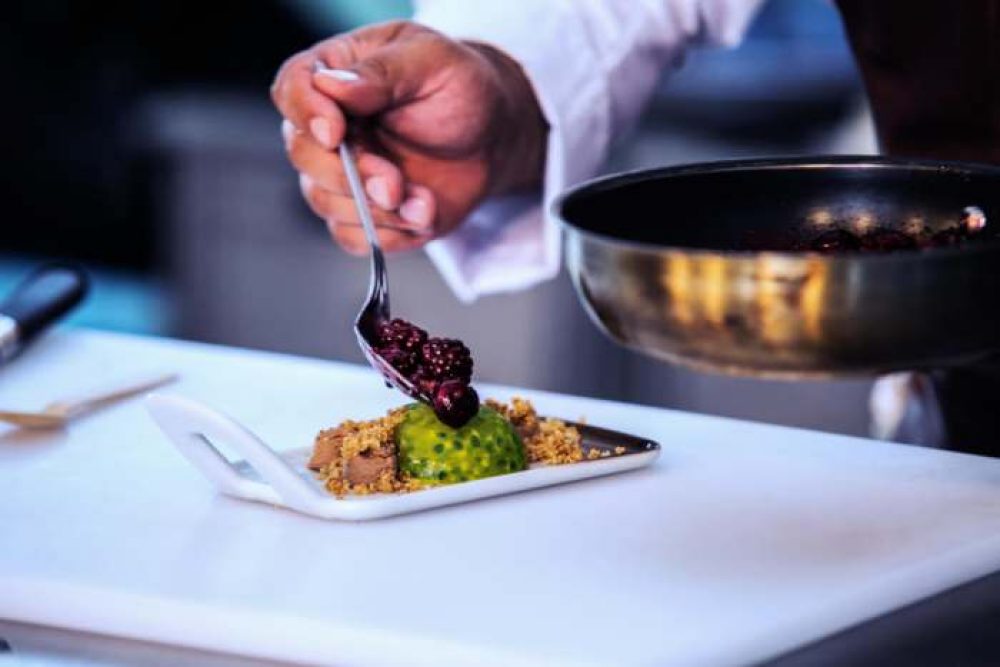 Two Chicago spots have just been included on Esquire's 2022 list of the Best New Restaurants in America. For the current edition, the publication's editors highlighted 40 places that "represent what it means to dine well in the U.S. right now." 
Kasama, the modern Filipino fine dining experience
In Chicago, modern Filipino standout Kasama landed at No. 7 for its tasting menu, which debuted a year ago, around the end of 2021. Although, during the day, the restaurant operates as a casual kitchen and bakery, dinner service rises the place to a different rank, turning any dining experience into a fine sensational meal.
"The nilaga, composed of cabbage, bone marrow, and fluffy short-grain rice, has the uncanny ability to evoke what you would eat on a rainy day as a kid. There is a croissant toward the end with a shower of truffles. All of this made us believe: People need to know about the p.m. version of Kasama, too," Esquire editor Kevin Sintumuang writes.
The inclusion on Esquire's 2022 list of the Best New Restaurants in America does not come as a surprise for foodies in Chicago, since 2022 has been a really good year for Kasama—it was awarded one star by the Michelin Guide this past April. Chefs Tim Flores and Genie Kwon, formerly at the Oriole kitchen, have branched out on their own with this restaurant, which opened at the height of the pandemic in 2020. It has evolved to represent the true vision of what the couple had in mind for Kasama, with a dinner tasting menu that emphatically displays this talented team's training, experience and heritage for an experience that is ambitious, clever and distinct, mixing Filipino traditions with contemporary notes
Indienne is redefining the limitless potential of Indian cuisine
The other Chicago restaurant included on the list at No. 36 is Indienne, the progressive Indian newcomer which raises the bar on South Asian experiences in the city. 
Indienne resides in a 19th-century printing warehouse; the converted timber loft now brought to life by Chef Sujan Sarkar's culminating effort in Progressive Indian Fine-Dining.
A man from Kolkata whose formative culinary journey was forged in the fires of the most intense, iconic Michelin-starred kitchens in London, trained in classic French technique, has spent the last several years defining, and redefining the limitless potential of Indian cuisine.
Indienne celebrates the joy of dining, harmoniously offering guests a path to experience who we are through a provocative-yet-refreshingly-accessible tasting-menu, and seasonal a la carte fare in a convivial setting to be shared with you and your companions.
Sintumuang is similarly impressed by chef Sujan Sarkar's "potent and unexpected" cooking, and calls the $90 degustation menu a "steal."
"The service is delightful, informative, proper, the room is vast and luxurious, the wine pairings are illuminating. You might be wondering, what's the catch? As far as I can tell, there is none,"Sintumuang adds.
If you are traveling around the country and are interested in finding new wonderful places to dine in, you can check out the full list of winners here.
Our city has some of the best food in the world
Chicago is well known and loved for many things, including breathtaking architecture, sports life, festivals, 1920s gangsters, and Fortune 500 companies, but it's the Chicago food scene that really puts it on the map. It's one of the best cities for culinary experiences, offering a variety of unmistakably Chicagoan dishes as well as global eats and a wide breadth of dreamy restaurants.
So, lose no time and get ready to sample all the best dishes and must-try restaurants Chicagoland has to offer.
Food enthusiasts in Chicago have received many other good news in 2022. Locals all know how good Chicago's dining scene really is, but we could not be happier that the New York Times has placed this year two local names to its list of the 50 best restaurants in America.
We now have more and more beautiful and well run places with great food where to throw a momentous birthday party, for instance. When you live in a large city like Chicago, it can be difficult to throw an elaborate birthday party at home, especially if you live in a space-constrained home. The 50 or so guests you plan to invite to mark your 30th birthday won't all fit into your small apartment or condo. But the Windy City has plenty of affordable world-class restaurants where you can have the best time ever with your loved ones. Sometimes the most enjoyable occasions are the ones where you can just let go and immerse yourself in the experience, knowing someone else has got the nuts and bolts of the party covered. A great host can easily transform your favorite eatery into a riveting venue for your next birthday party.
To help make your decision easier, we've put together a list with the top Chicago birthday restaurants. You can host any type of party at these best-rated birthday restaurants in Chicago, be it a casual evening for your dad's 50th, a blowout 30th-birthday, or a themed birthday party for your little one. And best of all, you can do it without breaking the bank.