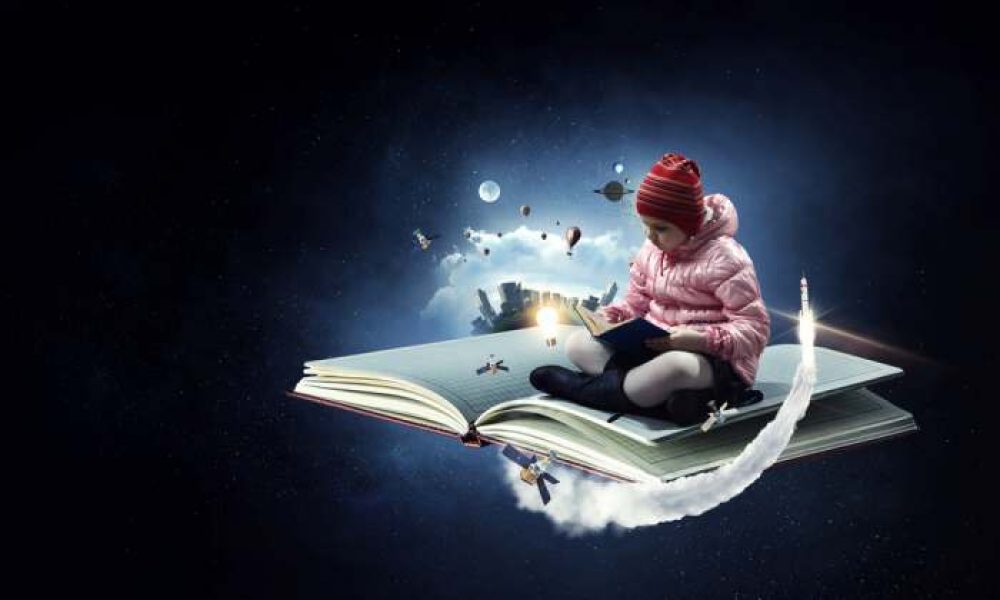 Children have a natural aptitude for stretching reality and letting their imaginations go free.  It can never be too early (or too late) to introduce your little one to the world of fantasy fiction. You can perhaps still fondly remember your own childhood fantasy experiences, the sheer pleasure of making a foray into new worlds of endless possibilities —enchanted forests, talking pets, ghosts, fire-breathing dragons, magical adventures and witches.
Nearly every parent knows the importance raising children to love reading. Introducing them to some of the best fantasy books for kids at a tender age is one way to encourage the reading habit. The process of reading will also help bolster creativity and imaginative play. Fantasy fiction inspires children to be more brave, bold, and to face their fears head-on.
Looking for the best fantasy books? These 37 top-rated fantasy books are designed for growing minds, shipping them off to new worlds and bringing budding imaginations to life. Whether for your preschooler, middle-schooler, tween, or teen, you will see something on this list to suit the interests of every child.
1: Alice's Adventures in Wonderland by Lewis Carroll (1865)
Amazon
First introduced by Charles Dodgson in 1862, Alice is perhaps the most recognized heroine in English literature.  From one of the originators of modern fantasy comes Alice's Adventures in Wonderland, a fairytale about a 7-year-old girl who tumbles down a rabbit hole.  She emerges in a strange land of crazy tea parties, smoking caterpillars, bizarre mushrooms and evil queens.
This classic will be a solid addition to your home library (if you don't already have it). Your child will certainly fall in love with the many eccentric and outlandish characters: The Mad Hatter, Mock Turtle, Tweedledee, Tweedledum, Queen of Hearts, and the Cheshire Cat, just to name a few.  It's a magical fantasy that will appeal to even very young children but will stimulate your child's imagination for many years.
2: The Wonderful Wizard of Oz by L. Frank Baum (1900)
Amazon
Originally published in 1899, L. Frank Baum's The Wonderful Wizard of Oz is an iconic perennial favorite series.  It's the best fantasy series for kids, especially middle schoolers. East or west, home is best … and for younger readers, the highly recognizable adventures of Dorothy and her faithful friends in the Land of Oz show children why this is true. From defeating the Wicked Witch of the West to strolling along yellow-brick streets, this legendary series is also irresistible for adult readers who want to relive their fond childhood memories.
3: The Hobbit by J.R.R. Tolkien (1937)
Amazon
J.R.R. Tolkien's cult classic The Hobbit is among the best fantasy books for kids of different ages as well as adults.  This grand masterpiece tells the story of Bilbo Baggins and his fellow hobbits and dwarfs who are out to reclaim their lost kingdom from the dragon Smaug. Let your child immerse himself or herself in this epic magical adventure with great lessons about perseverance, cooperation and bravery.
Even though it sets the stage for the perennially popular Lord of the Rings series, The Hobbit is a fantastic stand-alone fantasy book that will keep you and your child turning pages way past bedtime.
4: The Chronicles of Narnia by C.S. Lewis (1950)
Amazon
Here's another absolute cult classic in the fantasy aisle. A seven-book series, The Chronicles of Narnia gives you a front-row seat to the adventures of the Pevensie children as they discover the magnificent world of Narnia. They must work earnestly with Aslan, the glorious lion and true ruler of Narnia, to clinch the throne from the wicked White Witch who is wreaking havoc on everyone.
Young and old fantasy readers alike will love this trip through the wardrobe.  The story is incredibly spellbinding, and you will find yourself reading it over and over with your little ones. 
5: A Wrinkle in Time by Madeleine L'Engle (1962)
Amazon
In some scholarly corridors, Madeleine L'Engle is often considered among the architects of modern children's fantasy fiction, along with the likes of C.S. Lewis and J.R.R. Tolkien. Originally published in 1962, L'Engle's A Wrinkle in Time indeed modernized the fantasy genre and remains one of the best fantasy books for kids.
This fantasy gem is about the life of Meg Murry, a 13-year-old who is a misfit in the eyes of other people.  Everything changes when a mysterious woman emerges in her kitchen and mutters a strange phrase that would send Meg, her sibling Charles, and their bold buddy Calvin on an unforgettable adventure.  The trio must traverse space and time on a journey to find Meg's long-lost dad.
6: Where the Wild Things Are by Maurice Sendak (1963)
Amazon
Toddlers and preschoolers shouldn't be left behind when it comes to fantasy fiction, and Where the Wild Things Are is the perfect introductory piece. This strongly visual picture book is brimming with thought-provoking illustrations drawn by the extraordinary Maurice Sendak. It was voted the best picture book by School Library Journal readers in 2012 and was the 1964 recipient of the Caldecott Medal for excellence in illustration.
The book taps into the story of Max, a young boy who bravely travels to 'Where the Wild Things Are'.  He is enthroned as the king after proving his mettle.  However, it doesn't take long before the young boy longs for his mom's hot supper.
7: The Dark is Rising Sequence by Susan Cooper (1965)
Amazon
It's not a big secret that most tweens, teens, and even younger kids find dark humor and dark fantasy appealing. If this sounds like your child, then The Dark is Rising Sequence by Susan Cooper might be the best fantasy book you can add to your library at home.
This 5-part series has entertained avid fantasy readers for more than 50 years and continues to draw new fans with each generation. The set is a childhood classic appreciated, if not fondly remembered by most moms and dads, too. With deliciously weird characters, epic folklore, lots of magic, and an enticing plot, it's easy to see why this is one of the best dark fantasy series of all time.
8: The Earthsea Cycle Series by Ursula K. Le Guin (1968)
Amazon
Making its debut in 1968, The Earthsea Cycle by Ursula K. Le Guin was the "it" series in fantasy fiction before the Harry Potter series entered the scene. The first book in the series, A Wizard of Earthsea, introduces the rather awkward and reckless young Sparrowhawk who has just realized his true roots.  He goes on to become a wizard's apprentice and gets rechristened Ged.
A cut-throat war with an evil creature and other wizardry ups and downs shape this coming-of-age story, making it one of the most tantalizing reads.  Other books in this six-part series include: The Tombs of Atuan, The Farthest Shore, Tehanu, Tales from Earthsea, and The Other Wind. If you're on the hunt for the best fantasy books for a 13-year-old or middle-schooler, you won't go wrong with the gems in this series.
9: The Last Unicorn by Peter S. Beagle (1968)
Amazon
It's not really a secret that tweens love a good unicorn story. If your princess has not pulled down her unicorn posters, we think she'll enjoy reading Peter S. Beagle's The Last Unicorn. Make sure to have a packet of Kleenex nearby.
This story of the Last Unicorn is so moving and beautiful it will make her young heart hurt.  Upon reaching the somber realization that she's probably the last of her species, the last unicorn goes on a quest to figure out what might have befallen her kind. Along the way, however, the journey changes her in unpredictable ways.  It may just be the best fantasy book that you will ever read!
10: Tuck Everlasting by Natalie Babbitt (1975)
Amazon
Human beings have always been intrigued by the prospect of immortality. After all, who wouldn't want to live forever? This timeless question is the central theme of Tuck Everlasting, which tells the tale of a 'lucky' family whose members become immortal after sipping water from a magical spring.
When Winnie Foster, a 10-year-old girl, stumbles upon the Tucks in the woods, she takes a shine on the youngest lad, Jesse (who actually happens to be 104 years old). The family's celebration is cut short after an up-to-no-good, yellow-suited man starts following them. It's up to Winnie to decide whether go back home or drink from the enchanted spring and tag along with the Tucks … for eternity!
As a fantasy classic, Tuck Everlasting has won numerous awards, including the Christopher Award and the Janusz Korczak Medal, for its solid characters, a captivating storyline, and imagination. The book has been adapted several times into movies and musicals, including the 2002 blockbuster Disney film directed by Jay Russel and starring William Hurt, Jonathan Jackson, and Alexis Bledel.
11: Cloudy With a Chance of Meatballs by Judi and Ron Barrett (1978)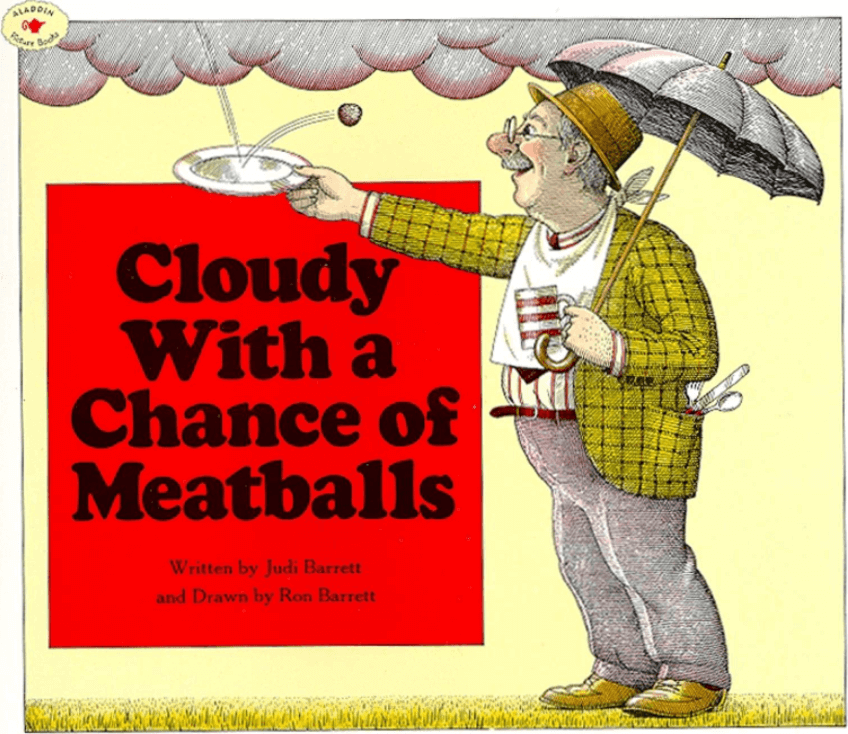 Imagine a world where you don't have to go grocery shopping; everything you need simply drops from the sky! Judi Barrett's 1978 sensation Cloudy with a Chance of Meatballs takes us to the town of Chewandswallow where all types of food rain from the clouds — peanut butter, pasta, pizza, meatballs, and so on.
Everything is all good and dandy until a somber weather pattern wreaks havoc raining meatballs like crazy.  This makes the residents of the town question whether their food-filled sky is such a good thing after all. Illustrated by Ron Barrett, this book has stood the test of time as one of the best fantasy books for children.
Buy Cloudy With a Chance of Meatballs by Judi and Ron Barrett from Amazon here.
12: Redwall by Brian Jacques (1986)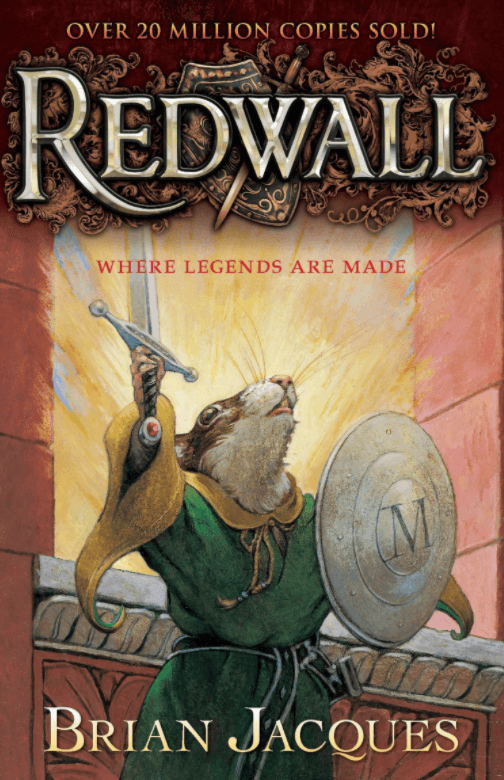 Redwall is the first book in a 22-part series of the same name published from 1986 through 2001 by the celebrated British fantasy author Brian Jacques.  It tells the tale of Matthias, a heroic mouse in the land of Mossflower Woods where rats and snakes have threatened a reign of terror.
Matthias and his league of owls, cats, and other mice must work together to retrieve the mighty sword of the legendary mouse, Martin the Warrior.  This they use to beat Cluny the Scourge, a narcissi rat who wants to wreak havoc in Mossflower Woods. This book takes a rather peculiar angle on fantasy fiction by putting together unlikely allies.
Buy Redwall by Brian Jacques from Amazon here.
13: His Dark Materials Series by Philip Pullman (1995)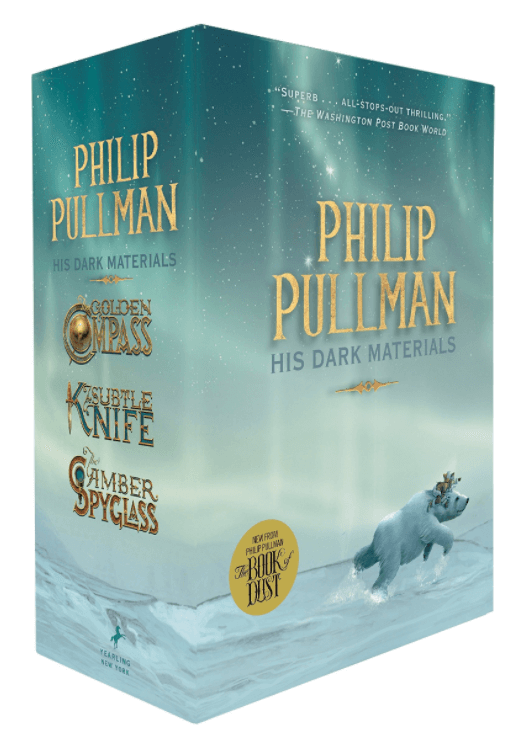 If you're looking for a series of the best fantasy books for children that also appeals to adults, then you have found the perfect choice. A series of mysterious child abductions and a hidden city in the Northern Lights set up the haptivating trilogy, His Dark Materials.  Those with very conservative religious and political views might want to skip this one.
It's an intricate, multi-layered religious and supernatural fantasy in which several parallel universes clash when Lyra Belacqua, a clever little girl, unravels deep-seated secrets and conspiracies while trying to rescue her abducted friend. The book contains many elements children will love, including talking ghosts, angels, bears, and other bizarre creatures.  The series includes a somewhat subtle message for grown-ups about the role of religion.
Buy His Dark Materials Series, by Philip Pullman from Amazon here.
14: Sabriel by Garth Nix (1995)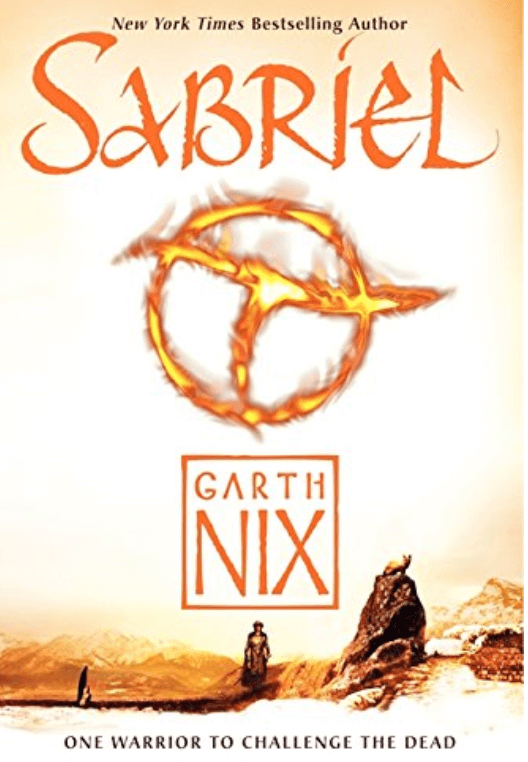 Written by the multi-award-winning Australian author Garth Nix, Sabriel is the start of the critically-acclaimed Abhorsen (also known as the Old Kingdom) series. The five-part series also includes Lirael, Abhorsen, Clariel, and Goldenhand. This ALA Notable Book fantasy jewel has won multiple awards, including the 1995 Aurealis Award for Best Young-Adult Novel and Best Fantasy Novel.
Sabriel, and the subsequent books in the series, follows the story of the heroine by the same name. She and her father have a curious talent: they can communicate with the dead. As the designated Abhorsen, Sabriel's father must ensure the dead are buried properly in the Old Kingdom.
Now, Sabriel's father is MIA and Sabriel has to make a quest into the Old Kingdom to locate and repatriate him, so they can restore the subtle balance between the world of the living and the dead. If she can't find her father soon, Death will reign over all.
Buy Sabriel, by Garth Nix from Amazon here.
15: Harry Potter Series by J.K. Rowling (1997)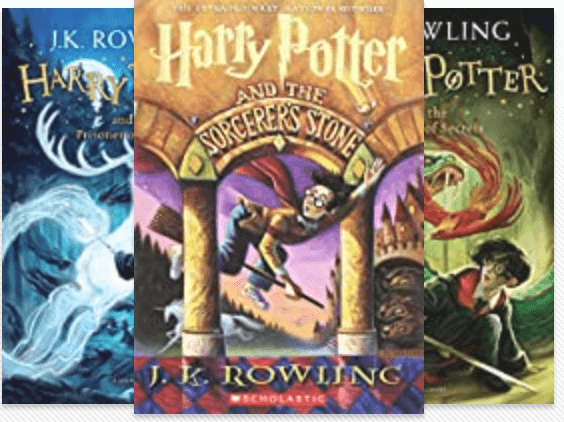 There's a good chance you know or may have heard about J.K. Rowling's blockbuster Harry Potter series. Hands down one of the most successful fantasy-fiction franchises, the seven-part series features Hogwarts, a magical boarding school attended by Harry Potter and his wizard friends (and foes). It's refreshing, enchanting, and leaves you wanting more.
This coming-of-age fantasy story pulls you deeper and deeper into the adventurous and magical world of Harry Potter with each installment.  If your child loves magic, you can't do better than the Harry Potter series, starting with the sensational Harry Potter and the Philosopher's Stone. Although subject to debate, most avid fantasy readers agree that Harry Potter and the Prisoner of Azkaban, the third book, is often the best fantasy book for kids in the series.
Buy Harry Potter Series by J.K. Rowling on Amazon here.
16: Secrets of Droon by Tony Abbott (1999)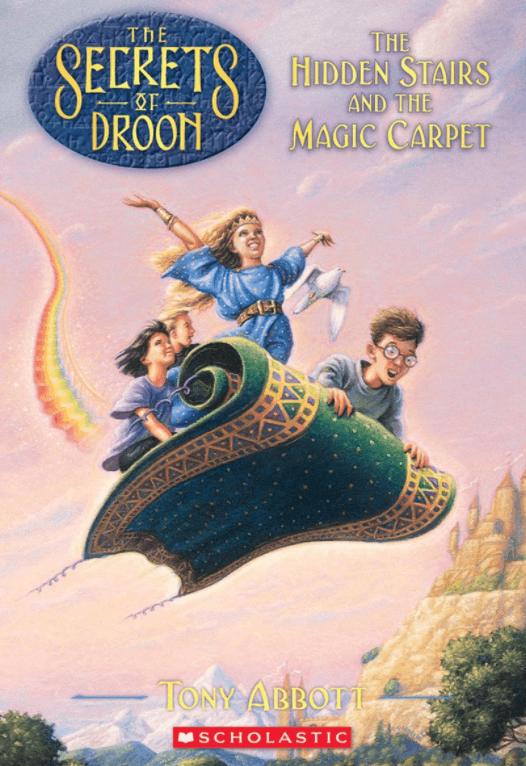 Those who are interested in the best fantasy books for middle-school kids should look no further than Tony Abbot's Secrets of Droon series.  The series consists of a whopping 35 books (44 if you include special editions) and ran for 11 years in a row. Incredibly enchanting and vividly imagined, the series kicks off with The Hidden Stairs and the Magic Carpet (1999) and ends with The Final Quest (2010).
Tag along with three best friends — Neal, Julie, and Eric — who unearth the magical land of Droon in Eric's basement. The trio sets out on the quest of a lifetime when they promise the Princess of Droon to help recover her mom. From page to page, you'll cry and laugh, as the friends discover the true value of friendship and their own strengths.
Buy Secrets of Droon by Tony Abbott from Amazon here.
17: Artemis Fowl by Eoin Colfer (2001)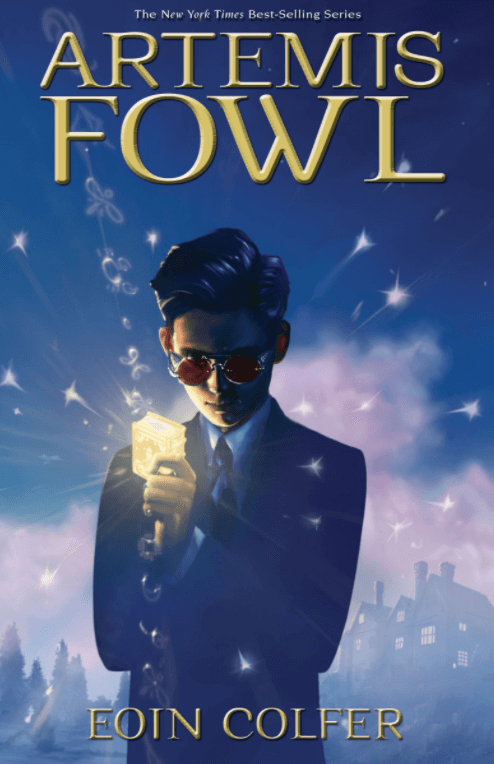 If you and your child aren't attracted to wizards, magic, or dragons, then Eoin Colfer's Artemis Fowl might be your cup of tea. It boasts a fresh fantasy theme, for a lovely change of pace. As far as thrills go, this might just be the best fantasy book for children available. It's the debut book in Eoin Colfer's stirring 8-part Artemis Fowl series that includes The Arctic Incident, The Eternal Code, The Lost Colony, The Time Paradox, and The Atlantic Complex, among others.
The book follows the story of a 12-year-old genius and millionaire, Artemis Fowl who also happens to be a criminal ringleader.  After abducting Captain Holly Short, a beloved fairly, the young criminal mastermind is in for a rude shock.  Will the young boy muscle up his criminal enterprise to recover his family's wealth?
Buy Artemis Fowl, by Eoin Colfer from Amazon here.
18: Coraline by Neil Gaiman (2002)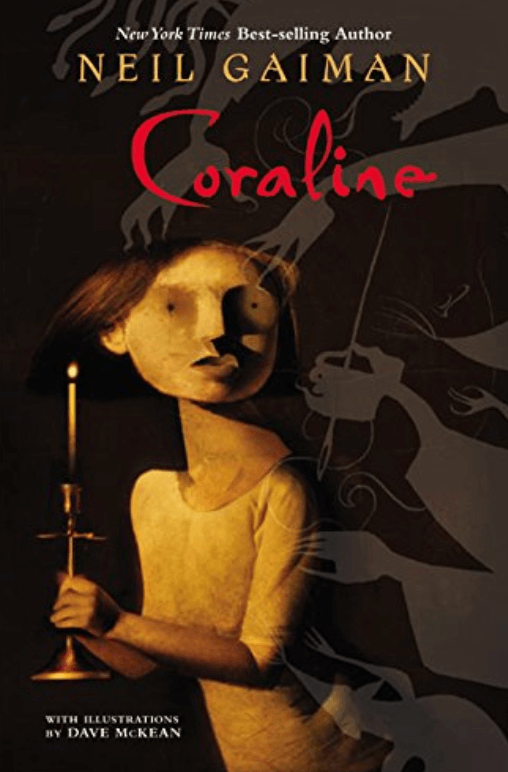 Often dubbed a contemporary fairytale, Neil Gaiman's Caroline is a powerful dark fantasy that appeals to young readers of all ages. It narrates the story of Coraline, who has just moved into a new apartment. After settling in, she resolves to do a little sight-seeing to familiarize herself with the neighborhood.
One day, during her explorations of the city, Coraline finds a brick wall right behind a door. But this isn't an ordinary brick wall; it turns out to be a passage to "another world" in which she can live a different version of her life that's much more exciting and exhilarating. There's only one problem: how will Caroline return to her 'home' world?
The marvelous illustrations by Dave McKean certainly bring the characters to life in a breathtaking way.  It comes as no big shock that the novella has clinched multiple awards and accolades over the years, including the 2002 Bram Stoker Award for Best Work for Young Readers, the 2003 Nebula Award for Best Novella, and the 2003 Hugo Award for Best Novella.
Buy Coraline, by Neil Gaiman from Amazon here.
19: The Field Guide by Tony DiTerlizzi and Holly Black (2003)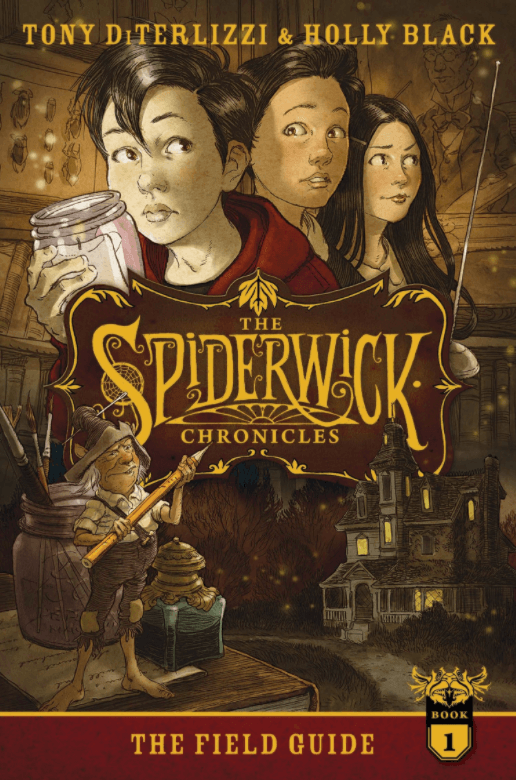 In this grand masterpiece, seasoned fantasy artist-cum-writer-cum-director Tony DiTerlizzi joins forces with Holly Black, another heavyweight children's fantasy creator.  If you're familiar with Tony DiTerlizzi's Dungeons & Dragons game, then you can  well imagine how he brings comic characters to life on the page.
Unlike other super-fantasy books, however, The Field Guide's story is set in the real, modern world with fantasy seeping through the cracks.  You and your little one will love reading this well-written and superbly illustrated book over and over again.
It's the first installment in the famous The Spiderwick Chronicles series, which includes The Seeing Stone (2003), Lucinda's Secret (2003), The Ironwood Tree (2004), and The Wrath of Mulgarath (2004). The series was adapted into a blockbuster film of the same name in 2008; directed by Mark Waters and starring Freddie Highmore, Seth Rogen, and Sarah Bolger.
Buy The Field Guide by Tony DiTerlizzi and Holly Black from Amazon here.
20: The Goose Girl by Shannon Hale (2003)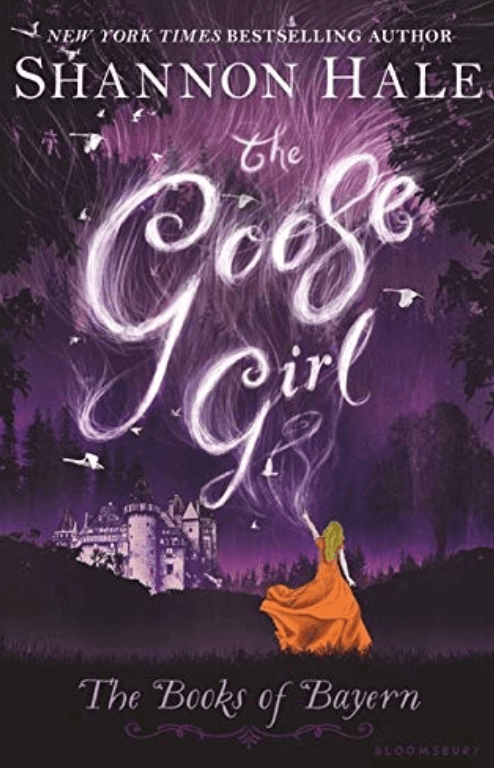 An excellent fast-paced series is Shannon Hale's debut work The Goose Girl. It's also the first book in her four-part Books of Bayern series that also comprises Enna Burning (2004), River Secrets (2006), and Forest Born (2009).
This well-thought-out and enjoyable retelling of the Brothers Grimm fairytale of The Goose Girl is one of the best fantasy books for children of all time.  The deception of the villain is impeccable, and the stunning illustrations are spot-on.  Your little one (and you) will love the strength and bravery of the heroine. This book can be read over and over again without losing any of its delightful charm and fantastical appeal.
Buy The Goose Girl, by Shannon Hale from Amazon here.
21: The Inheritance Cycle by Christopher Paolini (2005)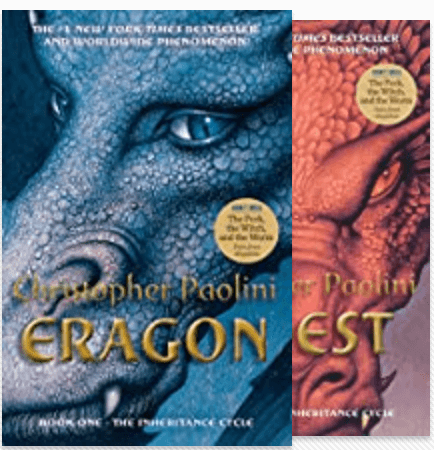 When Eragon, a poor, 15-year-old farm boy stumbles upon an elegant blue stone in the woods, he doesn't know his world is about to be forever changed. He is startled when the polished stone brings forth a dragon hatchling, and young Eragon's life suddenly turns from mundane into an adventure.
Kids of all ages will find this fantastical story of a farm boy and his dragon enchanting, heartwarming, and action-packed.  It has everything you could want: sword fighting, fire-breathing dragon, spell casting, and dragon flying. First published in 2005, Eragon kicks off the Inheritance Cycle, followed by Eldest, Brisingr, and Inheritance: Book IV.
Buy The Inheritance Cycle Series, by Christopher Paolini from Amazon here.
22: Inkheart by Cornelia Funke (2005)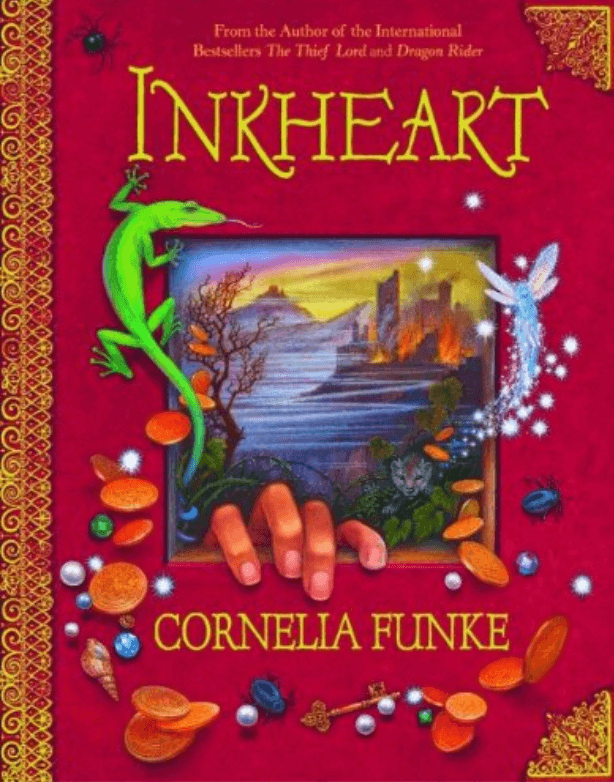 Buckle up kids (and parents!).  With mysterious characters, an engrossing plot, and Cornelia Funke's storytelling prowess, you can count on Inkheart to keep you on the edge of your seat right from the first page. As the story begins, the protagonist, Meggie, and her dad Mo have lived a rather plain and ordinary life.
Things get interesting when her father reads aloud a book titled Inkheart causing Dustfinger, a mysterious evil ruler, to appear. Meggie and her father soon realize they have a hidden talent: they can bring book characters to life.  Did the father-daughter team bite off more than they can chew?  Follow their adventures as the duo tries to retrieve Meggie's mom from the 'other side' and prevent fictional villains from running over their real world.
Buy Inkheart, by Cornelia Funke from Amazon here.
23: Percy Jackson and the Olympians Series by Rick Riordan (2005)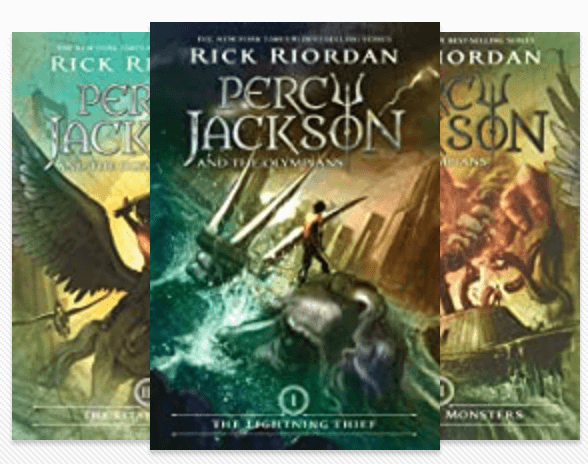 If you're after the best humorous fantasy book for older kids, this fast-paced adventure will have your tween or teen LOL-ing from start to finish. Another impressive work by the #1 New York Times bestselling American author Rick Riordan, the Percy Jackson, and the Olympians series kicks off with The Lightning Thief. In this episode, Percy has just discovered his roots as the son of Poseidon.
This series is filled with tension, revenge, and nail-biting humor. You can't help but cross your fingers for Percy as he goes from enemy to enemy to prevent an all-out war among the gods and eventually save the world. 
Buy Percy Jackson and the Olympians Series, by Rick Riordan from Amazon here.
24: Fablehaven Series by Brandon Mull (2006)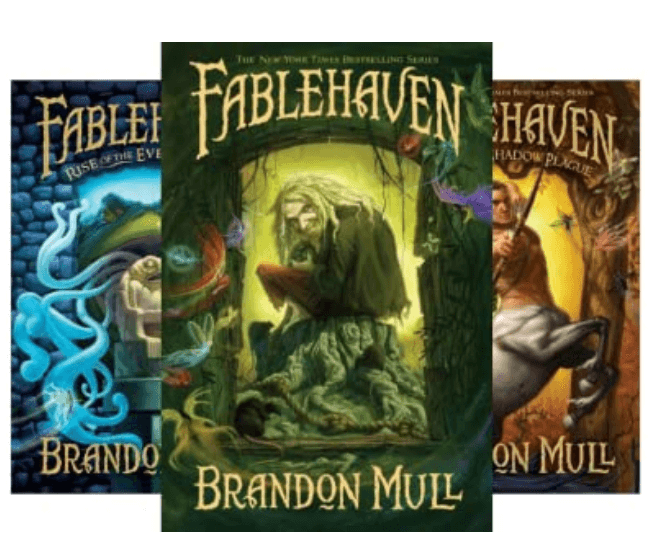 Fablehaven is among the best-rated fantasy book series for children for its imaginative plot, eccentric characters, and magical adventures.  The five-book series consists of: Fablehaven; Rise of the Evening Star; Grip of the Shadow Plague; Secrets of the Dragon Sanctuary, and Keys to the Demon Prison.  This series is followed by another, also in five parts called DragonWatch.
Fablehaven is not your typical fantasy fiction story, but that's exactly what makes the series so unforgettable. It follows the story of Kendra and Seth who are shipped off to spend summer with grandma and grandpa, who happen to be the guardians of a hidden sanctuary of magical beings.  Suddenly, what the pair thought would be a calm summer vacation is anything but that.
Buy Fablehaven Series, by Brandon Mull from Amazon here.
25: The Alchemyst: The Secrets of the Immortal Nicholas Flamel by Michael Scott (2007)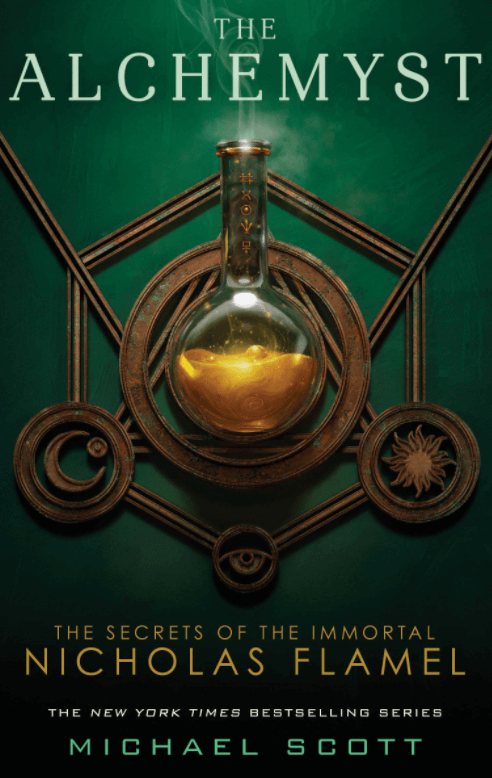 Historical records indicate that Nicholas Flamel met his death around 1418 but as the greatest alchemist to ever grace this planet, some say he might still be alive. Michael Scott's Alchemyst is based on this chilling premise.  Twins Josh and Sophie stumble upon the magical secrets of the 7-centuries-old Nicholas Flamel, who happens to be their boss "Nick".
Sophie and Josh are soon plunged into an array of exhilarating adventures around the world trying to unravel a prophecy that will be the end of the world as we know it. Their escapes make for one fantasy story that will keep you hooked from the get-go.
Buy The Alchemyst: The Secrets of the Immortal Nicholas Flamel by Michael Scott from Amazon here.
26: Amulet Series by Kazu Kibuishi (2008)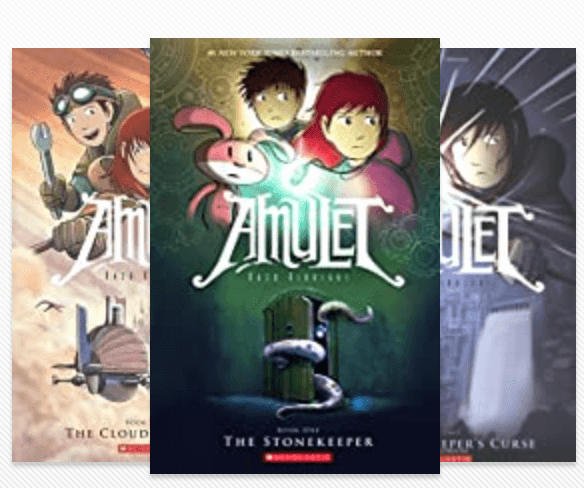 Imagine finding yourself in a strange underground world brimming with man-eater demons, talking foxes, giant robots and mechanical rabbits.  Scary, right?  That's only the tip of the iceberg of what lies ahead for siblings' Emily and Navin as they navigate the perilous underworld in an attempt to recover their kidnapped mom.
The 8-part graphic novel Amulet series by Kazu Kibuishi is a scintillating collection of some of the best fantasy books for kids of nearly all ages.  Will they save their beloved mother?  This kid-favorite series contains The Stonekeeper, The Stonekeeper's Curse, The Cloud Searchers, The Last Council, Prince of the Elves, Escape From Lucien, Firelight, and Supernova, in that order.
Buy Amulet Series, by Kazu Kibuishi from Amazon here.
27: The Maze Runner by James Dashner (2009)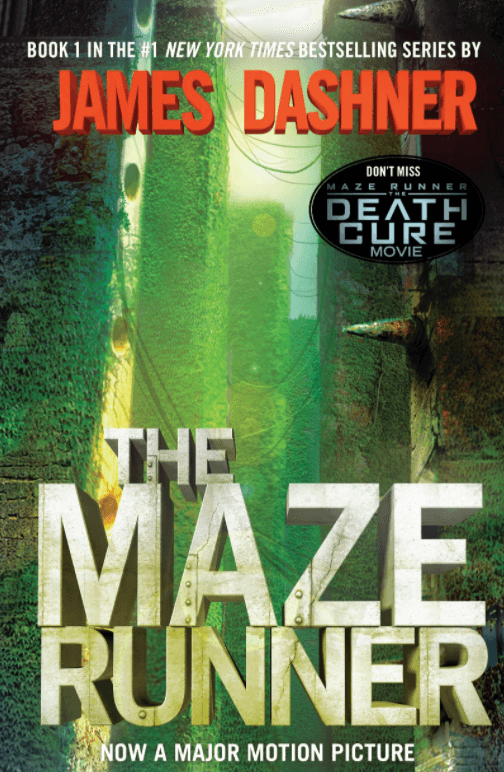 Here's another multi-part series that solidly belongs among the best fantasy books for kids.  This title is book #1 of the Maze Runner quartet, which follows the heroic story of Thomas the 'Glader'. This remarkable title was such a huge hit that it was turned into one of the most successful blockbuster movie franchises.
In this story, Thomas wakes up in the 'Glade' without any recollection of his identity and how he got there.  But it doesn't really matter, as the hero soon realizes, because he and the so-called 'Gladers' are ensnared in a complicated maze with perilous creatures called Grievers closing in on them. The only way for Thomas and his fellow 'Gladers' to make it out alive is to successfully navigate the maze. As luck would have it, Thomas does have abnormal telepathic powers that may just help them out of the mess (pun intended)
Buy The Maze Runner by James Dashner from Amazon here.
28: The Familiars by Adam Jay Epstein and Andrew Jacobson (2010)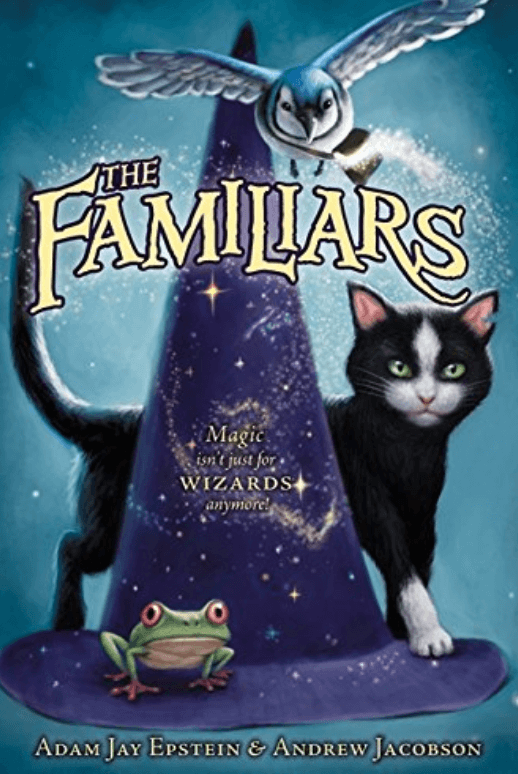 If your kid loves Warriors and Wings of Fire, then Adam Jay Epstein's four-book fantasy series The Familiars should be next on their reading list. It's the fantastical tale of an alley kitten, Aldwyn, who is on the run only to find himself in the wrong place at the right time, a mysterious pet shop. From here, the young alley cat's life is about to change forever when Jack, an apprentice wizard mistakenly chooses him to be his magical familiar.
If your child has a thing for magical creatures, wizards, plot turns and twists, then this adventure fantasy story will be an instant hit. Well, what kid doesn't find a story centered on a cunning alley cat out to save the day enthralling? Don't forget to check out the other books in the series — Secrets of the Crown (2011), Circle of Heroes (2012), and Palace of Dreams (2013).
Buy The Familiars, by Adam Jay Epstein from Amazon here.
29: Seraphina Series by Rachel Hartman (2012)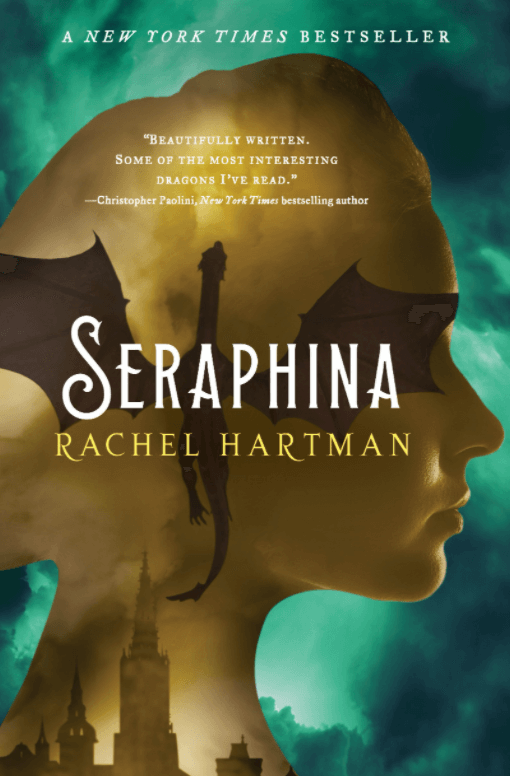 Authentic, imaginative, and somewhat lyrical, this New York Times and Indie bestseller series by Rachel Hartman is not one to overlook for your home library.  Seraphina will forever change the way you envision dragons.  Usually classed under YA fantasy, the titles in the series are often considered the best fantasy books for kids aged 13+.
Seraphina was followed by the sequel Shadow Scale in 2018.  Both books are about smart, logical dragons who can talk. However, when a human prince is found dead and dragons are pinned for the murder, the relationship between the two species sours.  With humans and dragons at war, anything can happen.  You and your young child will thoroughly enjoy this fantastical Winner of the William C. Morris YA Debut Award.
Buy Seraphina, by Rachel Hartman from Amazon here.
30: The Book of Three, 50th Anniversary Edition: The Chronicles of Prydain by Lloyd Alexander (2014)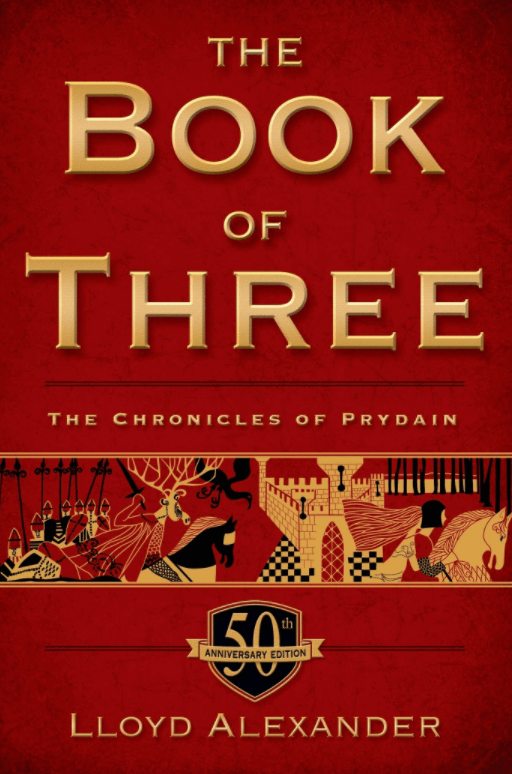 Originally published in 1964, this reprint of Lloyd Alexander's Prydain Chronicles published by Henry Holt Books for Young Readers is as entertaining and engrossing as the original work. Many of us parents read and reread this fantasy series in our childhood and liked it as much as Harry Potter, Lord of the Rings, and Chronicles of Narnia series.
This fantastical story of the adventures of an assistant pig-keeper is not only hilarious but you'll also love its mythological aspect. It is an ideal fantasy for children in the 8-12 age group.
Buy The Book of Three, 50th Anniversary Edition: The Chronicles of Prydain by Lloyd Alexander from Amazon here.
31: The Green Ember by S. D. Smith (2014)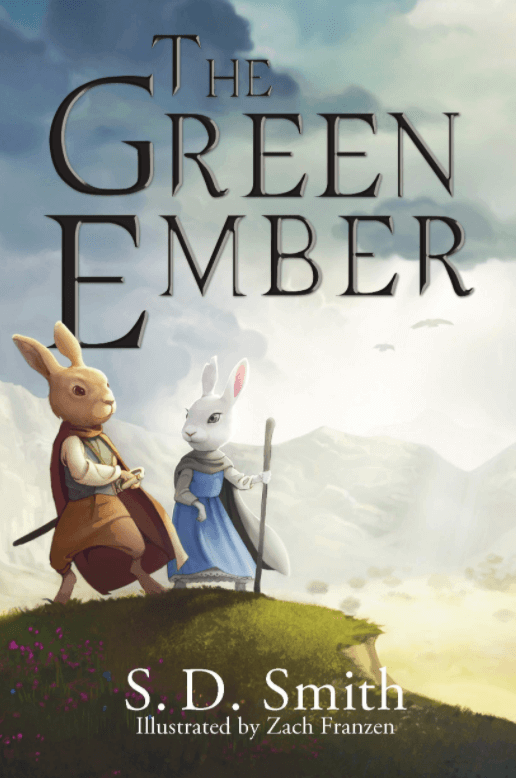 If your middle-schooler has an insatiable thirst for fantasy fiction, we recommend this debut book in the 4-part The Green Ember series.  The other titles in the series are: Ember Falls, Ember Rising, and Ember's End. This is a genuinely fascinating story of two sword-wielding rabbits named Picket and Heather.
The rabbit duo must go on daring quests to stave off tyrants who want to rain terror on their kingdom. As the kingdom falls then rises again, you'll root for Picket's and Heather's courage in this inspiring tale. Moments of moving beauty and unrelenting patriotism are just out of this world. "A new story with an old soul. That's how this book has been described by others who have fallen in love with it and I couldn't agree more," writes one happy reviewer.
Buy The Green Ember, by S. D. Smith from Amazon here.
32: Rise of the Earth Dragon: A Branches Book by Tracey West (2014)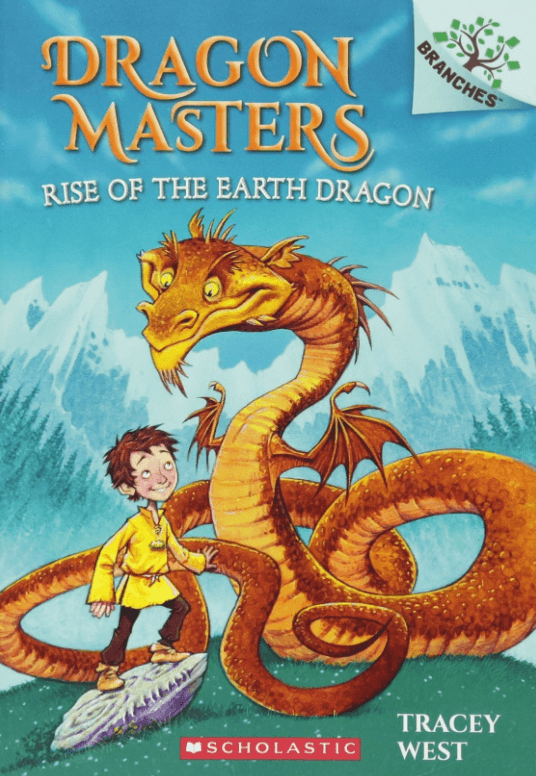 Tracey West's Rise of the Earth Dragon is the debut book in the 8-part Dragon Master fantasy series (which, in turn, is part of the Scholastic Branches line-up). Other installments in the series include: Saving the Sun Dragon (2014), Secret of the Water Dragon (2015), Power of the Fire Dragon (2015), Song of the Poison Dragon (2016), Flight of the Lightning Dragon (2017), and Roar of the Thunder Dragon (2017).
This is a thoughtful roundup of some of the best fantasy books for kids who are not yet ready to handle conventional chapter books.  They are great intro pieces for easing your little one into the world of fantasy fiction. This adrenaline-charged book is packed with action as the young Drake is swooped up and taken to the castle where he will learn the ropes of being a Dragon Master. Can he learn to train dragons and unleash their special abilities?
Buy Rise of the Earth Dragon by Tracey West from Amazon here.
33: Goodnight, Dragons by Judith L. Roth (2015)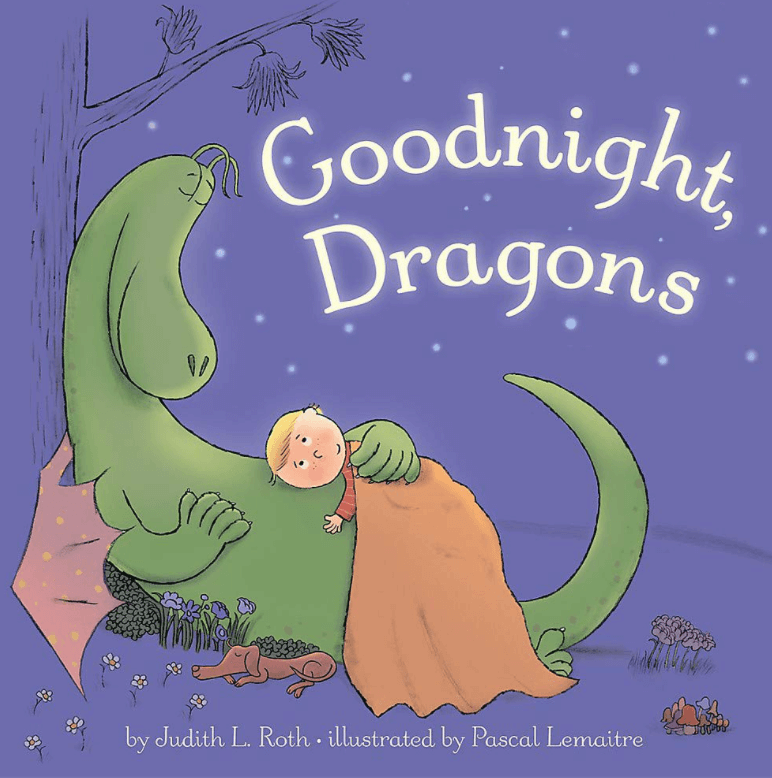 We could all use a cuddle from time to time, especially during bedtime.  Why should it be any different when it comes to dragons?  Judith L. Roth's Goodnight, Dragons narrates the story of a dragon tamer who appears at bedtime to put the fire breathers to sleep.
Determined to stand out as one of the best fantasy books for toddlers' bedtime, this kid-favorite board book is as soothing and comforting as a warm glass of milk.  The beautiful illustrations by the Belgian-born artist Pascal Lemaître will surely stimulate your little one's imagination in a reassuring way.
Buy Goodnight, Dragons, by Judith L. Roth from Amazon here.
34: Story Thieves by James Riley (2015)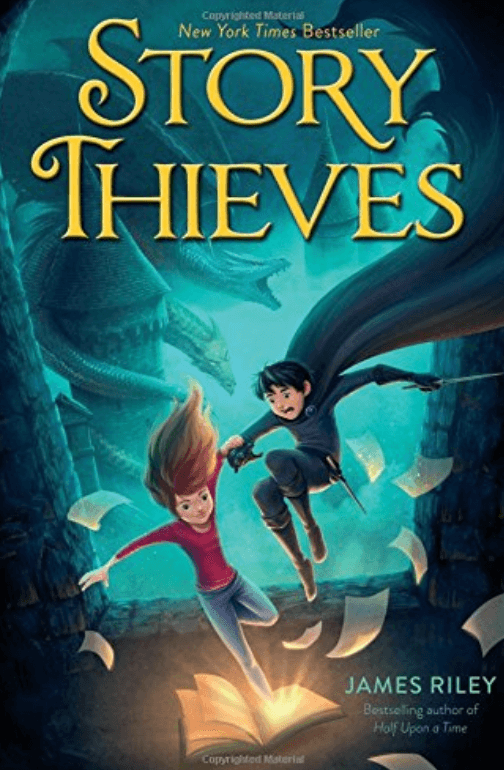 From the veteran author of the Revenge of Magic series and Half Upon a Time trilogy comes Story Thieves, lauded as a children's fantasy classic. This story within a story fantasy book has it all. Set in a school library, readers are walked through the adventures of Bethany and Owen, classmates who venture into the story of the new Kiel Gnomenfoot book.
It all starts one day when Owen sees his classmate Bethany emerging from a library book.  He later learns that she goes into the story looking for her missing dad. Will Owen step up to the plate to be the hero of the day? Plunge into this heartwarming fantasy story to cheer on the two classmates.  It's a laugh-out-loud romp that, by the end, will leave you yearning for more.
If your child enjoys this book, you might want to check out other best fantasy books for kids in the series, including The Stolen Chapters, Secret Origins, Pick the Plot, and Worlds Apart.
Buy Story Thieves, by James Riley from Amazon here.
35: The Adventurers Guild by Zack Loran Clark and Nick Eliopulos (2017)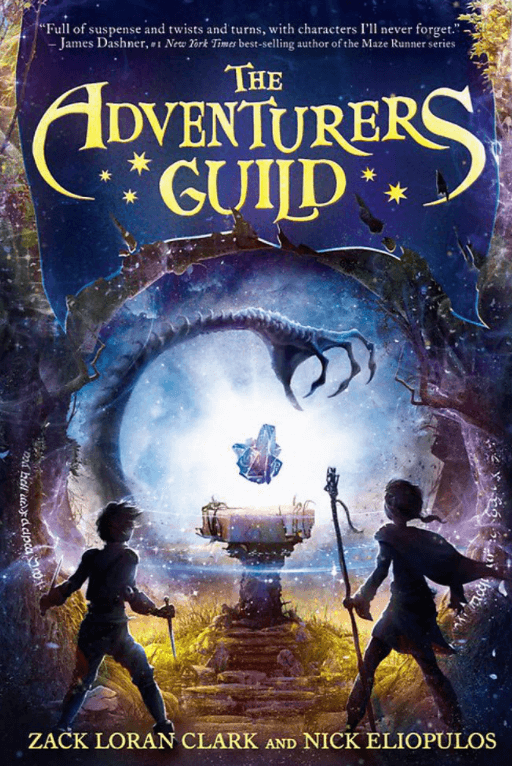 Two brilliant minds of children's fantasy, Zack Loran Clark and Nick Eliopulos, joined forces to whip up a book about magic and monsters. That marvelous book is The Adventurers Guild, and it's a dazzling, engaging, full of humor & suspense tale. Every middle-school-age child will flip over this beautiful story of bravery, courage, and resilience.
The adventures of Brock and Zed will leave you on edge of your seat as they work their way to gain Mages Guild status.  When it seems they have nearly achieved their goal, they unearth a conspiracy that can bring down their lovely land of Freestone. To save the land, they must battle otherworldly monsters, dodge magic, and finally prove their worth. No one said it was going to be easy.
Buy The Adventurers Guild by Zack Loran Clark and Nick Eliopulos from Amazon here.
36: The Hazel Wood by Melissa Albert (2018)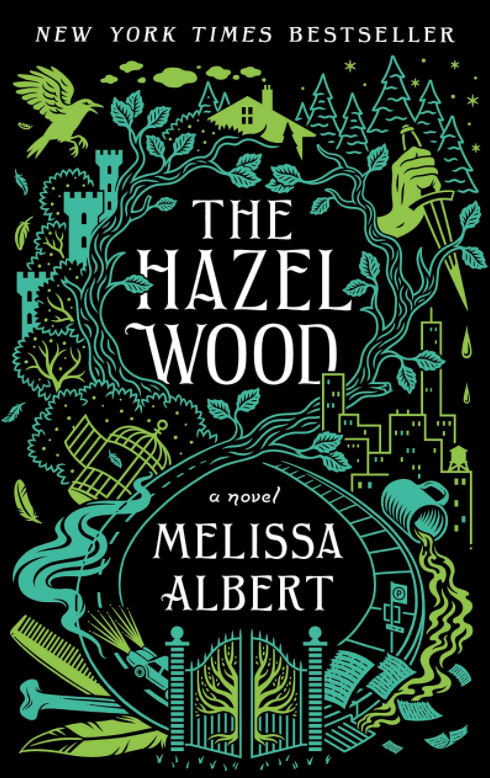 Hold onto your hats, kids. Melissa Albert's story-weaving skills are coupled with an adventurous plot make The Hazel Wood a fiercely captivating fantasy you will love from beginning to end.  This New York Times bestseller adds a lighter twist to Lewis Carroll's iconic Alice's Adventures in Wonderland, the first entry on  this list.
A message left by Alice's mom reads: "Stay away from the Hazel Wood." This happens to be her last communication before she suddenly disappears.  With no other viable solution, Alice decides to make a run for it into the forbidden land in search of her dear mom.  Along the way, she encounters a scary host of mysterious happenings and odd-looking creatures.  This page-turner is surely worth the hype.
Buy The Hazel Wood by Melissa Albert from Amazon here.
37: Once Upon A World: The Little Mermaid by Hannah Eliot (2018)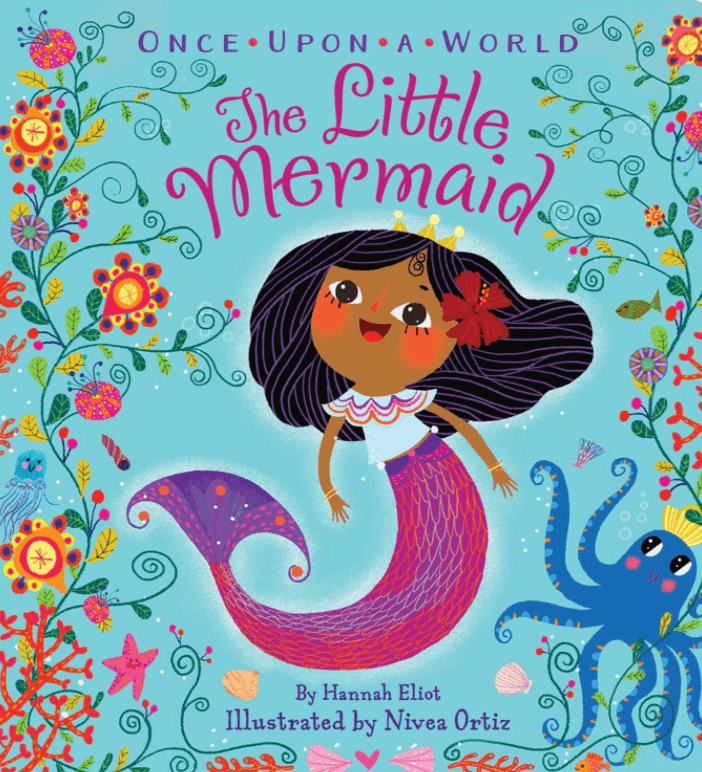 If your little princess is ready to ease into the fantasy realm, Once Upon A World: The Little Mermaid may be the best fantasy book for her.  You will appreciate how the timeless fairytale is refreshed with this lively multicultural take on Hans Christian Andersen's children's classic, The Little Mermaid.
The Little Mermaid has always longed to discover more about the world beyond the sea.  When she finally visits, she falls hard for a land prince. But how will their love survive when they are so different?  An ocean witch decides to give the Little Mermaid a potion that will transform her into a human, so she can join her new-found love. There is a catch, though: the potion will not work if the prince doesn't love her back.
The Caribbean setting and gorgeous illustrations by Nivea Ortiz make this reimagined tale irresistible and memorable.
Buy Once Upon A World: The Little Mermaid by Hannah Eliot from Amazon here.
Why Introduce your Child to Fantasy Fiction?
Fantasy fiction is a popular genre rooted in fairy tales.  Some parents disapprove of fantasy books because they believe such stories will disturb or otherwise confuse their children. Others dismiss the genre, saying this form is just too childish, silly, or a waste of time.
This thinking could not be farther from the truth.  Even at a tender age, children are quite able to differentiate reality from fantasy.  For some time, research in child development has consistently revealed that imaginative play and fantasy fiction may benefit children in multiple ways.
– Reading fantasy fiction stimulates creativity
Just like imaginative play, fantasy books help kids get their creative juices flowing.  Creativity is a learned ability adults often take for granted. It is part skill (something acquired through practice) and part innate ability (a trait present from birth). Much like any other life skill, children must continuously stimulate and engage their creativity in order to build upon it and preserve it.
By introducing your child to new ways and ideas of imagining the world, fantasy fiction can be an incredibly powerful tool for boosting creativity.  It may also help enhance self-control skills and develop working memory, both of which can help the child in school and in life.
– It increases empathy in children
Research suggests that captivating and imaginative stories are good at making us see situations from different perspectives. This can be particularly effective at dismantling hurtful stereotypes, assumptions, and expectations.  Studies also note that reading fantasy fiction may be one of the most effective ways to change one's opinion of others. It can really help alter our views about people who seem to be different from ourselves.
When reading nonfiction books, a region of the child's brain constantly judges, gauges, and analyzes both content and context.  Analytical thinking is entirely appropriate for this activity, but it doesn't do much to break down stereotypes and negative assumptions.
In contrast, when a child is immersed in an engaging fantasy story, he or she is more likely to become emotionally invested in the characters and to develop genuine feelings of empathy that can influence interactions with others in real life.  The best fantasy books help children see the world in a more empathetic and accommodating way.  Imagination is the element that makes it possible to put oneself in another's shoes and genuinely question perceptions of the world as it is seen and understood.
How does it feel to be poor, chronically sick, or to have a disability?  How would you view the world if you were a celebrity, a king, or a crocodile?  How does it feel to be abused, pampered, or scared?  By virtue of being imaginative, fantasy fiction entices young minds to think in new ways about other people and life situations, thus helping them see the world differently.
– It helps children work through fears in a healthy and effective way
Confidence is the best gift you can bestow upon your child, but their fears can sometimes get in the way.  By reading fantasy stories, children can more easily confront their fears and hopes. 
Where do we come from?  Where will we go?  Is there anything for us after life?  Believe it or not, kids have these big questions running in their minds even at incredibly young ages. Embracing the world of fantasy helps children face what enchants and frightens them.  The stories help them work through fears, gain more confidence and become braver.
– Reading fantasy helps children improve inference and interpretation skills
It may not seem obvious but reading fantasy fiction teaches kids to notice details and make better interpretations of what they hear or see. They begin questioning everything around them.  Does happiness have a color?  What animal is my best friend?  Which creature would I like to be?  Who would make a great fish in class?
– Reading fiction can help children learn to socialize
Fantasy fiction teaches children important life lessons about the way our communities, society, and world work.  For example, characters in fantasy stories play with their friends, go on adventures together, ride the bus together, eat together, and often share.  This helps teach youngsters about the importance of appropriate socialization, sharing, and acceptance.
– Reading helps build vocabulary
Words are the fundamental building blocks of effective communication.  Having a solid vocabulary makes it easier to communicate in a more meaningful way.  As teens prepare for standardized tests such as the ACT and SAT, a good vocabulary can be especially handy.  It pays to help your child develop a strong vocabulary early, whether it's a 2-year-old, a 4-year-old, or a teen about to graduate from high school.
Great books, whether fantasy fiction or creation non-fiction, have been known to help build vocabulary.  As children dive into the stories, they see phrases and words in their proper context.  With time and repetition, they will fully understand their meanings and appropriate usage thus making children better communicators and improving relationships as they grow more articulate about thoughts and feelings.
You Might Also Like: