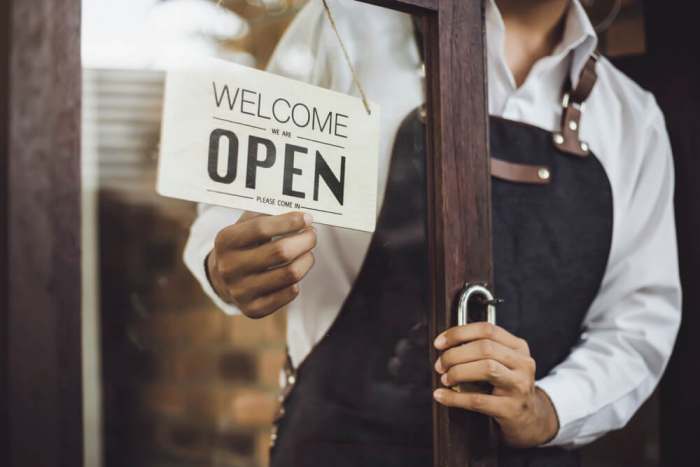 It took a while, but a long-empty Old Town venue is back in action, despite the pandemic restrictions. Just opened near Wells and Division, Uproar is filled with fun drinks and late-night munchies. It's the inaugural project from a new project made up of members of Ohio-based Forward Hospitality Group and Chicago restaurant veterans.
Uproar opened the third week of October, and it's named after the ownership group, Uproar Hospitality, which is comprised of four partners including Dante Deiana. Deiana is also a partner of the Forward Hospitality Group, based in Ohio.
Uproar Hospitality Group is independent of the Forward Hospitality Group, and its first project has gutted the space where Salpicon, a modern Mexican restaurant, stood for 22 years at 1252 N. Wells Street. The new owners have big plans for the new restaurant, despite the ban on indoor dining due to the pandemic mandates. Right now, the first floor features a takeout window in the back and a bar upfront, that will eventually stay open late into the night. For the time being, carryout and delivery are available on Uber Eats, Grubhub, and DoorDash.
Refined American Fare
Chef Jamie Fischer, best known for Cindy's Rooftop and S.K.Y., serves up classic American diner fare with a refined finish. Uproar's menu is divided into two categories, "vintage" and "modern". The vintage menu includes hush puppies stuffed with white cheddar with a side of Crystal Hot Sauce and an Uproar Burger, topped with "special sauce," and Hook's aged cheddar. The modern menu features squash soup, seasoned with yellow curry, giardiniera, and toasted pepitas as well as a fried chicken sandwich served with Calabrian chili. The restaurant also features family meals, rotating weekly. For example, one family meal features Japanese-style fare such as pork gyoza and matcha cream puffs for dessert. The Americana family meal features short rib pot roast and apple cobbler for dessert.
Uproar's Bar
Right now, the bar is using the large garage doors on Wells Street, and offers beer, wine, and cocktail kits to go. Uproar's drink selection a wide selection of affordable beer, including an entire section dedicated to the "Champagne of Beers," Miller High Life. Between both floors, there's room for around 100 guests, once the Covid restrictions are lifted. Uproar includes two bars and various lounges decorated with bold, geometric shapes, busy modern wallpaper, geometric shapes, and a big pink neon hand making a peace sign. There is also a tented, sidewalk patio that can accommodate 40 people, decorated with purple lights, and kept warm with several large heaters.
Future Plans
Eventually, the owners want to replace the second-floor windows with ones that can open up. While the COVID-19 protocols remain in effect, that could help airflow for a safer operation. However, there is no timeframe for making those structural changes.
Once the restrictions are lifted, and patrons can once again gather indoors, the restaurant plans to host music that will be the best in the city, featuring DJ sets including sounds from rockstars, pop performers, and of course, Motown legends. Uproar also plans to host live music.
One Uproar partner, Dante Deiana, is a promoter and a DJ who was on the Barstool Sports Blackout Tour. Deiana is also a partner in the Forward Hospitality Group, the same company behind Shake-It, a Ukrainian Village burger bar that should be premiering soon. Shake-it chef is Jonathon Sawyer, a James Beard Award-winning chef est known for Adorn, the new eatery at the Four Seasons hotel near the Mag Mile.
Uproar is at 1252 N. Wells Street. Call (312) 643-0797 for carryout and delivery, or go online. Uproar is open at 5 p.m. Tuesday through Friday, and at noon on Saturday and Sunday. Please call for the closing time.