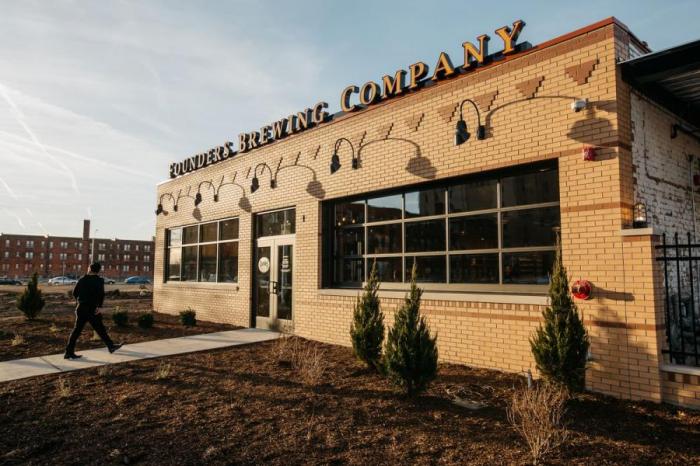 At least 18 restaurants and bars across Chicago have cut ties with a brewery company following racism allegations.
The West Town-based Fifty/50 Restaurant Group has announced it will no longer purchase from Founders Brewing Co in light of its racial discrimination controversy.
The group has also donated 100% of its recent profits from Founders products to Polished Pebbles Girls Mentoring Program, a Chicago group that works with black and Hispanic girls in Chicago and northwest Indiana.
Fifty/50 has come full circle after it planned a three-keg Founders Tap Takeover at Roots Handmade Pizza in West Town before the allegations came to light.
The event still went ahead, however, with all profits donated to the Polished Pebbles. Proceeds from the Founders' 2018 Canadian Breakfast Stout, 2018 Kentucky Breakfast Stout, and 2019 Kentucky Breakfast Stout were also all donated to the charity, totaling around $3,000.
Read more: Logan Square boasts a new brewery and taproom
Fifty/50 co-founder and co-owner Scott Weiner said in a statement: "We pride ourselves on working with companies that champion their employees and uplift their communities.
"We booked this Founders event months ago, and we want to turn their negatives into positives for our community."
Weiner told the Chicago Tribune that the Fifty/50 would not work with the company "until we know Founders has publicly stated and put into action a proactive plan to address the racial discrimination issues within their company."
The bar and restaurant chain has announced that it has some beer left from three seasonal kegs, and that sales of this will also go to Polished Pebbles. Fifty/50 now joins a prestigious list of great Chicago companies who give back to the community.
Complications for Founders began back in 2018 when Tracy Evans, a former manager who worked at Founders' Detroit and Grand Rapids locations, filed a racial discrimination lawsuit against the company.
Evans claims he was fired in retaliation for reporting discrimination matters to the company and has claimed he was subject to a "racist internal corporate culture" at Founders' Detroit taproom.
The former employee claims the use of the "N-word" was used repeatedly during his time working with that company and that one printer was labeled "white guy printer" while another was labeled "black guy printer."
After many difficult months, the sequence of events led to Graci Harkema, hired in January as Founders' diversity and inclusion director in an effort to address the lawsuit, resigning.
Read more: 14 Chicago restaurants open on a Monday night
In a tweet, she said: "'Believe in something. Even if it means sacrificing everything.' I greatly appreciate friends and family for being supportive and standing by my side.
"I have dedicated myself to a life and career of equity, ethics, integrity, and morals. I have resigned from Founders Brewing Co."
In her letter of resignation, Harkema wrote: "You are most concerned with the ego of 'winning' than you are about the loss of customers, loss of reputation and loss of employees' well being."
Last year, the company came under scrutiny from the LGBTQ community and its supporters when the Grand Rapids Chamber of Commerce endorsed a Michigan Republican for governor who led the anti-gay-marriage push in the state.
Despite calls for the beer company to cut ties with the Chamber, Founders instead released a statement, saying "We're into beer — not political endorsements."