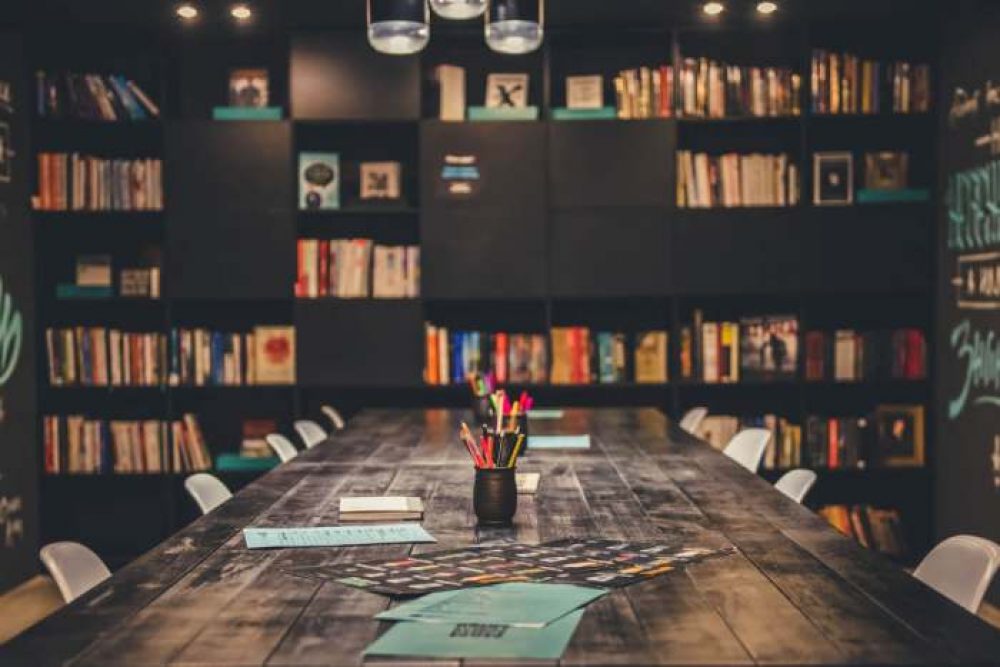 Great news for books, coffee and theater lovers in the area. A dual bookstore and cafe opened March, 25th in Andersonville, aiming to become a third space for the city's theater and creative communities.
The Understudy, owned by married couple Adam Todd Crawford and Danny Fender, opened last Saturday at 5531 N. Clark St. after hosting a soft opening Wednesday.
Although it took longer than predicted (the launch being first announced for last August) to be completed, the finished space is a great combination between a coffee house and a bookstore, promising to also host theater and other artistic events, according to the owners. 
"I want it to be a place people can come in and be curious," Fender said.
"There are so many artists in the neighborhood," Crawford said. "That's what we wanted from the beginning, a place where people can come and test out ideas."
The books, the theater, the lounge
The Understudy bookstore, which also looks like an old style library, sells theater-themed books. That includes a fiction section with works by playwrights, titles that have been adapted for the stage and stories about the theater. You can also find here theater scripts, books on theater production and arts management and a young adult/children's section. It also has  stationary and theater-themed greetings cards you can choose from for all your theater loving friends and family members. 
Local playwrights and theater professionals rotate to select books for the display tables, to ensure everyone finds a title to their heart's content. 
"There's something for everyone here whether or not you're a theater professional," Fender said.
The bookstore half of the business also has a lounge with plush sofas, high-top tables, velvet curtains, featuring as the main piece a piano, manufactured in Chicago in 1013, and salvaged from Ohio by the mother of one of the owners.
The lounge will also serve as an event space, and the book display tables can be moved away in for larger events. A reading event is already planned with Bramble Theatre, which is opening on the same block as the Understudy.
The owners plan to use the space for many other events, including family oriented ones, as children's story time, and they are even open to suggestions.
"We want this to be a space where people come to use and say, 'I have an idea for the Understudy,'" Crawford said.
The coffees, teas and pastries
The Understudy serves Metric coffee drinks and tea drinks from Lakeview's The Coffee and Tea Exchange, while you can sample baked goods from Edgewater's pHlour and Andersonville's Defloured, which specializes in gluten-free pastries.
The owners really paid close attention to details in design and layout: from colorful wallpaper of dragons and other fantastical creatures to a gold-trimmed archway to connect the spaces, going to the bathroom and hallway wallpapered with pages from play scripts, many of them including handwritten notes from the reader, the interiors, signed by Siren Betty Design and Raw Bldg Concepts, really reflect the owners' outlook on things.
The space Understudy opened in, situated at the corner of Clark and Gregory streets, was empty since 2017, after last operating a Chase Bank. 
Mixed experiences to attract new clients after the pandemic 
After the pandemic, it became even more apparent that new businesses had to offer much more than a product to attract customers. Every new endeavor needs to be more of a concept, with services catering a wide variety of tastes. For instance, The Cauldron, a United Kingdom-based chain, will be expanding to Chicago's Wicker Park. The chain, which has six locations worldwide, will open this new spot, their third – and largest – in the US, on May 4th. As the name tells, the restaurant has a wizard/witch theme, making it a magical experience for all, with whimsical drinks on the menu which bubble, smoke, and change colors.
For those who treat coffee not as a simple beverage, but as a fashion statement of how to live in style, Ralph's Coffee, the highly photographable coffee shop from fashion brand Ralph Lauren, opened its first Chicago location last fall, inside the brand's flagship store on Michigan Avenue.
Last June, Stage 773 launched its new concept Whim – a complex immersive theater and art experience, complete with self improved cocktails.
An idea in the making for more than a year
True to this new trend of mixing products and services to cater to a more diverse clientele, Crawford and Fender began working on the Understudy in 2021.
After recently graduating from The Theatre School at DePaul University, Crawford, an actor, and Fender, a freelance stage manager, found themselves into a theater industry severely impacted by the pandemic.
The two began thinking about the theater spaces available to those in the industry and dreamed up the bookstore-cafe business. It became evident to choose Andersonville, since it is close to  many storefront theaters and production companies.
The couple got married late last year and somehow managed to also work to open the business. But, since people were already knocking on their doors and windows asking when the shop will open, they said, and the posts on their social media after the grand opening show the store full of people, their bet might be a winning one.
The store is open Monday through Friday from 7 a.m. to 7 p.m.