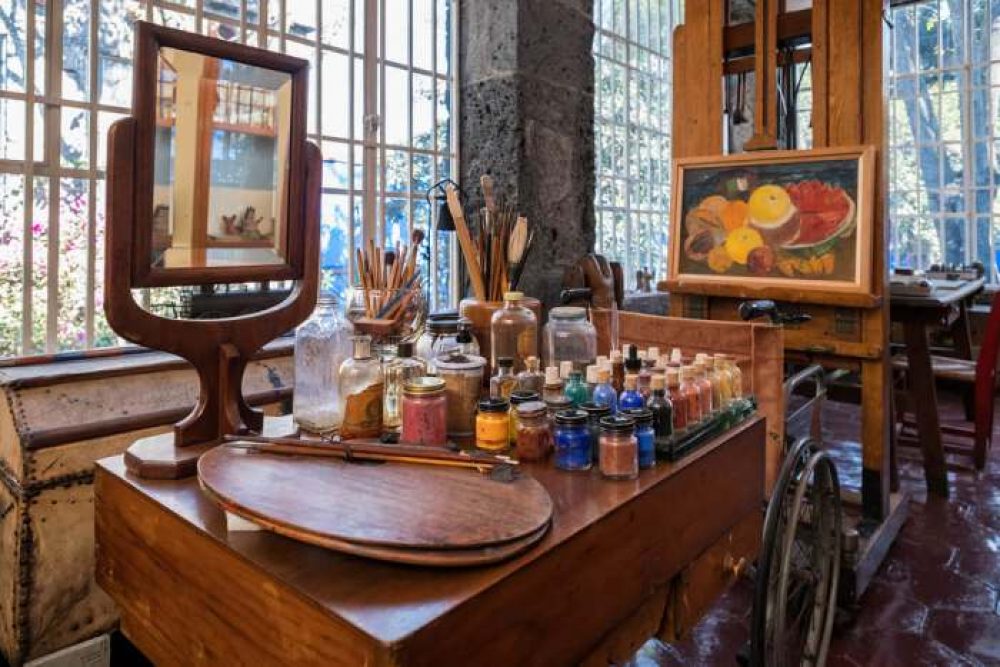 In February 2022, the very popular yearlong run art exhibit "Immersive Van Gogh" at the Germania Club Building in Old Town will be replaced by a new visual spectacle, Frida:Immersive Dream, announced November 30th and dedicated to the work of Mexican painter Frida Kahlo by production company Lighthouse Immersive.  
A very difficult, yet full life, dedicated to art and activism  
Magdalena Carmen Frida Kahlo y Calderón (6 July 1907 – 13 July 1954) was a Mexican painter known for her many portraits, self-portraits, and works inspired by the nature and artifacts of Mexico. Inspired by the country's popular culture, she employed a naïve folk art style to explore questions of identity, postcolonialism, gender, class, and race in Mexican society. Her paintings often had strong autobiographical elements and mixed realism with fantasy. It is difficult to subscribe Frida Kahlo's work to a single current, because, in addition to belonging to the post-revolutionary Mexicayotl movement, which sought to define a Mexican identity, the artist has been described as a surrealist or magical realist. She is known for painting about her experience of chronic pain, she had polio as a child, which left her disabled, and later suffered a horrific bus accident with severe consequences for her health. 
Frida Kahlo became the first Hispanic woman to be honored with a U.S. postage stamp in 2001, and was included into the Legacy Walk, an outdoor public display here in Chicago that celebrates LGBT history and people, in 2012.
Animated video projections of Frida's most iconic pieces
Kahlo, whose work famously melds elements of folk art and magical realism, is perhaps best known for her self-portraiture and portrait work (like "Diego and I," which recently sold for nearly $35 million at a Sotheby's auction). In the same technique as the van Gogh exhibition, "Frida: Immersive Dream" will showcase animated video projections of some of the artist's most iconic paintings, including works like "The Two Fridas" and "The Wounded Deer," alongside a selection of drawings, iconography and photographs of the artist at various stages of her life.
The images have been rendered in digital format by Italian designer Massimiliano Siccardi (who also worked on "Immersive Van Gogh"), with an accompanying score from composer Luca Longobardi. But if you have seen "Immersive Van Gogh", you should not expect the same in the Frida kahlo exhibition. In a statement, Lighthouse Immersive producer Corey Ross said the Kahlo exhibit's presentation is "very distinct" from the style the team used in presenting van Gogh's paintings, jumping around eras of the Kahlo's work in an attempt to illuminate themes from the artist's life, from her feminism to her involvement in the Mexicanidad movement. 
"[Siccardi] does not try to unify the many styles Kahlo used in her lifetime, but instead, presents them to us as a series of kinetic tableaus that may initially contradict—but eventually illuminate—each other," Ross said. 
Since by the end of March "Immersive Van Gogh" had sold more than 150,000 tickets, there is a reasonable expectation the new art show will do equally well, so it might be a good idea to get   tickets for "Frida: Immersive Dream" which are on sale now and start at $39.99. 
The exhibit will open at the Germania Club Building on February 24, 2022 and is scheduled to run through May 28, 2022, with additional displays in cities like Boston, Dallas, Los Angeles and Denver. In the meantime, take a sneak peek at the colorful experience below.
Over three thousands moving digital interpretations of Van Gogh's paintings
Although the current immersive exhibition of Van Gogh paintings is on its last leg, people are still  interested. "Immersive Van Gogh" contains over three thousand moving digital interpretations of the famous artist's paintings which are projected all around the walls, while classical music is playing in the background. The most popular paintings of Van Gogh, such as Starry Night and Sunflowers, were transformed into a three-dimensional world that people who see the exhibition can freely explore and experience. This multi-sensory experience is made possible by the one hundred and fifty high-definition projectors which create life-like floor-to-ceiling images. The exhibition's curators promised a one-of-a-kind experience which would be even better than seeing the real paintings in a museum, and they sure delivered. The magnitude of the images allows guests to really see details and the brush strokes that would have been otherwise missed by the human eye in a regular museum.
Van Gogh, a smashing hit imprinted on ice
This exhibition appeals not only to regular art lovers, who already know all there is to know about the masterful creators of the Parisian Atelier des Lumières, Van Gogh included, but also to younger generations who probably enjoy the digital masterpiece more than the painter's original work. Either way, the exhibition seems to be a smash-hit experience that has attracted, according to its creators, more than two million visitors.
 "Immersive Van Gogh" was such a success, that the images have been translated onto ice, at The Maggie Daley Ice Skating Ribbon in the Loop, for people to appreciate them while gliding over. Thus, the experience of the three-dimensional art exhibit hosted by the Germania Club Building since February became available for outdoor winter activities lovers. The slender rink features static designs inspired by van Gogh's "Starry Night" and "Sunflowers" series embedded in the ice. The quarter-mile-long ribbon is open seven days a week for four daily sessions (11am–1pm, 2pm–4pm, 5pm–7pm and 8pm–10pm) through March 13, if the weather permits it. And who knows, maybe next winter we could skate over some of Frida's masterpieces.