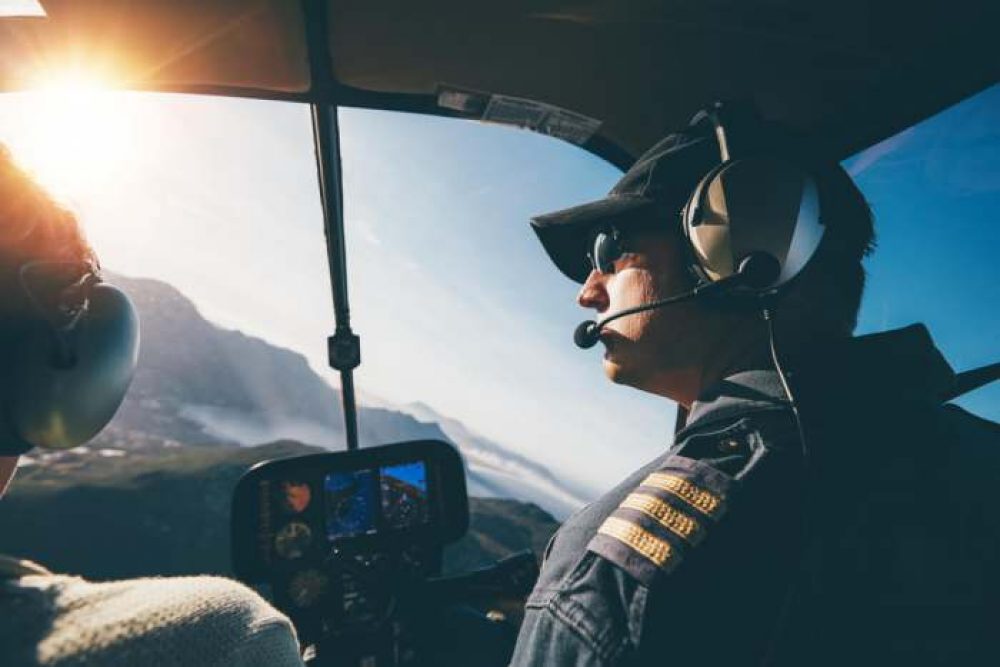 Today we are going to walk you through some of the best gifts for pilots, including nifty gems that are bound to make them feel like they're on cloud 9.
Shopping for the pilot in your life can sometimes feel a little challenging, if not overwhelming, especially for anyone outside of the aviation industry. After all, pilots travel the world, so they have seen that and done that, not to mention they often purchase what they need, when they need them.
Pilots belong to a special group of people who seem to have it all, making it more challenging to gift-shop for them. Lucky for you, being a pilot comes with all kinds of requirements and a specific lifestyle, so there are particular items that they need on the ground, in-flight, and even beyond the airport to both have fun and do their job, which typically happens at thirty thousand feet.
As such, when it comes to shopping for a gift for the pilot in your life, whether you are their best friend, family, or colleague, you'll want to ensure that's something they will actually love and use. It is all about getting a fantastic yet meaningful and thoughtful present.
Best gifts for pilots can be roughly broken down into a handful of categories.
First of all, some high-tech gadgets and gizmos are poised to make their lives easier and more hassle-free in the crew lounge and cockpit. These cut the price gamut from luxury pilot timepieces and aviation headsets with eye-watering price tags to wallet-friendly essentials like universal travel adapters and portable charger power banks.
Then there is stuff that helps make their life at home while off-duty more aviation-themed. Talk about wall art, whiskey sets, and even aeronautically-themed apparel for the fashion-forward pilots who are looking to add more dapperness to their outfits.
Of course, you can't forget about essentials that pilots can do without in their day-to-day lives, such as travel bags, sunglasses, coffee mugs, water bottles, and key chains.
Ready to start shopping? Here are the 17 best gifts for pilots you can get right now, including the best picks for on-duty, off-duty, and pilot's everyday lifestyle.
Best On-Duty Gifts for Pilots
It's sort of obvious, but pilots spend most of their time in-flight at 30,000 feet or the airports processing their flight plans, so they basically live out of their travel suitcases. However, choosing the best on-duty gifts for pilots almost always comes down to knowing their cockpit habits really well.
Most pilots stock up their suitcases with what they need when they need them, so, likely, most of these items are already in there. Well, don't be afraid to ask their workmates about what they may not already have in their suitcases.
Finding the most meaningful and helpful in-flight for pilots is not supposed to be a huge hassle. Here are some of the best flight-deck accessories often sought after by the FAA certified.
1- "Don't Worry I'm a Pilot" Travel Mug
Amazon
Pilot and Amazon user DBrown raves about this cheeky aviator-approved travel mug, commenting: "Great tumbler! It keeps ice from melting in 100 degrees Texas summer for hours outside! Love love love!" 01/12/2023 Indeed, this stainless steel tumbler with a spill-proof lid will spark a smile on your favorite pilot's face during an arduous flight.
Whether the pilot in your life loves hot chocolate, tea, or coffee, delight them this season with this matter-of-factly yet fun-looking travel mug. The tapered base makes it easy to fit any standard aircraft and car cup holders. The travel mug's easy-to-grip design also makes it easy to grab whenever you need to take a sip on the move or in the flight deck.
Your pilot loved one will appreciate that this black and silver beauty features a sliding enclosure and silicone gasket seal to keep their drinks cold or hot for hours on end. We love the tongue-in-cheek artwork on the travel mug, plus the fact that it arrives in gift-ready packaging. What more could you ask for?
Pros
The tongue-in-cheek graphic is a good conversation starter

It fits most cup holders thanks to the tapered base

Features spill-proof lid with sliding enclosure
Cons
Lacks double-walled vacuum insulation present in most stainless steel travel mugs

Has no handle
2- Wacaco Minipresso NS, Travel Coffee Maker
Amazon
If you ask any pilot what they want in an on-duty coffee maker, you will most probably hear phrases like "portable," "lightweight," "fast-brewing," "versatile," and whatnot. This ultra-portable travel coffee maker from Wacaco checks all those boxes and then some. And, above all, it's recommended by almost all pilots who have owned this minibeast Nespresso coffee maker.
Why is this gadget the perfect in-flight accessory for pilots? For one thing, this machine is compact and incredibly lightweight at just 350 grams (0.78 pounds). That makes it one of the lightest and smallest yet most potent handheld espresso machines out there, not to mention it doesn't need any electricity or batteries to operate.
Using this coffee maker is a cinch, too — simply add hot water to the reservoir, add some grounds to the filter basket, and start pumping out your hot brew using the semi-automatic piston. It's that easy and hassle-free to brew a cup of joe using this compact gem. The majority of pilots who have reviewed this product say this travel coffee maker makes for an excellent present, as well. Amazon reviewer Robert H. Johnson sums it up perfectly, "Saves your friggin' life." 01/12/2023.
Pros
Highly portable, compact, and lightweight

Expertly designed and reasonably priced

Easy to use and effortless to clean

Makes great gift
Cons
The plastic construction makes it feel cheap and less durable

Too many components

Semi-automatic piston sometimes difficult to pump
3- PILOT Namiki Falcon Collection Fountain Pen
Amazon
Quite frankly, most pilots could use a good fountain or ballpoint pen, according to most surveyed frequently-flying pilots. A pen is one of the hardest things for a pilot to remember, and you might just earn serious cookie points by giving him this premium-quality fountain pen with a black barrel and gold accent.
Pilots have a ton of paperwork and documents to fill, such as flight plans, so it's vital to always have a high-quality, easy-to-remember pen in your pilot bag. This highly recommended pen is not only fancy and elegant thanks to its jet black barrel with gold trim, but it's also flexible and awesome to use with a hooded nib that yields effortlessly to your writing habits.
The pen actually sports a 14-karat gold writing nib that goes perfectly well with most pilot uniforms. Of course, many people will flip over the PILOT brand greatness and the pen's gorgeous look and feel. What's more exciting, this pen is part of the brand's renowned Falcon Collection, making it an excellent gift for any collector pilot who may want to add this beauty to their own repertoire. 
Pros
Premium-quality pilot pen from a trusted and well-known brand

Superior craftsmanship with quality weighting and feel

Fun, high-end writing experience

Competitive price for a 14-k gold nib fountain pen
Cons
The presentation box is too simple 

Only available in limited colors
4- Anker Portable Charger Power Bank
Amazon
Unlike automobiles, commercial aircraft don't come with dedicated outlets or USB ports for charging your smartphone, tablet, or other personal electronics. Hence, a power bank, portable charge, or backup battery is a must-have for any forward-thinking pilot. Your pilot friend probably has some kind of backup battery, but this portable charger-cum-power bank from Anker is a sure upgrade.
This is one of the handiest and niftiest things a pilot can have handy in their travel suitcase for in-flight convenience. They can use this compact power bank to juice up their phones or other small devices. Not only is this device a convenient gift for a pilot because most old-style aircraft are not fitted with outlets for charging accessories, but it also boasts a powerful 20kmAh battery pack that can deliver a whopping five full charges for most of the leading smartphones and tablets, including those from Apple, Samsung, Huawei, and Google.
Your pilot friend will enjoy the versatile charging of this device, as it can charge two gadgets at once with the twin USB output ports. Plus, it comes complete with a travel pouch that allows you to tuck it away safely in your suitcase. This slim, compact, and sleek-looking power bank weighs just 350 grams, so it is easy to carry on any flight. 
Pros
Extremely high cell-battery capacity

Solid and durable build

Lightweight with compact size

Handy LED capacity indicators
Cons
It tends to collect smudges and fingerprints

It won't power a USB-C laptop or tablet
5- Bose A20 Aviation Headset with Bluetooth
Amazon
If you want to give your pilot friend, colleague, or loved one a great gift that they will actually love and use, you won't go wrong by upgrading their headset. Most pilots, especially solo and charter-plane pilots, begin their training and job with a relatively basic, low-budget unit. As such, if you want to give them something extraordinary, you should buy them the Bose A20 Aviation Headset.
Often considered the Rolls Royce of aviation headsets, the A20 is one of the most sought-after and coveted things in the pilot circles. And with good reason — it's incredibly comfortable to wear both on and off-duty, especially for long flights, offers a superior listening experience, and boasts well-above-par active noise cancellation properties. 
Your pilot recipient will enjoy the durable comfort of this headset, plus the crystal-clear audio quality. The earcups feature pliable foaming for secure, extra-comfy hold all flight long, and the head strap has thick padding for added softness. Add Bose's top-notch service and industry-beating warranty, and you've got an unbeatable headset.
Did we mention that the Bose A20 comes with Bluetooth and allows you to combine numerous audio signals?
Pros
Boasts Bluetooth capability

Unique audio controls allow users to mute or combine multiple sound signals.

Enjoy no distractions thanks to a noise-reduction feature

Comfortable, all-day wear
Cons
If not handled properly, the door of the battery may break
6- Hatori Mini LED Flashlight 
Amazon
Let's face it; a flashlight is a must-have for every pilot. Scoring the best flashlight is crucial for a pilot who wants to maintain great visibility while checking flight instruments without being bogged down by an awkward, full-size torch. The best flashlight for a pilot is a small to medium-size unit with a great beam length, as the pilot should have visibility of the top of the aircraft's fin.
For this job, keychain units may be adorable but not useful for pilots. This mini LED flashlight from Hatori is what the doctor prescribed for this particular task. The pocket-size flashlight is about 3.5 inches (9 cm) long, and even when battery-loaded, it tips the scale at just 30 grams (an ounce).
Despite the compact size, this flashlight packs a punch with about 150 lumens, making it an ideal choice for short spells of light during or pre-flight. It can easily fit inside any pocket or onto backpacks without getting in the way.
Pros
Lightweight and pocket-sized

Incredibly powerful

Snow and rain-proof
Cons
Only useful for short spurts of uses
7- Samsonite Omni PC Hardside Expandable Luggage with Spinner
Amazon
Every pilot must have a suitcase carry-on. It is incredibly durable yet lightweight and handy; a carry-on suitcase is the best thing a pilot can have since it offers ample carrying space, practicality, and organization for easy travel. Your pilot friend probably has a large suitcase for multi-day layovers and vacations, but this compact cousin will make for no-hassle, last-minute packing.
If this sounds like the perfect gift for the pilot in your life, you won't be disappointed with this polycarbonate carry-on case from Samsonite. The top-notch construction and sleek incredible looks make the Omni PC one of the best carry-on cases right now.
It features tie-down straps, two extra-roomy packing compartments, and a TSA-approved lock built into the design, making it an excellent option for a frequently-flying pilot. You can also get a 28-inch or 24-inch model for someone who needs more packing space.
Pros
Extra roomy packing space

The micro-diamond texture looks great and is resistant to scratches
Cons
It tends to tip over when fully-packed
8- Lightspeed Aviation Leather Flight Bag
Amazon
If you'd rather get your pilot friend a flight bag instead of a carry-on suitcase, then look no further than the Lightspeed Aviation Leather Flight Bag. The ample size of the Markham flight bag makes it a meaningful gift for every pilot. They can use this flight bag on duty or when they aren't out on the flight deck.
We love that this flight bag boasts an abundance of storage space for documentation, flight logbooks, headsets, devices, and whatnot, plus it comes with plenty of pockets for the smaller accessories and essentials. Give this gorgeous and durable flight bag to help your pilot friend stay organized.
Pros
Many pockets and ample storage space

Durable leather construction

Incredibly durable and stylish
Cons
Has no laptop compartment
Best Off-Duty Gifts for Pilots
While those high-tech gadgets, flight bags, and other essentials are cool and valuable in-flight, pilots still need heartfelt and meaningful gifts they can enjoy and use while off-duty. Something is reassuring about getting a gift that is not just about your job but also about making your everyday life more comfortable and more fun.
That being said, here are the best gifts for pilots that they will find helpful and enjoyable outside of the flight deck.
9- Apple AirPods with Wireless Charging Case
Amazon
When it comes to music-listening convenience, it is tough to beat a quality pair of in-ear headphones, and your pilot loved one will appreciate receiving the latest Apple AirPods. Whether they are looking for something for jogging, strutting down the streets of a new city, or just doing chores at the house, these innovative pieces will help them avoid the hassle of needing their iPhone or iPad within reach.
These Apple wireless earbuds are compatible with Siri, so you can do more than listen to music. If your pilot friend has many Apple gizmos in their houses, they will appreciate these beauties. They can be paired with pretty much any Apple device and allow you to switch between them seamlessly. Besides, they're prized for their long-lasting battery life and universal fit.
Pros
Offer a universal fit.

Long-lasting battery life combined with great aesthetics and comfort

Pairs with most Apple devices

Compatible with Siri and comes with a wireless charging case
Cons
One-handed operation not possible

The poor sound quality on the mic
10- All-new Kindle Paperwhite
Amazon
If you know a tech-savvy pilot who loves to read, then the All-new Amazon Kindle Paperwhite is what the doctor prescribed. E-readers have revolutionized the way we read articles, magazines, and books. Instead of wrecking your nerves choosing a book or two to take on your next flight, you can bring thousands of options along with this sleek, easy-on-eyes device.
Featuring thinner borders, adjustable warm light, a large 6.8-inch display, and up to ten weeks of battery life, the all-new Kindle Paperwhite is a gift that every pilot will appreciate. The black and white text on the reader apes the reading experience of pulp, making it easy on the pilot's precious eyesight. Did you know that the revamped Kindle Paperwhite boasts 20 percent faster page turns?
Pros
Faster page turns and easy-on-the-eyes text

Waterproof e-reader

Up to 10 weeks of battery life

Audiobook play over Bluetooth
Cons
The e-reader does not support an immersive reading experience
11- Manduka PROlite Yoga Mat
Amazon
Having a personal yoga mat is an excellent way for a pilot to release tightness in the upper body, alleviate tension, blow off steam, and address issues associated with the lower body due to long spells of sitting during flights. That makes it a handy tool for dealing with the physical, psychological, and mental stress associated with being a pilot during these trying times.
In saying so, if you are shopping for a gift for a yogi pilot, opt for the Manduka PROlite Yoga Mat. It breaks in nicely and is super-soft and grippy. Whether they want to take an entire vinyasa class during off-duty days or pop in a quick downward dog during layovers, give the pilot in your life this beauty that many yogis rave about.
Pros 
Effective non-slip and grippy surface

It comes in multiple colors, including black sage, midnight, and purple

Cozy and soft material helps protect joints from hard surfaces
Cons
Exudes a strong odor right out of the packaging

It can be tough to clean
12- Model Airplane Kits – 24-Hours 18" 1:130 Scale Model Jet United States Air Force One
Amazon
If there's one gift that no pilot can refuse is a model airplane kit. Well, every pilot needs several airplane models in their crashpad. There are two ways you can give models of planes to them.
First, you can give your pilot friend the model of the plane they are flying today. Alternatively, you could provide them with a model kit of their dream airplane – the aircraft they wish they were piloting.
Whether they are into modern commercial airlines, vintage flying machines, or military fighters, there are a plethora of model airplane kits to choose from. For instance, the 24-Hours 18″ 1:130 Scale Model Jet United States Air Force One is an excellent gift for a pilot whose dream is to fly POTUS one day.
Pros
Features LED lights for added interactivity

Gift-worthy

Great decoration for home or office space

Large and very detailed
Cons
Best Lifestyle Gifts for Pilots
Looking for the best gifts for the pilot lifestyle? It makes sense to give something that will fit right into a pilot's lifestyle and day-to-day routine. The following pilot lifestyle gifts are not just affordable; they're also thoughtful and practical.
13- Godinger Whiskey Decanter Airplane Globe Set
Amazon
Help your pilot friend exude an air of class every time they reach to pour a glass of whiskey. A whiskey decanter is also a great way to present an air of sophistication when the pilot offers their guests a taste of a special drink. You have probably seen a suave movie character reach for a stylish decanter to pour a high-ball for their guests or themselves.
So, if you have a whiskey-loving pilot on your gift list, you won't go wrong with this Godinger Whiskey Decanter Airplane Globe Set. The set includes a lead-free decanter with two matching aeronautically-themed vintage whiskey glasses rested on a mahogany stained wooden plane.
Pros
Includes a gold stopper that adds an air of sophistication to the set

Decanter has a broad, spill-proof base

Features detailed and complex aviation-inspired design

Made of high-quality materials
Cons
Holds only 650 ml of spirit
14- Hydro Flask Stainless Steel Water Bottle
Amazon
It's no secret that staying hydrated is a safety and lifestyle issue for pilots. After all, the air is cooler and much drier at 30,000 feet up in the sky. Besides, small aircraft can be pretty hot, so staying adequately hydrated is no small feat for pilots. That's why the Hydro Flask water bottle is a gift of hydration that your pilot friend will be eternally appreciative of.
This wildly popular water bottle features double-walled vacuum insulation, helping keep drinks cold or hot all day. It's also Instagram-worthy, thanks to the colorful and sleek design. The bottle boasts a non-slip powder coating that ensures the outer surface is always condensation-free.
Pros
The slim design makes it easily fit into flight bags and backpacks

Slip-free powder coating

Sleek design available in multiple colors

Keeps drinks cold for more than 24 hours
Cons
Keeps drinks hot from around six hours, which is well below other rivals

Included strap tends to break
15- Ray-Ban RB3025 POLARIZED Metal Aviator Sunglasses
Amazon
Aviator sunglasses are a great gift for pilots, period. Whether they want to look like Tom Cruise in Mission Impossible, a fighter pilot, or just want to safeguard their eyes from the harsh rays, these sunglasses are ready-made for pilots. They add an instant touch of glamor and class to a pilot's lifestyle, both on-duty and off-duty.
When it comes to aviator sunglasses, none can beat the classic appeal of the Ray-Ban RB3025. They feature the classic tear-drop, mirror-coated lenses, and a metallic frame. An eyewear care kit is included in the package. 
Pros
Offers vintage aviator-style sunglasses

Mirror-coated lenses provide 100 UV protection and optimal visual clarity

Blocks out the majority of blue light
Cons
16- Mil-Tec Vintage Aviator Watch
Amazon
Aviator watches are another category of gifts for pilots that get a lot of traction right around the holiday season. While these timepieces are not exactly cheap, you can rest assured the pilot in your life will appreciate them. The Mil-Tec Vintage Aviator watch is one to watch if you want to give something genuinely worth collecting and keeping in mint condition.
The military aviation-inspired watch sports a fashion-forward black leather strap that feels super-comfortable on your wrist, plus a scratch-proof mineral glass and silver stainless steel case. The watch is designed and tested to stand up to the stress of flying at 30,000 feet.
Pros
Features luminescent hands for easy reading of time

A polished finish gives the watch a sophisticated vintage look

Impressive WW2 military aviation heritage
Cons
The vintage design lacks versatility
17- Skross Pro Plus USB World Adapter
Amazon
It doesn't matter if you are a pilot or a regular joe; everyone needs a universal travel adapter to charge our phones and other devices while traveling between different nations. And for pilots, having a multi-way world adapter to keep their devices charged when traveling across different countries can be a huge lifesaver. This is especially the case if your pilot friend tends to travel far-flung destinations with unfamiliar charging socks.
If this is something that your pilot loved one doesn't have already, then they will go crazy for the Skross Pro Plus USB World Adapter. This travel adapter has dual USB ports and can juice up both ungrounded and grounded appliances and devices in more than 150 countries. Amazon reviewer Doug Bass says, "The best universal outlet adapter works well in Switzerland where some others do not!" 01/12/2023.
This one accommodates both 3-prong and 2-prong power cords, including the two-pin Euro input socks and retractable plugs commonly used in the US, UK, China, Australia, Switzerland, and Italy. The versatility and functionalities embedded into this simple adapter are enough to make any home-sick pilot feel secure while traveling between countries abroad. 
Pros
The adapter allows pilots to plug different devices into unfamiliar and differently-shaped outlets.

You can charge two devices at the same time.

Suitable for both earthed and ungrounded devices/outlets

Works in 150+ countries
Cons
It can be a bit too bulky to use in space-limited areas

It has too many controls that can complicate its use
YOU MIGHT ALSO LIKE: