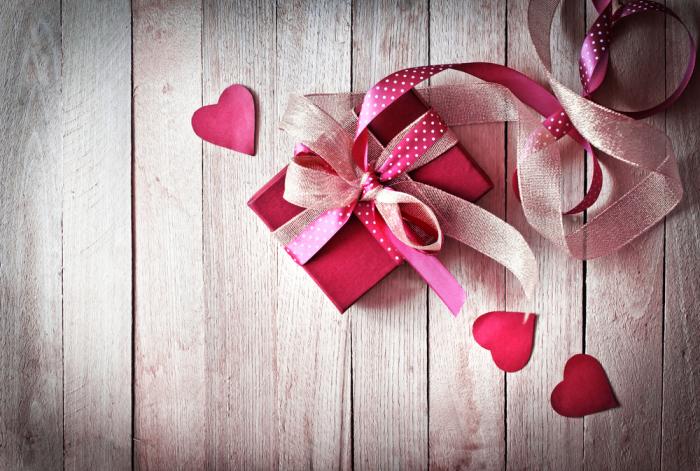 Valentine's Day gifts are the perfect way to show your special someone that you care about them. There's a lot of pressure to find the perfect gift which can take away the fun of the romantic holiday and make you feel stumped on what to get to show you care.
We understand this struggle, however, which is why we've come up with this list of the perfect Valentine's Day gifts for him and her. Instead of trying and failing to find something in stores, check out the list below and you're sure to find something that your favorite person will be thrilled to have on this day of romance and love.
What I Love About You Journal
Amazon
This compact book makes the perfect keepsake gift this Valentine's Day, with 112 pages of simple prompts that make it easy to express yourself. These prompts include things like "you deserve the [blank] award" which will test your knowledge and prove your love for your significant other. It's made from a hardcover with a removable clear plastic jacket to ensure it stays nice for a long time to come.
Handmade Preserved Flower Rose
Amazon
If you're looking for Valentine's Day gifts for her that she'll appreciate and keep for years to come, this handmade preserved flower rose is perfect. They are made from fresh roses and designed by professional florists with technology that allows them to remain beautiful for up to 3 years. For protection, they also come in a beautiful heavy-duty display case that is padded with soft black velvet.
Real Bamboo Wood Valentine's Card
Amazon
For the occasions where showing your significant other how much they mean with a paper card just isn't enough, these bamboo cards are 100% handmade, meaning every card will be completely unique and shows your partner how much they mean to you. It's also a brilliant keepsake that will last far longer than any paper card alternative, making it ideal for the sentimental partner.
Aienid Couple Pendant Necklace For Him and Her 
Amazon
This necklace is created by high-quality jewelers, making it the perfect gift for your partner. It's made using a delicate fabric chain that is comfortable enough to be worn daily without rubbing your neck or leaving marks. The almost-identical pendants are also durable and provided they're cleaned monthly, they stay in good condition for many years.
I Pick You Keyring
Amazon
This keyring makes the perfect gift for any couple interested in the musical world. On one side of the guitar pick, it's engraved with "I pick you" and on the other "I pick you always and forever" as a permanent reminder of your dedication. Made from stainless steel, it's durable enough to go out in all weather without rusting or bending.
Hollabears Shawty U Fine Teddy Bear
Amazon
This gift definitely isn't right for everyone, but if you share the same light-hearted humor, this gift honestly shows someone your love. Despite its novelty appearance, however, it's made from high-quality materials, making this bear the perfect companion on your bed. In fact, this bear has received such high praise that it has appeared on sites such as Buzzfeed, IncredibleThings, and DudeIWantThat.
Creative Explosion Box Photo Album
Amazon
If you've been looking at Valentine's Day gifts for a while, you'll probably be aware of the exploding box craze. When closed, this box looks like an ordinary gift box, but once opened the sides fall down to reveal multi-level cards with pictures of your choosing. This is a great alternative to the chocolate version and is a keepsake that can be kept and reused for years to come.
Chocolate Fondue Maker 
Amazon
There are very few cases where someone is going to turn down receiving something like a chocolate fondue maker, especially one as high quality as this one, as a gift. It comes with a melting and warming setting to perfectly melt your chocolate, as well as a serving tray for the snacks and skewers. Not only does this make a great gift, but it could also be the perfect addition to a Valentine's date night.
Blue Crystal Music Box 
Amazon
If you're looking for Valentine's Day gifts for a more sophisticated woman, this crystal music box is the perfect choice. It's created from 5 layers of cuts from the best quality solid blue k9 crystal to emulate a beautiful blue sapphire and is hand made into the shape of a heart. It also comes with an 18-note windup music box that plays Japanese Sankyo music for up to 3 minutes at a time.
Love Bath And Body Spa Gift Basket
Amazon
Valentine's Day probably isn't the only time you'll remind your significant other to relax, but gifting her a luxury spa set like this one helps her put plans into action. It comes with 7 full-size products to provide her with everything she needs for her next soak. Fragrant with the scent of roses, these products provide moisturizing elements to add to the relaxed vibe.
Our Q&A a Day: Three Year Journal
Amazon
Normally, Valentine's Day gifts focus on providing something that an individual can enjoy by themselves, but why not get your partner something you will both enjoy? This journal is designed to allow two people to create a three-year time capsule of their life together by taking a few minutes to write in it each day. As the years go by, you can revisit the pages to see how your relationship has grown.
Novelty Valentine's Toilet Paper
Amazon
If you're not looking for sentimental gifts but still want to tie into the Valentine's Day theme with a gag gift, these romantic toilet rolls work well. The rolls themselves are 2ply, 300 sheets long and made from 100% virgin wood pulp paper, so they do serve a practical purpose! To really emphasize the romance element of this gift when they arrive, however, they are also wrapped in heart-shaped bags.
47 Inch Big Plush Teddy Bear
Amazon
Plush toys are one of the more traditional Valentine's Day gifts, but if you're going to go there, you want to push it one step further. That's where this gift comes in, offering an adult-sized version of the classic teddy bear we'd all had as kids. Even if she's not the biggest fan of soft toys, the look on her face when she opens it will make buying this completely worth it!
Best Dad Wine Tumbler 
Amazon
Finding the perfect Valentine's Day gifts for him isn't easy and tends to get harder after marriage, but this wine tumbler could be the perfect solution. It comes with a great message on the front that will remind him of your love and provide laughs when he opens it. It's made from durable stainless steel which also means he can reap the benefits for years to come.
Wifey For Lifey Wine Glass Tumbler
Amazon
Being married in general can make the gifting giving process so much harder, especially with so many events to cover. If you're looking to switch things up this Valentine's Day, why not invest in this catchy slogan wine tumbler? Now, your wife isn't limited to drinking when she's on her couch, with a thermos that allows her to take it anywhere without others noticing.
King & Queen Matching Couple Hoodie Set
Amazon
Have you ever stolen your other half's clothes because they're comfortable and refused to give them back, or seen a hoodie you wished was made for your gender? If so, this matching King & Queen set is absolutely perfect. The design on the front clearly sets out who's sweatshirt is whose to avoid it being stolen by your partner, and they are extremely comfortable, meaning your giftee will never want to take it off.
GUND DeAngelo Valentine's Day Dog Plush 
Amazon
If chocolates and flowers have become predictable or boring and you're looking for an alternative, switch up your routine and buy your dog-loving partner this adorable dog plush. With soft ears that stick up and a red rose held in its mouth, all 8.5 inches of this plush pup is adorable and sure to win the approval of your significant other. It's made from extremely high-quality materials and is also extremely soft.
Mamre Moon Ambient Light 
Amazon
This Mamre Moon Ambient Life is one of the few simple Valentine's Day gifts on our list. The sculpture in the middle looks great on its own but also functions as the dimmable touch sensor to change the atmospheric lighting efficiently. The most unique feature by far, however, is the fact that you can also write wishes or your signature on the moon surface.
Elegant Toasting Glasses and Cake Set
Amazon
If you visit your grandparent's house, chances are they can tell you when they received most items of their kitchen. This is a great sentiment that has been lost on younger generations, so why not help to bring it back by gifting your partner this elegant toasting and cake gift set? It's reasonable in price, made from durable metal materials, and comes with everything you need for the perfect date night.
24K Gold Foil Artificial Forever Rose
Amazon
The reason roses are commonly associated with loving occasions like Valentine's Day is because they stand for eternal love. By gifting her this real forever rose, which is foiled in 24K gold to preserve it for a lifetime, you are showing your dedication to her and your relationship as a whole. It's just under 10" in size, so it makes a completely practical décor item as well as a sentimental gift.
12 Bath Soap Roses
Amazon
If your wife is like most women on the planet, she'll probably enjoy relaxing in the bath. These long socks are even better when you can cleanse your worries away and reach a place of true relaxation, something these soaps will help her with. Even better, these soaps dissolve quickly to avoid leaving bitty bits in the bath and include essential oils to provide an aromatherapy experience.
I Love You Balloons and Heart Balloons Kit
Amazon
If you're having a smaller Valentine's Day with your significant other and aren't splashing out on gifts, make them feel special by treating them to this balloon set. You just need to imagine their faces as they walk through the door after a long day at work to realize how much it will mean to them. For the Instagram couples, this balloon kit also makes a great backdrop for your next big shoot!
Romantic Owl Always Love You Figurine
Amazon
Is your significant other a lover of owls or simply guilty of laughing at the worst puns? In either case, this owl figurine, which is handcrafted to make sure each one is unique, is the perfect gift for Valentine's Day. It's also the perfect way to constantly remind someone that you love them as it can remain a staple piece in your home for the rest of your relationship.
I Love You Jewelry Tray 
Amazon
If you're constantly moaning at your partner for leaving their jewelry or miscellaneous makeup items out everywhere, this gift is perfect for them. As well as being a romantic gift, it's also a tactful and low-key way of helping them to organize and put away their things. Minimalist in design, these dishes will fit with almost any home décor and look like great decorations when not in use.
Naughty Love Coupons 
Amazon
If you're looking for more adult-oriented Valentine's Day gifts, these naughty love coupons are the perfect way to refresh your bedroom romance. They include several different prompts that your partner can exchange at any time, including "one crazy night" and "mimic an adult movie" for romance that is also lots of fun. They're also small enough to conceal if you need to hide them from prying eyes.
20 LED Photo Clip String Lights
Amazon
If you're looking for Valentine's Day gifts for her that are sentimental in nature, these LED string lights are perfect. With 20 clips in each box, they will have no difficulty filling them with photos of your relationship or memories that mean a lot to them. This string also comes with lights that have 8 lightning modes, helping to set the mood and create a romantic mood in the bedroom.
I Love You To The Moon and Back Leather Key Chain
Amazon
You may have spent hours trawling the internet trying to find Valentine's Day gifts for him, but that search is over with this leather key chain. With a romantic saying discreetly etched into the fabric, it serves as a reminder of your love without being too over the top. In addition to this, this gift is also made in the USA from 100% authentic genuine leather, making it durable enough to last years.
I Promise To Love You Video Game Travel Mug
Amazon
This is another one of the great Valentine's Day gifts for him on our list, especially if he's a big fan of video games! This travel mug is comfortable to hold for long periods, and also fits snugly into universal cup holders so it won't get in his way when he's driving. In addition to the practicality, it's also a perfectly subtle way to remind him you love him when you aren't there.
Handmade Rose Bear Teddy Bear
Amazon
This 100% handmade rose bear measures in at approximately 10 inches tall and would make an adorable addition to anyone's house—especially your partner's. With 12 different colors to choose from, you'll find one that fits with your girlfriend's décor or her personality the best and shows you know her. It also comes in a window-like gift box to really seal the deal.
I Hope Your Day Is As Nice As Your Butt Keyring
Amazon
You don't always need to go all out to prove you love someone, and this keyring just proves it. Perfect for the couple that likes to joke with each other affectionately, this gift will remind your partner of your love for them. You also needn't worry about rust, as this keyring is made from high-quality stainless steel to prevent this from happening.
Red Bow Lingerie Set 
Amazon
If you're looking for a sexy, more than suggestive Valentine's Day gift for her, look no further than this gorgeous lingerie piece. The black and red colors make it the perfect addition to your night of pleasure and fun. You don't have to worry about your partner being uncomfortable, either, as this material is 90% nylon and 10% spandex for ultimate comfort.
Organic Bath Bomb 50 Piece Set 
Amazon
This gift is great for the partner who likes to relax with a good soak in the bath as it contains enough bath bombs to literally last you a lifetime… or almost, anyway. With 10 different types of bath bombs in the box, your partner will have plenty of choices about the kind that joins them in their next bath. Better yet, this works for sustainable-conscious people as it doesn't use any plastic packaging.
Say I Love You Couples Pillowcases
Amazon
If you're looking for cute Valentine's Day gifts that serve a practical purpose, these pillowcases definitely fit the bill. It essentially provides the message that you cannot live without the other person, as one pillowcase is not complete without the other, showing your love subtly in many ways. If you're not great at wrapping, there's no need to worry as this packaging is already ready to gift.
LEGO Bricks & More Valentine's Cupid Dog Building Kit
Amazon
This LEGO building kit features a cute dog with a pink tongue, white shirt and bow tie for something that can give your partner hours of fun. With such a cutesy design, it also makes a great ornament that can be hung with pride on your shelf for years to come as a reminder of this Valentine's Day. In particular, this gift is perfect if you're looking for Valentine's Day gifts for him, because what man doesn't like LEGO?
Shanik Cheese Board With Cutlery Set
Amazon
This is another of those Valentine's Day gifts that make the perfect addition for a date night on this big day. With a unique circular design created from sustainable bamboo, it's fit for any décor and will make you feel like you should be at a luxury restaurant. Instead, you can sit down in your home and, with the addition of a cutlery drawer, not have to lift a finger all night.
Our Bucket List Journal
Amazon
If you and your partner are adventurous and/or newly married, find a way to rejuvenate your romance on Valentine's Day with this bucket list journal. Inside, you can plan your dream bucket list and create goals as to how these will be achieved. The key thing with this notebook is that it includes enough room to guide your partner on your dreams, so make sure you don't miss out on details!
Message In A Bottle Capsule Letters
Amazon
This sentimental Valentine's Day gift might not cost very much, but the thought that you'll put into it is priceless. With over a hundred little pills containing blank pieces of paper, you could fill each one with memories from your relationship. Even if you haven't been together long, gifting it half-empty provides you with plenty of opportunities to add to it later.
Lucky To Be In Love With My Best Friend Romantic Photo Frame
Amazon
If the song you share with your significant other just so happens to be Lucky by Jason Mraz, you've really lucked out with this gift. Even if that isn't the case, however, you can still enjoy the sentiment of the lyrics and what they mean to your relationship. Add to the thoughtfulness and include a photo of you both and they're sure to love this present on the day of romance.
Recycled Auto Parts Park Bench Sweethearts Statuette
Amazon
This is one of those Valentine's Day gifts for him that works extremely well if he's a mechanic, or has a general love for cars. The loving sculpture is made completely from recycled auto parts and is completely handmade, meaning you'll have a truly unique item with this one. It's also a fair trade product in association with National Geographic, so you'll also be helping others with this purchase.
 Picnic Basket 
Amazon
Is your girlfriend a hopeless romantic waiting for the day you take her on a spontaneous date? If so, this heart-shaped picnic basket is one of the best Valentine's Day gifts for her. You could give it to her as-is for a future occasion, or fill it with goodies and have a delightful date together after she has unwrapped her gift.
Engraved I Love You Spoon
Amazon
A teaspoon might not appear the most romantic gift at first glance, but when it's an item we use almost every day, you soon see why they sell it. If your partner drinks tea or eats cereal on a regular basis, this reminder will appear every time they clear the spoon or clean it in the sink. It's also made using an industrial standard engraving machine so the impression will remain forever, even with vigorous washing.
Love Language Conversation Starter Card Game 
Amazon
This game is the perfect Valentine's gift for partners new and old, and with five different categories to choose from, it allows you to learn lots about each other. This includes everything from family, intimacy, and even your lover's past. The cards themselves are made using high-quality paper and lamination to ensure they can be played regularly for years to come.
HMGYGS Hand Painted Couple Figurine 
Amazon
Valentine's Day gifts for her are easy if she's a fan of traditional artwork, which is exactly what this piece is. This couple figure was created using high-quality resin and waterproof paint so it can be used as an ornament both inside and outside and will last forever. It's also very easy to maintain by simply using a soft brush or cloth to dust it off when needed.
Hug This Pillow Until You Can Hug Me Throw Pillow Cover
Amazon
If you're looking for Valentine's Day gifts for a long-distance relationship, this pillow cover offers the perfect sentiment. You're essentially giving your significant other a way to remind you while hugging something that you've given them, helping them feel less lonely until you are reunited. With such a plain design, it's perfect for any décor, so if yours is an internet romance, you can send it even if you haven't met them yet.
Glass Engraved I Love You Tagua Nut 
Amazon
The tagua nuts used for this unique gift are grown in the Ecuadorian rainforest and transported to the USA for engraving using fully sustainable processes. Part of this involves keeping things as close to natural as possible, meaning each one is slightly different in color and size. This gift also comes in a box with information about the nut to complete the gift.
The Big Activity Book For Couples
Amazon
Do you and your partner find yourselves getting bored when you have quiet nights in, needing something other than the TV to occupy your time? If so, this activity book full of puzzles will help you bond and give you a sense of accomplishment at the same time. Being a Valentine's gift, there are also moments where you can get to know your partner better through romance-based questions.
Engraved Wallet Card Insert 
Amazon
Sometimes men aren't the most romantic of people, but that doesn't mean you can't afford to give them small reminders that you love them. This wallet card with personalized words engraved into the front is the perfect way to remind him that you care while you aren't together. It's also discreet, making it one of the best Valentine's Day gifts for him if he's very private.
What I Love About You Checklist Notepad
Amazon
This is one of the best Valentine's Day gifts if you're looking for a way of showing your partner you love them throughout the year. With 60 sheets and plenty of different categories, you'll have a whale of a time showing your partner you appreciate them when it matters the most. This notebook also comes in 15 colors, making it perfect for both male and female partners.
Mr & Mrs. Cooking Set 
Amazon
If you're a couple who spend a lot of time in the kitchen or even just watching cooking shows, this matching cooking set makes the perfect present for Valentine's Day. With everything matching down to the aprons and oven gloves, you'll be able to pretend you have your very own cooking show in the comfort of your kitchen. This set comes wrapped in a gift box for ease of gifting.
Romantic Love Notes & Quotes
Amazon
For those who liked the idea of the love notes we shared earlier but aren't into raunchy topics, this voucher pack is a lot tamer. With 12 cards of classic love quotes and images, you can gift them all at once, or leave one around the house every day in the lead up to Valentine's Day. They could even be used as part of a scavenger hunt for a larger gift at the end.
Memory Jar
Amazon
One of the best things about having a partner is getting to share many of life's best moments with them. If you need some way to record these memories and want to remind your loved one in years to come, a memory jar could be the perfect gift. With a total of 180 blank tickets and a pen to write on them, this gift could last and bring you happiness for years to come and makes a great keepsake.
You Are My Sunshine Necklace
Amazon
At first glance, this sunflower necklace looks quite simple, but open it up and you'll see a secret message that serves as a reminder of your dedication to your partner. As well as being trendy, the sentimental value is what will drive her desire to wear the necklace every day. The engraved message inside is also sure to make her tear up when she first opens it.
DRomance Valentine Candles
Amazon
This is another one of the great Valentine's Day gifts for him on our list, especially if he's a big fan of video games! This travel mug is comfortable to hold for long periods, and also fits snugly into universal cup holders so it won't get in his way when he's driving. In addition to the practicality, it's also a perfectly subtle way to remind him you love him when you aren't there.
Amazon Gift Card In Gold Hearts Box
Amazon
Sometimes, Valentine's Day comes around faster than we can blink, and we've simply run out of time to get them something they'd really enjoy. This is especially difficult when they are hard to buy for and aren't ashamed to admit when something you've bought isn't up to their standards. If this sounds like your partner, there's no shame in treating them to a gift card, like this one from Amazon that has been adapted to fit the Valentine's Day theme.
Mr and Miss Couples Coffee Mug Set 
Amazon
If you're looking for a couple gift but aren't yet married, your options are extremely limited, but this gorgeous set will cater to your needs. To create a beautiful design, they've used the latest marble glaze technology on the inner and outer surfaces of the cup to make it suitable for dishwasher use. This set also includes a cup cover to lock in beverage temperature and keep the cup's contents from splashing out between sips.
Bearington Cute Skunk Plush
Amazon
This plush is the perfect Valentine's Day gift if you're dating someone who shares your sense of humor and prefers jokey gifts to serious ones. It's an added bonus if they like skunks, too, as this is the main feature of the plush, alongside a soft heart for the message. As well as looking cute, it's also extremely soft, making this another great option for those who like soft toys.
Kissing Mugs Set
Amazon
Some people like gifts that are unique in nature so that nobody they know will have something similar, and that's something they'll get with this set of mugs. Place them together and they contour to form the perfect kiss, but apart, they're incomplete. It also comes with a handy spoon that slots into their handles for ease of storage when you're not using them.
Summary 
Although it's difficult to sit down and think of things your significant other might like, this list has provided you with more than 50 places to start. From sentimental gifts to more jokey ones and even toys, there's everything you could possibly think of to suit all different personalities. Now you have plenty of ideas for Valentine's Day gifts for him and her.
You Might Also Like: