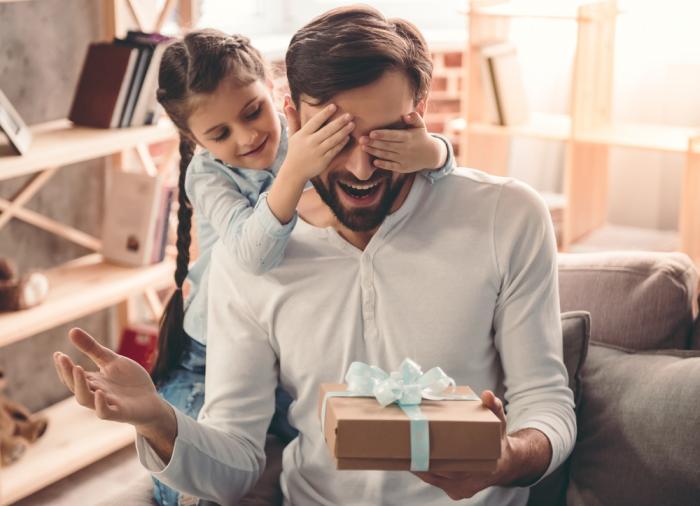 Oh, dads – we love them wholeheartedly and we're glad they are in our lives.
Their jokes might be terrible, but dads are full of wisdom, warmth, and unconditional love. They mean well and always have our best interests at heart. These are all plausible reasons to spoil your favorite dad this holiday, Father's Day, his birthday or anniversary.
That's why you need to ditch that cliché baseball hat or wristwatch this time around and go for super thoughtful, creative and awesome gifts for dad.
Dads come in all packages and the vast majority want nothing, which can make gift-shopping for them a little tricky.
Nonetheless, you know your dad deserves a present that will put a smile on his face, whether he's a gadget nerd, local handyman, party-on dad, old-timey dude, overly proud father, workaholic dad, sentimental person or a BBQ pit-master.
Looking for a gift that will make your dad love you even more? Get some inspiration from this list of the 20 best gifts for dad. It includes every dad-friendly gift idea, from beer growlers and water bottles to stylish gadgets and camping accessories.
And if you happen to be shopping for both parents, be sure to check out this exhaustive gift guide for her.
1- Kool8 Water Bottle for the Active, Tea Loving Dad
You wish the best of everything for your dad, including robust health and well-being. This season show you truly appreciate him with Kool8, a stylish, durable and eco-friendly water bottle like no other.
This unique and innovative water bottle is designed for on-the-go hydration, making it a perfect gift for an active dad who wants to stay hydrated at home, work or on the move. Whether he's into gym fitness, hiking, running, biking, jogging, or camping, Kool8 is tailor-made for an active lifestyle.
If your dad is a social- and eco-conscious person, this bottle will definitely tickle his fancy. Not only is Kool8 BPA-free and reusable, but 20% of the proceeds also go to delivering safe drinking water to underprivileged communities around the world. No wonder it was voted "the best water bottle of the year" by CoolThingsChicago.
It also comes with a tea infuser, making it ideal for a tea-loving dad. With stainless steel construction and two-walled vacuum insulation, it'll keep his tea warm for up to 12 hours and drinking water cool up to 24 hours.
2- GrowlerWerks uKeg CO2 Growler for the Craft Beer Lover
Amazon
If he has a soft spot for cold draft beer, then your dad will flip over this uKeg Carbonated Growler by GrowlerWerks. It's hands down one of the most creative gifts for a dad who wants nothing fussy. This nifty growler will help your dad brew his own beer, plus it also keeps it cool and crispy all day without loss of taste.
With VPR Technology and a convenient carbonation cap, this growler is designed to give your dad a perfect carbonation level. This way, he will never have to worry about his delicious brew ever becoming flat and boring. It's available in a 64-ounce and 128-ounce version, and you can choose from three dad-friendly colors: stainless steel, copper, and black chrome.
GrowlerWerks growler is also compact, sturdy and yet lightweight, so your dad can share his brew with his buddies while fishing, camping or taking in the great outdoors. If you are after a growler that keeps beer carbonated, cold, and fresh, look no further. The icing on the cake is that your dad can take it wherever he goes.
3- TwinkleInTime Personalized Star Map for the Star Gazing Dad
It can be a big challenge to find a gift that will genuinely please a dad who seems to have everything. So, why not give your favorite dad a present that commemorates a special moment in his life? A TwinkleInTime personalized star map is just what you need to show your dad that you value his love and support.
This is a custom star map of the night sky at the specific moment in time and location of a special event, whether that is his birthday, the day he got married, his graduation, or even the time he scored a touchdown. This is a particularly meaningful gift for a stargazer, an astronomer, or a dad with a romantic streak.
All you have to do is pick the date and location of the event, and you'll receive an 18-inch by 24-inch print on top-grade matte paper. You can even add a custom message to make the star map more personal and sentimental. It'll blend well into any manly room, including his man cave, office or bedroom.
4- ICARER AirPods Leather Case with Strap for the Music Lover
Amazon
When it comes to gift-shopping for your gadget guru dad, it's best to stick to accessories. After all, he probably has every latest gizmo. If your dad is tired of losing his AirPods, this leather case by ICARER will make his heart skip a beat. It's crafted from 100% genuine leather, and the case is designed specially to house two AirPods.
This AirPods leather case is one of the best gifts for dad for a special occasion like Father's Day, birthday, anniversary, remembrance, holidays, or any big milestone. The best news is that it comes with a well-designed strap and metal clasp, so you can clip it to your keychain, bag or clothes. This makes it a perfect case for outdoor activities like cycling, hiking, running or walking.
With this protective case, the charging station for your AirPods is always within your reach. And you don't have to remove the case for effective charging. Its precision and snug-fit design means that your AirPods are always tucked away safely, preventing accidental drops and bumps.
5- Hudson Durable Goods Work Apron with Tool Pockets for the Handyman
Amazon
Not sure what to give your handyman dad? If you are looking for thoughtful anniversary, holiday or birthday gifts for dad, this Hudson Durable work apron is picture-perfect. It's handmade from rugged, waterproof waxed canvas, as well as perked up with heavy-duty rivets and grommets, so it's built to last.
When you get your dad this heavy-weight work apron, you can rest assured that he'll love you more for it. Its double-stitched tool pockets mean his DIY equipment will never be too far away. With thick bottom and top hems for durability, structure, and strength, this work apron can take a massive beating without giving out.
This robust and versatile work apron has numerous useful pockets, so your dad can conveniently lug around his goggle, work gloves, and tools with him. Its low profile design with sleek matte finish will help make your handyman look stylish and professional. It's available in a variety of dad-approved colors, including brown, gray, black, and deluxe black.
6- Thoughtfully Gifts Hot Sauce Set for a Spice Head
Amazon
Think there is nothing ever spicy enough for your spice head dad? Think again; this pack of seven hot sauces will blow your dad away (literally!). This set was inspired by some of the most exotic spices, aromas, and flavors from across the globe.
Consisting of garlic pepper, Smokey bourbon, garlic herb, ghost pepper, whiskey habanero, cayenne pepper, and chipotle pepper, these exquisite hot sauces will take your dad's meals to a whole new and tantalizing level. With these hot flavors, his taste buds are in for a real treat!
If your dad is only getting his feet wet in the spice world, don't worry. The heat ranges from mild meant for individuals looking for a bit of spicy kick to blaring hot for the boldest hot sauce fanatics. There's definitely something for every palate on this set. Plus, the seven hot sauces come in a handsome gift bag.
7- Vetelli Hanging Dopp Kit for your Traveler Dad
Amazon
For jet-setters and globe-trotters, this hanging Dopp kit by Italian accessory brand Vetelli is one of the most helpful gifts for dad. That's right; this PU leather toiletry bag is especially handy for a dad who travels often. It will help your jet-setter stay on top of his organization, both on the go and at home.
This stylish accessories travel bag boasts four roomy pockets, two snap-fastened square pockets, and two large zipped pockets. Inside, the bag is super spacious to hold all of your dad's travel accessories, making it ideal for when he's traveling for business or pleasure. Besides, it is very versatile since the bag can be laid flat, packed, or hung.
This Dopp kit by Vetelli is crafted from polyurethane leather for added protection against leaks and spills. In addition to improving water resistance, this also makes the bag sleek-looking and effortlessly easy to maintain and clean. Thanks to its design, it's also super easy to close and open.
8- America's Game: The NFL at 100 Sports Book for the Football Lover
Amazon
Ensure your dad knows all the fascinating facts about his best NFL team. This New York Times best-seller tells the stories and the history of the game as seen through the eyes of the Hall of Famer Jerry Rice. It retraces the history of his favorite game and teams, weaving its way through the evolution of the NFL as a professional sport.
America's Game: The NFL at 100 captures every moment, whether in the game or practice, over the last century of premium football entertainment.  In his book that marks the 100th anniversary of NFL, Jerry Rice is insightful, introspective and entertaining. Every sentence on the 544-page book is incredibly informative and fun to read.
If your dad has read several books on the game, this one will certainly be a good addition. Jerry Rice's elaborate details, insider information, and storytelling prowess are so engaging that your dad will want to read the whole book in one sitting.
9- MARTHA STEWART Copper Bird Feeder for the Bird Watchers
Amazon
Built by folks at Snow Joe, this Martha Stewart bird feeder will appeal to both rookie and veteran bird watchers alike. Your bird watcher dad will absolutely love it for its snazzy and durable design. It features a lipped feeding tray and four different feeding ports, allowing him to feed multiple birds without disarray.
With a large base, lustrous copper construction, and ample feeding ports, your dad will be able to attract lots of different bird species to his back-yard. And its copper hood helps prevent squirrels from raiding its food stores. The solid design incorporates built-in drain holes that provide an ideal perch for all sorts of birds, as well as help avoid waste and keep bird feed dry and uncontaminated.
If he plans to keep the bird feeder outdoors 24/7, your dad might want to cover it to prevent cracking, freezing or being drenched with rainwater. The good news is that this avian device is easy to fill and effortless to clean, making maintenance a breeze. You don't have to look hard to realize why this copper bird feeder is considered one of the most loved gifts for your armchair avian expert dad.
10- Whiskey Wedge and Glass for the Geeky Hipster Dad
Amazon
No sophisticated nerdy man should have to drink his whiskey using ordinary glass, so you just know you have to get him this set of Studio by Godinger whiskey wedge and glass. It offers an artful and creative way for your hipster geek dad to sip his favorite whiskey, making it one of the best birthday gifts for dad.
If your dad loves to tee off or play ball on weekends, what better way to cool off after a game of catch or round of golf than with a fine glass of chilled and refreshing whiskey? Good thing this whiskey wedge and glass combo keep his favorite spirits chilled, plus prevent it from getting watered down quickly.
The pack also includes a nicely-shaped silicone ice form. This way, your dad can treat his taste buds with creamy and rich whiskey in a glass that royalty would die for. Thanks to the shape of the wedge, the ice block will not melt easily and ruin the vibrant taste of whiskey.
11- GoPro HERO5 Black for the Adventure Dad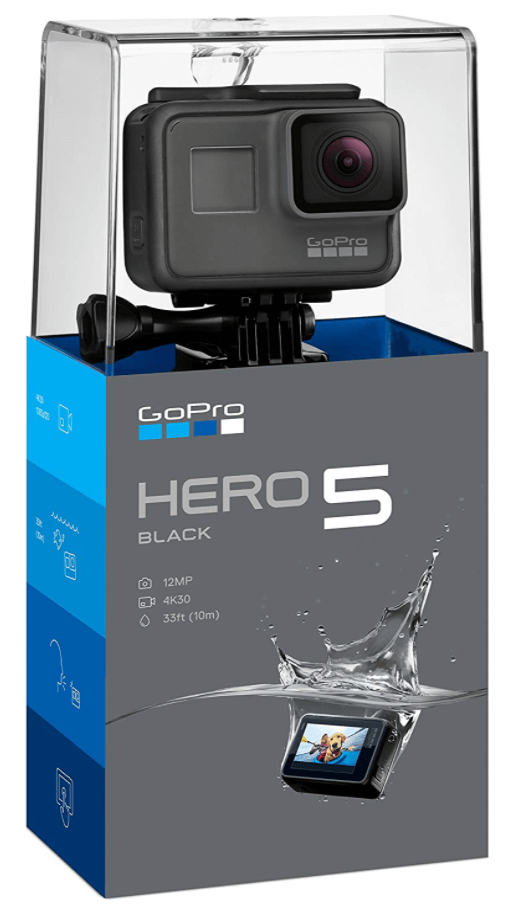 Thank your adventurous dad for all he's done for you with the premium GoPro HERO5 Black. This professional camera shoots 12MP photos and breathtaking 4K video in three settings: time-lapse, burst, and single modes. This long-lasting, exquisitely designed HERO5 Black is the very definition of best-in-class.
This gem is waterproof up to 10m (33ft), making it a great gift for the dad who likes to venture into the amazing outdoors and oceans. What better way for your adventurous dad to capture his fabulous hiking, surfing, kayaking or snorkeling trip than with the super-handy HERO5 Black?
With the impressive 12MP camera, GoPro HERO5 Black is ready-made for taking spectacular selfies. He can playback or review 4K video shoots. This nifty camera really does just about everything your outdoorsy dad every want. Don't forget to perk up your gift with a chest mount (for biking), an extra rechargeable battery, a head strap, a 64GB Samsung memory card, and a carrying case.
Buy this GoPro HERO5 Black on Amazon here.
12- Fire TV Stick 4K with Alexa Built-In for the Avid Movie Streamer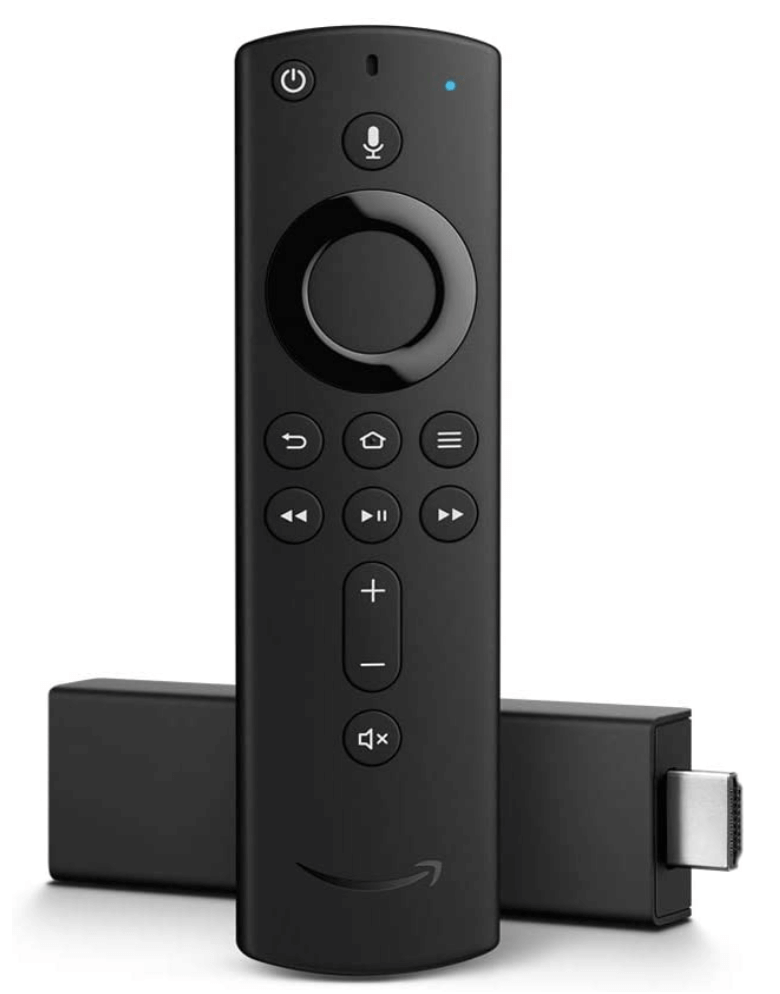 If your dad is the kind who loves to watch TV and binges on favorite shows, movies, and other digital video goodies, this Fire TV 4K media streaming stick will make you his favorite kid (if you aren't already). It comes complete with Dolby Vision and Ultra HD streaming capability, and Alexa is built into the box, offering an unmatched TV streaming experience.
With state-of-the-art streaming features like HDR10+, your dad will have unfettered access to his favorites from HBO, Apple TV, Disney +, Amazon Prime Video, YouTube, Netflix, and much more. Even better, he can stream for free with IMDB TV, Pluto, and more!
One of the best gifts for a dad, this media stick comes with in-built Alexa technology and integrates the Alexa Voice Remote. That means your tech-forward dad can have millions of apps, channels, and Alexa skills right from the comfort of his own home. He can control every aspect of the TV, launch content, and much more with just his voice.
Buy Fire TV 4K Stick with Built-in Alexa on Amazon here.
13- Bicycle Playing Cards for the Poker Dad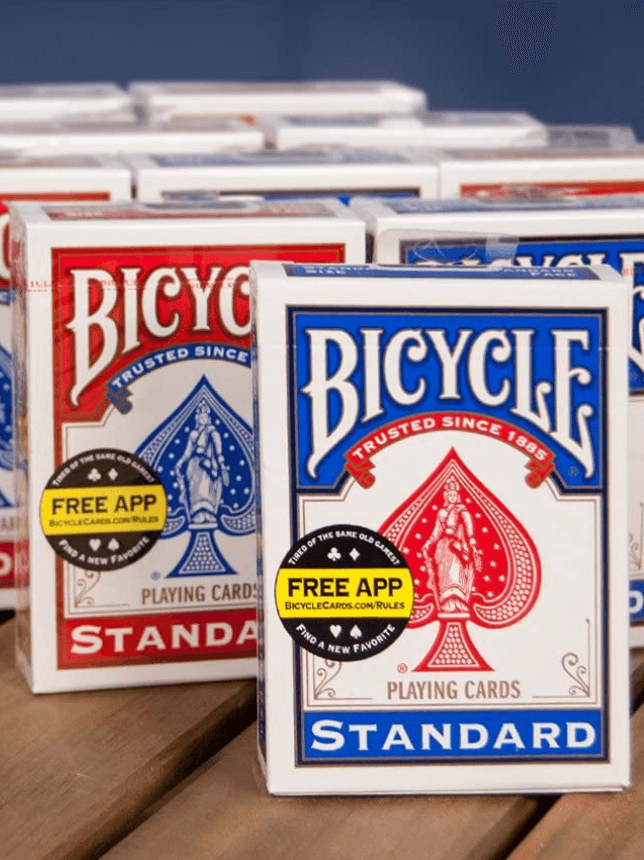 Show your dad he's an ace with this pack of beautifully designed playing cards. Whether your dad is a die-hard player, likes to enjoy poker with his buddies, or still enjoys playing solitaire with real cards, he'll be glad to receive this fun set of playing cards that boasts a historic rider back.
Each card deck is a standard that consists of 2 jokers, 52 conventional suited playing cards, and 2 extra ad cards. They are each housed in a travel-ready pack. The decks' air-cushioned finish and traditional design make them easy to shuffle, deal, and hold.
This set of playing cards is perfect for a dad who loves Baccarat, Go Fish, Blackjack, Pai Gai poker, Hearts, Euchre, Pinochle, Rummy, Canasta, and regular poker. Made right here in the USA, Bicycle playing cards are available in a one-pack, two-pack, four-pack or a 12-pack. For the larger packs, you can get decks featuring different back and card designs, including vintage backs, blue backs, and rider backs. They also come in different sizes and face designs
Buy Bicycle Playing Cards on Amazon here.
14- Hydro Flask Unbound Soft-Sided Cooler Pack for the Avid Camper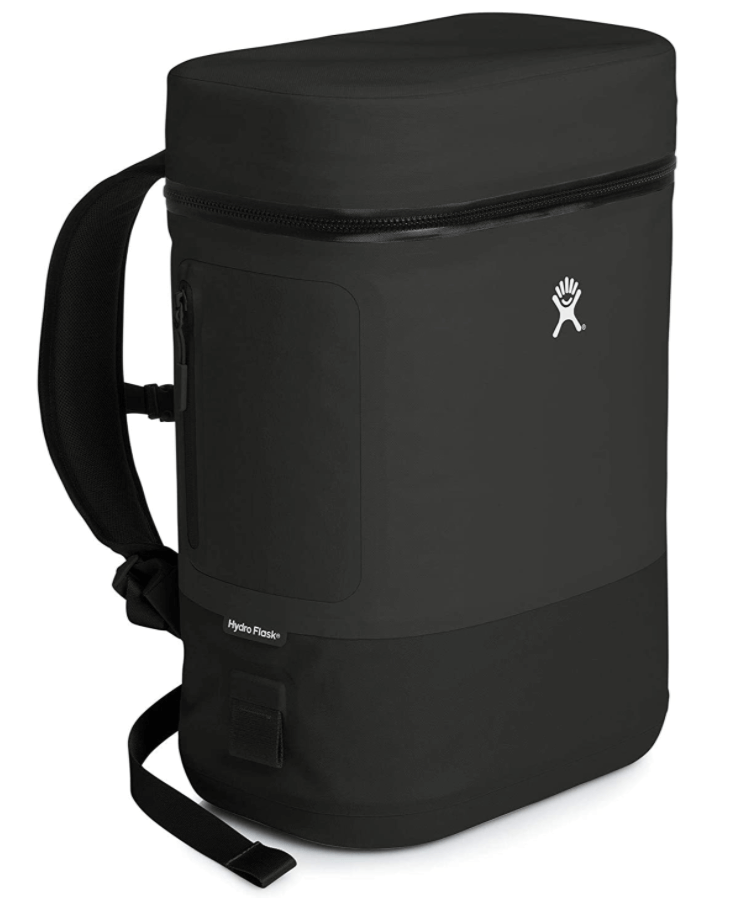 Your camping loving dad will go bonkers for this large, portable cooler pack. He will get some big mileage and adventure out of this backpack-cooler combo pack. Whether he loves to kick back and enjoy his cold beverage in his backyard, tailgating or camping, your dad will find this nifty gift handy.
In addition to a five-year warranty, this unbound soft-sided cooler pack is lined with BPA-free and FDA-approved lining materials that are resistant to microbial growth, mildew, and other toxins. This sturdy backpack is smartly insulated, making sure your cold beverages will stay cool for up to two days (48 hours).
With welded seams and an aqua seal zipper, you can rest assured that this cooler and backpack hybrid is 100% waterproof and leak-proof. It's available in 22-liter or 15-liter versions, and comes in an assortment of dad-friendly colors, including black, brick-brown, goldenrod, lagoon blue, storm, and mist – there's definitely something for every dad out there.
Buy this Hydro Flask Unbound Soft-Sided Cooler Pack on Amazon here.
15- Embark Dog DNA Ancestry Test Kit for the Canine Lover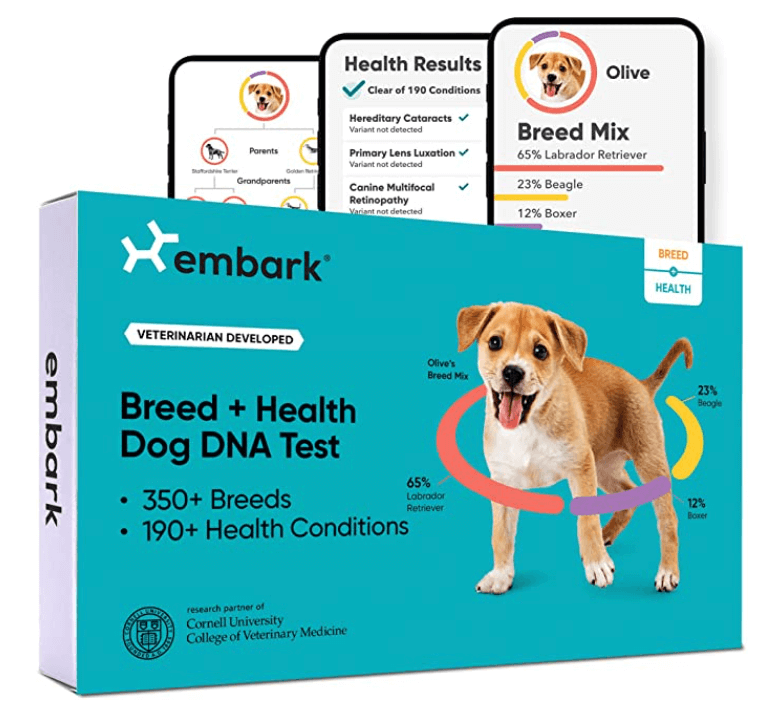 You have probably taken a DNA ancestry test yourself, and you know how informative it can be. So why not help your dad solve his dog's genetic puzzle? If your pop has always wondered what precise breed his dog is, then he will be super excited to get this Dog DNA test kit by Embark.
Your four-legged friend could be a hybrid of 5-6 dog breeds or more. With this easy to DIY canine genetic screening kit, your dad will know for sure where your furry friend got his lovable traits from, like his long hairy tail, extra fluffy fur, big ears, large nose, and so forth.
It does more than DNA screening. The Embark dog DNA test kit also screens for more than 170 known canine ailments, including dilated cardiomyopathy (reduced ability to pump blood), degenerative myelopathy (a progressive disease of the spinal cord), glaucoma, and MDR1 drug sensitivity, just to mention a few. Get your dad this DNA kit to keep his dogs happier and healthier, for longer.
Buy this Embark Dog DNA Ancestry Test Kit on Amazon here.
16- GRILLART Grill Brush Bristle Free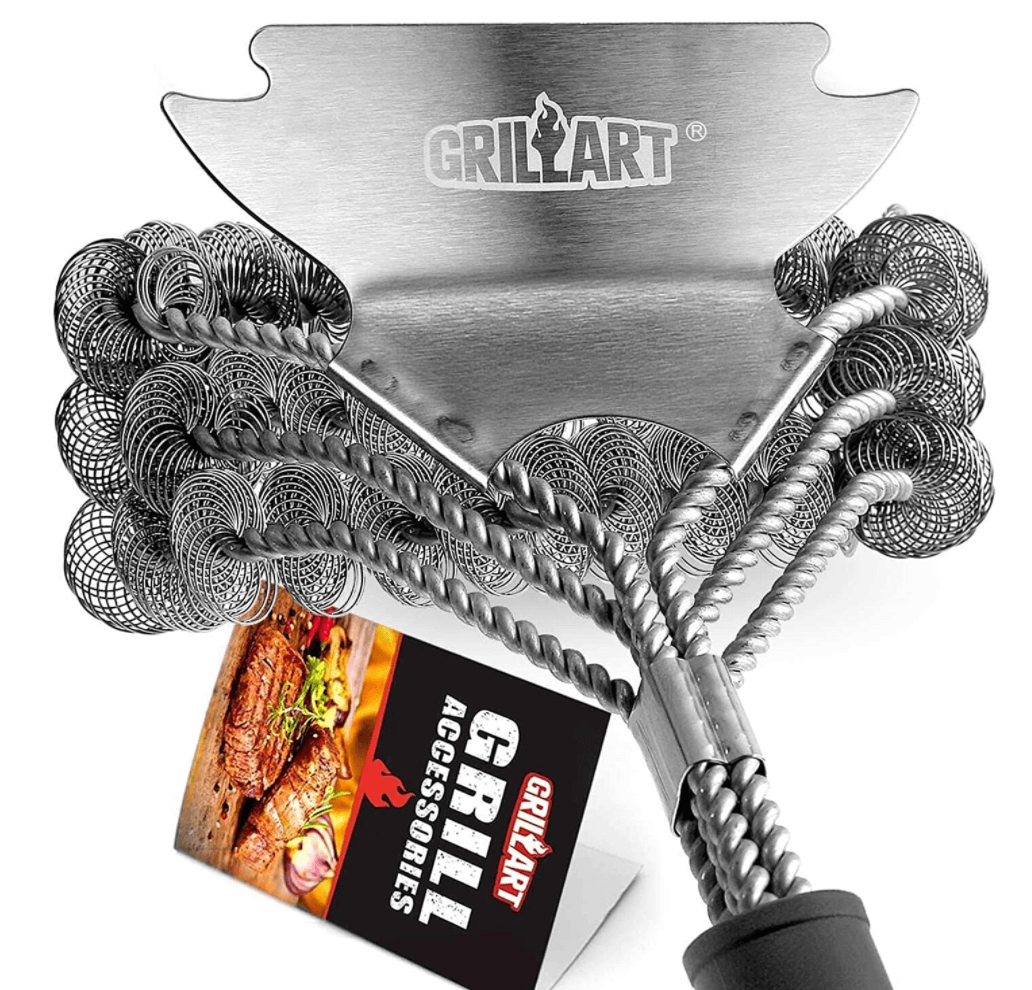 It's no big secret that dads are the BBQ grilling champions. The chances are good that your pops is a killer BBQ pit-master who knows how to whip up a delicious steak as juicy as you want it. But is he great at making sure the grill is impeccably clean after a sumptuous BBQ brunch or party?
Maybe not, but with this state-of-the-art scraper and brush set from Grillart, getting the grill spotlessly clean is a breeze. With a few scrapes, his grill will look like new in a snap. This sturdy scraper is wider and stronger, helping clean bigger areas faster than regular cleaning grill brushes.
With 135 percent thicker triple helix, this fantastic tool is five times faster than most BBQ brushes. It's built to last as long as your stainless-steel grills, which is why it has been voted one of the most valuable birthday gifts for dad. Unlike nylon grill brushes that melt and bristles that tend to fall off, this gem is durable, corrosive-resistant, and fully bristle-free, getting the job done without the extra hassle.
Buy this GRILLART Grill Bristle Free Brush on Amazon here
17- Anker Active Noise Canceling Headphones for Music Lover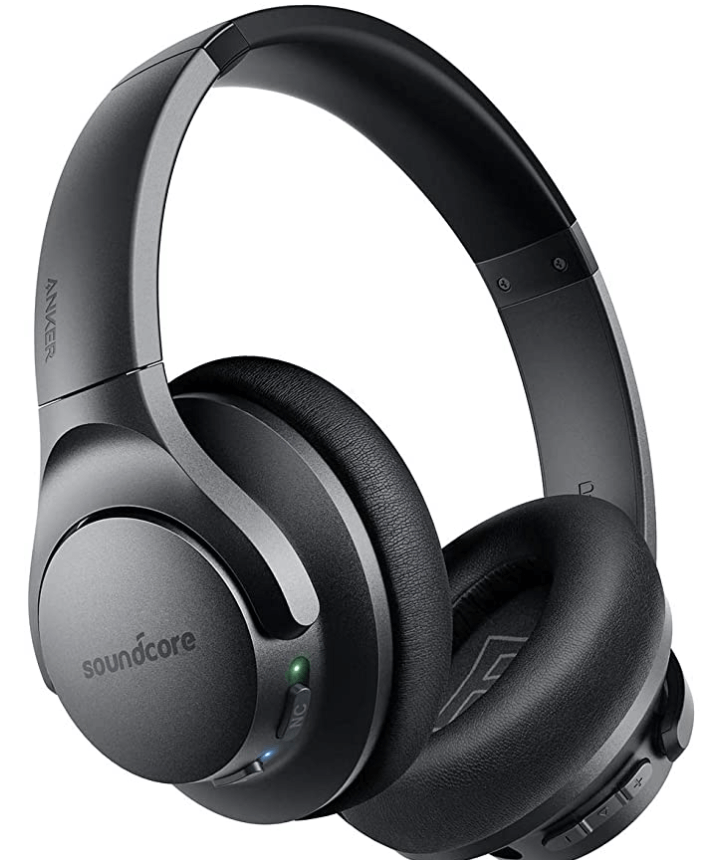 Hey dad, can you hear me? Probably not, because with Cowin E7 active noise-canceling headphones, your dad will not be able to hear anything unless he's listening to his favorite tunes. With advanced active noise-canceling tech, these headphones are perfect for quelling buzzy city traffic, airplane cabin noise, bus chatter, or busy workplace noise.
Your pops will focus on what he wants to hear, making sure he enjoys his videos, movies, and music uninterrupted by external noise. With Bluetooth capability, the headphones work amazingly well in both wireless and wired mode. Advanced-class 40mm large-aperture drivers mean that your dad will enjoy precise bass.
These headphones by Cowin not only look fantastic but they also sound like the angels. Besides, wireless mode means that his listening experience won't be limited by those tangled and messy cables so that pops can truly get in his groove. Thanks to its 6000mAh rechargeable battery, he can enjoy noise-canceling and superior listening for up to 30 hours between charges.
Buy Anker Active Noise Canceling Headphones on Amazon here.
18- King of The Kitchen Chef's Aprons for the Avid Chef Dad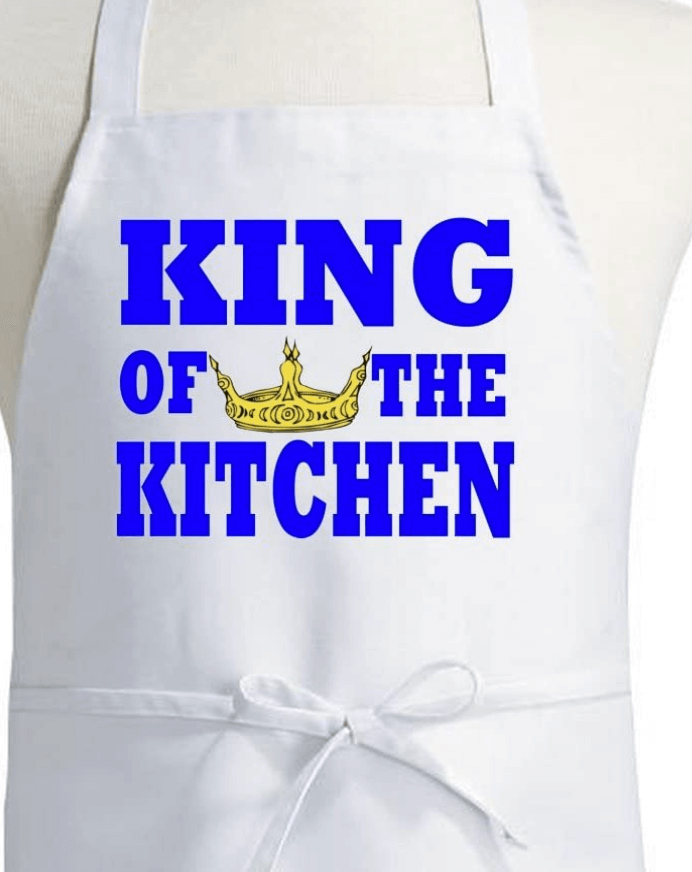 If you are shopping for a foodie or chef dad or a dad who just likes to putter about the stove, the King of The Kitchen chef's apron will truly appeal. Whether he is the family chef, a grilling champ, or a real-life chef, your dad will find this apron useful and funny.
The apron's fabric is made from a rich blend of 35 percent cotton and 65 percent polyester, making it very absorbent, strong and delightfully light. With extra length ties, this chef's apron is versatile. Your dad can tie it in front, wrap it around his waist, or tie it in back.
The true value of this hip apron lies in its ability to become a multi-use kitchen accessory with remarkable features. Not only is it unisex but it is also fashionable, helping your dad look handsome while grilling a mean burger. At this price, it is also one of the most affordable kitchen aprons, and certainly one of the best gifts for the dad who loves to cook.
Buy King of The Kitchen Chef's Aprons on Amazon here.
19- Hamilton Beach Breakfast Sandwich Maker for the Foodie Dad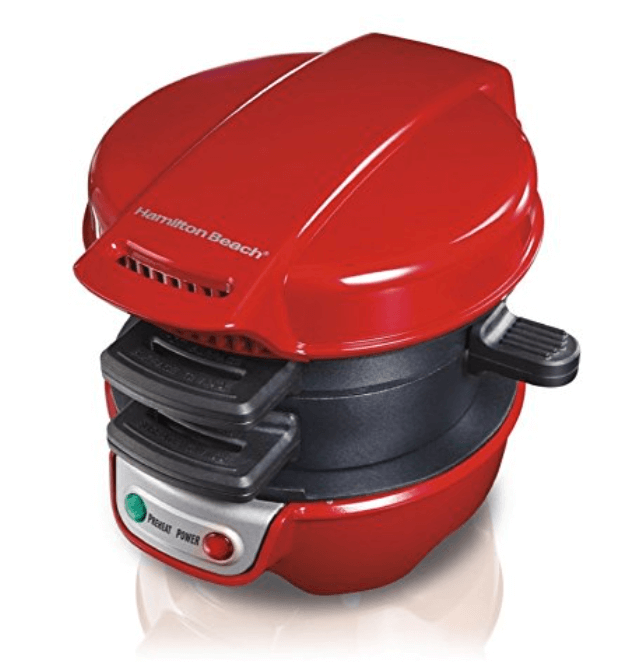 If you are searching for useful, unique and thoughtful gift for dad that won't dig a big hole in your bank account, your search stops here. If your dad loves breakfast sandwiches, this sandwich maker by Hamilton Beach will put a huge smile on his face. Described as "the morning magic" sandwich maker, your dad will get a kick out this nifty tool.
By design, this sandwich maker is meant for early risers who want to eat delicious breakfast but don't want to go through the hoops to make it. After all, this sandwich maker whips up a delicious sandwich in fewer than five minutes, making an ideal tool for breakfast, on-the-go meals or brunch.
The device does its magic in four simple steps, involving adding cheese, precooked/deli meats, bread, and cracked eggs. And voilà, the sandwich is ready! It's hands down one of the best Christmas, birthday Father's Day or anniversary gifts for your dad.
Buy Hamilton Beach Breakfast Sandwich Maker on Amazon here.
20- Titleist Pro V1 Personalized Golf Balls for the Dedicated Golfer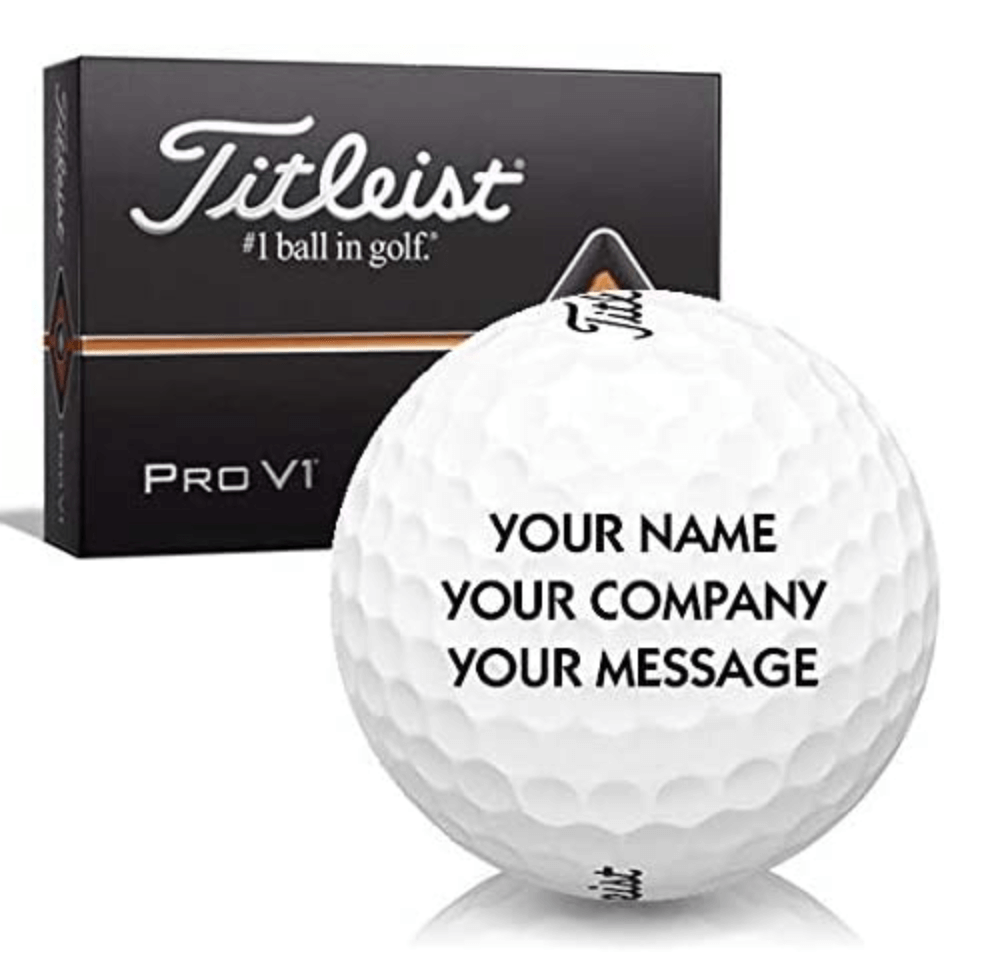 If your dad is an avid golfer who likes to tee off any chance he can get, then it can't get better than personalized golf balls. Even if he's an amateur, a set of Titleist Pro V1 Personalized golf balls will get his blood boiling with excitement, making it one of the best gifts for a dad who wants nothing else.
You can add a personal touch with up to three lines of text to tailor and customize the balls to your dad's perfection. You can include his initials, name or company with up to 17 characters, making sure the personalized golf balls will put a big smile on his face.
That's not all there is to V1 pro golf balls. They are made from 17 percent thinner elastomers that deliver more ball speed. A new casing system also helps reduce eddies and lower long-game spins. It's spanking new 2019, 2.0 ZG process core formulated means that your dad will get more mileage out these balls. It comes in a standard dozen packaged in a beautiful case.
Buy a set of Titleist Pro V1 Personalized Golf Balls on Amazon here.
You Might Also Like: