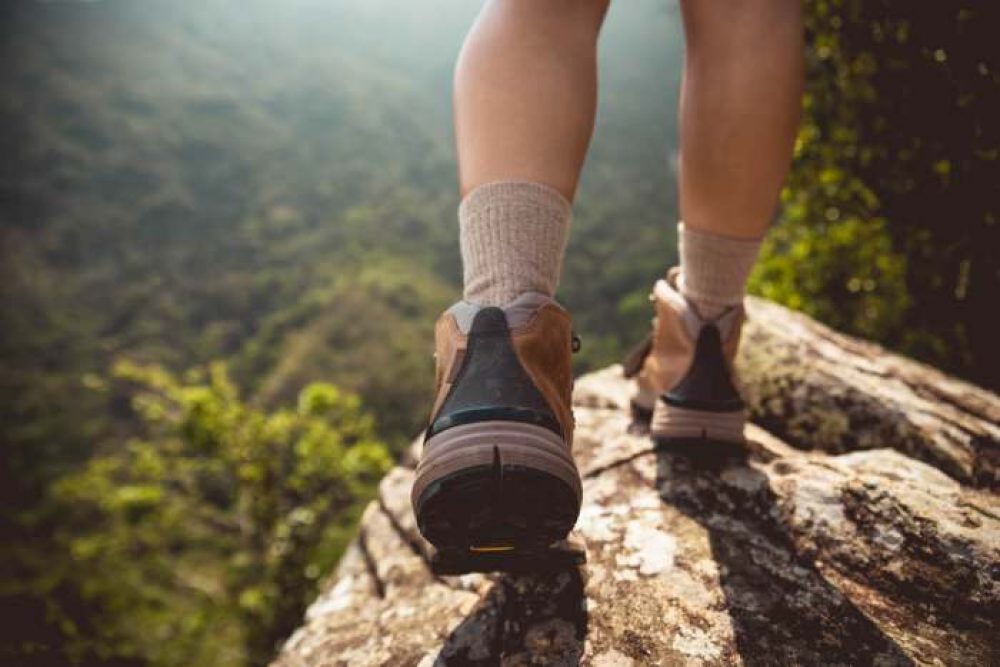 If you have ever tried to wear athletic, dress, or other standard socks with your boots, then you know how uncomfortable they can be. Enter thick, quality boot socks to keep your feet dry, cushioned, and warm when wearing work, casual, or hiking boots.
The best boot socks are designed to help your feet stay comfy, supported, and toasty, whether you're working, skiing, hiking, or simply walking.  As with any search for the best socks, your focus should be on fabrics that feel great against your skin.  If you're looking for the perfect pair for work or physical activity, you will also need high-performance features. Other helpful factors to note are thickness, design, durability, type of material, and overall quality.
Keep reading for important buying points and key features to select the best boot socks for your needs. If you would rather skip to the purchase, check out our 13 top picks for 2023.
1- DARN TOUGH Men's Merino Wool Hiker Micro Crew Cushion Socks
Amazon
If you are on the hunt for the best hiking boot socks, these micro crew socks from Darn Tough are a perfect choice. One of the few options still made in the US, these rugged beauties are warm and durable yet value-priced and lightweight.
The superior combination of 61% merino wool, 36% nylon, and 3% spandex gives these antibacterial socks an edge in breathability, comfort, fit, and moisture-wicking. Best of all, they come with a lifetime guarantee. Sizing tip: go one size down if you have small feet.
2- DANISH ENDURANCE Merino Wool Hiking & Walking Socks
Amazon
If you're an outdoorsy person who loves to hike, walk, trek, or simply love wearing boots the whole day, you've just found the pitch-perfect pair of boot socks. Available in an affordable pack of 3, these socks were designed especially for physical activity.
They sport well-ventilated mesh lanes that help remove moisture, keeping your feet dry, blister-free, and odor-free.  Additional cushioning and reinforcement at the heel and toes help keep blisters, bunions, aches, and other foot problems at bay.  Take your pick from a variety of cool colors.
3- Carhartt Men's Arctic Heavyweight Wool Boot Socks
Amazon
Woven from a blend of wool, nylon, and spandex, these heavyweight socks from Carhartt actively fight off odors while keeping your feet warm and breathing.  This makes them an ideal pick for someone who suffers from overly-sweaty feet.
These socks are woven using the ribbed-knit technique for a long-lasting and durable yet breathable design.  They keep your feet cool, dry, and odor-free without compromising on quality.  Sold in moss, heather grey, and brown colors.
4- No Cold Feet Classic Black Socks
Surprisingly well-made, warm, and comfortable, this pair of no-frills boot socks from No Cold Feet has everything good going for it.  A polyamide and spandex combination gives these socks a blend of quick-drying, breathability, and comfort. They are enriched with combed premium cotton to improve softness, cushioning, and heel support.
This fabric blend will keep your feet nicely cozy and blister-free. You'll appreciate that they come in one size that fits most.  You can choose from classic black, or mix it up with stripes, polka dots, and argyle patterns to add more flair to your look.
5- PEOPLE SOCKS Merino Wool Crew Socks
Amazon
Lightweight, long-lasting, and surprisingly affordable, these unisex dress boot socks wowed us with their moisture-wicking and odor-resistance.  Coming from a fairly unknown brand, People Socks are breathable, soft, and decked out in a variety of colors to spruce up any outfit.
Ideal for every season, they are mostly merino wool (71%), combined with nylon, polyester, and spandex for added strength, moisture-wicking, and stretch. These wool socks are prized for the durability that comes from additional stitching on the toes and heels.
6- Dickies Men's Heavyweight Cushion Compression Work Crew Socks
Amazon
If durability, compression, and cushioning are high on your list of vital features in a boot sock, then you won't go wrong with these crew socks from Dickies.  They are constructed to last through heavy and frequent use. Whether you're into hiking, working full days in hardy conditions, or enjoy wearing comfortable socks throughout winter, these long-lasting options are a fantastic choice.
You'll appreciate the ankle and arch compression that provide added stability and support, making them great for longer use.  The protective pad on the Achilles heel offers plenty of cushioning against high boots.  With moisture-wicking construction, these cushion socks will keep your feet drier, more comfortable, and cozier than standard options.
7- Injinji Trail Midweight Crew Socks
Amazon
For those looking for the ultimate pair of hiking boot socks, these midweight toe socks from Injinji Trail will perfectly fit the bill.  Toe socks provide myriad benefits — they allow for easy spread of digits, thus increasing your foot and toe mobility for a more comfortable, stronger trail run or hike.  The unique design also helps minimize blistering.
Reviewers rave about the high crew length which protects your skin from higher boots, as well as the leaves, stones, and sticks you'll come across on your hikes.  The increased comfort level comes from modest thickness, nylon fibers for enhance durability, along with a mesh top to improve durability.
8- Dickies Men's Dri-tech Moisture Control Crew Socks
Amazon
Another impressive product from Dickies, these crew socks are woven with breathable fabrics and equipped with ventilation channels to optimize airflow to your feet and toes.  Dri-tech moisture-control technology makes them ideal for use during the hot summer months.
These boot socks are made with a well-balanced combination of cotton, polyester, spandex, and nylon for a durable, snug-fitting, and lightweight construction. You'll love the arch compression that provides added support and stability.  They're available in packs of 6 in a range of dapper colors, from black and brown to navy and yellow.
9- HOT FEET Thermal Wool Blend Socks
Amazon
Like most users, we love these wool-blend socks for their extreme warmth, breathability, and comfort.  They're specially built for outdoor activity, so slip into them, whether you are going camping, hunting, hiking, or simply walking around town.  They will keep your feet warm, dry, and comfortable in cold weather while fending off blisters.
Primarily constructed of wool with a few other synthetic and stretch materials, these socks are on the thicker side, hence the warmth benefit. They have reinforced toe & heel plus a ribbed cuff for extra durability and a snug fit.  These moisture-wicking socks offer a wool blend for support, stretch, and cushioning.
10- Wrangler Men's Western Boot Socks
Amazon
Wrangler is a beloved brand for high-performance socks that are up to any task.  These Western book socks from the brand are made for the trim gentlemen who love to wear stylish boots casually or to work.  The comfortable, smooth design means this sock is thin enough for everyday use while still providing adequate durability and support.
Available in a mono-color pack of three, these boot socks are constructed from 3% spandex, 17% nylon, and 80% polyester.  They are half-cushioned, kitted with moisture-control technology, and ribbed at the legs for optimal comfort. These socks also offer extra arch support for greater stability.
11- Merrell Men's 3 Pack Cushioned Performance Hiker Socks
Amazon
These high-quality boot socks from Merrell are made with 60% acrylic, 25% wool, 13% nylon, and 2% Lycra spandex for a lightweight, breathable, and durable build.  The extra cushioning and padding on the sole help reduce the possibility of getting blisters, pains, and other foot-related problems.
You'll appreciate the zoned arch support for no-fatigue long use, added stability offered by compression, and reinforced toe and heel for increased durability.  Reviewers rave that these beauties will last for years and years.  Choose from olive, charcoal black, and other colors, making it easier to mix & match to find the right color for your outfit.
12- Muk Luks Women's Lace Boot Socks
Amazon
A great choice for ladies to wear with stylish work boots, these lace boot socks from Muk Luks are as elegant as they are practical. Perfect for over-the-calf and high boots, these gorgeous pairs of lace top socks will help keep your feet stylish and cozy.
These boot socks come in a multi-color pack of three and are made with ribbed-knit weaving for long-lasting and durable construction.  Each sock contains a superior blend of spandex, polyester, and cotton for a strong yet lightweight and breathable design.  Reviewers appreciate that they are machine washable, fast-drying, and have a pull-on enclosure, for a hugging fit.
13- Under Armour Adult Tactical HeatGear Socks
Amazon
These military-compliant tactical boot socks from Under Armour are designed with ventilated mesh channels for wicking away moisture and fighting odor.  They will keep your feet dry, odor-free, and comfortable. Dynamic arch support helps increase stability for better, more durable, and longer use without fatigue.
These boot socks feature strategic cushioning and padding to minimize the potential for blisters, all while reducing bulk and increasing flexibility. Aside from the anti-odor technology, you'll be impressed by the color blends which include white/coyote brown, black/white, white/foliage green, and foliage green.
What Makes a Good Pair of Boot Socks?
If you think several pairs of standard cotton socks are all you need to wear your boots comfortably, think again. You can have the best boots available, with all the waterproofing, insulation, great construction, and other features, but if you are wearing the wrong socks you won't reap their benefits.
Here are the key features that make a good pair of boot socks:
– Warmth 
The best boot socks are designed to keep your feet and toes warm and toasty when it's cold outside.  Socks made from merino wool bring their A-game in these conditions. It helps that they are soft, less itchy, and packed with moisture-wicking properties, too.
– Weatherproof Capacity
When looking for great boot socks, it's important to consider if they will withstand prevalent weather conditions. An excellent pair should be built to stay dry, sweat-free, and comfy during the hot months of the year.  However, they should be thick, cushioned, and well-insulated to withstand the cold conditions that come with winter.
Don't forget other elements like rain, snow, and dust.  The best boot socks don't get wet, cold, and messy when worn during a rainstorm.  They should be thick enough to make sure your feet do not get drenched or wet, especially during those long workdays, hiking trips, or skiing expeditions.
– Use 
Most people invest in boot socks to keep their feet warm and comfortable when the chilly weather sets in.  Those aren't the only purposes for boot socks, hoever. The best ones should be great for both everyday wear and specialized use, such as for hiking, skiing, work, mountaineering, and other physical activities.
As the wearer, you'll want to consider how you will use your boot socks. This will be one of the biggest determinants of whether or not they'll be a good fit.  If you're a snowplow driver, for instance, the best boot socks for you would be a pair that's thick, warm, and waterproof.  Meanwhile, if you work outdoors in the hot sun, you'll want boot socks that are lightweight, breathable, and moisture-wicking yet comfortable.
– Superior Fabric Blend
A good pair of boot socks is made from the finest materials.  Ideally, the socks should be made from a blend of warm and breathable fibers like merino wool, plus wicking synthetic materials, such as nylon, polyester, or acrylic. The blend will offer the best of the two worlds – warmth, softness, and breathability of natural fibers, combined with the quick-drying and moisture-wicking capabilities of synthetic fabrics.
– Comfort and Fit
When searching for the perfect pair of boot socks, keep in mind these factors.  Perhaps the most important of them is the comfort level any socks provide. Given that your feet will be spending hours and hours in the socks, prize comfort over fashion or aesthetics.
The most comfortable boot socks often contain wool, spandex, and synthetic fibers. Cotton, while soft, retains too much moisture and tends to get wet and uncomfortable. Fit is another factor that makes a good, comfortable pair of boot socks.
– Great Cushioning
Great boot socks offer plenty of cushioning to absorb shock and provide protection for your ankle and other joints.  Granted, the cushioning pad shouldn't be so thick that it cuts circulation or becomes uncomfortable. For an excellent pair of socks, expect a bit of cushioning in the heel and ball of the foot, as well as along the shin.
Differences Between Boot Socks
When searching for the perfect pair of boot socks, we recommend that you consider the thickness, design, weight, height, durability, material, and overall construction quality.  Let's take a closer look at the differences between boot socks.
(a) Sock Weight
The weight of boot socks depends chiefly on the amount of padding or cushioning they have. Very light socks usually have no cushioning, and are often worn to wick away sweat from the skin. You can think of them as sock liners.
Light, thin boot socks are lightly-padded and reinforced at the ball and heel of the foot, so they don't offer much cushioning.  However, they are great at wicking moisture away from the skin.  Plus, they stay comfortable, with little added weight and no scratchiness.  These lightweight boot socks are more ideal for the hottest summer months.
Medium-cushioned boot socks are an excellent choice for wearing year-round, but they're best for moderate to cold weather. They are not only warm and cozy but also offer plenty of cushioning in the foot's heel and ball.
Heavyweight boot socks provide extra cushioning in the heel and ball of the foot, which makes them popular for hiking, skiing, and outdoor adventure boots.  They will keep your feet and toes warm, comfortable, and toasty in frigid temperatures.  Hikers, especially mountaineers and winter hiking enthusiasts who carry heavy backpacks on long trips, will appreciate these boot socks.
(b) Sock Material
The material used to make boot socks is the most important determinant of their performance.  That's especially true when it comes to warmth retention, comfort, durability, and moisture-wicking.
Nylon and polyester: Don't ignore boot socks made from synthetic materials like polyester and nylon. These materials dry quickly and wick away moisture like crazy, two features that can make a huge difference when wearing boots in hot conditions.  They are usually blended with natural fabrics like wool or cotton to improve cushioning and warmth.
Wool: Wool is truly the ultimate material for socks. Whether you're looking for the best work socks, groomsmen socks, skiing socks, or even everyday socks, you can never go wrong with wool. Merino wool, in particular, is ultra-comfortable, warm, and highly absorbent – it can absorb up to 30 of its weight in moisture.
Beyond that, wool can blend perfectly with synthetic materials such as nylon, spandex, and polyester.  Wool wicks away sweat in hot conditions and it's warm and cozy when it's cold outside. It's a winning material, through and through.
Spandex: Most boot socks available today have some elastane or spandex, which is not used as the core material.  Their purpose is to add some stretch, improve the sock shape, and prevent it from wrinkling or bunching.  The last thing you want is some raw areas created by wrinkled or bunched socks rubbing against your skin that can lead to blistering; spandex is the answer.
(c) Sock Length/Height
As with tennis socks or soccer socks, boot socks come in a variety of lengths, ranging from no-shows to knee-high. The right sock height depends on two factors: the temperature you'll be exposed to and the height of your boots.
Low-cut boot socks are usually shorter than 4 inches when measured from just below the ankle bone to the heel.  They include ankle socks and no-show socks, both of which are ideal for walking and lightweight activity.
The standard crew-length, which can be up to 12 inches in length, is the most common height for boot socks.  You can also find quarter crew and mini-crew (also shorter crew) boot socks, which are 6-9" tall and end below mid-calf or just above the ankle.  Crew boot socks are a good option for mid- or high-top boots because they will protect your ankles from chafing.
Over-the-calf or knee-high boot socks are ideal for taller work boots, as well as skiing, mountaineering, and heavy-duty hiking boots.  These normally feature additional cushioning or padding support along the shin, making them more comfortable when worn with higher uppers.
(d) Sock Color
Most boot socks lie invisibly concealed by your shoes and pants, which is why the color is a matter of personal preference.  You might choose bold, bright, statement-making colors like purple, green, red, pink, or orange.  Alternatively, you can ensure your socks are low-key with neutral colors such as navy, tan, brown, beige, gray, or black. 
How to Choose the Best Pair of Boot Socks
– Steer clear of cotton-rich socks
The term "cotton-rich" is a fancier way of saying the sock is made almost exclusively from cotton.  We love everyday cotton socks because they're thick, soft, and give that pillow-like feel.  With them, you can expect amazing comfort at a reasonable price.
Unfortunately, because cotton socks are remarkably absorbent, they don't retain heat well. Even worse, they often retain odors and can acquire strong odors from sweating. When drenched in sweat, they become soggy, and slippery, the perfect recipe for blisters. This makes them practically useless in cold weather conditions.
It's wise to avoid cotton-rich boot socks. If you so love this natural fabric make sure the composition of cotton is less than 85%.
– Match the height of your boots
More often than not, you want your socks to be a little taller than your ski boots, work boots, etc.  That's because if your boot's collar rubs freely and easily against your skin, you are simply asking for blisters, abrasions, and a painful day.
Your decision is easy: pick the sock length that is a bit taller or matches the height of your boots. If you're in doubt, you can never go wrong with a decent pair of crew boot socks.
– Cheap isn't better
This is true when buying electronic equipment, a car, or real estate.  It's even truer when it comes to sock-shopping – cheap isn't always better! That cheap pair of socks might be OK for a short walk in great weather, but they don't stand a chance against chilly weather, or a long hike on rough terrain.
Telltale signs of cheap boot socks that won't last and will hurt your feet include:
Unreinforced heels and toes – They will wear through in a few hours and expose your skin to bruising and blistering.

High cotton content –Cotton-rich socks get engorged with sweat and water, becoming slippery and soggy. Your feet won't stay warm or comfortable in wet socks.

Poor aeration – Your feet will experience poor circulation and stink if they can't breathe properly.

Cheap socks are usually too thin or too thick, which can cause or exacerbate plantar fasciitis, athlete's foot, calluses, corns, bunions, hot spots, and of course blisters.
– A little merino wool can go a long way
We can't overstate the importance of merino wool as a sock material.  Even though it can be pricey, it offers a superior combination of comfort, durability, and breathability. However, the higher wool composition doesn't always translate to better.  Look for high quality wool and appropriate combinations of other materials.
– Getting the sizing and fit right
When you have determined the material, length, and overall quality, pick the sock size that is as close as possible to your shoe size. The label usually indicates gender and size range – for example, Men's 9-12, Women's 4-7, and so on.
Finding the right fit is always going to be tricky because leg and foot shapes, contours, and sizes can differ greatly from person to person.  So, getting it right will be a matter of trial-and-error.  For a good fit, look for the following features:
The top of the sock cuff comes just above the top of your boot.

Cuffs fit snugly to prevent the sock from slipping.

Your toes don't rub against the seams.

No bunching, wrinkling, or other signs of a poor sock shape.

The sock should fit snugly, but not so tight that it restricts circulation.
– Ensure durability
Boot socks, especially work boot socks, must be durable.  If your boot socks don't have durability, then they're not worth your money.  The longest-lasting socks usually offer a superior combination of premium-quality materials and a robust design that takes the pressure off of the seams.
You Might Also Like: