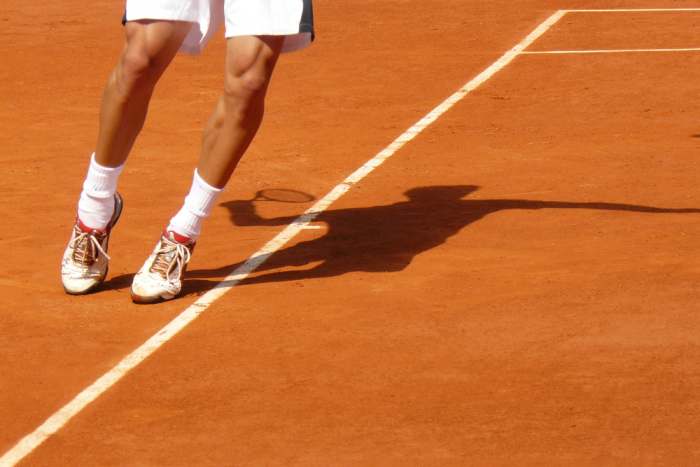 Tennis shoes, racquets, and apparel often get the most attention, but it's the little things like socks that really matter. As with most sports, the right pair of socks is essential to playing tennis at the top of your game.
The best tennis socks keep your feet comfortable, dry, and blister-free, so you can give optimal performance on the court. When looking for the right pair, keep an eye out for arch support, compression, and anti-odor technology. You'll want to opt for styles woven using moisture-wicking materials, such as polyester, nylon, or acrylic, as well as some spandex for a bit of stretch.
The wrong sock choice makes it hard for you to keep your feet sweat-free and may cause blisters. We wouldn't wish that on any player, which is why we've compiled a list of the 11 best tennis socks you can get in 2023. The top picks below are built with comfort, moisture-wicking, and performance in mind.
1- No Cold Feet Classic Black Tennis Socks
No Cold Feet is a fairly new kid on the block, but the sock brand has a lot going for it already. If you're after an all-around classic option, then No-Cold Feet has got the best tennis socks for you. These machine-washable socks work just as well for newbies as they do pros who know exactly what they need.
The Classic Black Socks are designed to complement the shape of your foot for a supportive and comfortable fit. They are made using a blend of nylon, spandex, and cotton, all of which work together to wick away moisture, keep your feet cozy and ward off blisters.
2- Saucony Men's Performance No-show Socks
Amazon
Saucony Men's Performance No-show Socks offer targeted arch compression designed to keep your arch secure and stable during even the most intensive matches. These socks provide high-level performance and protection for your feet at a fraction of what other best tennis socks on this list cost.
The highlight is the mesh ventilation that guarantees ample ventilation while polyester fabric wicks away sweat and staves off blisters. Players love the well-padded footbed that absorbs impact and shocks. This pair stays put the entire session, and you can get them in a multi-pack.
3- Thorlos Men's Tmx Max Cushion Tennis Ankle Socks
Amazon
If your feet often get slippery on the court, then Thorlos Men's Tmx Max is the perfect pair of the best tennis socks for you. Made of a proprietary combination of nylon, acrylic, and a little elastic, these ankle socks hug your feet without bunching or wrinkling, providing you with plenty of support and warmth.
The seamless toe box is incredibly comfy and keeps blisters away. There's a ton of cushioning on the sidewalls, heel, forefoot, and over the toes, giving you a supportive and comfortable feel with every stride.
4- ASICS Cushion Quarter (3 Pack)
Amazon
Both beginner and veteran tennis players will love these socks from ASICS as they're made using comfortable and wicking materials. They are extremely breathable and dry quickly, allowing your feet to breathe and stay cool & dry on the court.
They feature generous support and compression in the heel and arch, helping cut down foot fatigue and pain. This way, you can avoid injury and discomfort while performing optimally. They fit your feet snugly, preventing slipping in the heat of a quick-paced game.
5- Dickies Men's Dri-tech Moisture Control Crew Socks
Amazon
These Dickies men's crew socks are designed to complement the structure of your feet for a supportive feel and comfortable fit. Made of cotton, polyester, and a small percentage of nylon and spandex, they are super soft and warm, without compromising their durability and moisture-wicking capability.
They have reinforced toes and heels that improves arch support and ventilation. With arch compression and support, you can expect these socks to be stable and supportive. The fact that they are machine washable adds to the value.
6- Gold Toe Men's 656s Cotton Crew Athletic Socks
Amazon
There's a reason Gold Toe Men's 656s Cotton Crew are among the best tennis socks. The socks are notably comfortable and offer a sturdy fit, complete with pull on closure and toe reinforcement to prevent slipping and enhance durability.
The poly-cotton blend and AquaFX moisture control wicks away sweat and keeps your feet dry and comfy. The plush toe cushioning and a seamless toe seam is quite impressive.
7- Hanes Women's Comfort Blend Low Cut Sock
Amazon
Women players looking for the best tennis socks in the low-cut category will find this pair from Hanes to be a perfect fit. They are made from a blend of more than five synthetic and natural performance fibers, including spandex and polyester.
They boast a great fit thanks to spandex and latex. Players say these cotton knit socks are breathable and soft yet moisture-wicking. The reinforced toe and heel ensure durability and support.
8- Prince Men's Athletic Quarter Socks (6 Pair Pack)
Amazon
When you're investing in the best tennis socks, you'll want something that's comfortable, breathable, and durable. These socks from Prince check all these boxes. They have cushioned underfoot to absorb shock and protect high-impact zones, delivering superior comfort fit.
The sturdy polyester mesh-like construction gets rid of sweat quickly while the reinforced toe and heel make for a strong, lasting sock. They come in a variety of colored stripes to fit every style and personality.
9- Nike Dri-FIT Crew Training Socks (6 Pair Pack)
Amazon
Nike's Dri-FIT Crew Training Socks provide the same fit, comfort level, and moisture-wicking capabilities tennis players love from their classic socks, but with extra, unique features for added value and performance.
For this option, the wick-away fabric blend is enhanced with reinforced heel and toe, plus anti-bacterial technology, keeping your feet dry, sweat-free, and odor-free.
10- Balega Hidden Comfort No-Show Socks
Amazon
Balega's Hidden Comfort No Show socks come packed with many special features to help you level up your game. For this one, Balega used Drynamix moisture-wicking technology and specially engineered microfiber construction to provide unrivaled dryness, performance, and comfort.
These socks sport impact-resisting cushioning, as well as a reinforced toe and heel area for improved durability and stability. In addition, these snug-fitting socks provide some arch support and compression to cushion your feet during extended play or training.
11- Under Armour Adult Cotton Crew Socks (6 Pairs)
Amazon
Under Armour uses state of the art technology to design these socks to keep your feet dry and sweat-free while you play tennis. These crew socks are made of a blend of polyester, cotton, and a bit of spandex to stay stretchy and dry quickly while keeping you cool and wicking away moisture.
What makes them some of the best tennis socks is that they have minimal seams, with none around the toe to avoid scratching and irritation. Anti-odor technology and dynamic arch support prevent stinky feet and minimize foot fatigue respectively. 
Best Soccer Socks: What to Look For
Every item in your tennis outfit from footwear to outerwear is key to giving your best performance and avoiding injury and discomfort when you hit the court. In fact, even if you are wearing the best tennis shoes, the wrong sock choice can leave you with painful, blistered feet, ruining your chances of enjoying the game.
Finding the best tennis socks for you boils down to at least four main factors: cushioning, fit, material, and design style (aka cuff height). Let's take a closer look at what you need to keep in mind to score the best tennis shoes.
Material
The fabric is one of the crucial components when searching for the best tennis socks for your unique feet and is the most significant determinant of their performance in comfort, warmth retention, and moisture-wicking.
Tennis socks are usually woven using a blend of synthetic materials and natural fibers rather than just one fabric. So, expect to see nylon, polyester, spandex, alpaca, wool, or cotton blends. Each fabric in the blend serves a purpose.
Cotton: When it comes to the best everyday socks, cotton reigns supreme, and with good reason: it's a cozy, soft, ultra-comfortable, and very absorbent fabric. That's all dandy until the fabric gets drenched in moisture, becoming a bunched mess that invites sores, blisters, irritations, foul odors, and whatnot.
You'll likely not find tennis wear made exclusively from cotton, and the same is true for socks. While cotton is warm, cheap, and absorbs sweat profusely, it tends to stay wet and can lead to irritation and friction, especially with all the quick, lateral movements. For this reason cotton is typically blended with performance fabrics that wick away moisture and keep your feet cool and dry.
As far as tennis socks go, most brands prefer combed cotton. It's sturdier, finer, and maintains the sock shape longer. Besides, this fabric is less hairy and more breathable.
Wool: Merino wool is another popular material for making tennis socks. It may seem odd to wear wool socks while playing tennis, but merino wool is softer, more lightweight, and more comfortable than traditional wool. Derived from merino sheep, this fabric is also temperature regulating, wrinkle-resistant, antibacterial, and moisture-wicking, absorbing up to 30% of its weight.
That means tennis socks made from merino wool do well in both warm and cold weather. When blended with synthetic materials, it's a superb sock fabric, helping keep your feet warm, sweat-free, and blister-free, all without being clammy. But on the minus side, merino wool socks are not as stylish or durable as those from synthetic performance fibers.
Nylon: The vast majority of tennis socks are made of synthetic materials, most notably nylon and polyester. These polymer-based fabrics are incredibly strong, cheap to produce, and highly breathable. They offer optimal moisture-wicking properties and a bit of give, helping withstand constant wear and tear associated with playing tennis.
The best part is that nylon not only wicks away sweat but also dries quickly, so your feet can stay cool and dry from one set to the next. It's typically woven with wool or cotton to add more cushioning and warmth. A little elastane or spandex is incorporated particularly at the heel and calf to offer socks with added stretch and comfortable fit.
Polyester: Similar to nylon in terms of breathability and sweat-wicking, polyester is another excellent tennis sock material. It's slightly more moisture-wicking and breathes more naturally than nylon, though.
The best tennis socks are usually made primarily from polyester with varying composition of wool, nylon, cotton, spandex, and other materials. As we've mentioned, spandex makes the socks more elastic and therefore improves fit. Cotton and wool, on the other hand, increase softness, warmth, and cushioning.
Spandex: The majority of tennis socks you'll find out there have some spandex or other elastic fabrics woven in. Even though they aren't used as the core fabric, these stretchy materials provide socks with shape, allow for easy wearing, and prevent wrinkling and bunching, both of which are crucial to eliminating raw areas and preventing blisters.
Spandex is also used in strategic areas of the socks to provide extra support and compression, and to improve fit. But, for all of its stretchy capabilities, this material normally retains or picks up odors, which means socks with a higher spandex content could leave your feet with a stinky smell.
Spandex goes by many commercial names, including Lycra and Elastane.
Alpaca: Like merino wool, alpaca is an excellent, natural wicking material that makes for great sock fabric. Nonetheless, it's usually blended with nylon, polyester, polyamide, or other synthetic fibers for additional breathability and support.
Alpaca tennis socks are a great choice for players who tend to suffer blisters as this is a much softer and slip-resistant material. This natural fiber material also has impressive temperature regulating capabilities.
Colors
The color choice of your tennis socks will frequently come down to your personal or team preference. Ask your coach, team manager, or school for permissible colors.
That being said, you won't have any trouble finding the best tennis socks in all sorts of cool colors. Most of them are available in neutral colors like gray, brown, and black, as well as bright hues like pink, purple, red, orange, and even yellow. Neutrals are not the sock color of choice for a bold fashion statement, though.
As with groomsmen socks, tennis socks are also found in a huge range of bright and bold patterns, including striped, plaid, argyle, and dotted socks. These will help you stand out on and off the coat, plus pair stylishly with your tennis uniform.
If you play at a conservative club, neutral and nude colors are a safer bet than bright, patterned socks. On the other, tennis socks for kids and casual play should sport colors that appeal to your personality and style.
Tennis Socks Designs
As you'd see in most sports socks, tennis socks come in a variety of designs to choose from. These styles differ based on the cuff height.
You'll find no-show, low-cut, mid-calf, crew, and even over-the-calf tennis socks. The price usually goes up with increasing length. In most cases, your choice in design will be determined by your team or personal preference.
Let's dig deeper into each design so you can make the right choice:
No-show tennis socks – As the name hints, no-shows are socks sunken into the shoes, making them almost invisible. It's the lowest cuff height you'll find on the market. Ankle socks may fall into this category; they are a good choice for light training and gym workouts.
No-show socks are popular among women and players who don't want socks to take some spotlight from their cool shoes. The biggest complaint is that they offer non-existent cushioning at the ankle and heel. They may also rub against the skin around the ankle area.
Low-cut tennis socks – These low cuff socks lie somewhere in between no-show and mid-calf socks. The cuff is usually located just under the ankle bone and no more than 4 inches from the heel. All things considered, low-cuts offer a great balance of comfort and cushioning for people who don't want knee-high or mid-calf socks.
Tab tennis socks – This design of tennis socks was once popular but not nearly as much today. They feature an extra tab of fabric added to the upper area of the heel. This helps prevent sock slipping into the shoe's back area, plus the additional tab makes it easy to remove and put on your socks.
Quarter tennis socks – Like crew socks, quarter socks cover the entire ankle bone, sitting slightly above low-cut socks. They offer better cushioning and abrasion protection from the shoes. As such, they are an excellent sock choice for players who are susceptible to blisters, over-sweating and bruising due to friction.
Quarter socks generally stand up well to heavy use and hard landings, and you don't need to roll them down at all. For the most part, they are meant to be worn with shoes constructed for playing on a hard surface.
Crew tennis socks – Some of the best tennis socks come in the classic crew design. The cuff of these socks extends a few inches beyond the ankle for a maximum total height of 12 inches. That means most crew tennis socks should go around 8 inches above the shoe.
The longer height makes crew socks great for playing tennis outdoors in colder weather. They are also preferred by players who love wearing higher-cut socks for their additional calf support. In fact, many tennis pros, including Juan Martin Del Potro, opt for crew socks. Note that you can also find quarter-length and mini crew socks on the market.
Over-the-calf (OTC) tennis socks – OTC, or knee-high socks, stand very high up the leg, well beyond the calf. They often reach the knee, but there are some that go beyond the knee. They are the go-to choice for tall tennis players.
OTC tennis socks offer added cushioning and support for the player along the shin. They are more comfortable and protective, making them a no-brainer option for anyone who doesn't want to apply sunscreen.
If you aren't sure what design is most suitable for your situation, you won't be disappointed by a pair of low-cut, crew, or quarter tennis socks.
Sock Quality
There's no point in investing in a pair of socks that'll pull apart, fray, and develop holes after a few uses. But what really makes high-quality tennis socks?
Highly breathable – Naturally, you'll want to check out socks made from breathable materials. Sock fabric that doesn't breathe well can cause heat build-up and aggravate foot odors and conditions like athlete's foot.
Strong, durable construction – The best tennis socks are built to last, offering years of comfortable and supportive wear. Keep an eye out for strong synthetic materials like polyamide, nylon, and polyester coupled with merino wool for added comfort and warmth.
Moisture-wicking – This is one feature that's non-negotiable when it comes to tennis socks. Search for blends containing synthetic fabrics (nylon, polyester, acrylic, etc.) and wicking natural fibers like merino wool. While cotton might seem like a great choice because it absorbs moisture readily, it tends to lose shape, comfort, and warmth retention when wet.
Cotton retains sweat and moisture, becoming slippery, soggy, and irritating. Your feet won't stay warm and comfortable in sweat-drenched socks, too. What's more, high-cotton socks can also aggravate calluses, plantar fasciitis, bunions, hot spots, corns, and blisters. That's a big no-no.
Reinforced heel and toe – Arch support and padding are some of the most vital factors for tennis shoes. High-quality shoes offer extra cushioning at the heel and toe area, so you can play comfortably for hours. These are areas of your feet that experience much stress during play.
Seam quality – Make sure to check the seams, as they are pivotal to sock durability and quality. Seams made inside the socks should lie flat against the fabric, helping prevent them from scratching or irritating your skin. At the toes, the seams must be invisible or not used to create a seamless toe box.
Thickness and Weight
Tennis socks are grouped into three classes depending on how thick they are. The amount of padding material used determines the thickness and weight of the material.
Thin socks: This category includes the lightest, cheapest, and thinnest of the bunch. Thanks to their thin construction, they are extremely quick-drying and breathable. Tennis sock liners also belong to this category.
People whose feet tend to sweat a lot should try out socks in this group, as they offer the maximum moisture-wicking capability. But thin socks are bound to wear out pretty fast, so you may have to invest in a multi-pack.
Medium-thick socks: Tennis socks in this class offer better cushioning and are obviously thicker than thin socks. They are still light, breathable, and comfortable, not to mention that they offer extra impact protection and insulation.
With excellent cushioning and warmth, medium tennis socks are perfect for moderate to cold weather conditions but generally make for whole-year wear. Ensure yours offer additional padding to the heel and ball of the foot for added arch support and a little compression.
Thick socks: These styles are definitely thicker and heavier than those found in the first two categories. They offer optimal impact protection and excellent insulation, along with ultra-comfort, traction, and longevity. However, they may feel bulky and heavy.
Thick socks are of course a popular option for playing during cold weather. They'll keep your feet warm and toasty, as well as protect your ankle when making those tricky drop shots.
Tips for Choosing the Best Tennis Socks
Tip #1: Cheap can cost you dearly
When it comes to tennis socks, cheap isn't better. Discount socks may be just okay for everyday wear, but playing tennis on a hard court for hours can take a toll on poor quality socks — and eventually cause foot injury or discomfort.
Make sure your socks offer ample arch support, cushioning, and moisture-wicking. Some cheap models have unreinforced heels and toes, meaning that'll wear through in just a few hours, exposing your skin to friction and blistering.
Tip #2: Avoid socks made of 100% cotton
Tennis socks made primarily from cotton absorb and retain sweat and moisture. After a long playing session, they'll become slippery, soggy, and drenched. They will likely lose their warmth and cause blistering.
Tip #3: Get sizing right
Once you have figured out the overall quality and fabric that you want, pick the size of socks that most closely fits the size of your shoes. Sock sizes are usually labeled with gender and size range — Men's 4 to 7, for example. It's worth mentioning that choosing a sock based on gender isn't really necessary; the most crucial thing is that your socks fit well.
To make sure your tennis socks fit correctly, they should not feel too tight. They should offer a comfortable and snug feeling. Their heel cup should line up with your own heel without too much trouble.
Tip #4: Women with wide, long feet should consider men's tennis socks
That's right; if you're a woman player whose feet are extra wide and long, try looking for the best tennis socks in the men's footwear department. That's because men's socks offer a more forgiving ratio of the heel width to the ball of the foot. Besides, who said that women should wear strictly women's socks?
Tip #5: How many tennis socks pairs do you need?
There's no right or wrong answer here. This usually depends on how frequently you play tennis, club regulations, and so forth.