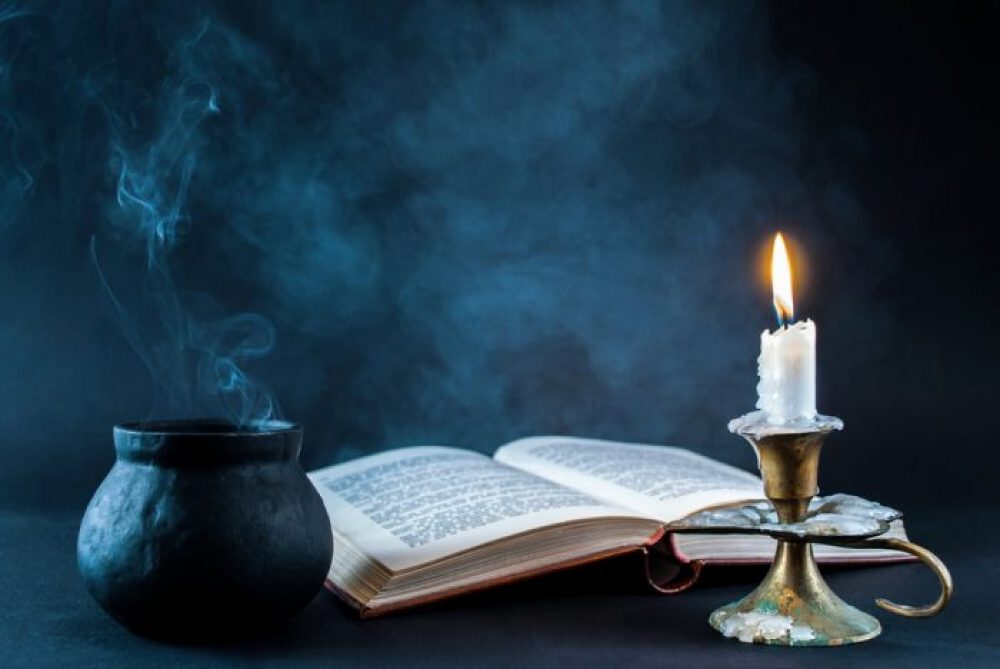 Murder mystery books take many forms. Some are intricate puzzles that stimulate the mind and invite readers to perform their own deductive reasoning—maybe they can spot the killer in the "whodunnit" before the detective protagonist.
Other murder mystery books are action-adventure thrillers with protagonists who must solve the case quickly lest they become the next victims, facing all manner of obstacles in the pursuit of justice for the slain.
Whether it's one extreme, the other, or anything in between, the best murder mystery books touch something primal in us—the fear of our own mortality, humankind's shocking capacity for evil and cruelty, and the desire to see the killer caught and justice meted out.
From the Golden Age of Detective Fiction to modern YA potboilers, the genre is alive and well. Here are our picks for the 19 best murder mystery books to binge-read right now.
1- And Then There Were None by Agatha Christie
Amazon
In many ways, And Then There Were None is the grandmama of the drawing room murder mystery. You know, the kind that forms the basis for the board game Clue and every dinner-theater murder mystery play ever, where the butler either always or never did it.
The Mystery Mistress of her age, Agatha Christie put into place so many tropes that have become so beloved they are practically cliche—a remote mansion, a mysterious invitation to dinner from an enigmatic host, and an indelible cast of characters, any one of whom could be the murderer. Is it vapid playboy Tony Marsten? Compromised war hero General MacArthur? Disgraced police officer and private investigator Mr. Blore? Schoolmistress Vera Claythorne? Drug-smuggling lawyer Isaac Morris?
This murder mystery plays out in real time. From the time the first body drops, it's a race against a shadowy enemy, hiding in plain sight and picking off checkered characters one by one. You would think that turning up dead would exonerate one of these shady denizens of the murders–but this is an Agatha Christie novel. Don't count on anything being what it seems.
2- The Girl on the Train by Paula Hawkins 
Amazon
The Girl on the Train is actually the story of three women, shifting among the perspectives of these three very different characters as it takes pointed jabs at the stability of the nuclear family and the way we present our lives to the world.
There's Rachel, who is falling apart, drinking herself into a stupor after her husband left her for another woman. There's Anna, seemingly the perfect wife, whom Rachel's husband left her for, and whose domestic bliss with her ex Rachel observes every day on her train commute past her old house. Then there's Megan, the neighbor who Rachel watches from the train and doesn't even know, but who also seems to have the perfect life of domestic bliss, which Rachel lost due to her drinking.
But all is not as it seems. Rachel sees something she shouldn't have seen from the train–and then one of the women goes missing. The web of lies and betrayal starts to unravel, as blackouts give way to gaslighting in a race to discover the truth before someone else disappears.
3- The Girl with the Dragon Tattoo by Stieg Larsson
Amazon
Lisbeth Salander, the titular girl with the dragon tattoo, takes up a lot of the attention in Stieg Larsson's icy Nordic thriller. It's easy to see why—the enigmatic, troubled cyberpunk computer hacker is the kind of heroine you don't usually see, and her brutal revenge on the twisted social worker who sexually assaulted her has made her an icon for feminine revenge.
But in her first outing, Salander plays second fiddle to disgraced journalist Mikael Blonqvist, eager to reclaim his reputation by signing on, at the behest of a wealthy patriarch in the north, to investigate the long-ago disappearance of a girl. The bleak, snowy reaches of northern Sweden are the perfect snow-drifts to hide bodies in, and soon Blomqvist and Salander find themselves not on the trail of a cold case, but a hot-blooded mass murderer still very willing to kill to protect his/her identity. More excuse for Salander to kick some ass.
4- The Cuckoo's Calling by Robert Galbraith
Amazon
Just in case you hadn't heard, "Robert Galbraith" is actually a pen name for some British lady named Joanne Rowling, who it turns out is more famous for writing in a different genre from murder mysteries—although, in that genre, it turns out she's no less murder-y. Maybe she got her taste for blood from the process of writing The Cuckoo's Calling, published midway through the publication run of the series that made Rowling the wealthiest woman in the UK or something.
Fans not sufficiently traumatized by the Harry Potter body count can enjoy Rowling's pseudonymous turn writing some of the best murder mystery books of the decade with this first entry in the Cormoran Strike series. Rowling's storytelling gusto is on full display in the creation of Cormoran Strike, a private investigator who was disabled in the Afghan War, and now faces the challenge of discovering whether a supermodel, presumed a suicide, was actually a victim of foul play.
With more twists than a Triwizard Tournament, Rowling, er, Galbraith proves that sh…he has the chops to dance between genres like a Boggart.
5- A Mysterious Affair at Styles by Agatha Christie
Amazon
Agatha Christie made her publishing debut in 1920 by introducing the world to one of the great detectives of murder-mystery literature—Inspector Hercule Poirot. The first of 33 novels staring Poirot, A Mysterious Affair at Styles introduces us to the short, rotund, mustachioed Poirot as he is recruited to investigate the murder of a wealthy matron, discovered poisoned at her home of Styles Manor.
Criticized by newspapers at the time for being almost "too ingenious," Christie, like her squat protagonist, emerged almost fully-formed as a force to be reckoned with among writers of the best murder mystery books, almost single-handedly kicking off the "Golden Age of Detective Fiction." The plot is a devilish Rube-Goldberg mousetrap, full of false flags and red herrings as Poirot rules out one unlikely suspect after another in a game of cat-and-mouse to uncover the real killer. One of the original drawing-room murder mystery books.
6- The Murder of Roger Ackroyd by Agatha Christie
Amazon
Readers so loved Hercule Poirot that Christie kept bringing him out of his so-called retirement to solve one murder mystery or another. Honestly, anyone who knew Inspector Poirot really ought to keep their distance, the way people close to him tend to fall victim to foul play.
The body count starts with the sudden suicide of the titular character's fiancee. What follows is a classic Christie dinner party that ends in murder—a prodigiously stabbed Mr. Ackroyd and a rogue's gallery of aristocratic suspects around the dinner table.
In The Murder of Roger Ackroyd, Christie establishes herself as a writer of cerebral, analytical detective fiction, eschewing blood and sensationalism for methodical potboiler, an intricate maze to get lost in. She is more in league with Poe and Conan Doyle than her more "penny-dreadful" contemporaries and is one of the all-time great writers of murder mystery books.
7- In the Woods by Tana French
Amazon
An American expat in Ireland, Tana French took the murder mystery world by storm with her first novel, the first in the Dublin Murder Squad series. She introduces the squad through the eyes of Rob Ryan, a detective with a dark past. When he was a boy, Rob (real name Adam) was the only survivor of a disaster that left two of his friends missing; he emerged from the woods covered in blood, unable to remember anything that happened.
Decades later, using his middle name and still afflicted with amnesia, Detective Ryan feels the stirrings of a past he wishes to leave in the past when a twelve-year-old girl turns up brutally murdered in the same woods—in this case, at an archaeological dig site. His desire to solve the case is hindered by a preoccupation with what he may have forgotten, as well as sexual tension between him and his partner Cassie. The mystery plays out against an evocative Irish backdrop, where the deep past and the stormy present exist uncomfortably side-by-side.
8- 1st to Die by James Patterson 
Amazon
1st to Die is also the first book in Patterson's Women's Murder Club series. The murder club is a TV-ready cast of female characters—San Francisco homicide detective Lindsey Boxer, medical examiner Claire Washburn, assistant DA Jill Burnhardt, and crime reporter Cindy Thomas. Patterson envisions them forming an ad-hoc club to solve San Francisco's toughest murder cases.
We meet Lindsey Boxer in a deep depression, holding a gun to her own head. The story then flashes back to the circumstances that have her preoccupied—"The Honeymoon Murders," a series of killings of young bride-and-groom couples across the country. The case coincides with Boxer's diagnosis with a rare blood disease, and she must solve the case without a partner and while coping with the physical effects of multiple transfusions. Along the way she crosses paths with Washburn, Bernhardt, and Thomas, joining forces with them in pursuit of a baffling truth.
9- The Silkworm by Robert Galbraith
Amazon
J.K. Row—er, Robert Galbraith returns to the chronicles of Cormoran Strike in The Silkworm, picking up a few months from when The Cuckoo's Calling to follow the exploits of her signature one-legged Afghan War vet somewhere south of Hogwarts.
Galbraith must be feeling the pressure to produce as a writer, because Strike's quarry is a writer who has gone missing—a writer who used to be hailed for his brilliance, but has fallen into a creative rut. Potential suspects include the writer's agent, editor, lover, publisher, and protege. All of them have a story and a finger to point at someone else. It turns out—shocker—a ghostwriter might have been behind the authorship of the writer's most recent novel.
The plot thickens as the writer turns up murdered, and Strike's relationship with his girlfriend begins to deteriorate as the case takes up more and more of his mental energy. It turns out that clues might be hidden in his most recent book, one of contested authorship. The Silkworm is a fascinating take on the murder mystery novel set in the literary world, written by someone who may or may not know a thing or two about selling books.
10- Along Came a Spider by James Patterson
Amazon
In Along Came A Spider, Patterson introduced the world to Alex Cross, the "doctor-detective" who would headline twenty-seven books, all with titles drawn from nursery rhymes. Cross is a forensic psychologist, pulled off the case of three murdered black people to investigate the kidnapping of two rich white kids.
Cross, black himself, is none too happy about the priorities–but then one of the kidnapped kids is discovered murdered, alongside a ransom note. Cross begins to chase a trail of bodies in search of a baffling killer who seems to be everywhere and nowhere, committing murder without feeling.
Along Came a Spider is a spiritual successor to Silence of the Lambs with heroes and villains every bit as memorable, digging deep into the psychology of serial murder. We know who the killer is—and the killer's twisted methods—early in the novel, but that doesn't diminish the suspense one bit as the body count racks up. And even when the killer is caught, the bloodshed is far from over.
11- Angels & Demons by Dan Brown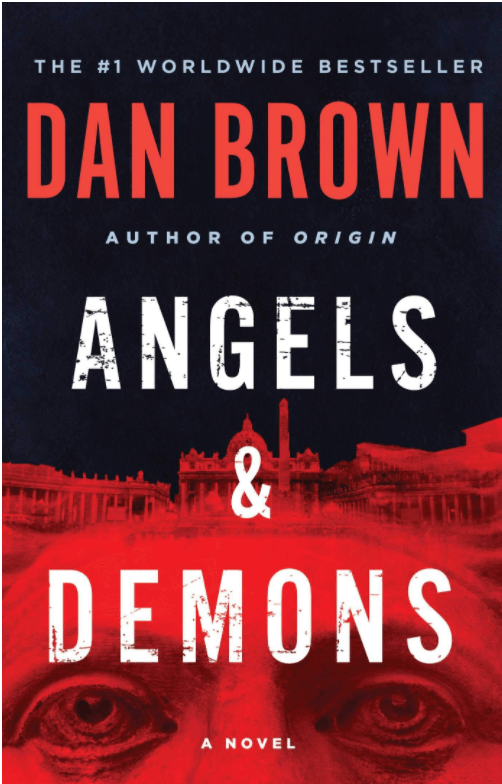 Dan Brown's follow-up to his mega-bestseller The Da Vinci Code substitutes particle physics for the world of fine art, mixed with his signature mash-up of Catholic arcana and secret-society conspiracy theory. Like Da Vinci Code, it all starts with a murder, but instead of the director of the Louvre, it is a scientist who also happens to be a Catholic priest, employed in antimatter research at CERN. The victim has an Illuminati symbol branded on his chest, and a canister of antimatter is stolen.
Through some questionable science, the antimatter is suspended by an electronic stabilizer that will eventually lose power, causing an antimatter explosion. The canister is hidden somewhere in the Vatican, as a calling card from the anti-religious Illuminati, an institution long thought to be extinct.
To make matters worse, the four potential successors of the recently-deceased Pope are also missing, throwing the Catholic world into chaos. Iconologist Robert Langdon is once again recruited to help solve the case–and he's not sure that the apocryphal Illuminati can even exist, let alone be behind the potential time-bombing of the Vatican. But as cardinals drop dead left and right, the clock ticks on an even greater disaster in the making. Love him or hate him, Dan Brown knows how to build suspense into a murder mystery book.
Buy Angels & Demons by Dan Brown on Amazon here.
12- Postmortem by Patricia Cornwell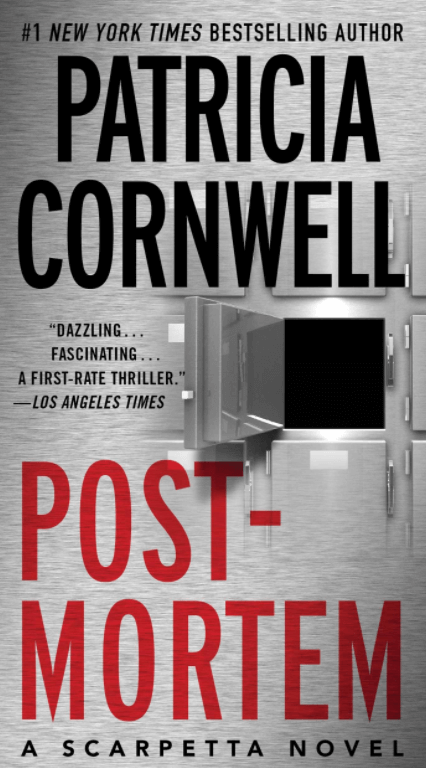 Winner of the 1991 Edgar Allen Poe Award for Best First Novel, Postmortem introduced the world to a vital voice in murder mystery literature in the form of Patricia Cornwell. It also introduced the world to medical examiner Dr. Kay Scarpetta, the protagonist of Postmortem and seven other books.
Set in northern Virginia, Postmortem finds Scarpetta with an unstable personal life and strained professional relationships as she approaches the latest in a series of unsolved murders. She partners with a prickly detective and an FBI profiler to try and piece together the unsolvable, all while coping with her role as caretaker to her ten-year-old niece, as well as a fraught romantic relationship with a Commonwealth attorney.
Buy Postmortem by Patricia Cornwell on Amazon here.
13- The Likeness by Tana French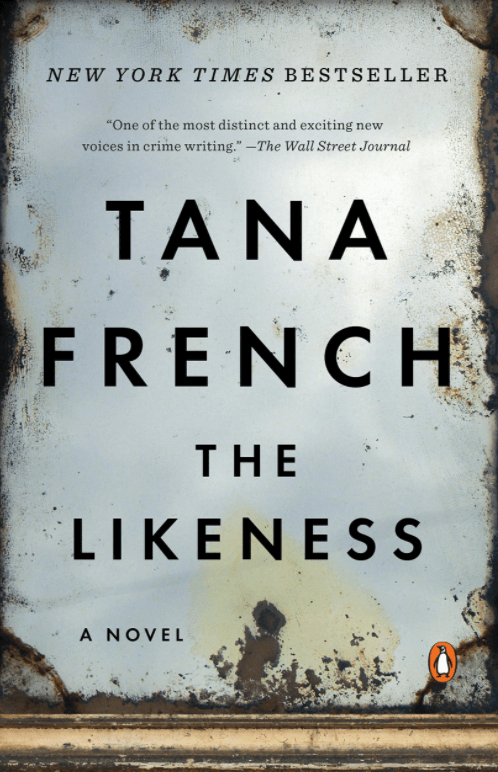 Tana French continues the Dublin Murder Squad series with The Likeness. Her protagonist is Cassie Maddox, one of the squad detectives from In the Woods, as she tries to solve a perplexing and disturbing murder. The victim, Lexie Madison, happens to bear an eerie resemblance to Maddox. It gets weirder, though—Madison was attempting to live as Maddox, impersonating her identity.
Maddox and her murder squad colleagues concoct a daring and unlikely plan—for Maddox to assume Madison's identity and move in with her housemates to try and flush out the killer. But the lines between the two identities begin to blur, and Maddox' own life may be in danger as she immerses herself into Madison's world of lies.
Buy The Likeness by Tana French on Amazon here.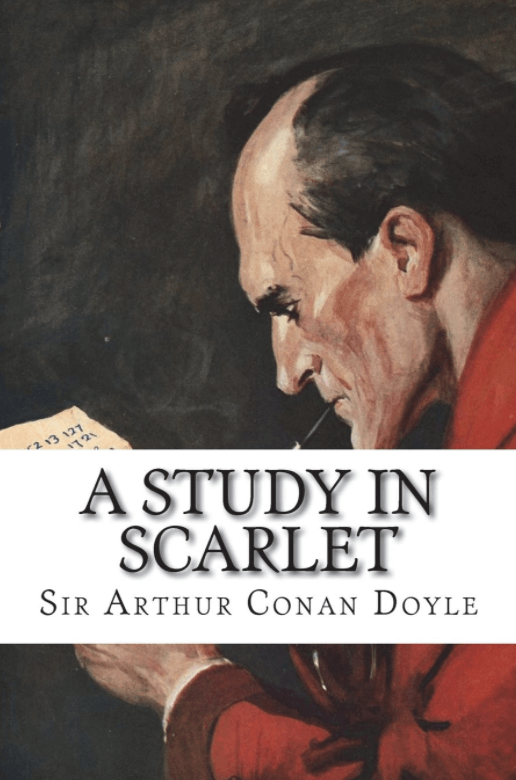 No discussion of the best murder mystery books is complete without A Study in Scarlet, the inaugural case of a certain Sherlock Holmes and Dr. John Watson. Watson narrates as he returns from service in the Anglo-Afghan war, having been wounded and discharged. He's looking for a place to rent and is referred by a friend to the eccentric Sherlock Holmes, who is looking for a flat-mate.
Conan Doyle establishes Holmes as an eccentric genius, wickedly observant, obsessed with science and in possession of superhuman deductive reasoning. Watson barely gets settled in when he and Holmes are whisked off to a consult on a fresh murder case. There is blood on the crime scene and a corpse without a wound, as well as a mysterious word written on a wall in blood. This perplexing confluence of clues is right up Holmes' alley, and the game is afoot.
A Study In Scarlet is a fascinating introduction to the cerebral puzzle-box of a Sherlock Holmes mystery, setting the stage for three more novels and 56 short stories starring Holmes and Watson. The back half of the novel, interestingly, consists of a description of the crime from the narration of the killer.
Buy A Study in Scarlet by Arthur Conan Doyle
15- Deja Dead by Kathy Reichs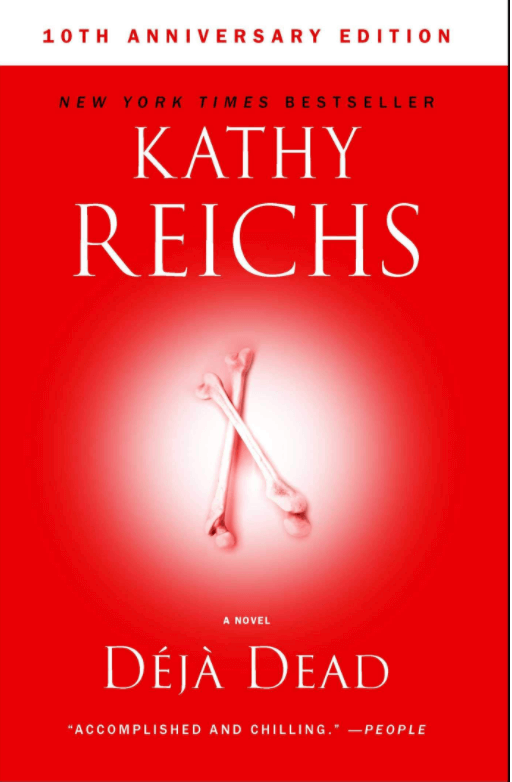 With Deja Dead, Kathy Reichs launched a series of twenty books starring Dr. Temperance Brennan, a forensic anthropologist whose job is to examine the remains of murder victims for clues. Her "crime scene" is the dead body, not the scene around the body. It's no coincidence that the lead character of the unrelated TV series Bones "borrowed" that character name.
In Deja Dead, Dr. Brennan's crime scene is the decomposed remains of a young woman who was surgically dismembered and buried beneath a Canadian monastery. Dr. Brennan is the only member of the forensic team who thinks this may be their first break in the case of a series of mysterious disappearances of young women. A serial killer is on the loose, and Dr. Brennan is playing a dangerous game to pin the killer down, one that will threaten the lives of everyone close to her.
Buy Deja Dead by Kathy Reichs on Amazon here.
16- The Dry by Jane Harper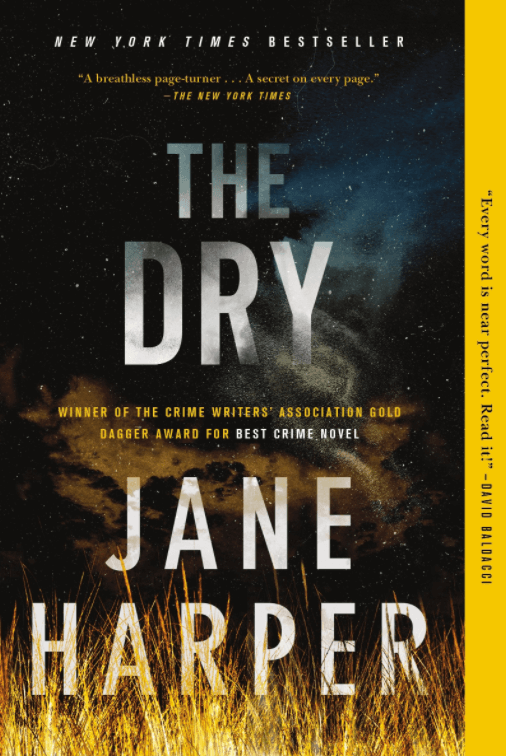 The Dry takes as its evocative setting a draught-starved Australian farming town, where protagonist Aaron Falk was once accused of a heinous crime when he was a boy. Charges were dropped, but Falk was never acquitted in the eyes of his mistrustful neighbors. Faced with the cold mistrust of friends and family members, Falk couldn't wait to leave.
Now a detective, Falk returns to his struggling hometown and the cold stares of his former neighbors for the funeral of his childhood friend, one of two deceased in an apparent murder-suicide. Falk is privy to secrets from the long-forgotten past, however, and he isn't so sure that the case is that cut-and-dry.
Buy The Dry by Jane Harper on Amazon here.
17- One of Us Is Lying by Karen M. McManus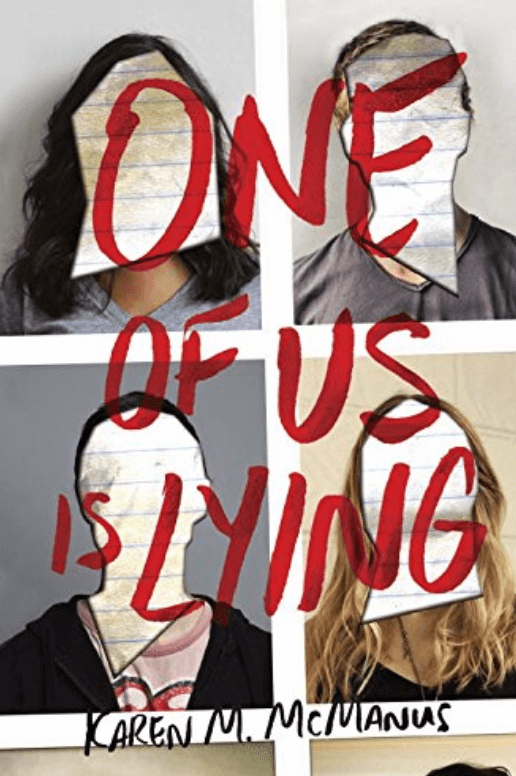 One of the remarkable things about literature geared to the young adult market is that it doesn't pull its punches. A young adult murder mystery book isn't kid's stuff, and One of Us Is Lying is Case-In-Point #1. The twisty plot starts out like The Breakfast Club, with five students reluctantly reporting for detention. The ensuing antics are far less funny and uplifting, however, as one of the students dies from what seems like a freak allergic reaction.
The story unfolds from four different points of view—those of the four surviving students as they each tell the story of Simon's death from their own perspective. As the title might indicate, all is not as it seems as the four stories diverge and disagree on the details, along with evolving evidence that Simon's death was actually foul play. A potboiler for Gen Z, evidence springs from Tumblr, encrypted files, and social media as the stories break down into a web of secrets and lies to reveal the ugly truth hiding at the heart of this high school melodrama.
Buy One of Us Is Lying by Karen M. McManus on Amazon here.
18- The Sweetness at the Bottom of the Pie by Alan Bradley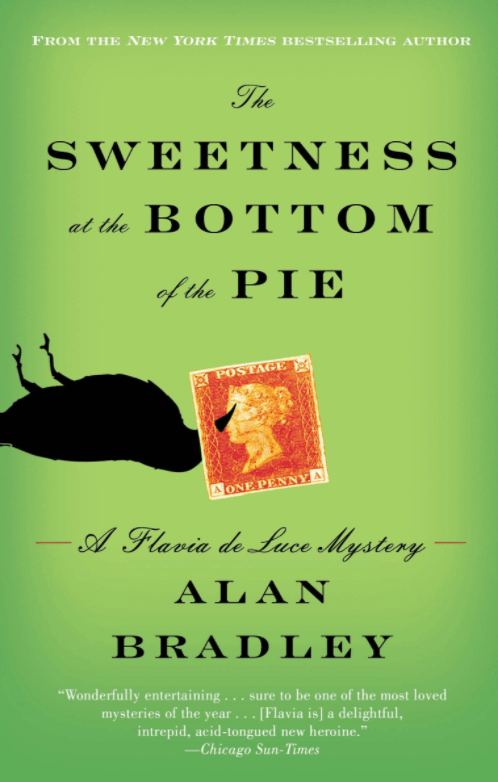 It's hard not to like Flavia Sabina de Luce, the eleven-year-old protagonist of Alan Bradley's retro murder mystery book set in Postwar Britain. Flavia is obsessed with science and is an exceptionally precocious English girl in braces and pigtails. We meet her plotting revenge on her two older sisters for playing a mean prank. Her revenge—spiking their lipstick with poison ivy.
But Flavia has more important business to attend to. Recruited by her former illusionist father to solve a murder in the town near to their country mansion, Flavia's father winds up arrested and falsely accused for the crime. It's up to Flavia to single-handedly solve the case and clear her father's name in a caper deliciously suffused in tropes from the Golden Age of Detective Fiction. It's no surprise why Bradley followed up this book with nine more mysteries starring Flavia Sabina de Luce.
Buy The Sweetness at the Bottom of the Pie by Alan Bradley on Amazon here.
19- The Girl Who Kicked the Hornet's Nest by Stieg Larsson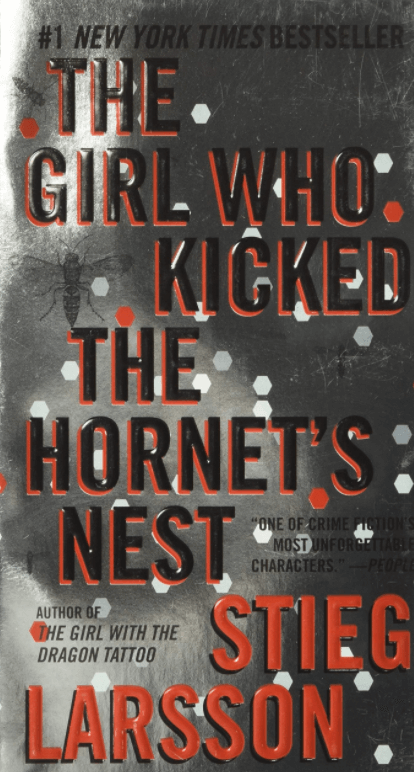 The Girl who Kicked the Hornet's Nest is the third book to star Mikael Blomkvist and Lisbeth Salander, the latter of whom has become a cyberpunk heroine for the ages. The story picks up where the last story left off, with Salander in intensive care and tended to by Blomkvist's sister, who also acts as her lawyer. But Salander faces trial for the acts of justified violence in her previous appearances, while due to botched police work the real killers remain at large, the body count continuing to rise.
To make matters worse, Swedish secret police seek to silence Salander and railroad her at the trial. Blomkvist and his sister are Salander's only allies as they race to uncover the truth in a tour-de-force of journalism and detective work. But they too are vulnerable to the powers that be that want Salander swept under a rug. It's a twisty and explosive end to the Millenium trilogy that began with The Girl with the Dragon Tattoo.
Buy The Girl Who Kicked the Hornet's Nest by Stieg Larsson on Amazon here.
You Might Also Like: