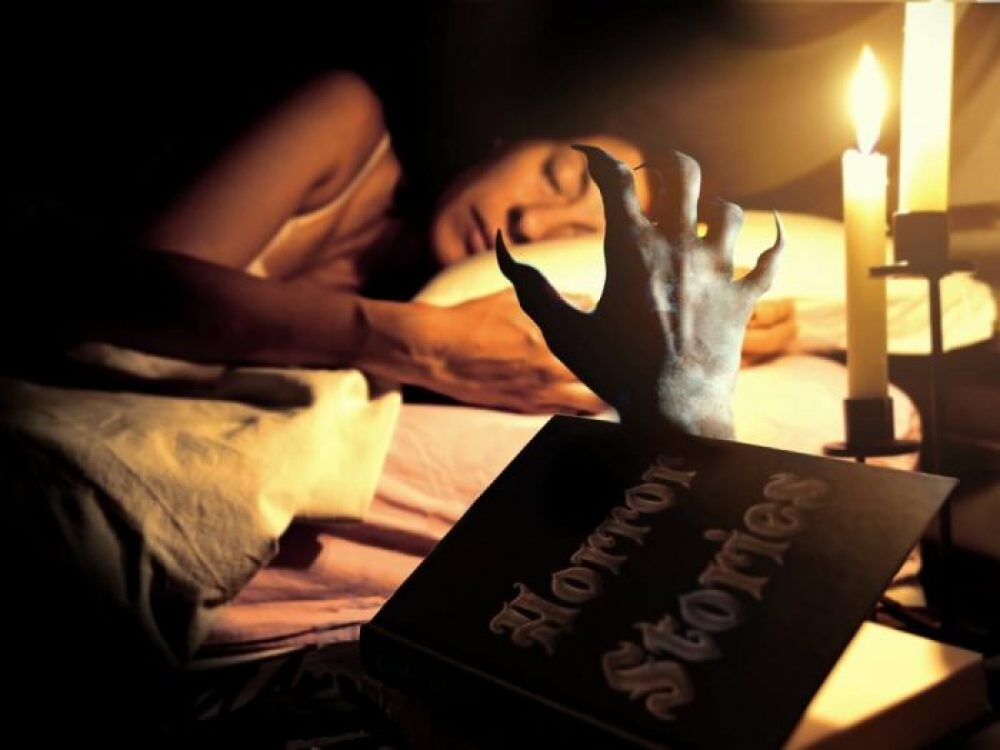 Zombie books and movies come in and out of fashion, but like the roving flesh-eaters themselves, they will never die completely. Zombies have a unique power within the horror landscape.
No, not the power to rise from the dead or form overwhelming swarms or eat living flesh. The power of zombies lies in their ambiguity. They are a blank slate. As such, they can stand in for whatever message, threat, or social criticism an author wants to retcon them for.
A zombie book can be about almost anything—politics, religion, racism, war, technology–anything that scares us.  Zombies can be repurposed as a potent symbol for the decline of civil life in the face of an encroaching threat.
Of course, people also come to zombie books for the familiar tropes—a virus or "plague" that creates the zombie threat out of nowhere, the breakdown of polite society, no more rules or responsibilities, shotguns and motorcycles, small bands of desperate survivors making impossible choices and struggling to survive onslaughts of hungry undead.
These tropes pop up again and again in zombie books. What keeps us coming back is the diverse cast of characters the author might drop in the path of the zombie horde, how they approach survival, and what kind of society they endeavor to build atop the ashes of their  collapsed civilization.
Zombie books are all this and more, and we've seen some great ones come out over the decades, some of them eerily prescient for these troubled times. Here are our picks for the 24 best zombie books to scare yourself to sleep.
1- City of the Dead by Brian Keene
Amazon
Brian Keene won the Bram Stoker Award for Best First Novel in 2003 for his debut, The Rising, but we slightly prefer this sequel to that harrowing trip through a world dominated by zombies, with humans an endangered species on the run.
City of the Dead picks up where the violent cliffhanger ending of The Rising leaves off, in a world where humankind's attempts to understand the natural world went too far and discovered something we never suspected—evil spirits in a Hell-like dimension called the Void, inaccessible and yet terrifyingly close. In The Rising, experiments with a particle accelerator opened up a portal to the Void, allowing evil spirits to animate the dead and put humanity on the menu.
In City of the Dead, the surviving heroes continue their cat-and-mouse game with Ob, a sentient and verbal leader among the zombies who speaks for the Void and seeks to pull the strings. City of the Dead is awesome because it's when we discover that the demons from the Void are actually far more pernicious than the protagonists ever imagined, and the destruction of humanity by the zombie apocalypse is actually just the beginning.
2- Autumn by David Moody
Amazon
Autumn caused a sensation when David Moody self-published the book in 2001. Its rabid following occasioned five sequels, as well as the acquisition of the titles for mass publication in 2010.
The original novel doesn't reinvent the zombie genre, but that's part of the point. It approaches familiar tropes with fresh eyes and not a note of cliche or irony as a plague kills 99% of humanity, and the dead rise from the graves in some strange quasi-scientific reanimation effect to attempt to exterminate the outnumbered survivors.
It's almost like Night of the Living Dead never happened, as the survivors acclimate with bewildered fright to a threat for which they have no name in their reality. But Autumn doesn't rely on gore or adrenaline—just the eerie intensity of empathy as it invites the readers to imagine what it would be like to be dropped into a plausible zombie apocalypse.
3- World War Z by Max Brooks 
Amazon
The innovation of World War Z is to treat the zombie apocalypse as a matter of geopolitical consequence. What would happen between China and Taiwan, Israel, and Palestine, if we all suddenly had a billion or so bigger problems to worry about, problems of the reanimated flesh-eating variety?
When the book opens, the zombies don't rule the world save a few pathetic human survivors, as is typical in a zombie book. Global governments have been relatively successful in slowing or containing the zombie threat–but it isn't going anywhere. In the face of an existential threat, the leaders of the world show their true colors as they try to survive and hold on to power and gain the advantage over their longtime enemies, all while soldiers blow up zombies with heavy artillery at an ever-crumbling perimeter of the jurisdiction of the living.
4- The Zombie Survival Guide by Max Brooks
Amazon
… and then there was The Zombie Survival Guide. This tome exists as a "book within a book" in Brooks' follow-up, World War Z, but in the hands of an inhabitant of a world where the dead stay dead, The Zombie Survival Guide is a hoot.
This satirical guide helpfully walks readers through "myths vs. realities" about zombies, including virology of the zombie disease, behavior patterns of zombies, and what to do if you get bitten  (suicide or amputation of the bitten extremity).
Other hilarious digressions in this straight-faced guide include a breakdown of the best weapons to fight zombies, as well as a historical timeline of supposed "zombie sightings," many of which were subject to cover-ups. Which, you know, is why the zombie apocalypse took everyone by such surprise. Inquiring readers want to know.
5- Rot & Ruin by Jonathan Maberry
Amazon
Rot & Ruin turns zombie literature on its head by imagining zombiekind as misunderstood victims of violent humankind. The title comes from beleaguered humanity's terminology for the rest of the world—that is, the vast majority of the world, which has been taken over by zombies. Human survivors cower behind chain-link fences, surviving by raising gardens and depending on a class of quasi-celebrity "zombie hunters" for protection.
Older generations have accepted this "new normal," but younger generations, including 15-year-olds Benny and Louis, are not so sure. Their journey into the Rot and Ruin, a storied place of danger and violence according to the folklore of their culture, will challenge everything they thought they knew about who the good guys are and who the real monsters are.
6- My Life as A White Trash Zombie by Diana Rowland
Amazon
Who can resist a title like that? My LIfe as a White Trash Zombie follows the plight of Angel Crawford, a loser with a criminal record and a pill habit, barely scraping by living with her father in the Louisiana bayou. When she takes one pill too many, she wakes up in the hospital, thinking it as a near-miss brush with death–but the miss turns out to not be as near as it seemed.
Freshly animated with a thirst for flesh, Angel is left to ponder whether she was better off alive or undead. After all, she gets her first steady job—her zombie proclivities earn her employment at the morgue—and she might have a chance with a hunky sheriff's deputy. But decapitated bodies keep turning up at the morgue, and Angel didn't even kill them. A serial killer is on the loose. Will Angel crack the case, or just eat the evidence?
This hilarious, obscene, irreverent take on the zombie genre is a must-read for lovers of zombie books.
7- Season of the Dead by Lucia Adams
Amazon
Lucia Adams plays with structure and reimagines what a zombie book can be in Season of the Dead. One season, one zombie apocalypse, four protagonists. Adams follows four unrelated characters in four different parts of the world as they each deal with the spiraling crisis in their own way, based on their professions, talents, prejudices, and instincts.
There's Paul, who tries to ride out the apocalypse in his Irish town, but can't escape the carnage forever. There's Lucia, a chemist and a "furry" who must escape zombies in a full-body squirrel outfit. There's Gerry, a Canadian political prisoner, who watches his guards turn into zombies before his eyes, leaving him more desperate to escape his prison than ever.
Finally, there's Sharon, a zoologist, who knows more than anyone else what humanity is up against in facing down the zombie virus.
8- Carnage Road by Gregory Lamberson 
Amazon
Something about the zombie genre goes hand-in-hand with the motorcycle Western. Not only is the motorcycle one of the ideal modes of transit for outrunning zombies on freeways choked with abandoned cars, but the world we imagine in the wake of a zombie apocalypse is usually a lawless wasteland where might makes right.
Carnage Road follows two such iron cowboys in the form of Boone and Walker, the only two survivors of the Floating Dragons motorcycle gang. They ride their chariots from one end of the blasted United States to another, cutting a bloody path through zombie flesh in an unlikely bid to become humanity's last great hope.
Evoking moody westerns and depicting hair-raising suspense, Lamberson crafts a bleak and memorable world where the surviving humans can be just as deadly as their undead counterparts.
9- Zombie Fallout by Mark Tufo
Amazon
This one hits a little close to home. In the first book of his Zombie Fallout series, Mark Tufo envisions a populace cowering in fear from a severe flu-like virus. A vaccine is rushed to market with limited testing, and frightened citizens line up to receive it, unaware that the vaccine has an unexpected and deadly side effect. Fiction, right? Could never happen, right?
In this case, the side effect is death, followed by reanimation with a hunger for brains. Zombie Fallout builds a classic zombie survival narrative around a memorable lead character—survivalist Michael Talbot, the sarcastic and enigmatic leader of a band of desperate survivors as they struggle to establish a safe zone they call "Little Turtle."
But the threat is bigger than they think—a Zombie Queen seems to be pulling the strings behind the mindless flesh-eaters–and may have a closer connection to Mike Talbot than he is ready to accept.
10- The First Days by Rhiannon Frater
Amazon
Rhiannon Frater kicks off the first volume of her As the World Dies series with a bang. In classic zombie book fashion, two women are just going about their business when the whole world falls apart.
Jenni and Katie are strangers when they form a bond of desperation to escape the ravening flesh-eaters that have appeared out of nowhere in their Texas town. Their odyssey across the Lone Star State, as they learn to kill zombies and discover a deepening bond with each other, is even more satisfying than watching a zombie's head explode.
The First Days follows Jenni and Katie through their initial adaptation to the zombie apocalypse, until fate puts them in the path of a small outpost of human survivors, surrounded by zombies, the stakes raised, and their bond with each other put to the test. A zombie book that doubles as a romance novel? Rhiannon Frater has you covered.
11- Dead in the West by Joe R. Lansdale
Once again, with zombie books and the Western, it's just too good a fit. But Joe R. Lansdale packs this short zombie book with a unique and evocative take on zombie lore—one that posits the brain-hungry undead as more than just a horrid and senseless fluke of nature that humans have no choice but to come to terms with.
The small town of Mud Creek, TX, brought their zombie apocalypse on themselves by lynching an innocent Indian medicine man. Before he dies, he curses the town to endure the rising of the hungry dead. There's murder, mayhem, and potential redemption in the character of another icon of the Texas Western—a gun-toting preacher who has lost his faith and looks for meaning at the bottom of the bottle.
A stark but ultimately moral tale, Dead in the West is a quick, gripping, and satisfying read that takes the zombie book in a fascinating direction.
Buy Dead in the West by Joe R. Lansdale on Amazon here.
12- The Last Bastion of the Living by Rhiannon Frater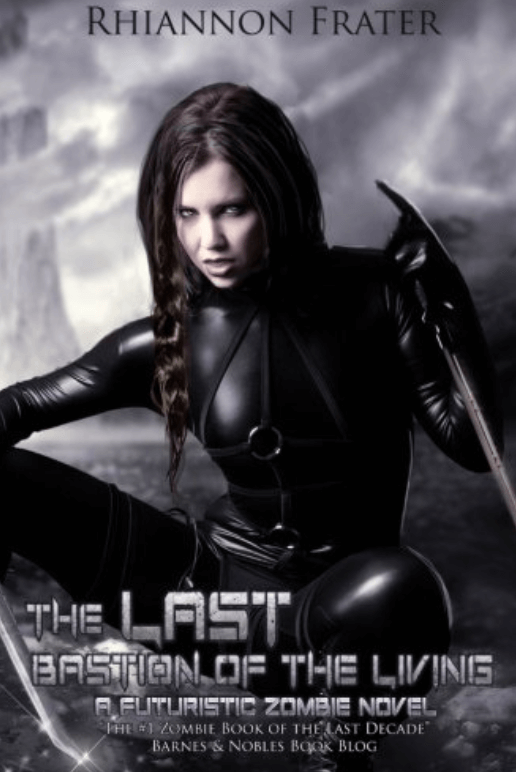 Kicking off a different series altogether, Rhiannon Frater takes this zombie book in a different direction—the far future. Is this the future of the same zombie apocalypse as witnessed in The Last Days? Regardless, humanity cloisters away from the flesh-eaters in the Bastion of the title—a walled and struggling city.
Maria Martinez is struggling to get by in the slim comfort of the Bastion, but everything changes when she is summoned by a secret Science Warfare Division working on the tech that will ultimately destroy the zombie scourge and reclaim the world for humankind. Maria could be their champion–and everything rides on her success.
Buy The Last Bastion of the Living by Rhiannon Frater on Amazon here.
13- Feed by Mira Grant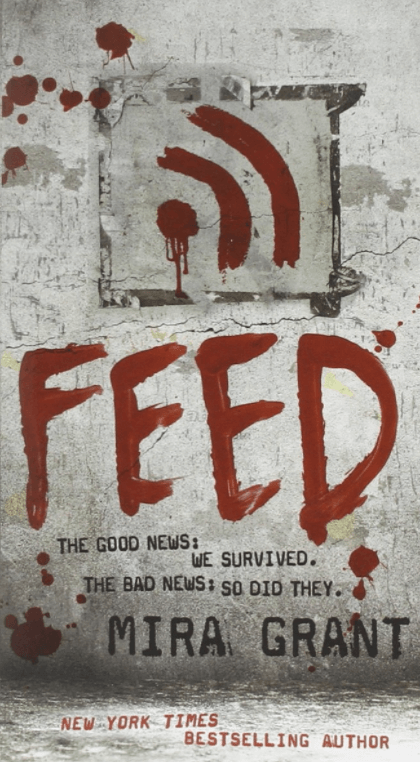 The title of Mira Grant's first entry in her creatively-named Newsflesh series seems innocuous enough until you see the dust jacket, adorned with the image for a blog RSS feed, scrawled in blood. Indeed, one of the many prescient calls in Grant's 2010 post-apocalyptic zombie book is that most people would be getting their news from blogs of dubious journalistic rigor.
For what it's worth, another forecast that hits a little close to home is that the agent which turned humankind into zombies resulted from our desire to conquer death—a freak combination of a cure for cancer and a cure for the common cold to form your classic zombification virus.
Humankind struggles forward in the face of the advancing zombie threat, with bloggers like Georgia "George" Mason as she follows the candidates in an election for U.S. President. The campaign soldiers on, despite the rising body count and candidates trying to seize whatever political advantage they can out of the crisis. Like I said–a little close to home.
Buy Feed by Mira Grant on Amazon here.
14- The Plague of the Undead by Joe McKinney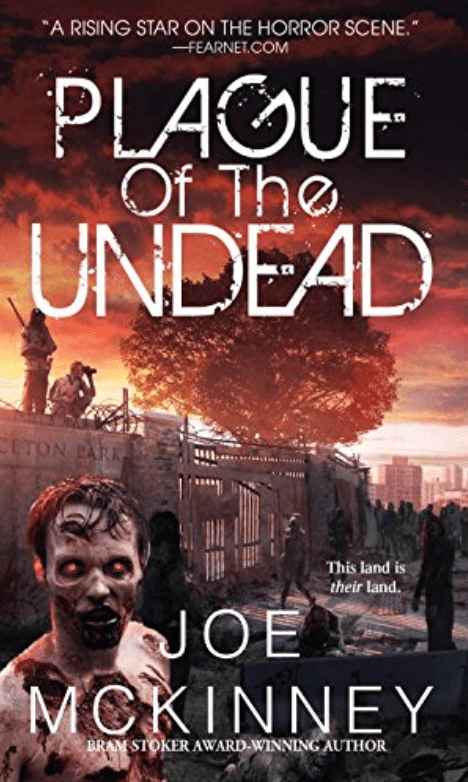 Joe McKinney kicks off his Deadlands series with this rip-roaring twist on the classic zombie tale. Barricaded into a compound in Arkansas, a small community of survivors has managed to weather the zombie apocalypse and establish some modicum of safety and normalcy.
But their children did not witness the collapse of society firsthand. Now they are restless—what is outside their limited world? Are the zombies even still there? What world can they build in the rubble from the old world?
So with a grizzled veteran fighter to guide them, they organize an expedition into the deadlands  and discover that the zombies most definitely are still there. But other humans are out there too, in isolated pockets, cowering and helpless. If they want to build a new world from the ashes of the old one, they will have to fight the zombies for it.
Buy The Plague of the Undead by Joe McKinney on Amazon here.
15- By the Blood of Heroes by Joseph Nassise
By the Blood of Heroes takes the zombie book genre in an interesting direction by dropping zombies conspicuously into a revisionist alternate history—in this case, the history of World War I. WWI saw the first widespread use of chemical weapons. If poisonous gas could be used to create lots of dead bodies, why not a chemical weapon that then reanimates all the dead bodies?
As a culture, we're more accustomed to WWII history where the villains and good guys are clearer. With the Kaiser at the head of the German army, this tale is much more ambiguous as Allied forces attempt to rescue a downed fighter pilot in hostile territory occupied not just by enemy fighters, but by dangerous undead soldiers. Urban fantasy author Joseph Nassise elevates this rip-roaring adventure story with violent supernatural flourishes, as well as immersive details of this tragic chapter of world history.
Buy By the Blood of Heroes by Joseph Nassise on Amazon here.
16- Zombie, Ohio by Scott Kenemore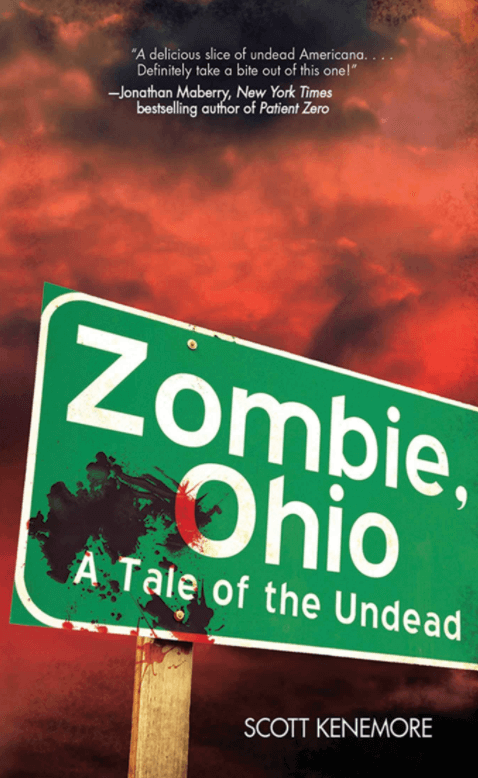 Every now and then, a brave (or foolish) writer choses to make a zombie the protagonist of an actual zombie book. It's hard to do that with traditional zombies, though—they don't have much of a character arc, nor much motivation outside of a hunger for brains. It's a compelling motivation, but hard to build a story around from the inside-out.
Scott Kenemore deftly approaches this challenge by making his protagonist more brainy than your average shambling flesh-eater. Peter Mellor was a college professor in rural Ohio before a car accident killed him. Reanimated in the zombie apocalypse, he retains his memories and much of his intelligence. He tries to return to his normal life, only to face predictable hostility from his former friends and colleagues.
The plot gets thicker, though, as Mellor learns that his car accident was no accident after all. The novel twists into a kind of noir potboiler with a zombie as the protagonist, adding to the mix a gory comedy of errors. One of the most inventive zombie books in recent memory.
Buy Zombie, Ohio by Scott Kenemore on Amazon here.
17- Ex-Heroes by Peter Clines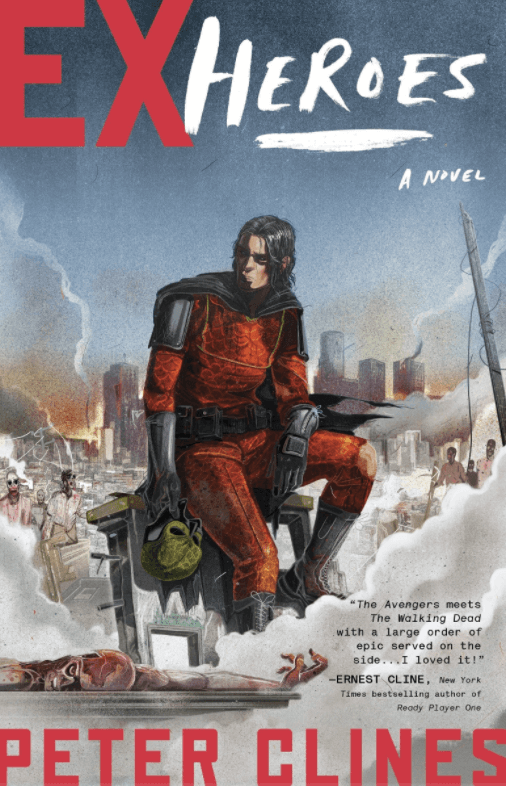 In the first book in his Ex-Heroes series, Peter Clines concocts an ingenious conceit—a mash-up of the superhero genre with the zombie genre. He introduces us to a team of superhumans who used to protect the innocent from the predation of criminals, hero-style. But now their one-time protectees are all ravening zombies. What's a superhero to do?
Guarding a small collection of survivors in a one-time movie studio (how appropriate), the former superheroes struggle to keep their charges alive, and also to reckon with their loss of status and their place in this devastated new world. It's as hilarious as it is tragic and a fantastic way to kick off a series of unique zombie books.
Buy Ex-Heroes by Peter Clines on Amazon here.
18- Love & the Zombie Apocalypse by Chelsea Luna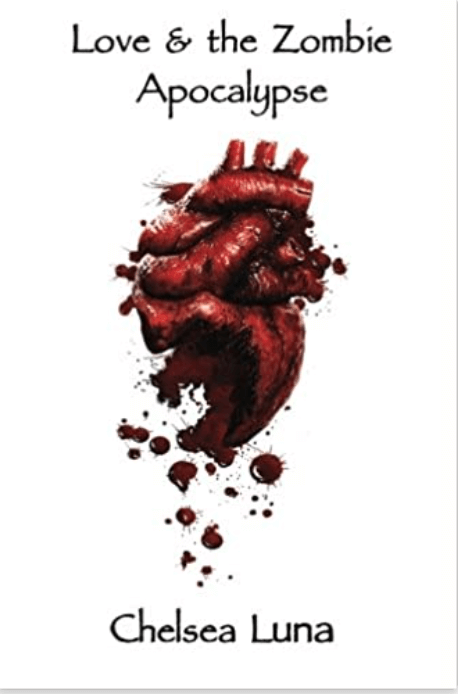 Set in Flint, Michigan, a town that knows something about biological disaster, Love & the Zombie Apocalypse envisions the aforementioned apocalypse as the backdrop for a teen soap opera—a fun and irreverent take on the familiar beats of a zombie book.
17-year-old Rachel Cole is waiting for her little sister to go to science camp so she can have some peace and quiet, but her plans are interrupted by a violent zombie outbreak, suspected to have originated from a biological warfare disaster.
It isn't all bad, though—one of Rachel's companions in the flight to safety is Cage Vance, the dreamy and moody high school quarterback. Even hordes of flesh-eaters can't put a dent in a good teen romance as Rachel treks across a zombie-infested Michigan to try and save her sister. Love & the Zombie Apocalypse is the zombie-themed YA romance you didn't even know you needed.
Buy Love & the Zombie Apocalypse by Chelsea Luna on Amazon here.
19- Slow Burn: Zero Day by Bobby Adair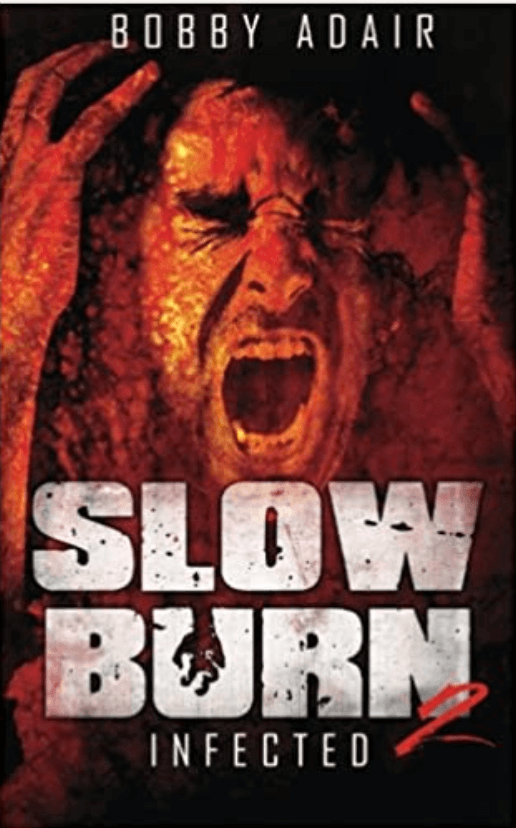 Zero Day, the first book in Bobby Adair's Slow Burn series, sees a zombie outbreak overtaking the old world. But it doesn't much affect deadbeat young adult Zed Zane, until his stepdad turns undead and—worse—bites Zed on the arm before Zed is able to stab him to death.
Getting arrested for the murder of his stepdad is just the beginning of Zed's troubles. The world is coming apart, and Zed is now one of the most feared and shunned humans on Earth—one who has been bitten by a member of the expanding zombie horde. Infected and fighting for his life, he must find his way to safety and—hopefully—find a cure
Buy Slow Burn: Zero Day by Bobby Adair on Amazon here.
20- The Becoming by Jessica Meigs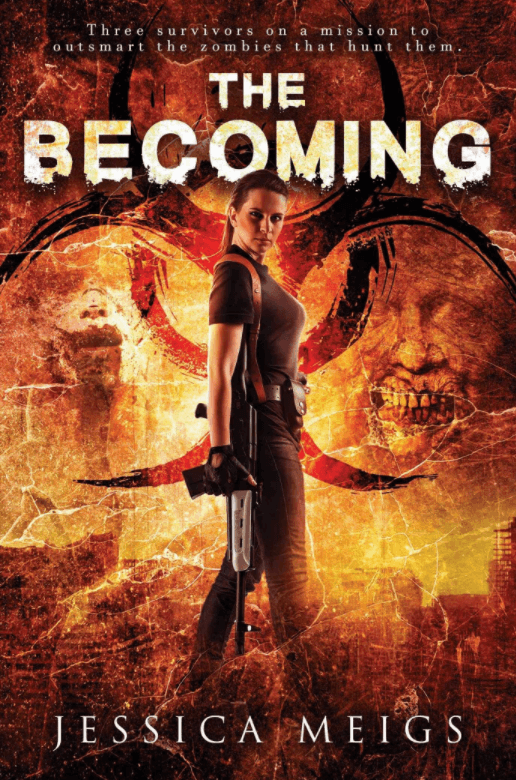 The first volume of Jessica Meigs' The Becoming series is a brutally effective presentation of familiar circumstances, steeped in the culture and scenery of the Deep South. A virus escapes from the Atlanta CDC, rapidly turning much of the population of the South into violent, ravenous cannibals.
Three tough guys—a cop, a sharpshooter, and a marine—team up in central Mississippi to hold the line against the encroaching threat of zombies while protecting a small clutch of survivors. Their quest for answers and hope of salvation takes them all over the state, encountering dangers and secrets they never bargained for.
Buy The Becoming by Jessica Meigs on Amazon here.
21- Pride and Prejudice and Zombies by Seth Grahame-Smith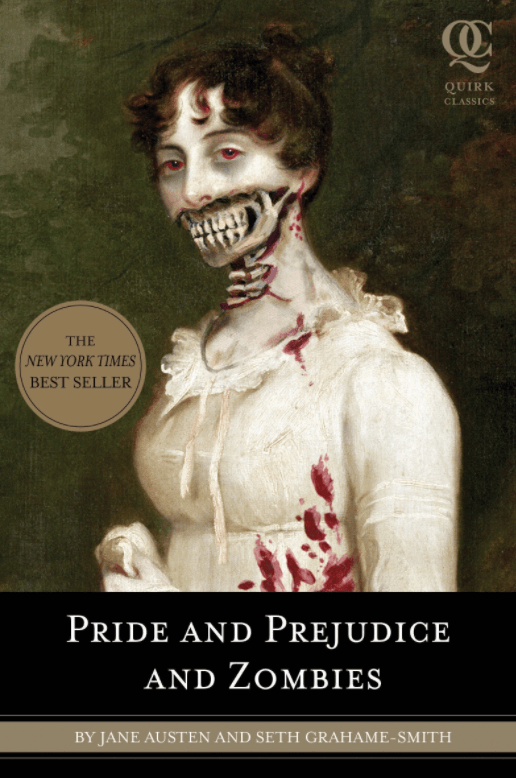 Oh, Pride and Prejudice and Zombies — how impossible you are not to love. The original version credited Jane Austen as a co-author in Seth Graham-Smith's belly-laughing reimagining of the tale of Elizabeth Bennet and Mr. Darcy in an alternate past that is in the midst of a zombie apocalypse.
Grahame-Smith punctuates the well-known repartee and flirtatious courtship between Elizabeth and Darcy with scenes of shocking violence as zombies pop up unannounced to interrupt the well-known comedy of manners with a comedy of a completely different type. One of the best zombie books ever, as inventive as it is hilarious. It's amazing how funny familiar stories become when you randomly add zombies.
Buy Pride and Prejudice and Zombies by Seth Grahame-Smith on Amazon here.
22- Generation Dead by Daniel Waters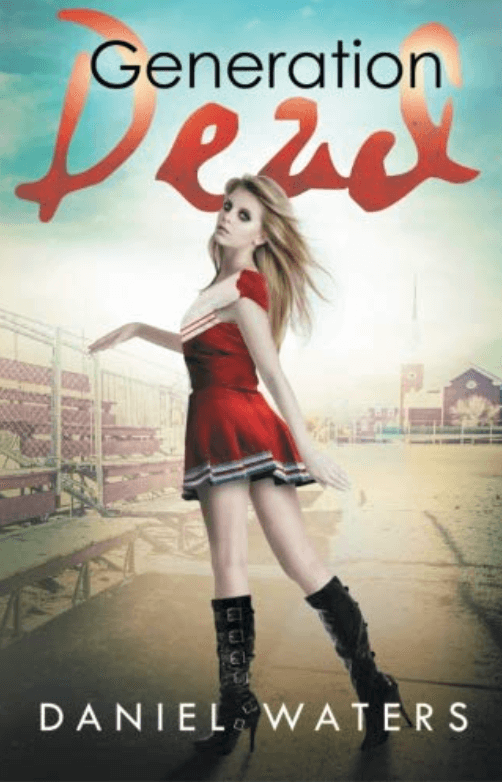 Zombie fiction got the Twilight treatment in Generation Dead, Daniel Waters' first book in a series about a star-crossed romance between a girl and a dashing zombie.
Sound weird? There's a lot of weird to go around in Generation Dead, where certain dead teenagers become reanimated, only to form a clique even more feared than the trench coat goths. These zombies are mostly ostracized and feared, but Phoebe falls for Tommy, a moody and dreamy zombie.
This is a deep and deeply satisfying rabbit hole to explore. Tommy has a blog called mysocalledundeath.com and is a determined activist for the rights of his fellow "living-impaired." Zombies become ciphers for a hyper-sensitive, helicopter-parented Millennial generation, struggling to find their place in a world that has left them for dead.
Buy Generation Dead by Daniel Waters on Amazon here.
23- Aftertime by Sophie Littlefield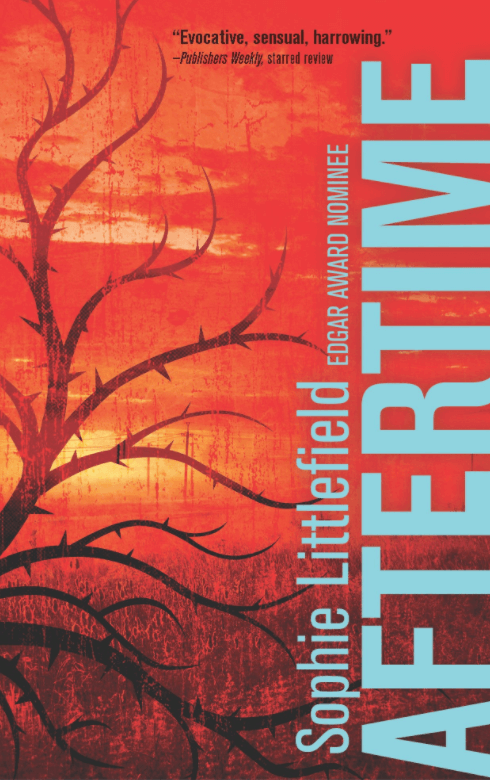 In the first book in her Aftertime series, Sophie Littlefield introduces us to Cass, a disoriented and bewildered woman who remembers little, but knows that her daughter Ruthie is missing and she must find her.
But there's more to Cass than it seems. Cass is the only known person infected with the aggression-provoking zombie plague that turns people into cannibalistic "beaters." Cass' new friends don't trust her—once a beater, always a beater, right? But with the help of the outlaw Smoke, Cass sets out on a journey across a California crawling with zombies to find Ruthie.
But people are looking for Cass as well—and as the only survivor of the zombie plague, they want to find her quite badly.
Buy Aftertime by Sophie Littlefield on Amazon here.
24- Warm Bodies by Isaac Marion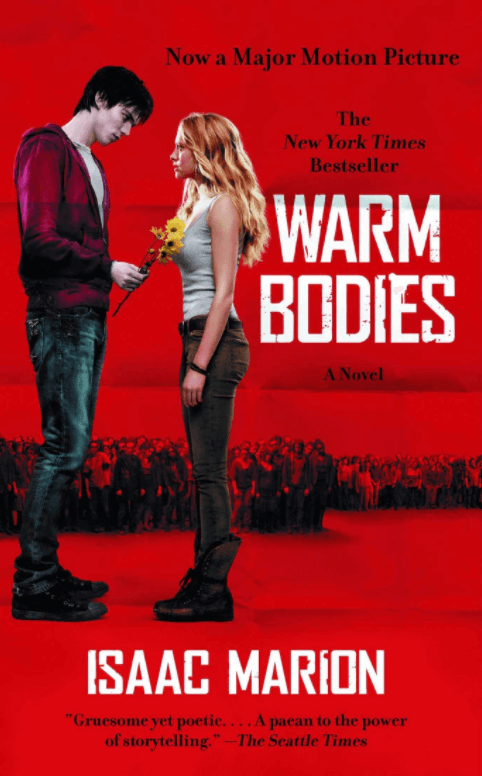 Isaac Marion kicks off his Warm Bodies series with a beguiling look behind the curtain at the other side of the zombie apocalypse—the zombies themselves. Marion's zombies are not mindless automatons looking for human flesh. "R" can't remember everything (including his own full name), but his transition to undeath has left him with some brain function as he navigates a zombie hierarchy of younger and less-decayed "fleshies," lorded over by older and more-decayed "boneys."
Marion's zombies also experience some of the memories of the people whose brains they eat. After eating the brains of a man named Perry, R empathizes with Perry's girlfriend Julie and betrays his zombie brethren and decides to save her. Their escape to safety is one of the stranger "odd-couple" road romances, as R experiences more and more of Perry's memories as their souls become entwined and Perry's complicated relationship with Julie comes into focus.
Warm Bodies is worth the read for its innovative take on the zombie genre from the other perspective.
Buy Warm Bodies by Isaac Marion on Amazon here.
You Might Also Like: