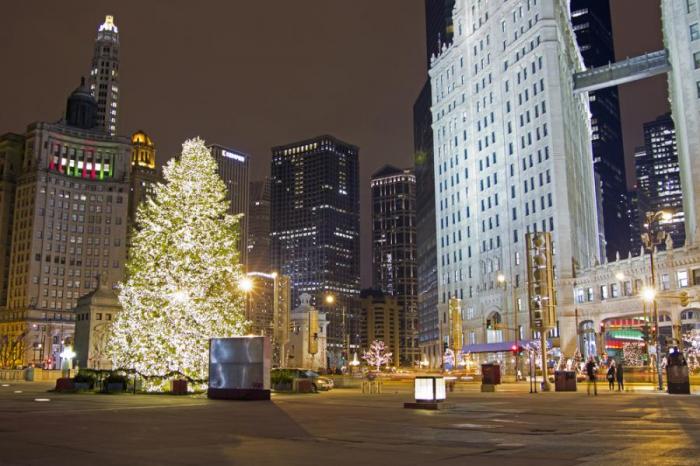 Millennium Park is getting festive with a 55-foot blue spruce.
After more than 40 entries across Chicago and weeks of searching, the Department of Cultural Affairs and Special Events announced their winner last Wednesday.
The 7,000-pound tree has been donated by the Nelson family of Elgin and was cut down from their front yard Thursday morning before reaching Millenium square on Friday.
In order to be considered to be Chicago's Christmas tree, a tree must be at least 55 feet tall and come from a community within 100 miles of Chicago. It must also be either fir or blue spruce.
Around 40,000 to 50,000 lights will be added to the spectacle before it is topped with a star.
This years selection is the second Elgin tree in five years – the first was a blue spruce donated by Donna Atkinson in 2014.
Gene and Connie Nelson reportedly put their tree forward two years ago, making it to the final three, but officials decided it wasn't tall enough at the time.
It is the 106th official Chicago Christmas tree, with the very first lit in Grant Park back in 1913.
Mayor Carter H. Harrison turned on the lights of the very first official Christmas tree in Grant Park on Christmas Eve. The tree was a 35-foot Douglas spruce that was placed on 40-foot poles and studded with smaller trees to give the illusion of a much larger tree.
The festivities were moved to Daley Plaza in 1966, before hitting Millennium Square in 2016.
This year's tree lighting ceremony is set to take place on Friday, November 22, in Millennium Park at Washington and Michigan with the Nelson family in attendance to see their tree in all its glory.Gene and Connie Nelson's grandchildren, Jace and Adam, will be turning the lights on.
Family fun will kick off at 6pm, followed by the official ceremony at 6.30pm. Admission is free.
If you're already getting ready for Christmas, check out our perfect gift guide for the holidays.
Grammy® Award-winning artist Jonathan Butler will be there to perform to the crowds. The artist grew up in Cape Town, South Africa, and recently released his second Christmas album, Christmas Together.
Modern Latino Mariachi band Cielito Lindo will also be performing, made up of the 9-member Lucero family. Performing the traditional music of Mexico, these 4th generation musicians are said to be passionate about inspiring families to enjoy music, culture, and creativity together.
Ragdoll Eleanor and the elves from Eleanor's Very Merry Christmas Wish – The Musical will round off the performances, followed by a special appearance from Santa and Mrs. Claus.
For those who can't make the lighting, however, the tree will stick around to bring Christmas joy until January 6, 2020.
You Might Also Like: