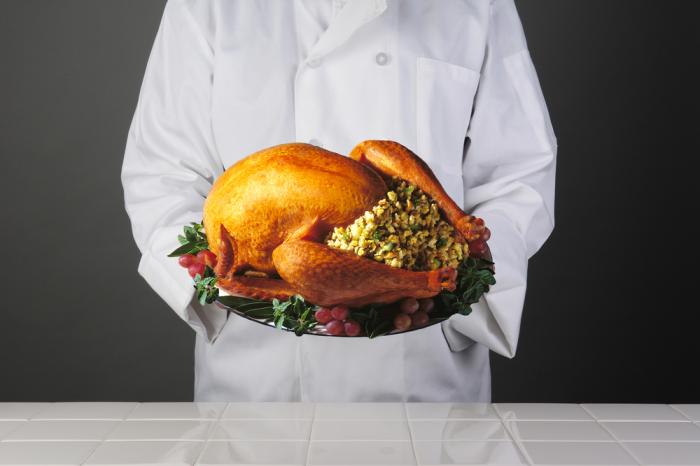 A Chicago chef has given away 1,000 turkeys to those in need at Thanksgiving.
Quentin Love, the owner of Turkey Chop Gourmet Grill and a Marine Corps veteran, shared his festive joy in the West Humboldt Park neighborhood last week.
Speaking to ABC7 Chicago, Love said: "Food is a powerful tool – food actually lowers violence. If I'm full, my belly is full and I feel good, I have less propensity to do something crazy."
A line started to form in front of the veteran's West Side eatery at 8 am on Wednesday, with the giveaway starting at noon.
Volunteers also attended to help Love give out clothing for the cold weather as temperatures in the city plunge to below-freezing temperatures.
Supporter Stacey Chauncey said, "It's just a blessing to be a blessing to people that really deserve it and need a little bit of assistance."
Volunteer Marwan Khribech added, "I'm so humbled to be here and helping him do a good deed."
Rafael Soto, a grateful recipient of one of the turkeys, said the chef's gesture had come at the right time. Soto was planning to give his family a happy Thanksgiving following the death of his brother-in-law earlier in the week.
He said: "I'm, trying to help them. It's really hard for me. He was a good person."
It wasn't the first time the esteemed chef has helped those in need, either. In 2001, he set up The Love Foundation to address the needs of people in underserved communities.
The philanthropist has converted his restaurant into a soup kitchen every Monday since 2014, and it has now fed 200,000 people and counting.
Read more: The Banchet nominees have been revealed – see which Chicago restaurants are among the best in the nation
This year's turkey giveaway was his fifth consecutive Thanksgiving event, and 25% of the revenue made by Turkey Chop is given to help end world hunger.
Love is also widely known for winning Food Network's "Guy's Grocery Games' Veterans Holiday Showdown" and donating half of his winnings (a huge $18,000) to support his mission to feed the homeless on the city's West Side. The other half of his winnings went to the Illinois branch of the United Service Organizations, a support organization for military members and their families.
Speaking to DNAInfo back in 2015, Love said, "When you give someone a good meal, to show them love, you could be stopping them on the way to do something to hurt themselves or somebody else."
Chicago has had many turkey giveaways this year, hoping to make sure everyone had the very best Thanksgiving.
The Black McDonald's Operators Association hosted its 19th Annual Food for the Body and Spirit program last week, with participating stores giving away 2,000 turkeys with all the trimmings.
In a statement, the association said, "As unemployment numbers in Chicagoland reach record highs, it is critical that we as local business owners be at the forefront of helping others have a joyous and heartfelt Thanksgiving holiday."
Veterans received special courtesy when arriving to collect their turkey, also receiving a card for free coffee through to the end of the year.
On Saturday Kids Off The Block hosted its 13th Annual Feed A Teen Thanksgiving Dinner with music, entertainment and prizes. The yearly event hopes to promote higher education and non-violence among the youth of the city.
The Blue Cross Blue Shield's Community Care Fair also took place on Saturday with a free turkey or chicken giveaway and free medical screenings.
Additional food giveaways also took place at New Life Covenant Church South East,
Think Outside Da Block's 8th Annual Thanksgiving Extrav, and the church of New Creation BALM Ministries.