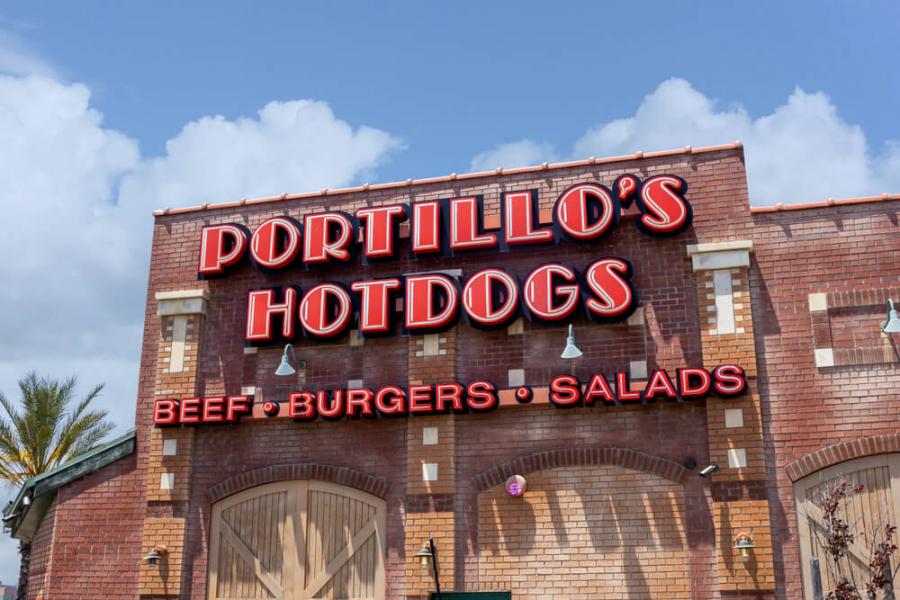 Chicago's third Portillo's restaurant should finally open this year, and it's going to be huge.
The Roaring 20s-themed restaurant will open at the intersection of Addison and Kimball in late 2020, a representative of the chain said. It was originally scheduled to open late last year after plans for the restaurant were announced in 2018.
Vice-President of real estate of the chain Randall S. Guse said: "It has taken longer than expected to start construction, but we look forward to putting a shovel in the ground in the next two months and opening later this year."
The huge 9,000-square-foot space will have room to seat more than 280 people, as well as offering an outdoor patio for the warmer months and a double drive-thru to satisfy those late-night cravings.
CEO of Portillo's Michael Osanloo said: "Since 1963, Portillo's has called Chicagoland home. Not only do we believe in delicious and high-quality food, but an atmosphere that is second to none, and we look forward to expanding the one-of-a-kind Portillo's experience to Chicago's Northwest side."
Started by founder Dick Portillo–and originally selling hot dogs from a trailer in a parking lot in 1963–with just a $1,100 investment, the chain now has upward of 60 restaurants across the US.
This king of chocolate cake and hot dogs has been expanding rapidly ever since, with Berkshire Partners purchasing the company in 2014 for almost $1 billion.
Portillo's new Chicago venue will be decorated with World's Fair memorabilia, with nods to Prohibition alongside photos of gangsters, and of course, an antique truck will be hanging from the ceiling.
This new location for the chain is also looking to bring 150 jobs to the area.
Everything from the music to the decor is carefully considered in every Portillo's restaurant, to give customers the best experience possible – with 20s, 30s, 50s, and 60s-themed locations popping up all over the country.
The menu is equally classic, boasting hot dogs with chili, beef and sausage sandwiches, chargrilled burgers, salads, ribs, pasta, shakes, and cakes. Of course, it's particularly famous for its original all-beef Vienna hot dog, dressed with mustard, neon-green relish, tomatoes, a pickle spear, white onions, sport peppers, and celery salt.
An interview with Business Insider revealed the hot dog must have all 'seven holy condiments' for the perfect bite and be served in a steamed poppy seed bun.
The restaurant also boasts its famous chocolate cake recipe, developed by Dick Portillo's daughter-in-law, Gina, and it's been recognized for its quality and innovation many times. In fact, this restaurant chain has now won so many Silver Platter awards–the Oscars of the food industry–that it retired from the competition in 2011 to give others a chance.
Portillo's also offers catering through the 'Shop and Ship' section of its website, where customers can bulk-order all their favorites. Popular choices include 20 Italian Beef Sandwiches for $169.95, 50 Chicago-Style Hot Dogs for $172.95, and the Love at First Bite Wedding Package, coming in at $399.99.
And now,  the chain is taking its food out on the road with its very own food truck, where fans will be able to order all their favorites. Portillo's is putting it to the vote to determine where its hot dogs will next be served.
In a statement earlier in the year, Portillo's said:
"It's the second most important vote you will make in 2020, and it's up to you to decide where the Portillo's food truck visits next.
"There are many factors that go into opening a new location, but listening to our fans' outpouring of love for our brand and their ties to Chicago is definitely considered throughout the process."
You Might Also Like: