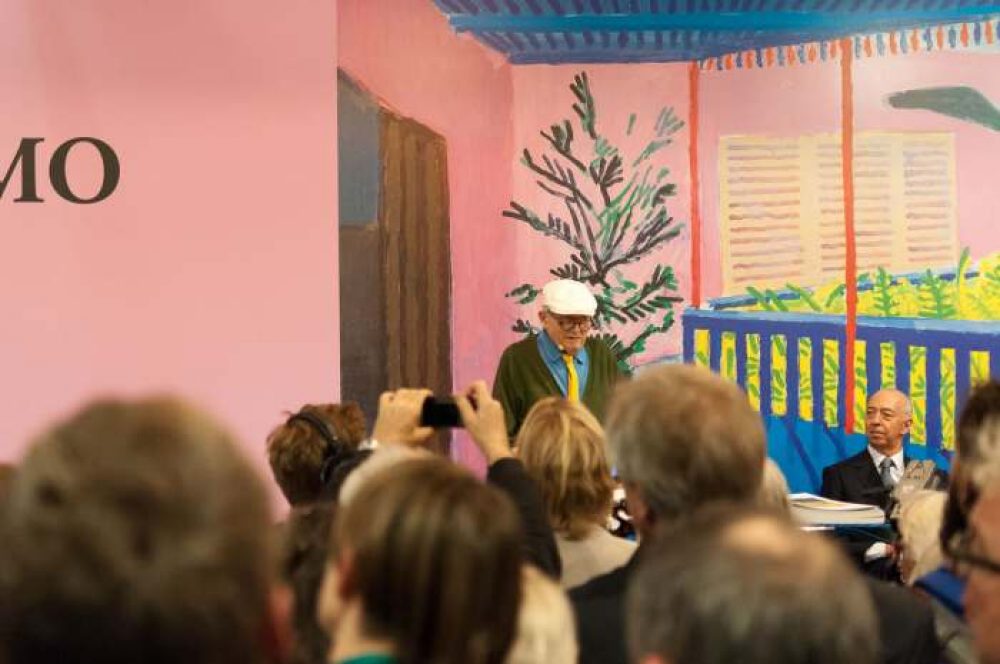 Art lovers in Chicago, as well as visitors, now have a new exhibition to see -"The Arrival of Spring" signed by David Hockney, available starting August 22nd, until next January.
David Hockney's exhibition is a perfect example of the old world meeting new artistic means.  Two years ago—at the beginning of the COVID-19 pandemic—the ever-versatile and inventive artist David Hockney traveled to France with the express intention of capturing the emergence of spring.
Chicago has plenty of entertainment opportunities
The latest Time Out Index survey results placed Chicago 2nd in the 2022 top of the world's very best cities to live in and to visit, for the second year in a row. In 2021, Chicago had ranked the second most beautiful city in the world (and the first in North America) by 27,000 Time Out Index survey voters from all over the world. 
Chicago has plenty of entertainment opportunities: summer festivals, outdoor events, art exhibitions and things you can do for three,  either for the young and carefree, or more family oriented. If you like movies, music, arts and crafts, sports or games, nature and spending time outside, you will always find some new adventure to go on with your loved ones. 
For art lovers, the possibilities are endless, from established world class museums to modern approaches such as immersive experiences – be those Van Gogh, Frida Kahlo or, starting this fall, Harry Potter: Magic at Play, where wizards and witches of all ages are invited to experience and celebrate a Wizarding World of their own. 
A California native known for his vivid landscapes and domestic scenes
A defining figure of the British Pop Art movement known for his vivid landscapes, domestic scenes, and intimate portraits born in California, David Hockney had focused two previous series on spring. For this latest project, he observed the richness of the season from the bucolic surroundings of rural Normandy, France.
Working en plein air (in the open air), he spent his days scrutinizing and recording the subtle, daily changes in the plants and light as spring emerged and took hold with all its drama and glory. The plein air approach was particularly fitting for his endeavor due to Normandy's associations with the origin of French Impressionism. As Hockney noted, Monet witnessed and recorded 40 springs in nearby Giverny. 
Who was Claude Monet, David Hockney's inspiration 
Claude Monet was a French painter and founder of impressionist painting who is seen as a key precursor to modernism, especially in his attempts to paint nature as he perceived it. During his long career, he was the most consistent and prolific practitioner of impressionism's philosophy of expressing one's perceptions before nature, especially as applied to plein air (outdoor) landscape painting. The term "Impressionism" is derived from the title of his painting Impression, soleil levant, exhibited in the 1874 ("exhibition of rejects") initiated by Monet and his associates as an alternative to the Salon, where established French painters used to exhibit their work. Monet's ambition to document the French countryside led to a method of painting the same scene many times so as to capture the changing of light and the passing of the seasons. Among the best-known examples are his series of haystacks (1890–91), paintings of the Rouen Cathedral (1894), and the paintings of water lilies in his garden in Giverny that occupied him continuously for the last 20 years of his life.
Frequently exhibited and successful during his lifetime, Monet's fame and popularity soared in the second half of the 20th century when he became one of the world's most famous painters and a source of inspiration for burgeoning groups of artists.
A new app to "paint" impressions of the Old World 
However, unlike his Impressionist predecessor, and in keeping with his long-held embrace of contemporary technology (he has used fax machines, laser photocopiers, and other 20th- and 21st-century digital instruments throughout his six-decade career), David Hockney used the medium of the iPad for The Arrival of Spring, Normandy, 2020. He had first explored the technology in 2011, but this time developed an app which was adapted and developed to his specific requirements with new brushes and shapes. 
As he does with every other medium he employs, Hockney mastered the wealth of possibilities the app offers and values the freedom and mobility the technology allows. He says it basically works like a classical set of brushes. "I feel like I'm painting," he remarked. Indeed, his iPad works are as wonderful as his paintings on canvas, with his gesture and hand clearly evident in each of the 116 works, including two animated videos and a selection of works that have an augmented reality component.
Brought to life from February until the beginning of July 2020, this series of work coincided with the beginning of the coronavirus pandemic, when we had to deal with a worldwide state of lockdown. In contrast to the withdrawal, isolation, and sobering events the pandemic brought upon us, Hockney's paintings are a celebration of the joy of the natural world, which reminds us to "love life."