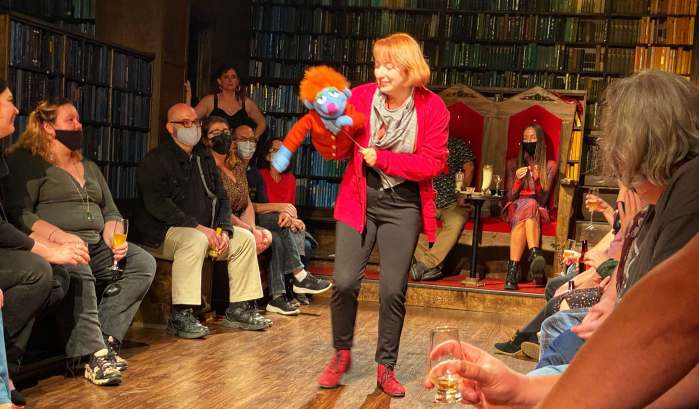 Bottomline on top: Heavy drinking isn't funny. Until it is. This show makes it super clear that a person's creative juices can perhaps flow even more when these juices spring out of six to eight shots of tequila. This show is definitely worth the price of admission!
Price of Admission is $39 to $95 (depending on the show date). Book yours here.
Address: 182 N Wabash Ave, Chicago, IL 60601
Our verdict: 4/5
Drunk Shakespeare: The Setting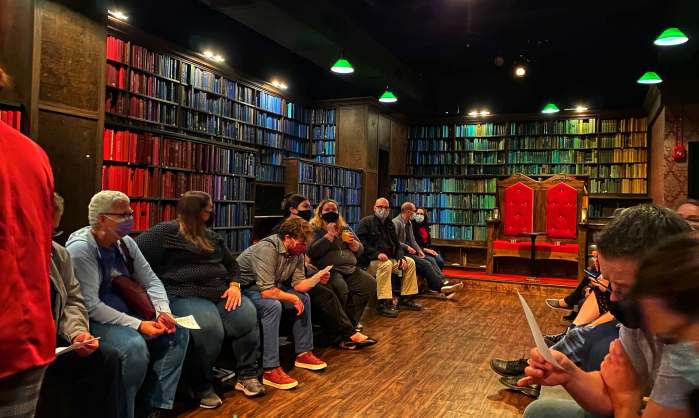 You enter the showroom on Wabash and pass by an unassuming bar to walk into a speakeasy setting stolen straight out of the '30ies. It feels like the prohibition era simply because you would never expect this room to be a place of booze and debauchery. 
The space, created by designer Dan Soule and architect Jeremy Olsen, is a long narrow room filled with bookshelves.   In front of them, along the longest walls are "medieval-like" benches.  Each of the narrower ends has a throne.  Before the show actually begins, audience members can bid on becoming king or queen of the night. The actors say the "value" of sitting on these seats is $500 but the highest bidder gets it. On the night we were there, the queen and king of the night bought their way to the head of the table for $75.
Depending on the option you choose, there are basically three sets of seats. We had seats in the front row (most expensive option) but honestly, I really don't think it would have made any difference had we bought the lower-tier tickets. If you need back support – definitely go for the second tier tickets because the front row is really just a bench. 
You're supposed to wear a mask throughout the performance, minus the times you sip on the generous list of cocktails. But if you drink all night, does it mean you don't have to wear a mask at all? It did in my case. 
Quick note: they will check your vaccination card upfront!
Regarding drinks, I personally loved the Macbeth cocktail. And at least one more I had later in the night – but by then, just like the main character, I did not really remember much.
Drunk Shakespeare: The vibe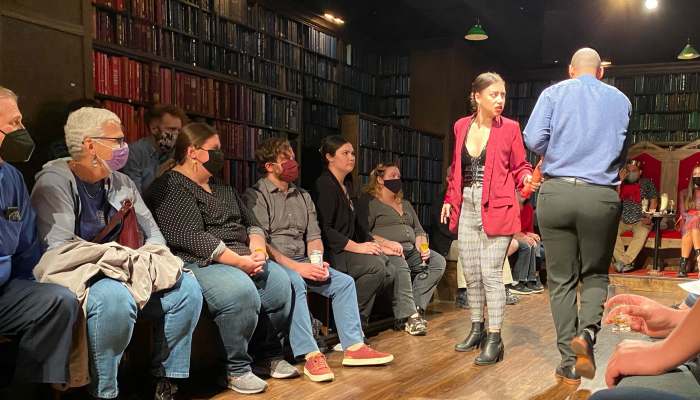 I loved this play even before it started. I truly did. Going from the street to this amazingly well-decorated room, getting a "warm up" drink for free, and simply looking around at the bookshelves and other audience members was a very cathartic experience. 
For all I know, the play could have been just a major time suck (it didn't!). But when you get yummy cocktails and a good portion of laughs, what more can you ask? 
Drunk Shakespeare: The Show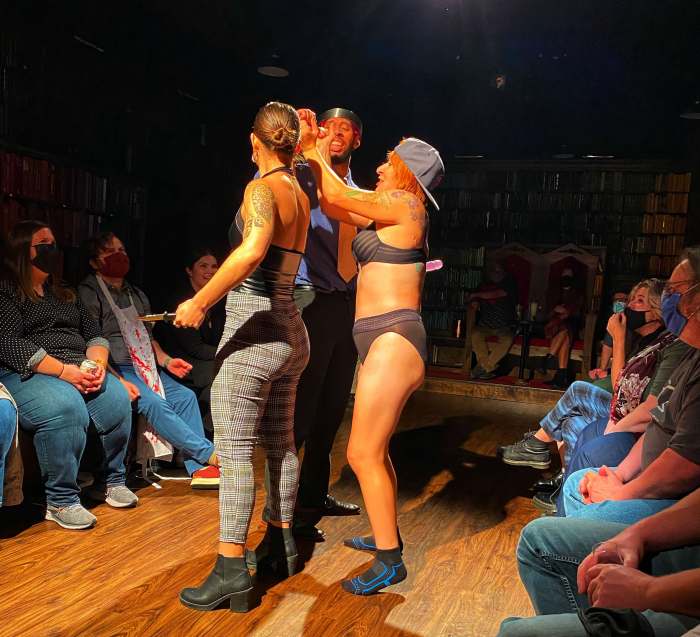 It's very difficult to describe the show. It's part Shakespeare, part Michael Jackson (I kid you not!) and everything in between. Each show is supposed to be different because the actor who has to drink the shots can actually call the shots and take the show in any direction he or she wishes. 
How does that work, you may ask?
Before the show, one actor is the designated drinker. The waitress brings six shots of booze (on our night it was Tequila). A random member of the audience is selected and gets to choose one drink to prove to the audience that this is real booze. After the audience member confirms it's real alcohol, the designated drinker will quickly down the other five drinks before the show begins.
On our visit, the designated drinker was actress Chelsea David and, oh boy!, was she a lot of fun! 
Check out this video about how she starts her performance.
And it only gets better and better from here!
Each of the five actors in the cast has unique strengths.
Together they gel really well, creating a perfect storm of debauchery and mayhem. It is absurdly hilarious.
At a time when everything and everyone is so serious, this show serves as a sweet escape from everyday life into a world of drunken wonder. 
The juxtaposition of traditional Shakespearian lines and modern cultural references with a touch of pop culture and music, makes this show an incredibly awesome way to spend an evening. 
Drunk Shakespeare: The Verdict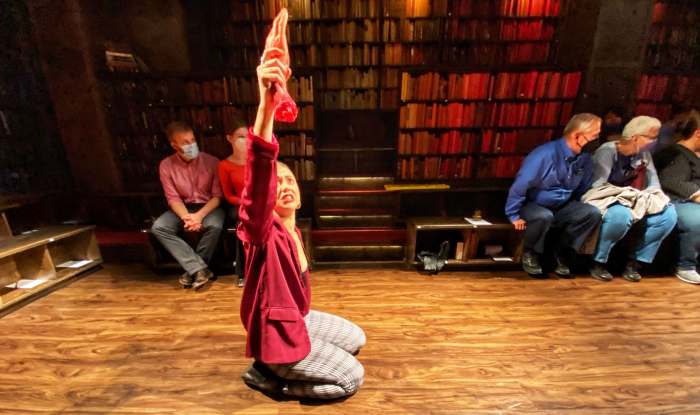 The idea behind Drunk Shakespeare is, well, quite literal. You get an actor drunk and see how he or she will perform a classic play like Machbeth. The concept is also aided by "points of order" and "drunk points of order" where the inebriated actor can change the direction of the play and what all other actors must do to get the show to the finish line.
One way of thinking, of course, is that this is probably how William Shakespeare would have written his plays had he been wasted at the time of writing. Considering that every single play by the great man has some reference to alcohol and he lived in a time when excessive drinking was the norm, that argument might have some legs to stand on. When watching this play, you might think this is perhaps some revisionist version of history (think Man in the High Castle) and rejoice at the final hilarious result.
On the other hand, of course, there is no evidence Shakespeare was a drunk.  You could even point out this line from Othello: "I have very poor and unhappy brains for drinking. I could well wish courtesy would invent some other custom of entertainment." And then argue that Shakespeare would be rolling in his grave if he knew of Drunk Shakespeare.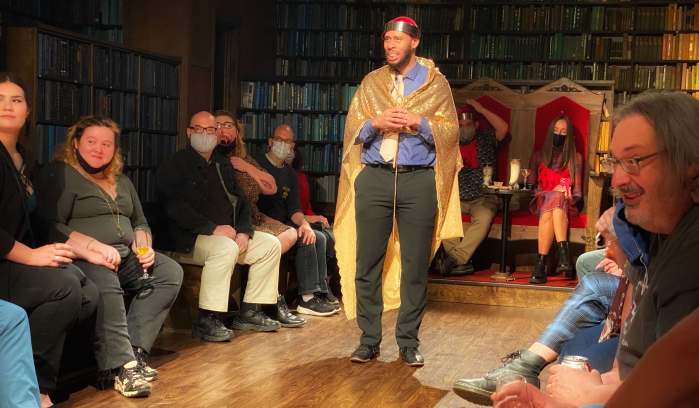 Depending on the audience member (and in what city it is played), audience reactions will be all over the map.  
You might love it – for its ridiculousness, funny jokes, and the blend of traditional and modern acting, choreography and parody of a world's classic play. 
Or, you might hate it – because everything that makes this show great has nothing to do with Shakespeare's writing. Or because you had the expectation, not at all unrealistic, in my opinion, that the cast will actually perform Shakespeare while drunk. Instead drunk performers change the play beyond recognition, therefore an actual "apples to apples" comparison between drunk and sober actors performing Shakespeare is not reasonable.  
To the critics – I have only one thing to say: lighten up a little. If you bought a ticket to Drunk Shakespeare, unless someone dragged you to the play, you had only one reasonable expectation: to have fun.
In that department, the play over delivers. Despite the sometimes awkward and seemingly rehearsed moments, the (mostly) improv comedy this play delivers is culturally relevant.  
I've never seen anything quite like this in Chicago. And probably neither have you. 
If you want to have an unforgettable experience, drink heavily, and pretend you're interested in the classic plays of William Shakespeare – this show gives you a great excuse to drink, have fun and enjoy your evening to the fullest.
Check out this video for some of the highlights of the play:
You may also be interested in our review of 'Mr. Burns, a Post-Electric Play'