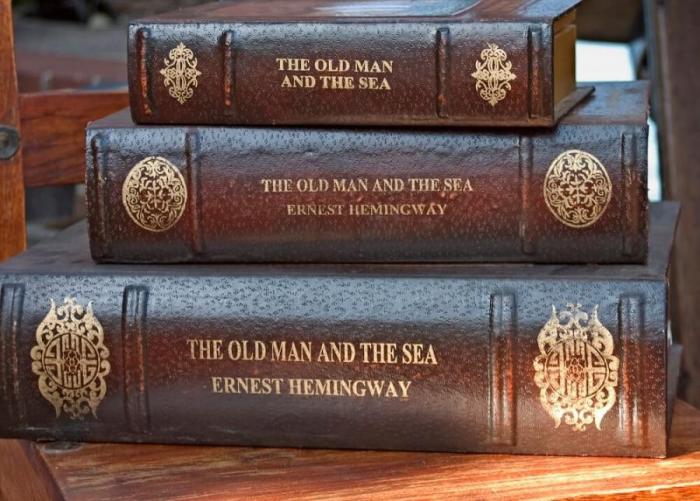 Ernest Hemingway is one of the greatest American writers of all time. He is admired as much for his writing as for his way of life. His novels, short stories, and non-fiction books are (figuratively) required reading for people coming of age and wanting to live a life of adventure as well as (literal) required reading for high school English students everywhere. He wrote about classic themes of love, loss, war, and wilderness and infused his characters with many autobiographical details. He lived an incredible life and left a legacy of writings that can only be matched by a very small handful of authors.
Ernest Hemingway wrote in a style all his own. The term he coined to describe that style that is still used today. Iceberg theory, also known as the theory of omission, speaks to his sparse, simple, direct, and powerful style. He used short sentences and short paragraphs and stuck to the facts. This was a direct result of his work as a newspaper journalist for the Kansas City Star, and the Toronto Star, early in his career. It wasn't until he read The Great Gatsby by his good friend, F. Scott Fitzgerald, that Hemingway decided that he, too, wanted to write a novel. What followed was 7 novels, 2 non-fiction works, and 3 short story collections while he was alive and over a dozen more books published posthumously.
This amazing career may be the second most impressive thing about Hemingway. The life he led was, at times, more outrageous than fiction and worked its way into many of his books and characters. He drove an ambulance for the Red Cross in Italy during World War I and covered the Spanish Civil War and World War II as a journalist. He lived in Toronto, Paris, Key West, Cuba, and Idaho. He traveled around Europe and went on safari through Africa. He fished in the Caribbean Sea, boxed in a ring in his backyard, won a Nobel prize, and drank with James Joyce. His books tell the story of both human history and humankind. Here are the essential Ernest Hemingway books everyone should read.
1. The Old Man and the Sea (1952)
Amazon
If you have read only one Ernest Hemingway book on this list, chances are this is the book you have read. This 1952 classic helped win him a Nobel prize for literature and has endured for almost three-quarters of a century as one of the greatest works of American fiction. The book tells a simple story of a Cuban fisherman doing battle with a giant marlin but presents so much more than that.
In classic Hemingway style, this book seems to tell a simple and straightforward story. After an 84-day stretch where he catches nothing, the fishermen, Santiago, goes out yet again to drop his lines. This time, he hooks a huge Marlin that pulls and fights the fisherman for days on end. When the fisherman finally bags the fish that he has come to so admire and appreciate, the sharks begin to circle and make the fisherman and the marlin's journey home extremely treacherous.
The reason this simple tale has endured for so long is that it touches on many of the themes found in the best Ernest Hemingway books. The story illustrates both the positive and negative aspects of pride and determination. It is also about winning and losing and how you respect and honor your opponent. Finally, it is about disappointment and loss and how people find the strength to get up and go out into the world again.
This was the last book by Ernest Hemingway published in his lifetime and it is probably his most enduring and well-known work. In addition to being part of his Nobel prize win, it also won the Pulitzer Prize for fiction in 1953. The book has been made into a movie, TV miniseries, and an animated series and is taught in classrooms around the world as a shining example of American literature.
2. A Farewell to Arms (1929)
Amazon
Here we go from the last of the Ernest Hemingway books published while he was alive to one of the first and his first best-selling novel. A Farewell to Arms was published in 1929 and tells the story of a young American paramedic in the Italian army during World War I. During his time in Italy, Lieutenant Frederic Henry is injured.  While in the hospital, he falls in love with a nurse named Catherine Barkley. Henry must escape Italy as the country falls to enemy troops and later reunite with his love.
The characters in this book are very much autobiographical but the story itself is not. Hemingway was involved in WWI as a paramedic but for the Red Cross, not the Italian army. He was also injured, though not in the same area where Henry was. The love interest in the book, Catherine Barkley, is based on a nurse with whom Hemingway fell in love while recovering from his injuries named Agnes von Kurowsky. Henry steals Barkley from another man in the book but in real life, Kurowsky was stolen away by an Italian officer before she and Hemingway were set to be engaged.
The book is considered to be among the best Ernest Hemingway books ever written. It was controversial in its day and was banned at times in Italy, Ireland, and even Boston. Despite these bumps in the road, this book is a favorite of Hemingway fans for its timeless love story and its shocking ending.
The book has been adapted into a very successful stage play, two movies, and a television mini-series, the most famous of which is the 1957 movie starring Rock Hudson. There is also a 1996 movie starring Sandra Bullock and Chris O'Donnell and directed by Richard Attenborough called In Love and War. This movie depicts the real-life story of the Hemingway and Kurowsky relationship in Italy on which this book is based.
3. For Whom the Bell Tolls (1940)
Amazon
This is another of the books by Ernest Hemingway that is based on events in his life. In 1937, Hemingway went to Spain to cover the Spanish Civil War. The war would turn out to be a major precursor to World War II with the Soviet Union-backed Second Spanish Republic government and the Spanish Nationalists, backed by Nazi Germany and Fascist Italy. Throughout 1937 and '38, Hemingway returned to Spain on numerous occasions where he was embedded with Spanish Republic soldiers and a witness to many battles.
In this novel, the main character is an American who has come to Spain to fight, not to observe and report as Hemingway did. Robert Jordan is a dynamite specialist who is ordered to carry out the assignment of blowing up a bridge in the town of Segovia, Spain. Along the way, he works with a group of anti-Fascist guerillas and meets a Spanish woman named Maria with whom he falls in love. The book illustrates the brutality of war in general and this Spanish conflict specifically.
This story is full of the themes found throughout many of Ernest Hemingway's books. Death is the largest theme since, in war, death is everywhere and is contemplated all the time. Other war-related themes are also present: camaraderie, duty, and sacrifice. Suicide is often pondered and discussed in the book which makes it both sad and telling to read now since Hemingway took his own life in 1961.
4. The Sun Also Rises (1926)
Amazon
This was Hemingway's first real novel and is one of the four novels (with the three above) that are considered to be the best Ernest Hemingway books ever written. This is yet another semi-autobiographical novel that bases the main characters not only on Hemingway himself but also on his close friends at that time. The plotline follows the movement of Hemingway's life at the time with him and his friends living in Paris and traveling to Spain as they actually did.
The novel begins in the cafes of Paris where the "Lost Generation" of ex-pats from the U.S. and UK have migrated, too. It follows a group of friends, including American WWI veteran Jake Barnes and his friends, who are traveling to Pamplona, Spain for a fiesta. The group includes Lady Brett Ashley, a British aristocrat with whom Barnes falls in love. While in Spain, the group experiences love, lust, fights, jealousy, bullfights, and a lot of heavy drinking. The final act of the book deals with the characters as they go their separate ways from the Pamplona trip and deal with its repercussions.
This is an amazing first novel from a young author and the themes of love, betrayal, gender roles, impotence, and more are incredibly advanced.  Much of the book foreshadows so much about Hemingway's future career. This is also a book that came to define an entire generation, the so-called "Lost Generation". This group of young people was considered to be ruined by WWI. In this book, Hemingway uses the characters to represent the archetypes of the generation and show that they were more complex, moral, and resilient than most people thought.
5. Death in the Afternoon (1932)
Amazon
After covering the 4 novels that most people agree are the overall best books by Ernest Hemingway, a more subjective argument can take place about what comes next. Because Hemingway started out as a journalist and carried that way of working throughout all his books, whether fiction or not, the next spot on this list goes to one of his non-fiction works. Death in the Afternoon was a passion project for Hemingway combining two things he loved throughout his life: Spain and bullfighting.
The book actually came about as a result of his trips with his wife and friends to the Pamplona fiesta which is what inspired his first significant novel, The Sun Also Rises. On these trips, between the drinking, fighting, and affairs of the heart, Hemingway fell in love with what he would describe as the artistry of bullfighting. It was more than a sport to him. It was ritual and pageantry and tragedy all rolled up into one. He used the sport as a way to talk about common themes in his books such as life and death, manliness, bravery, and fear.
The book includes everything you need to know about how bullfighting works from a technical perspective and includes the history of the sport, all told with the trademark Hemingway simplicity and vividness. While many people believe bullfighting to be a cruel and inhumane practice, after reading this book, it is hard to not walk away and see at least some of what Hemingway sees. He sees this brutal activity as more than a sport.  To him, it is a way for both the participants and spectators to find out more about their true selves and the meaning of life.
6. Men Without Women (1927) 
Amazon
This book is part of the third genre of best Ernest Hemingway books, the short story collection. Although Hemingway was best known as a novelist and was a journalist by trade, he was a short story writer at heart and his collections of short stories are some of the most interesting, thrilling, and heartbreaking works he ever wrote. This is the middle volume of the three main collections of short stories published during his lifetime.
The stories in this book are considered to be among Hemingway's best and they are a nice middle ground between the two collections that bookended this work. The stories in this book include the most famous short stories he wrote; they are also considered more mature than the ones that preceded it in In Our Time and less dark and brooding than the works that followed in Winner Takes Nothing.
The collection includes a total of 14 short stories, including three that are very well-known to even the most casual Hemingway fan. In Hills Like White Elephants, a man and a young woman debate whether she should have an abortion without ever mentioning it at a Madrid train station. In Another Country further mines Hemingway's time as a paramedic in Italy during World War I and in The Killers, a pair of Chicago hitmen wander into a diner looking for a Swedish boxer they are contracted to kill.
Many of these short stories use the character of Nick Adams. Adams was often used in Ernest Hemingway's books as a stand-in for the author. He is explicitly mentioned as a main character in The Killers and assumed to be the narrator in In Another Country. After Hemingway's death, another collection of his short stories was released called The Nick Adams Stories that told the entire tale of Adams – and, by proxy Hemingway – coming of age.
7. A Moveable Feast (1964)
Amazon
Although most Ernest Hemingway books are at least somewhat autobiographical, this is an actual autobiographical memoir Hemingway wrote but which wasn't published until a few years following his death. This memoir is about a specific and very interesting period in his life. It mostly discusses his time with the Lost Generation in Paris during the 1920s. The book was put together based on writing and notes from the time and was edited by his fourth wife, Mary Hemingway.
Because the book was published posthumously and based on a collection of writing, each chapter of the book can be read like an individual non-fiction short story. The chapters deal with different aspects and people in his life at the time including his first wife Hadley Richardson. Other chapters read like a "who's who" of American ex-pats who would become literary royalty. There are chapters such as "Miss Stein Instructs" about American writer Gertrude Stein, "Ford Madox Ford and the Devil's Disciple" about English novelist Ford Madox Ford, "Ezra Pound and His Bel Esprit", featuring American poet Ezra Pound, and "Scott Fitzgerald" which included stories of husband and wife novelists F. Scott and Zelda Fitzgerald.
There is some controversy over the way the book was handled after Hemingway's death but that just makes it a more interesting and essential read. The book began in 1956 when Hemingway and his biographer, A.E. Hotchner, recovered trunks of notebooks from the Ritz Hotel Paris. Hemingway had filled these notebooks throughout his time in Paris in the 20s. He began piecing together his memoir from those notes. Hotchner has said that the final product is very close to what he saw Hemingway write but other literary scholars believe Mary Hemingway changed a good chunk of it, including deleting parts of an apology from Hemingway to Hadley Richardson.
8. To Have and Have Not (1937)
Amazon
While not of the same calibre as the other novels that make up the best books by Ernest Hemingway, To Have and Have Not is still a great story by a masterful writer. It is the first of the Ernest Hemingway books set in Key West, FL, and Cuba where the author spent the majority of his time throughout the 1930s, 40s, and 50s. It was conceived by the author by merging two of his short stories, One Trip Across and The Tradesman's Return.
The main character in the book is a Key West fisherman named Harry Morgan. It is set during the Great Depression and leans heavily on the idea of the economic "Have's" and "Have-Not's" of the era. In the story, a wealthy client stiffs Morgan, leaving him broke and forced into a life of crime in order to support his family. He begins to transport all manner of illegal cargo between Cuba and Key West including everything from illegal immigrants to alcohol.
The book is Hemingway's meditations on personal freedom, self-reliance, and the economic burden facing the lower classes during this time. It is told from multiple points of view, with different chapters being narrated by different characters. Hemingway also experimented with his writing style in this book.  Much of it is a departure from his trademark iceberg theory style.
The book, with its clandestine and criminal storyline, has inspired numerous Hollywood films over the years. The most famous movie made based on the book is the 1944 film of the same name that starred silver screen legend Humphrey Bogart and Lauren Bacall. The story has also been mined for 1950's The Breaking Point and 1958's The Gun Runners.
9. Green Hills of Africa (1935)
Amazon
This is the other of the two non-fiction Ernest Hemingway books that makes the list of essential Hemingway. The book tells the story of Hemingway's month-long safari in East Africa with his second wife, Pauline Pfeiffer in 1933. The stories were originally serialized in Scribner's magazine before it was published as a book in 1935.
The story is recounted in 4 parts, "Pursuit and Conversation", "Pursuit Remembered", "Pursuit and Failure", and "Pursuit as Happiness". The second piece of each of these chapter names speaks to how the story is told or points to the theme. There is a conversation, a flashback, a story of failure, and a story of bonding with his kudu guides. Along the way, Hemingway discusses and gives his opinions on American and European authors as well as the state of literature in general.
Reviews and opinions of this book have been mixed, especially at the time of publication. Some critics believed the book was a tired retread of the themes and dialogue of Hemingway's earlier works. Others thought that the book did for big game hunting what Death in the Afternoon did for bullfighting, both romanticized it and made it more relatable for people outside of that world. As we close in on a century since its release, most people look much more favorably on this work and place it among the best Ernest Hemingway books.
10. The Torrents of Spring (1926)
Amazon
There are other short story collections, lesser novels, or posthumously published reporting that could have been the last Hemingway penned book on this list but for true Hemingway fans, The Torrents of Spring is a must-read. The book is actually his second novel and was written in just 10 days after he had written The Sun Also Rises. The satirical story is fantastic for such quick work and has all the hallmarks of early Hemingway style and themes. The best part of the book, though, is the backstory.
The plot involves two factory workers in Michigan. Upon learning his wife has left him, one character almost immediately proposes to a waitress. After they wed, he ends up leaving her for another waitress just as she had feared. The other worker copes with impotence by falling in love with a Native American woman from afar. This eventually leads down a path that cures his sexual dysfunction.
The reason the book was so hastily written was that Hemingway wanted to get out of his publishing contract with Boni & Liveright and have Scribner publish The Sun Also Rises. Part of his deal with his original publisher was that if they ever rejected a book from him, the contract was canceled. This book was written as a direct satire of one of the publisher's most popular authors at the time, Sherwood Anderson. The publisher rejected the book, Hemingway signed with Scribner's, and what was left was this very interesting "first" Hemingway novel.
11. Papa Hemingway: A Personal Memoir – A.E Hotchner – 1966
Amazon
There are a few different biographies of Ernest Hemingway but the one written just a few years after his death by his friend and confidant A.E. Hotchner is the one you need to read. While working at Cosmopolitan magazine in the late 40s, Hotchner traveled to Cuba to commission a Hemingway article for the publication. The article never happened but the two became fast friends and spent much of the next decade-plus together.
The man that even older friends called Papa led a complicated and fascinating life and Hotchner documents it all here. The book lets you in on all aspects of Hemingway's life, from the fun to the mundane to the tragic. There are reminiscences of Paris cafés and celebrity parties, intimate details of his everyday life, and frank discussions of Hemingway's physical and mental health including the depression that would ultimately lead him to take his own life.
You can understand so much about who Hemingway was and what he was about through his work but, like everyone, there are some things you just cannot understand until seeing through the eyes of someone else. A.E. Hotchner was that perfect someone else for "Papa" Hemingway and this biography tells the story of a man in full who would ultimately come to define a certain type of American literature.
You Might Also Like: