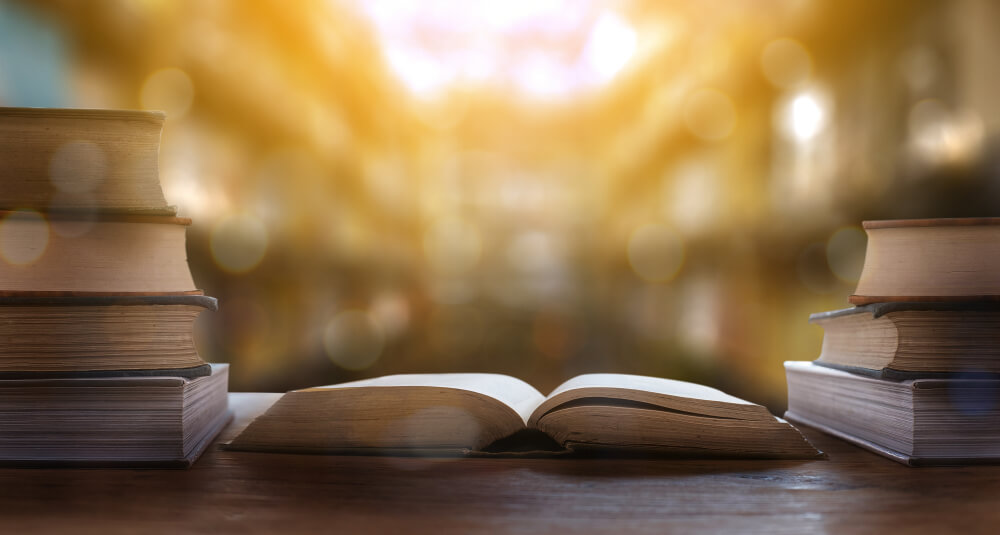 "The more that you read, the more things you will know. The more that you learn, the more places you'll go."
– Dr. Seuss.
It is passages like this that sum up why Dr. Seuss is not only the most popular children's book authors of all time but one of the best American writers in history. Sure, his rhyming may have been silly at times and his accompanying illustrations are wild, but the poetry and inspirational messages are what has made Dr. Seuss an international sensation beloved by generations of children and their parents.
Theodor Seuss Geisel was born in 1904 in Springfield, MA and went on to study at the prestigious Dartmouth University. After graduation, he attended Oxford University in England before leaving to write and illustrate for several magazines and advertising firms. This work made him enough money to travel the world. On one return trip from Europe, the rhythm of the ship's engine inspired him to write a children's poem which would become his first book. The rest, as they say, is history.
Following that fateful trip in 1936, Geisel, now known as Dr. Seuss, went on to write children's books that would sell over 650 million copies and be translated into 20 languages. What drew – and still draws – people to Dr. Seuss books is the amazing quality of every aspect of these books. His mastery of language is unique and his writing is musical. His illustrations are pure joy and feel like they have jumped right out of a child's wildest dreams. And, while the made-up words and names and creatures may be fantastical, the story and the message are always interesting and often poignant.
You can't go wrong with any of the 47 books that Dr. Seuss wrote over the course of his illustrious and prolific career. However, there are a handful of Dr. Seuss books that are truly iconic. The books on this list represent the best Dr. Seuss books and the ones you MUST have in your or your child's collection. Here are the essential Dr. Seuss books you need on your shelf.
1. Green Eggs and Ham (1960) 
Amazon
It is hard to start a list of top Dr. Seuss books because there are so many that could be first on the list. The easiest way to start, though, is with the best-selling Dr. Seuss book, Green Eggs and Ham. In this book, the narrator tells Sam I Am over and over that he does not like green eggs and ham and will not eat them under any condition. However, once he finally relents and tries them, he finds out he actually does like them. It is a beautiful message about stubbornness and trying new things wrapped up in a perfectly rhyming package.
The book has sold over 17 million copies worldwide in the last 60 years, making it the most popular children's book, although the characters are not. Sam I Am and the narrator have had nowhere near the off-the-page success as other Seuss characters such as the Cat in the Hat or the Grinch. However, that may be about to change, with the growing popularity of the new Netflix series based on the book featuring an A-list cast that includes Michael Douglas and Diane Keaton.
2. Oh, the Places You'll Go! (1990) 
Amazon
This was Dr. Seuss's last book, published just a year before his death at the age of 87 in 1991. Even though it was his last, it is certainly not his least popular work.  It now ranks among his best-selling books and holds the title of his fastest-selling book. Much of this can be attributed to the title and the message which make it a very popular graduation gift for graduates of every level of schooling from pre-school to med school.
The book is based on Dr. Seuss's own love of traveling the world and it delves into life's challenges throughout the book. The overall message though is relentlessly positive, like most of Seuss's work. It inspires readers to imagine a world of possibilities and travel on a course completely decided by them. It doesn't get more inspirational than this with some of the most famous passages you will find in Dr. Seuss books such as "You're off to Great Places! Today is your day! Your mountain is waiting, So… get on your way!"
3. How the Grinch Stole Christmas (1957) 
Amazon
This is more than just one of the top Dr. Seuss books ever, it is one of the top Christmas books ever as well. The Grinch, an angry Christmas-hating creature who lives high above Whoville, hatches a plan to steal all the presents from the people of Whoville on Christmas Eve. After he has seemingly ruined Christmas for the town and had a run-in with the innocent Cindy Loo Who, the Grinch begins to celebrate. When he hears the Who's singing and celebrating Christmas anyway, without presents, it changes the Grinch's mind about the holiday and friendship.
One of the biggest reasons the Grinch has become such a treasured part of Christmas lore is because of the TV specials and movies that have been made from this book. The 1966 TV special, narrated by Boris Karloff (with the famous Burl Ives Grinch song), the 2000 movie starring Jim Carey, and the 2018 CGI film voiced by Benedict Cumberbatch have only enhanced the Grinch's legacy and made reading the book, at Christmas time or any other time, all the more enjoyable.
4. The Cat in the Hat (1957) 
Amazon
Along with the Grinch, the Cat in the Hat is by far the most recognizable character from the Dr. Seuss books. When Sally and her brother Conrad get bored at home, a tall, human-like cat in a bow-tie and a red and white striped top hat shows up. The mischievous cat, with the help of his wild friends, Thing 1 and Thing 2, make sure that life is never dull for the brother and sister again. These characters have appeared in numerous movies and TV shows including an animated show starring Martin Short and a 2003 movie starring Mike Meyers as the title character.
One of the most interesting things about the book is how it came to be and its effect on kids learning to read. Fed up with what he saw as the boring and ineffective Dick and Jane books that were then widely used to teach kids to read in the U.S., Dr. Seuss wanted to create a more interesting and fun reading primer.  What he devised is nothing less than one of the best Dr. Seuss books ever.
5. One Fish Two Fish Red Fish Blue Fish (1960) 
Amazon
Written a few years after The Cat in the Hat, this is another learn-to-read book disguised in a wild and wacky adventure. The plot of this book is not as fleshed out as many of the other best Dr. Seuss books but it is a rollicking good time just the same. The "story" is nominally about a girl and a boy, Kay and Jay, and all the imaginative creatures they know. There are also smaller side stories about other rhyming characters and their outlandish creatures.
One Fish Two Fish Red Fish Blue Fish, despite its lack of plot, is still one of the top Dr. Seuss books in terms of sales, international translations, and general pop culture familiarity. The book has been cited and parodied everywhere from the Supreme Court of the United States to an episode of The Simpsons.
6. And to Think That I Saw It on Mulberry Street (1937) 
Amazon
When Dr. Seuss took that ship ride back from Europe and got inspired by the rhythm of the engine, he combined that with a street name close to his childhood home in Springfield, MA, and this book is the result. It is one of the top Dr. Seuss books for fans because it is his first. When reading it, make sure you look for the lines, "And that is a story that no one can beat/ And to think that I saw it on Mulberry Street." That is the couplet that popped into Ted Geisel's head all those years ago and launched all the Dr. Seuss books to follow.
The story itself is classic Dr. Seuss. Marco, a young boy walking home from school sees a horse and wagon on Mulberry Street. In his imagination, though, he sees a zebra and then an elephant and then a chariot and so on. By the end of his ever-growing fantasy, Mulberry Street has turned into quite an amazing scene. The story itself is great but what makes it greater is how you can see the roots of all the best Dr. Seuss books to come in this first story.
7. Dr. Seuss's ABC (1963) 
Amazon
A few years after Dr. Seuss took aim at teaching kids to read, he wrote a book that skewed even younger but educated kids all the same. This book of ABCs is one of the best Dr. Seuss books not because of the story but because of the illustrations. The book goes from Aunt Annie's Alligator to the Zizzer-Zazzer-Zuzz and matches all the letters in between with classic Dr. Seuss crazy characters. It is a book that the youngest of children will love and a great way to start them out as life-long Dr. Seuss fans.
This was not the first ABCs book Dr. Seuss wrote. In 1932, 5 years prior to having his first book published under his famous pen name, Ted Geisel shopped around an ABC book with wild animals and creatures. Unfortunately, for the publishing companies who passed, that exact book was never published.
8. Horton Hears a Who! (1954) 
Amazon
This is actually the second Dr. Seuss book featuring the character Horton the Elephant but this book was much more successful than the original Horton tale, the 1940 Horton Hatches an Egg. This book is notable for two big reasons which are a big part of why this is one of the best Dr. Seuss books. One is that it is an early appearance of the Who's and Whoville, who would reappear a few years later and more famously in  How the Grinch Stole Christmas. It is also well-known for the line "A person's a person, no matter how small", which would become a favorite Dr. Seuss theme over the years.
The plot revolves around Horton the Elephant who one day finds a small speck of dust on which the tiny planet of Whoville resides. Horton agrees to protect the planet by uttering the famous line above and soon finds himself defending the Who's from the danger posed by a kangaroo, monkeys, and a black-bottomed eagle. The book was also made into a popular 2008 animated film starring the voice talent of Jim Carrey and Steve Carell.
9. The Lorax (1971)
Amazon
The themes of many Dr. Seuss books were often ahead of their time and The Lorax might be the best example of that. The title character, the Lorax, is a defender of the environment against the industrial polluter, the Once-ler, whose pollution is destroying the puffy-topped Truffula trees. The Lorax speaks to the trees and tries to talk the Once-ler out of cutting them all down to use in their factories but to no avail. Once the last tree is cut down though, the Once-ler has no more raw materials and the factory crumbles because of it.
This is a tale that Dr. Seuss has admitted came from a place of anger about the way that corporations were treating the environment which was a novel concept in the early 70s. His message about humans standing up for the environment is a wonderful lesson to impart to young children and is summed up in one of the classic lines of the book, "Unless someone like you cares a whole awful lot, nothing is going to get better. It's not."
10. Mr. Brown Can Moo! Can You?: Dr. Seuss's Book of Wonderful Noises! (1970)
Amazon
This is another one of the top Dr. Seuss books for very young children. There is not much of a narrative thread running through this one except for all the silly and fun-to-make noises that you find throughout the book. Each page has a different animal or action and an associated sound it makes. What makes this book so great for young children is that every page asks if the reader can make the sound as well. This leads to a wonderful call and response experience for parents and babies who are just learning to speak.
Dr. Seuss's intention was just that, to help very young children learn to mimic the sounds they hear every day. The book also teaches these youngsters about onomatopoeia, words that describe what something sounds like. Every sound in this book, such as a bee going "buzz" or the rain making a "dibble dibble dibble dopp" sound, represents this concept.
11. My Book About Me (1969)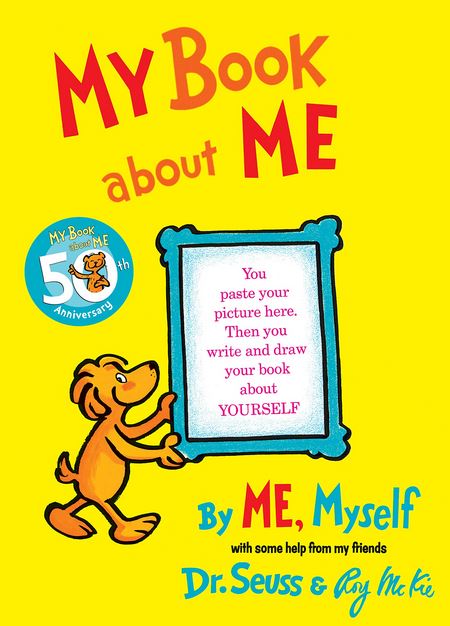 This is one of the most interesting books Dr. Seuss ever wrote and one of the few that he did not illustrate himself. The book is illustrated by Roy McKie and is like a Choose-Your-Own-Adventure, Mad Libs, and activity book rolled into one. The cover of the book has a place for the owner to place their picture and the authorship of the book is actually attributed to "Me, Myself with a little help from my friends Dr. Seuss and Roy McKie.
In the book, the owner is encouraged to tell their story by filling in and drawing all the details of their life and appearance. The book asks the reader to write in their height, weight, and number of teeth, draw in their hairstyle, nose, and eyes, trace their hands and feet, and check or circle whether they have glasses, freckles, and whether they live in a city, town, desert, or the country. It is a distinctive departure from the usual Dr. Seuss fare and a very personalized experience.
Buy My Book About Me on Amazon here.
12. Hop on Pop (1963)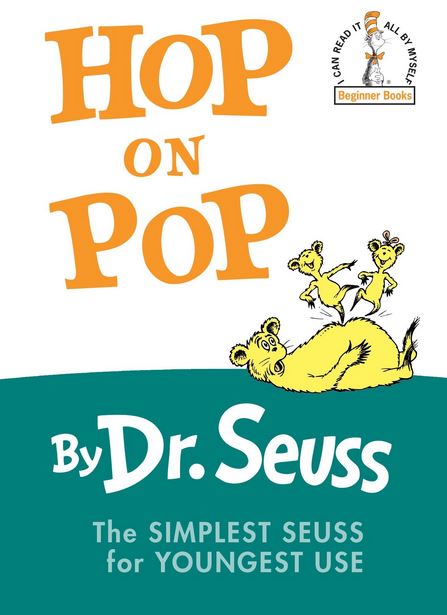 This book is subtitled, "The Simplest Seuss for Youngest Use" and was published as part of Random House's "Beginner Books" series in 1963. It is another simple, Seuss-ian book that helps teach youngsters how to read. It uses simple, easy to sound out words and silly rhymes so the earliest reader can read it without help. A sample couplet from the book reads, "UP/ PUP/ Pup is up. CUP/ PUP/ Pup in Cup."
Reading this book is a very easy and pleasant experience for kids just learning to read. It is made even more enjoyable with Dr. Seuss's classic illustrations. The "people", animals, and creatures who inhabit the pages of this book are all very recognizably Dr. Seuss creations that young kids love. Because the title involves hopping on "Pop", this book is traditionally a favorite book for kids to read with their dads or grandfathers.
Buy Hop on Pop on Amazon here.
13. Fox in Socks (1965)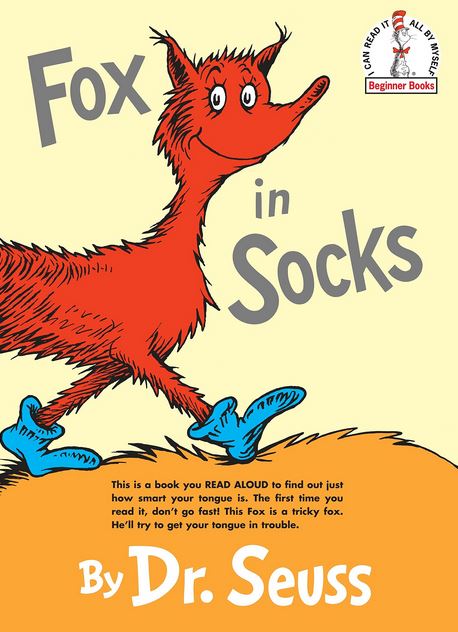 This is one more book for beginning readers that makes the process of learning to read much more agreeable, entertaining, and stress-free than books used prior to Dr. Seuss's arrival on the scene. Because of the tongue-twister nature of the rhymes in this book, it may be better suited for kids who are slightly further along in their learn-to-read journey. Couplets like, "Socks on chicks and chicks on fox. Fox on clocks and bricks on blocks" may be frustrating or unattainable for readers just starting out.
If your child has grown up on Dr. Seuss and is an especial fan of Green Eggs and Ham, they will certainly recognize the plot-styles of this book. Just as in his best-selling creation, there are two main characters in Fox in Socks, Fox and Knox. Fox talks in tongue-twisting rhymes which frustrate Knox throughout the book in a similar fashion to the narrator's frustration with Sam I Am. Knox eventually catches on and ends up walking away happy just as happens in Green Eggs and Ham.
Buy Fox in Socks on Amazon here.
14. Yertle the Turtle and Other Stories (1958)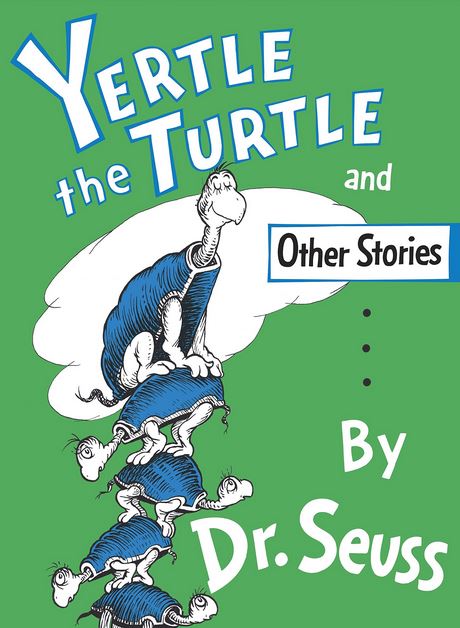 This is among the earlier works of Dr. Seuss and is his attempt at classic fables. The book is actually 3 stories in one.  Each presents a parable about a deadly sin. The stories tell cautionary tales of greed, vanity, and pride. The rhymes and illustrations are exactly what you have come to expect from Dr. Seuss but the themes are slightly darker and each page is a little longer than is the case in many of his works that followed. It even contained the word "burp", which was considered naughty for the time.
The stories in the book are Yurtle the Turtle, Gertrude McFuzz, and The Big Brag. The first story revolves around a turtle king who uses his subjects to literally prop himself up until one of them finally has enough. The second deals with a bird whose envy of another bird's tail feathers leads to her getting greedy and no longer being able to move. The third and final story deals with a prideful rabbit and bear who are both humbled by a lowly worm. They all teach great lessons that kids will keep with them throughout their lives.
Buy Yertle the Turtle and Other Stories on Amazon here.
15. I'm Not Getting Up Today! (1987)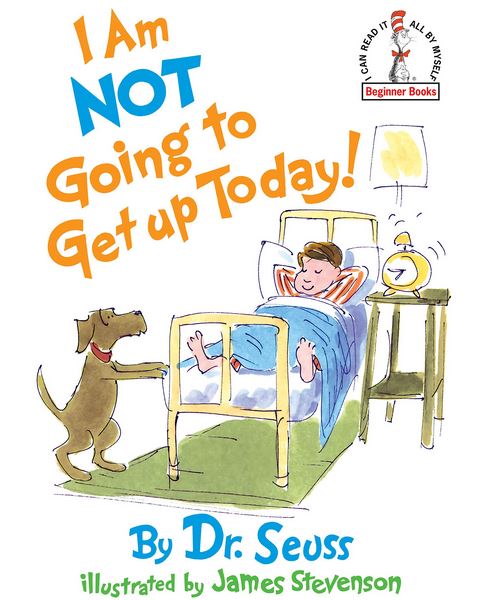 This is one of the last books Dr. Seuss wrote later in his life and it is not illustrated by him but by the well-known New Yorker cartoonist James Stevenson. The story is about a kid who just does not want to get out of bed. As the book progresses, he tells readers that more and more severe measures will still not get him out of bed, from a bucket of ice water to the United States Marine Corp. It is a very funny book and easy to read for novice readers.
The book's writing follows a very classic Dr. Seuss pattern. There is much rhyming, a large amount of repetition, and each page builds on the last to achieve a more and more fantastical level. However, the fact that the doctor did not illustrate it himself is very obvious. While other books with separate illustrators mimic Dr. Seuss' style, these illustrations are distinct. It is interesting to see a style that many may recognize from New Yorker cartoons interact with Dr. Seuss's writing.
Buy I'm Not Getting Up Today! on Amazon here.
16. I Can Lick 30 Tigers Today! (1969)
This isn't exactly a sequel to The Cat in the Hat – although there is one, The Cat in the Hat Comes Back – but it does take that beloved character and tells stories through the eyes of many of his relations such as his "son/childhood, daughter/sister, and great-great-grandfather". It is a collection of short stories involving Cat in the Hat-like characters that include King Looie Katz, a story about self-reliance, The Glunk That Got Thunk about the possibilities of imagination, and the title story, about a youngster who brags he can fight 30 tigers but ends up disqualifying them all so he has to fight none of them.
The book is one of lesser known works by Dr. Seuss but is notable for two things. First, are the characters related to the beloved Cat in the Hat which is a clever character device. Second, some might notice that the illustrations are slightly different than in most Dr. Seuss books. While stylistically they seem very related, they are done with ink and watercolors as opposed to pen and ink which give the book a slightly unusual look for a Dr. Seuss tome.
Buy I Can Lick 30 Tigers Today! on Amazon here.
17. Dr. Seuss & Mr. Geisel: A Biography – By Judith & Neil Morgan (1996)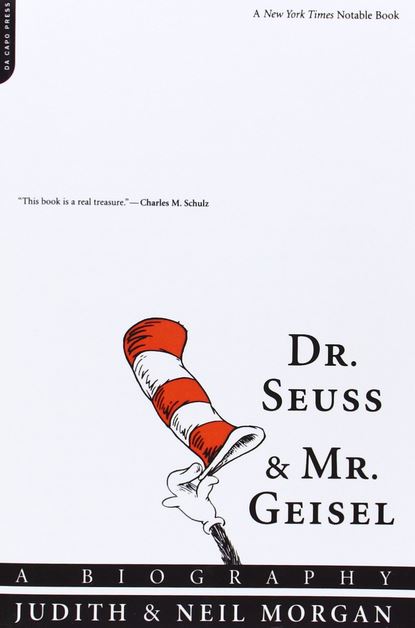 This is obviously stretching the definition of a "Dr. Seuss book" but if you love the man's work and own all the books above, it is very interesting to find out more about the man behind these dozens of iconic books. He was a genius and a recluse. He met Presidents but was obsessively private. He revolutionized the way children learn to read yet was riddled with self-doubt. As the book tells it, he always simply saw himself as a guy who saw the world "through the wrong end of a telescope".
The book was written by Judith and Neil Morgan, a couple who became friends with Geisel late in his life, well after he had become the most famous children's author in the world. They had unfettered access to all his personal papers after he passed away in 1991 and created this intimate portrait of a man whose name the whole world knew, but who few people actually knew well. For Dr. Seuss fans, this comprehensive look at his life is just as essential as And to Think That I Saw It on Mulberry Street, Oh, the Places You'll Go and everything in between.
Buy Dr. Seuss & Mr. Geisel: A Biography – By Judith & Neil Morgan on Amazon here.
You Might Also Like: