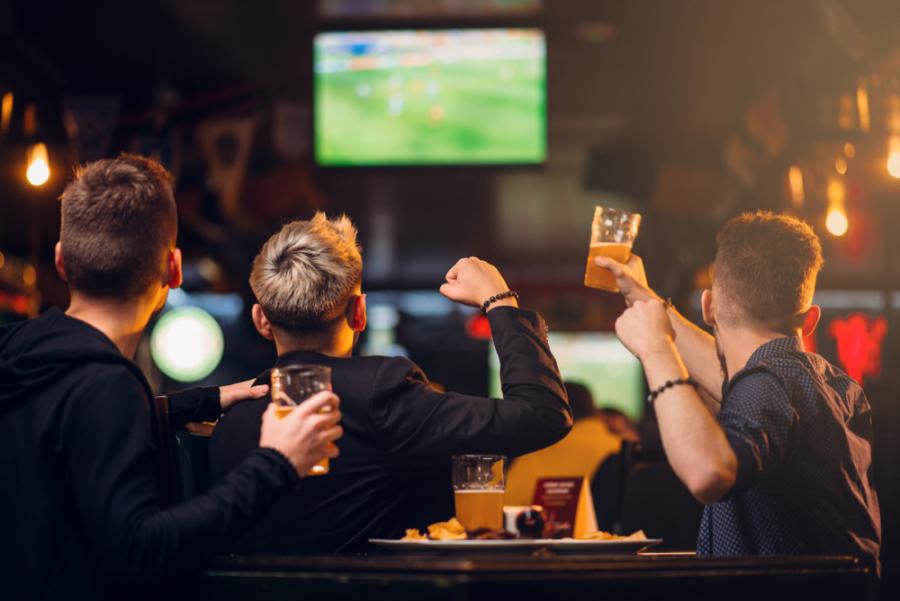 In Chicago, March is a time when things begin to warm up and people are tempted out of their cozy homes to gather socially again and explore some of the best things the town has to offer.
Though there are many family friendly opportunities about, these mind-blowing pop-up bars are strictly for adults to enjoy! This doesn't mean, however, that they are lacking the same youthful joy that children experience.
With selections varying from St. Patrick's day pop-ups to ones centered around women empowerment, you will not be disappointed with the selection of mind-blowingly good pop-up bars that await you in Chicago this March!
Winter Pop-Up
Dates: February 1st to April 15th
Location: Replay Lincoln Park (2822 N. Sheffield Ave.)
Cost: Free. Optionally, you can buy VIP Skip The Line Tickets for $20
For two months only, the Replay Beer and Bourbon, famous for its selection of bourbons and craft beers and large selection of vintage arcade games, is transforming their premises into a real winter wonderland! Offering you an opportunity to soak up the last of what Chicago's cold winters have to offer in a vintage part of town, what's not to love?
As if a winter wonderland in the middle of Chicago that sells alcoholic beverages wasn't already enough, Replay are also partnering with Ommegang brewery. This means that, for the duration of their winter pop-up bar, you will have your opportunity to try their exclusive Arbor Gold and Fire & Blood brews from the tap. Be aware that the quantity of these beers are limited, so if you want to guarantee yourself a taste of one, you better get there fast!
Dates: Open until March 16th
Location: The Rookery (2109 W. Chicago Ave.)
Cost: Free
The Dude's Abode is a pop up bar hosted in The Rookery, a bar famous locally for its dedication towards providing locally sources spirits and beers, and expertly crafted comfort food at affordable and friendly prices.
For the last few months, they have turned their cosy bar into a Dude's paradise, offering you the opportunity to celebrate your "Dudism" in true The Big Lebowski style. And, when it comes to going all in, this pop-up bar has it all covered, right down to the Big Lebrowski inspired cocktails.
So, if craft beers aren't quite your style, or you want to try something new, why not pop down and enjoy a "Bunny's Toe" cocktail with your meal? Or perhaps "World Of Pain" is more your style…
Dates: Open until March 20th
Location: Ironside Bar & Gallery (546 N. Wells St.)
Cost: Free
You might have noticed that the Ironside Bar & Gallery had a slight makeover on Valentines this year, when it transformed into a Sex and the City themed pop-up store. Embracing everything it means to be a powerful female, this event will provide all the empowerment and confidence you need to make your next big life move, surrounded by those who feel similarly.
In celebration of this pop-up bar, they have adorned their shelves with special alcoholic beverages, including the "Samantha" dark & lovely martini, and the "Carrie" Cosmo.
If you're something of a cocktail fan, they also have character-themed drinks for you, with titles like The "Richards' Not Wright" cherry chocolate Manhattan, or the "Skipper" is not the captain strawberry mojito.
Dates: Open until March 22nd
Location: Replay Lakeview (3439 N. Halsted St.)
Cost: Free
Are you one of those people who had dreamed of taking your place on the 90's action-adventure classic Legends Of The Hidden Temple? You may not have had that opportunity back then, but with this pop-up bar located in the heart of Chicago, all hope may not be lost!
Kitted out exactly like the Mayan jungle set the show filmed on, the bar offers team shirts, the classic yellow helmets and an opportunity to win tickets to Six Flags Great America to embrace your adventurous side. This can make you feel like you're experiencing the Legends Of The Hidden Temple.
Even though they may not have any physical or mental challenges, they knew this pop up event wouldn't be right without some sort of competitive competition.
If you can drink your way through the entirety of their Legends Of The Replay Temple drinks menu, you will receive entry tickets into their legendary raffle, that includes those Six Flags tickets we talked about earlier, among many other prizes!
Think you are up for the challenge? Why not head on down to Replay Lakeview today and test your luck?
Dates: Open until March 31st
Location: Wrigleyville
Cost: Most days are free, but you will be required to buy tickets from their website for some special days.
If you're a resident of Chicago, or know anything about the area, you'll know that St. Patrick's day traditions are extremely important.
If you've already done the traditional activities on offer to celebrate this Irish tradition, or simply want something that is a little more out-there, then Charm'd is where you want to be. The first pop-up experience in all of Chicago, with enchanting, over-the-top decorations is a must-be place this March! Spanning across multiple levels, with several bars and social opportunities, there's nowhere else quite the same as Charm'd to spend your St. Patrick's day—and the days leading up to it—in style.
The opportunities are endless, too! Having made over their garden, you can be at one with the Leprechauns surrounded by greenery and other, over-the-top decorations. If being inside is more your style, why not enjoy a colourful cocktail in the Rainbow Room, or taste a few daring shots at Shenanigan's Shot Bar?
Whatever your style, this place has something for everyone to enjoy, but be quick, as the celebrations are over for another year at the end of March!
You may also be interested in reading: