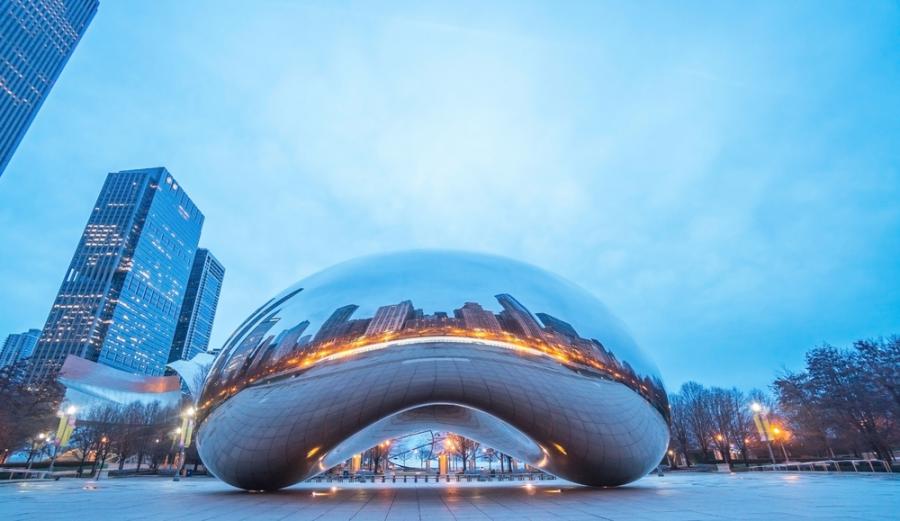 March is a little underrated when it comes to the most fun months of the year.  March is when we, Chicago residents, start getting fed up with being stuck indoors, trying to seek shelter from the cold, where we know that Spring is just around the corner, and if we just make it a little bit longer, warmer weather and fun outdoor events will be back in no time.
It's the time of year when we slowly start heading outdoors, braving the cold chills to get back into the groove of finding things to do and have fun. To help you get back on that grind, we've provided 10 ways for you to get out and enjoy Chicago this March (oh, and did I mention they won't cost a dime?).
 1. The Chicago St. Patrick's Day Parade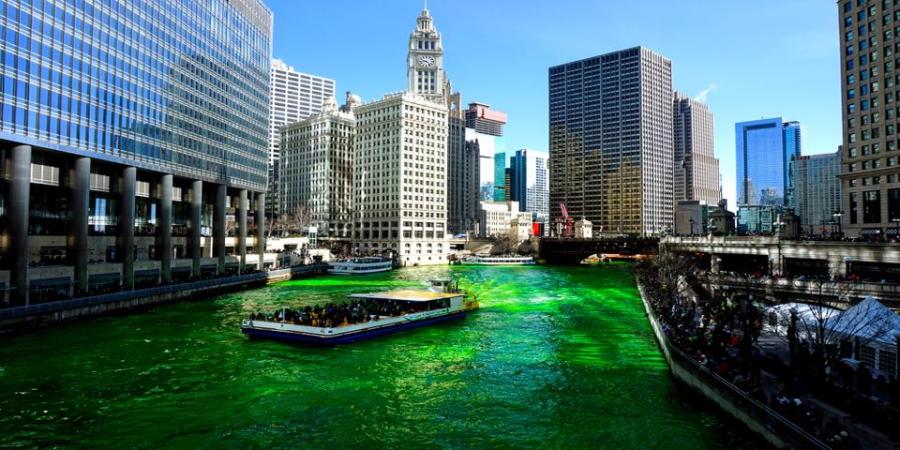 On Saturday, March 16th, everyone is a little bit Irish, and the Chicago St. Patrick's Day Parade makes its way from Balboa Drive to Monroe Street, complete with bagpipes and Irish dancers to make their way down the streets.  It starts at noon, but you'll want to arrive earlier to find a great spot along the way to watch the festivities with friends or family.  Oh, and you'll want to make sure you make your way to the Chicago River, dyed green to enhance the festivities even more! Cool trivia: Chicago was named the best in America to celebrate Saint Patrick's Day in 2019.
 2. South Side Irish Parade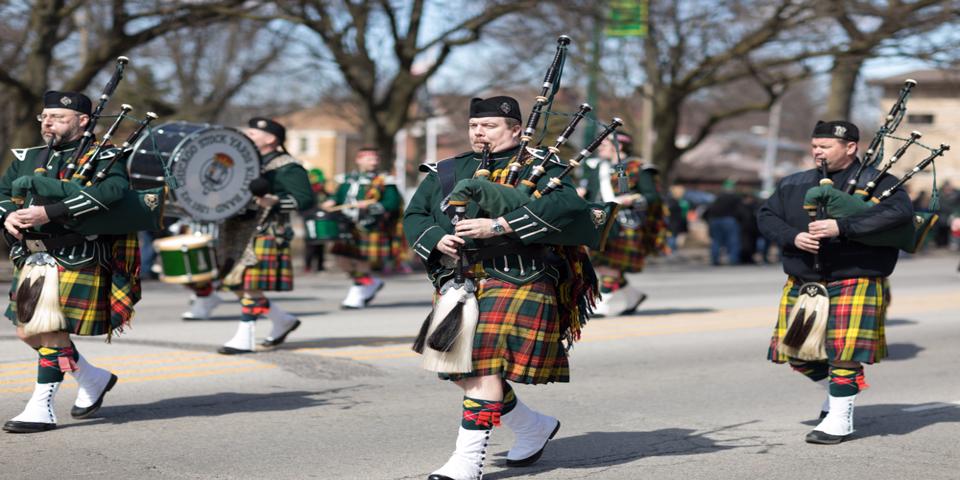 In case you didn't notice, the Chicago St. Patrick's Day Parade is on Saturday, but the actual holiday falls on Sunday.  Before you get confused, this is a good thing!  On Sunday, March 17th (the actual St. Patrick's Day holiday), city-goers can enjoy the second parade that weekend, with the South Side Irish Parade, also a long-standing tradition in Chicago. The river will still be green and the city will still be vibrant, so be sure to take in both parades.
 3. The Lincoln Park Zoo and Conservatory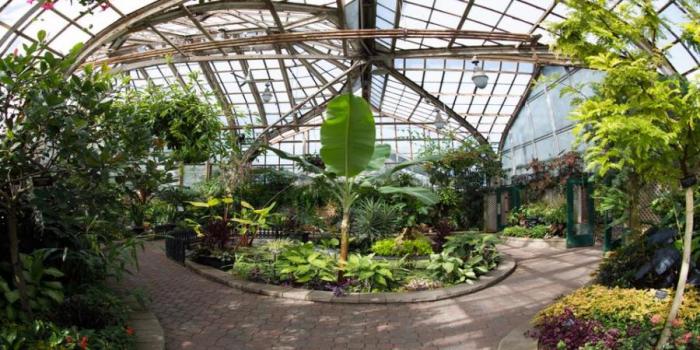 Admission to both these facilities is free, and they're conveniently located near one another in the Lincoln Park area (hence the name).   Both established in the mid to late 1800's, visiting them is a great way to get in some walking exercise while also finding there's lots to see, from a wide variety of animals, to the landscaped gardens, the trees and flowers lining the paths, to the lagoons, this is a great way to find a connection to nature amidst the bustling city.
 4. Art on the Mart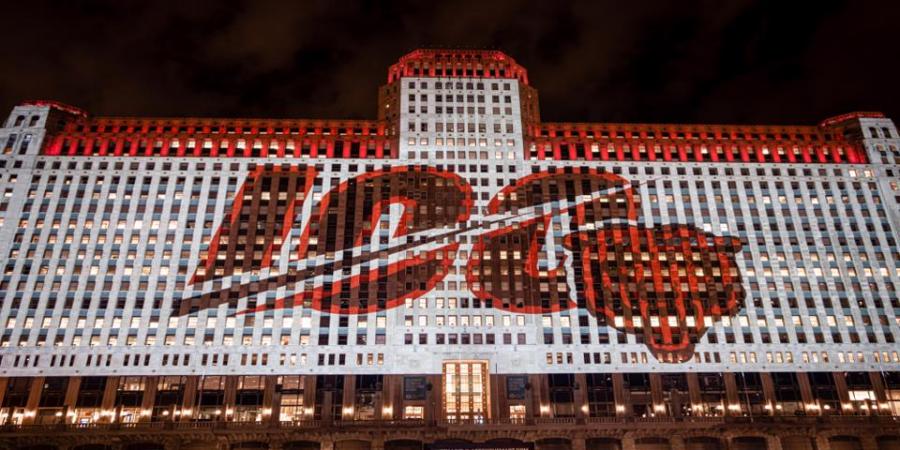 Starting on Wednesday, March 13th, an art installation will be visible, displayed across the front face of the historic Merchandise Mart.  This light installation can be enjoyed five nights a week, from Wednesday to Sunday, until the end of the year. Rotating between different artists and their work, the display is turned on about 15 minutes after sunset.  Get a great standing view and enjoy it early!
 5. Loop: An Interactive Art Display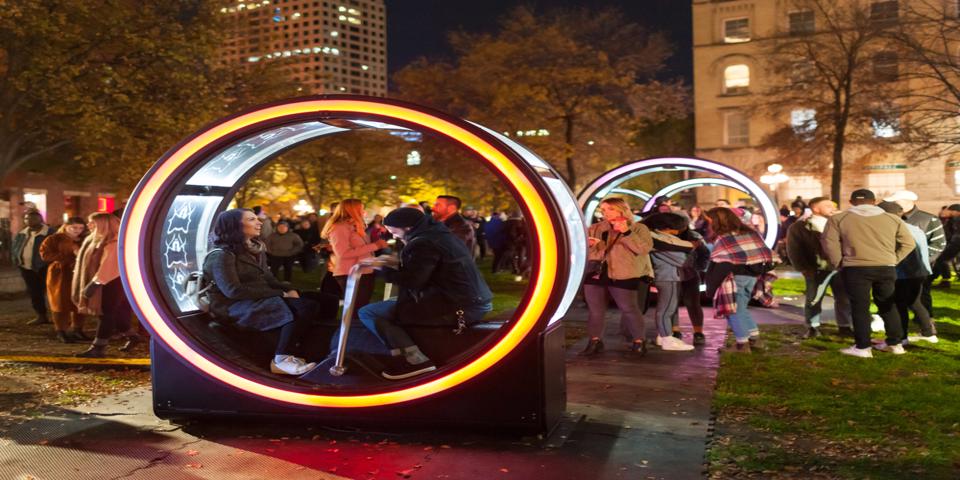 From March to May, visitors and residents can make their way to the Navy Pier's Polk Bros Park to check out the current public art installation, Loop.  With a series of actual loops across the park, guests can sit inside them and watch a fairy tale story involving light and music be displayed around them, in a sort of hamster-wheel device.  The faster you move the loop, the faster the story plays. There are 13 different stories in total for your viewing pleasure.
 6. Holi Festival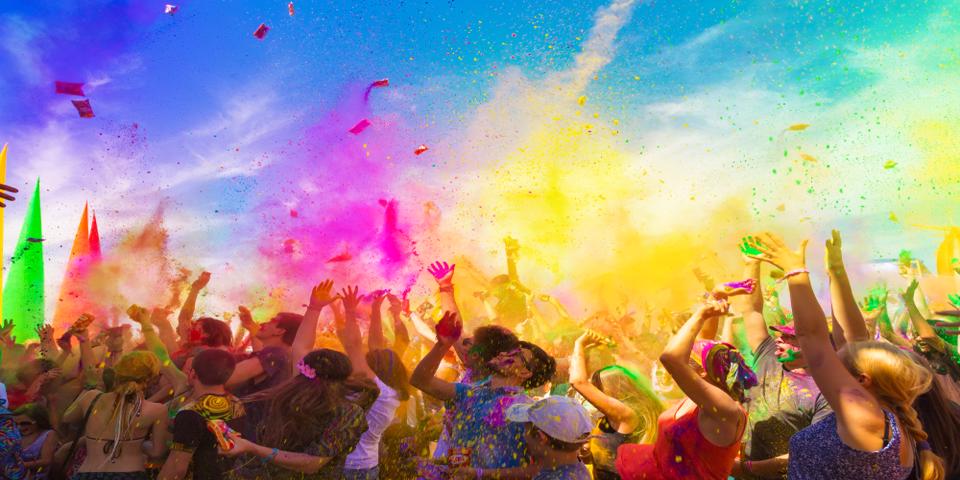 Also located at the Navy Pier, the Holi Festival on March 23rd is a free event that will have music, dancing, food vendors, and most stunningly, a color throwing, all in celebration of a Hindu spring festival, known as the "festival of colors", that originates from India and Nepal.  Say farewell to winter and hello to spring with this event, and enjoy partaking in a unique and diverse global experience!
7. Greenhouse Yoga @ Garfield Conservatory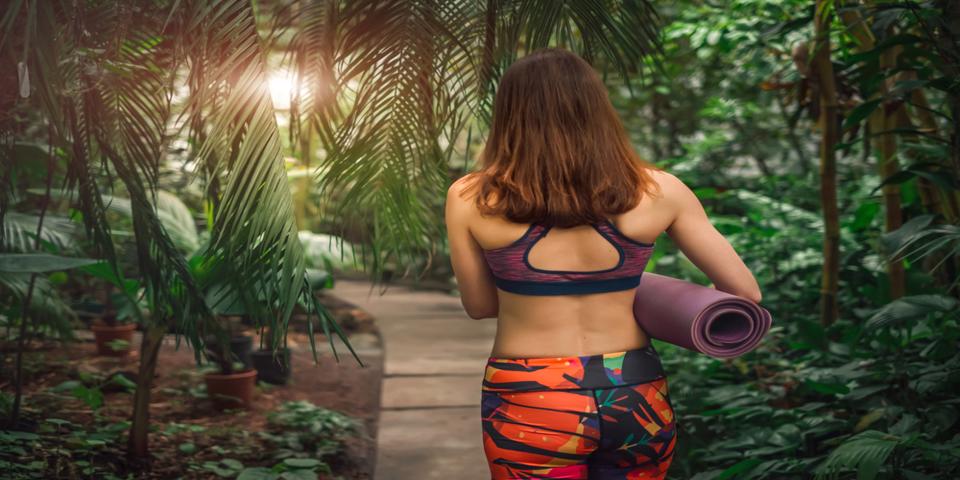 Also on March 23rd, you'll have the opportunity to sneak in an hour of free yoga amidst the peaceful serenity of the Conservatory's earthy and plant riddled surroundings. At Garfield Park Conservatory, experienced and novice yogis alike are invited to the 9:00am session to find a little bit of stretching and exercise to start their weekend off on the right foot.  This is a bi-monthly event, so if you can't make it, there will be more opportunities later.
 7. GoodFood Expo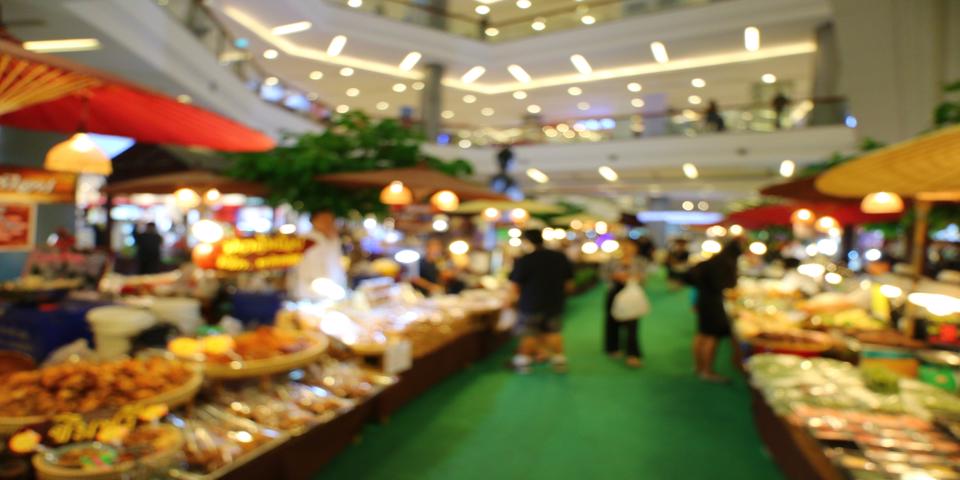 The GoodFood Expo returns for its 15th annual  event, focused on featuring chefs, farmers, entrepreneurs, investors, and food enthusiasts together to discuss ways to focus on healthy, organic nutrition. The event itself is free with registration,  though true aficionados might want to purchase tickets for select events and the trade show on Friday, as well. March 22nd to March 23rd, kids, parents, and anyone in general is invited to come learn about the impact of healthier eating.
 9. Macy's Spring Flower Show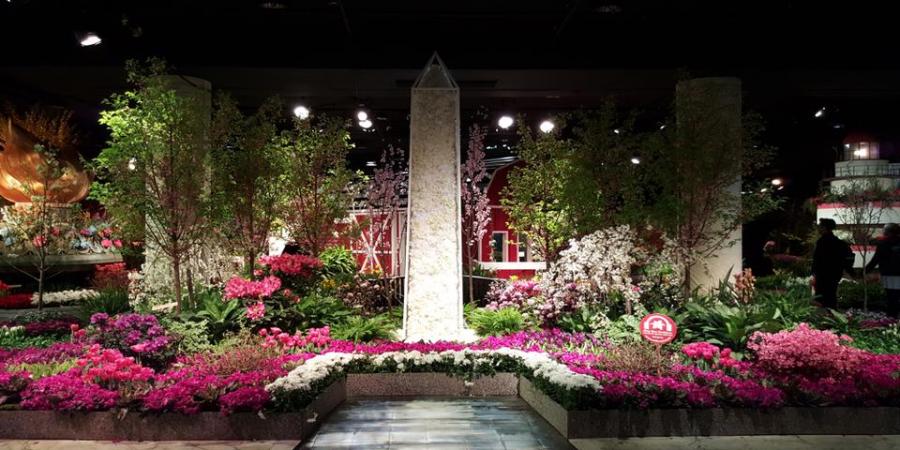 You really want to see the first big signs of spring? The Macy's Spring Flower Show is open from Sunday, March 24th to Sunday, April 7th.  Free to the public, this year's theme is Journey to Paradisios, and can be enjoyed at Macy's State Street, and while you can't purchase any of the beautiful flowers or displays, guided tours are also available. Different displays portray a sci-fi vibe, complete with carnation aliens and floral shows like Area 34, Carnivorous Wilds, the Orchid Forest, and plenty others.
 10. The Civic Orchestra of Chicago Brass Quintet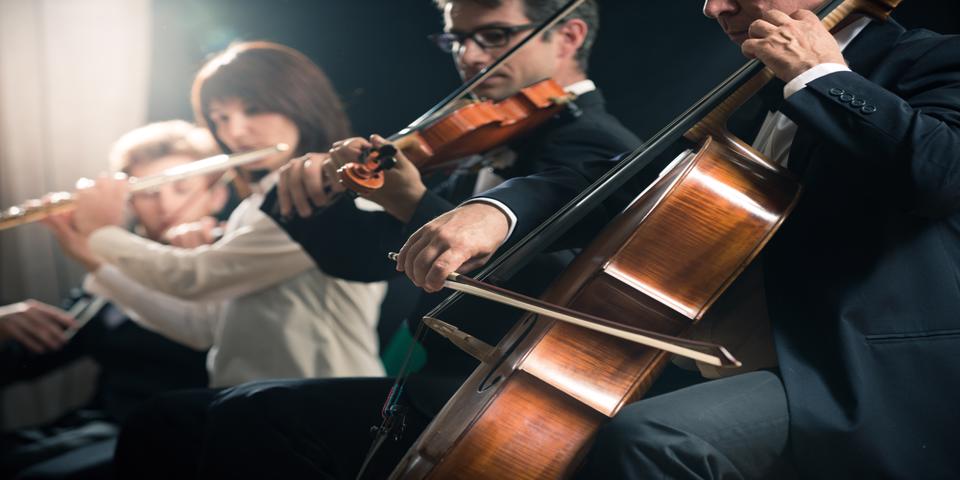 On Sunday, March 17th, at 3:00pm, those whom perhaps aren't interested in a second St. Patricks' Day Parade can catch a free concert, performed by musicians of the Civic Orchestra of Chicago over at Indian Boundary Park.  With a selection of classic ensembles listed in the program, this free event is open to all.
You Might Also Like: