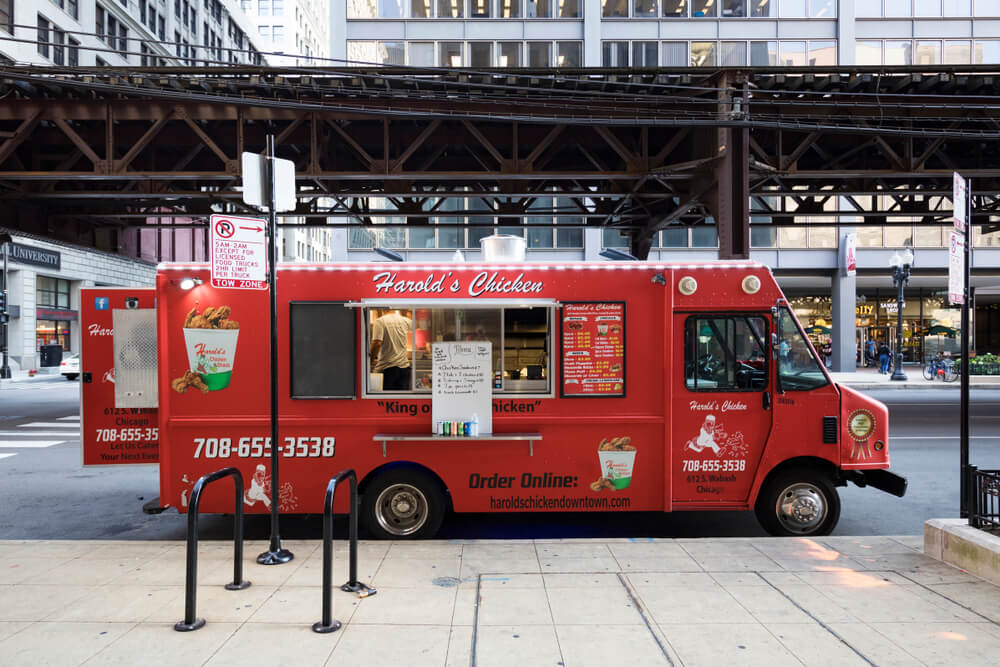 Two months ago, financial difficulties caused by the continuing shutdown and pandemic restrictions have forced the owner of Harold's Chicken Shack No. 55 to sell Chicago's favorite fried chicken from a ghost kitchen on the North Side. Billings opened the original location in 1992.
Percy Billings is working alone inside a kitchen shared with Fatburger and Wendy's in River West. Billings was forced to permanently close his Chicken Shack on 87th Street on July 31, after the rent was increased by 40%. Just 10 days later, the strip mall where Billing's restaurant once operated was looted by rioters. More than 100 people were arrested, and 13 police officers were injured.
Billings' two food trucks, which made regular trips downtown before the shutdowns and pandemic restrictions, sit idle. "There's nobody downtown so why to go there," said Billings.
The 79-year-old Billings had no plans to reopen, but sadly, mounting bills and expenses have forced him back to the fryer. Billing's ghost kitchen Chicken Shack is open for pickup, which eliminates the commission fees for Mr. Billings. You can pick it up at the ghost kitchen at 850 W. Superior Street or order delivery through DoorDash. Customers who want to help out Mr. Billings are encouraged to order direct, keeping in mind the fees third-party delivery companies like DoorDash can be as much as 30%, charged to the restaurant.
While the City of Chicago recently placed a 15% cap on delivery fees, DoorDash compensated for the fee cap with a $1.50 "Chicago Fee."
Chicago Restaurateurs Rally Around Billings' Harold's Chicken Shack
Billings particular Harold's Chicken Shack was the one that has been lauded by Chance the Rapper and represented at ComplexCon. It's sad that the 79-year-old Billings must continue working alone, over a hot fryer by himself. Louisa Chu's story in the Chicago Tribune has sparked a lot of sympathy in the restaurant community. For example, Nick Kokonas of The Alinea Group signaled that he's eager to bring Harold's Chicken Shack No. 55 to the Tock ordering platform, which only charges restaurants 3%. Kokonas swore that if Billings joined Tock they "will sell the heck out of that awesome chicken."
Other Chicago Restaurant News
Irving Park's Eris Brewery and Cider House have partnered with Jeppson's Malört to produce Apfel Ort, a dry, hard cider aged for 12 months in Jeppson's malort barrels. The cider is described as "feisty and ready for action." The new brew can be preordered, and picked up starting on December 21.
Jeppson's Malört was first introduced in the 1930s, and up until 2018, was produced by the Carl Jeppson Company. Now the brand is owned by CH Distillery, in the Pilsen neighborhood.
Yurts have finally been set up in front of Swift & Sons, at Fulton Market. Patrons can now reserve a warm and toasty heated yurt, to comfortably dine outdoors at Boka Restaurant Group's Fulton Market steakhouse. The yurts were originally planned for October, but the havoc wreaked on the Chicago dining scene due to the state's indoor dining ban forced the delay. Reservations are available for parties of two, beginning December 18. The steakhouse also has other outdoor options.
Quiet Pterodactyl, a Chicago non-profit, has teamed up with local sponsors, including Revolution Brewing, Dark Matter Coffee, and CH Distillery on a music compilation benefiting 25 independent music venues that have been forced to close due to the COVID-19 restrictions. The album is dubbed, "SituationChicago" and will be available digitally or on vinyl until December 31.
Artists included on the album include Poi Dog Pondering, White Mystery, and Wilco's Jeff Tweedy. The venues that benefit include Reggie's Rock Club, Schubas, Liar's Club, Cafe Mustache, and Uncommon Ground. Dark Matter Coffee is also offering a limited-edition "SituationChicago" cold brew.