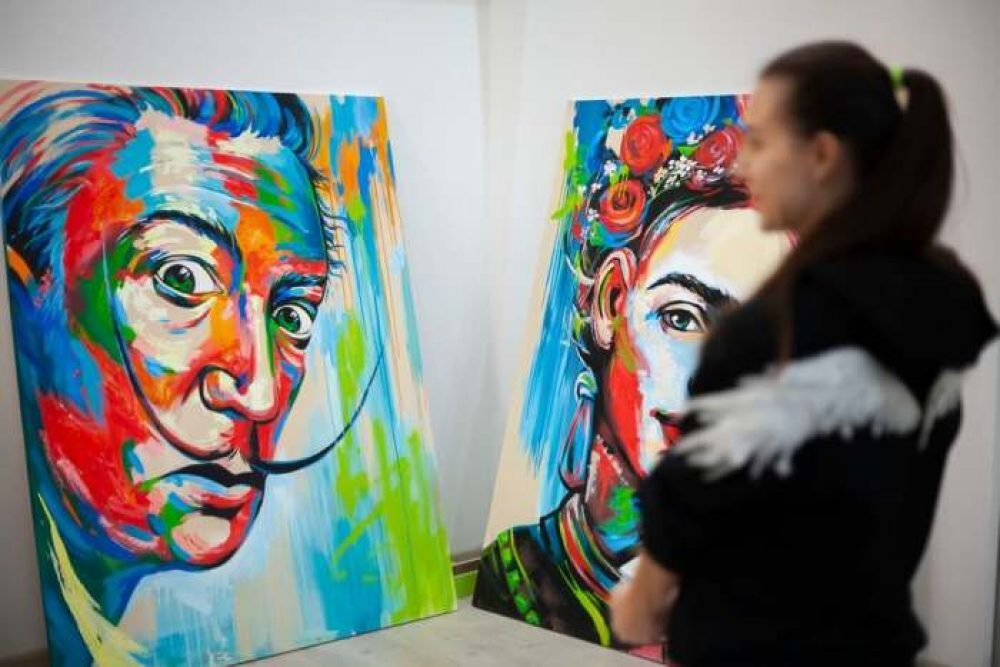 Art lovers in Chicago can still visit, until June 12th, a one of a kind exhibit at the Art Institute, its first ever devoted entirely to Salvador Dali, where visitors are able to explore Dalí's contradictory impulses in a new light, highlighting his need to be seen and to disappear. 
Chicagoans love art. All types, shapes and flavors
Chicagoans are avid art consumers, and the city offers an array of exhibitions, events and performances to satisfy even the most particular tastes. 
Immersive exhibitions proved to be very well received in Chicago. The very popular yearlong run art exhibit "Immersive Van Gogh" at the Germania Club Building in Old Town was later replaced by the new visual spectacle, Frida:Immersive Dream, dedicated to the work of Mexican painter Frida Kahlo by production company Lighthouse Immersive, and visitors were thrilled.  
Whether you like classical art exhibitions or the more post-modernist ones, you can find something in Chicago to transport you into the spectacular art world. For some, the attraction would be a spectacular pop-up Neon and Light museum, as the one which opened in River North in December 2021 by Ken Saunders Gallery and dazzled Chicagoans and guests with its around 70 light and neon sculptures. For others, a show such as Drunk Shakespeare might be the right choice for a good weekend. The idea behind this one is quite literal. You get an actor drunk and see how he or she will perform a classic play like Machbeth. The concept is also aided by "points of order" and "drunk points of order" where the inebriated actor can change the direction of the play and what all other actors must do to get the show to the finish line.
Who was Salvador Dalí 
Salvador Dalí, in full Salvador Felipe Jacinto Dalí y Domenech, (born May 11, 1904, Figueras, Spain—died January 23, 1989, Figueras) was a Spanish painter, sculptor, filmmaker, printmaker, and performance artist, influential for his explorations of subconscious imagery.
As an art student in Madrid and Barcelona, Dalí assimilated a vast number of artistic styles and displayed unusual technical facility as a painter. It was not until the late 1920s, however, that two events brought about the development of his mature artistic style: his discovery of Sigmund Freud's writings on the erotic significance of subconscious imagery and his affiliation with the Paris Surrealists, a group of artists and writers who sought to establish the "greater reality" of the human subconscious over reason. 
During the pivotal decade of the 1930s, Salvador Dalí emerged as the inventor of his own personal brand of Surrealism. To bring up images from his subconscious mind, Dalí began to induce hallucinatory states in himself by a process he described as "paranoiac critical."
Once Dalí hit on that method, his painting style matured with extraordinary rapidity, and from 1929 to 1937 he produced the paintings which made him the world's best-known Surrealist artist. He depicted a dreamworld in which commonplace objects are juxtaposed, deformed, or otherwise metamorphosed in a bizarre and irrational fashion.
With the Spanish director Luis Buñuel, Dalí made two Surrealistic films—Un Chien andalou (1929; An Andalusian Dog) and L'Âge d'or (1930; The Golden Age)—that are similarly filled with grotesque but highly suggestive images.
The most interesting and revealing of Dalí's books is The Secret Life of Salvador Dalí (1942).
What you can expect from this exhibition
The exhibition at the Chicago Institute of Art — the first one devoted to the Spanish Surrealist at the Institute— is curated by Caitlin Haskell, Gary C. and Frances Comer Curator, Modern and Contemporary Art, and Director, Ray Johnson Collection and Research, and Jennifer Cohen, curator of provenance and research, Director's Office.
The exhibition presents more than 30 paintings, drawings, photos, and surrealist objects, as well as a rich selection of printed matter, books, and artists ephemera to explore this critical period, considering Dalí's work in light of two defining, if contradictory, characteristics: a huge desire for visibility and the urge to disappear.
The artist cultivated these notions in a variety of ways: in path-breaking experiments with materials and palette, in depictions of exotic and mundane edible items, in surrealist fashions and sculptures with spaces for hiding, and in optically dynamic visual illusions or "double images."
Examining this series of "disappearing acts" undertaken by the artist at the height of his fame, the exhibition brings together icons of the Art Institute's Surrealism collection—such as Inventions of the Monsters (1937), Venus de Milo with Drawers (1936), and Mae West's Face Which May be Used as a Surrealist Apartment (1934–35)—alongside celebrated loans from around the world. New technical analysis illuminates further hidden and disappearing imagery within Dalí's works that offer veiled personal meditations on his wry, sophisticated, and ultimately paranoid approach to art making. 
The sponsors of Salvador Dalí: The Image Disappears were The Donnelly Family Foundation and Natasha Henner and Bala Ragothaman.
This exhibition is supported as well by an indemnity from the Federal Council on the Arts and the Humanities.